Feature
From Pedralbes to Catalunya – A short history of the 5 venues to have hosted the Spanish Grand Prix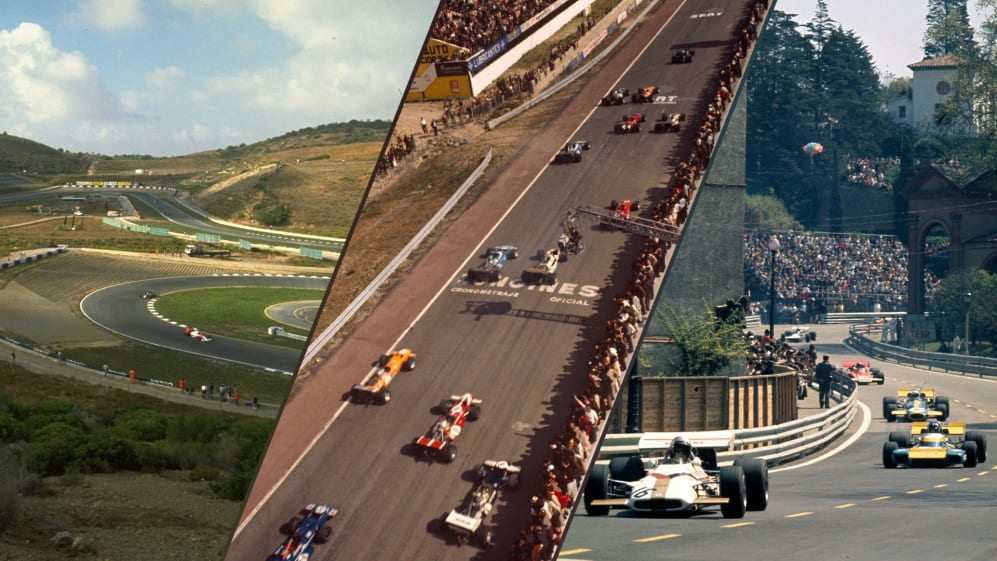 Spain is one of Formula 1's most storied Grands Prix, having first been held in 1951 – with five different venues having played host to the event. Ahead of this weekend's race at Circuit de Barcelona-Catalunya, here's a brief history of all five Spanish Grand Prix venues.
1. Pedralbes – 1951, 1954
This Barcelona street circuit held the Spanish Grand Prix twice, as the last race of the 1951 and 1954 World Championships – Juan Manuel Fangio having won the former before Mike Hawthorn triumphed in the latter.
TREMAYNE: The greatest F1 title battles of all time…
This rapid but lengthy 3.9-mile circuit comprised six corners and a whopping 1.2-mile-long straight, the most competitive cars taking just over 2m 20s to complete a race lap. Running along part of the massive Avenida Diagonal, the circuit cut past the former Pedralbes royal palace and then the Parc de Cervantes – around which the Turn 1 hairpin looped.
After the deadly 1955 Le Mans 24 Hours disaster, this circuit ceased to exist – and Spain would have to wait more than a decade for its next World Championship Grand Prix…
2. Jarama – 1968, 1970, 1972, 1974, 1976-79, 1981
North of Madrid sits Jarama, this winding permanent circuit having opened in 1967. Designed by John Hugenholtz (other works including Suzuka, Zolder, Nivelles and Zandvoort) Jarama had 16 corners and clocked in at just over two miles when it hosted F1 rounds. The twisting nature of this circuit wasn't the only challenge; drivers had to deal with banked corners and elevation changes throughout.
Graham Hill won the first Jarama-held Spanish GP from sixth in his Lotus 49 on the way to the title, Jackie Stewart – in a 1970 Spanish GP marred by a fiery crash – and Emerson Fittipaldi winning the next two iterations.
Given this circuit's tight layout, it was perhaps inevitable that the next four Grands Prix would be won from pole position: Niki Lauda (1974 for his maiden win), James Hunt (1976) then Mario Andretti (1977-78) winning out before Patrick Depailler bucked the trend… from P2 on the grid.
Gilles Villeneuve produced a classic in 1981 to become the last F1 winner at Jarama, achieving his triumph from seventh on the grid – that drive regarded as one of the best ever.
3. Montjuic Park – 1969, 1971, 1973, 1975
This stunning circuit surrounding Barcelona's beautiful Montjuic Park shared hosting duties with Madrid's Jarama – until a fatal 1975 Spanish Grand Prix.
Half high-speed challenge, half low-speed thriller, Montjuic is often touted as one of F1's greatest former venues. Now a 2.4-mile road winding past parks, museums and the Olympic Park, the site will always be an emblem of triumph (Lella Lombardi having become the first woman to score F1 points there) and tragedy.
READ MORE: Trailblazing racer Lella Lombardi remembered, 30 years on from her death
Jackie Stewart's wins in 1969 and '71 were followed by Fittipaldi's 1973 win, but drivers would voice concerns over safety throughout. In 1975, those concerns were realised when Rolf Stommelen's car flew into a crowd and killed four people – injuring the driver as well.
That would be Montjuic's last Grand Prix.
4. Jerez – 1986-90
Perhaps best known for the title-deciding 1997 European Grand Prix in which Michael Schumacher collided with Jacques Villeneuve, Jerez also hosted a quintet of Spanish Grands Prix after construction was completed in 1985.
Of those races on the clockwise circuit that consisted of 13 corners, Ayrton Senna won the nailbiting 1986 debut by 0.014s and the 1989 race; Nigel Mansell won in 1987; and Alain Prost in 1988 and '90 – Martin Donnelly suffering horrific injuries in qualifying for the final Spanish GP at Jerez.
Formula 1 did return to Jerez after the 1997 European Grand Prix for more than 80 pre- and in-season test days between 1999 and 2015. The 2.7-mile circuit still hosts MotoGP, single-seater and touring car races.
5. Circuit de Barcelona-Catalunya – 1991-present
Only three F1 circuits on the 2022 calendar – Monza, Hungaroring and Silverstone – have hosted more consecutive Grands Prix than the Circuit de Barcelona-Catalunya.
Opened in 1991, this track hosted a brilliant duel between Ayrton Senna and Nigel Mansell in its maiden Grand Prix. Michael Schumacher also clinched his first Ferrari win here in the wet in 1996 before snatching victory off Mika Hakkinen in 2001. Fernando Alonso made history for Renault by winning his home Grand Prix in 2006, Pastor Maldonado producing a shock win for Williams six years later – before Alonso took his final victory to date in 2013.
WATCH: Relive Pastor Maldonado's incredible breakthrough win at the 2012 Spanish Grand Prix
And, of course, Max Verstappen opened his account here in 2016.
With a mix of medium and high-speed corners, Barcelona's 2.9-mile venue is also seen as a valuable testing ground – and has hosted more than 120 days of testing from 1999 to the present.
This year's Grand Prix sees another Spaniard, Carlos Sainz, vying for a win in front of his home crowd.