Feature
How many penalty points have all 20 F1 drivers got – and what did they get them for?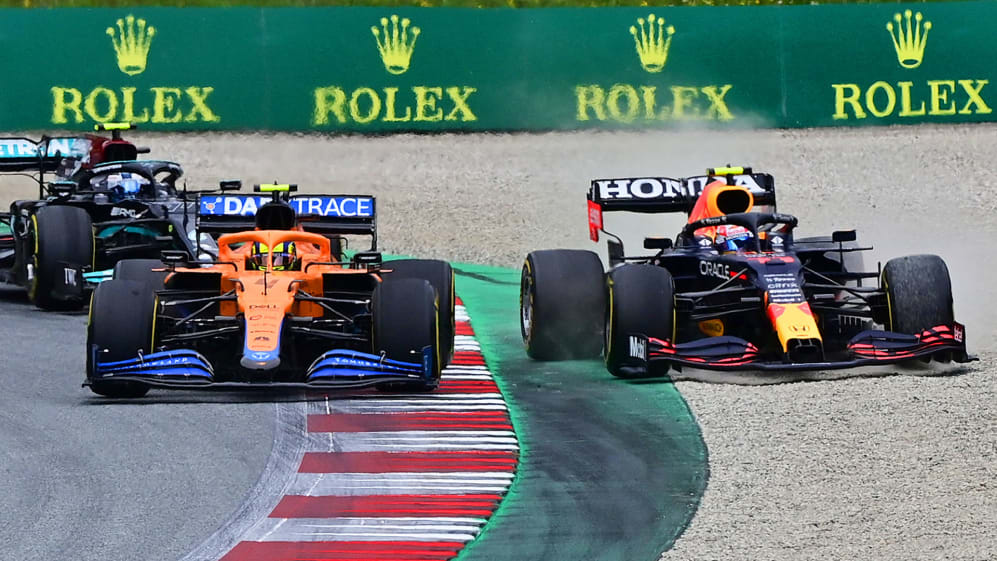 The stewards at the Austrian Grand Prix had something of a busy weekend, with a host of drivers handed penalties for infractions ranging from speeding in the pit lane to forcing other drivers off the track. So we thought it would be a good time to tot up the number of penalty points the drivers have amassed in the past 12 months, to see which of them are skirting a ban – an automatic one-race ban coming with 12 penalty points, of course – and which drivers are in the stewards' good books...
Lando Norris – 8 points
Let's start with Lando 'Bad Boy' Norris, as no one in the paddock refers to him. Much was made of the fact that Norris was one race away from a race ban after climbing to 10 penalty points after the Austrian Grand Prix, thanks to the two he earned for being judged to have forced Sergio Perez off track during the race.
READ MORE: 'He put himself in the gravel' – Norris hits out at Perez penalty after having to settle for P3
But crucially, Norris has since gone back down to eight before even getting back into the cockpit of his McLaren, his two points for overtaking Pierre Gasly under yellow flags in FP1 at the 2020 Styrian Grand Prix having expired over the weekend.
Sergio Perez – 8 points
After being left angry for being put in the gravel by Norris at the Austrian Grand Prix, Sergio Perez then received a full four penalty points for doing exactly the same thing, twice, to Charles Leclerc.
That moved him onto eight points, to go with the four he had already – one for ignoring blue flags at the 2020 Spanish Grand Prix, one for crashing with Kimi Raikkonen in FP2 at Mugello and two for overtaking under the Safety Car at Imola this year.
George Russell – 6 points
There are only two misdemeanours on George Russell's slate currently, but in the eyes of the stewards, they're biggies, namely failing to slow sufficiently under double yellow flags at both the British and Turkish Grands Prix – each offence carrying three penalty points.
OPINION: George Russell is destined for the top – just ask Alonso
Sebastian Vettel – 6 points
Sebastian Vettel was penalty points-free heading into 2021. But his shaky start to life with Aston Martin was underlined by earning a full five points in his first weekend with the team – three for failing to slow under double yellows in qualifying, and two for his crash with Esteban Ocon in the race – while blocking Alpine's Fernando Alonso in qualifying last time out at the Austrian Grand Prix saw him handed one.
Kimi Raikkonen – 6 points
Like Vettel, Kimi Raikkonen also earned penalty points over the Austrian Grand Prix weekend just gone, receiving two for his crash with Vettel himself on the last lap of the race, to go with the four he'd had previously – although Raikkonen's point for being out of position at the start of the 2020 Hungarian Grand Prix is set to expire on July 19, leaving him with his one for a pit lane error in Mugello, and two for crashing with George Russell at the 2020 Eifel Grand Prix.
READ MORE: Dramatic last lap collision with Raikkonen a 'misunderstanding' says Vettel
Antonio Giovinazzi – 5 points
Antonio Giovinazzi, he of the impressive mane, has five points around his neck currently: one for failing to slow sufficiently under the Safety Car at the 2020 British Grand Prix, two for entering the pit lane when it was closed at last year's Italian Grand Prix, while he earned another two in the Austrian Grand Prix this year for overtaking Alonso under the Safety Car when going into the pits.
Nicholas Latifi – 6 points
Like his Williams stable mate George Russell, Nicholas Latifi has only had two infractions. But they, too, were infractions on the doozier end of the scale, the Canadian reprimanded with three points for failing to drive through the pit lane under the Safety Car in Azerbaijan, while last weekend, stewards judged him to have not slowed sufficiently under double yellows at the Red Bull Ring.
Nikita Mazepin – 5 points
Nikita Mazepin has accrued the most penalty points of any rookie this year, having earned one apiece in Portugal and Spain – for ignoring blue flags and then impeding Lando Norris in qualifying respectively – while he was handed three more in the Austrian Grand Prix for failing to slow sufficiently under double yellows.
Yuki Tsunoda – 4 points
Four points for four infractions for Yuki Tsunoda, namely leaving the track multiple times at Imola this year (one point), impeding Valtteri Bottas in Styrian Grand Prix qualifying (one point), and twice crossing the white line at pit entry in the Austrian Grand Prix – earning a pair of penalty points for his troubles.
READ MORE: Two pit entry penalties and 'horrible' race pace cost Tsunoda chance of points in Austria
Lewis Hamilton – 2 points
With Lewis Hamilton's four penalty points for his various 2020 Austrian Grand Prix infringements – failing to slow under yellows in quali, and then forcing Alex Albon off track in the race – having expired on July 5, Hamilton now sits on two points.
Those two were earned thanks to his coming in the pit lane when it was closed at Monza last year – paving the way for Pierre Gasly's cockle-warming win.
Valtteri Bottas – 2 points
Two points for Valtteri Bottas, earned in one fell swoop with his pit lane spin in Free Practice 2 at the Styrian Grand Prix – not the Finn's finest hour.
WATCH: Bizarre moment in Styrian GP practice as Bottas spins in the pit lane
Esteban Ocon – 1 point
Just the solitary point for Esteban Ocon, who impeded George Russell in qualifying for last year's 70th Anniversary Grand Prix.
Daniel Ricciardo – 1 point
Ocon's Renault team mate from last year, Daniel Ricciardo also has just one point to his name, this one for failing to follow the correct procedure for rejoining the track at Turn 2 at the 2020 Russian Grand Prix – an error which elicited his famous 'I'll drive faster' radio message...
Carlos Sainz – 1 point
Sergio Perez may have taken P3 in qualifying for the 2020 Turkish Grand Prix – but he was also held up by then-McLaren driver Carlos Sainz, an infraction which earned the Spaniard his only current penalty point.
Pierre Gasly – 1 point
A bit of a rookie error from Pierre Gasly earned him his only penalty point currently, for being out of position at the start of this year's Spanish Grand Prix.
READ MORE: Gasly confirms he's received interest from other teams and keen for talks over future with Marko
Max Verstappen, Fernando Alonso, Mick Schumacher – 0 points
Cleanliness, they say, is close to godliness. And Max Verstappen, Fernando Alonso and Mick Schumacher have all got sparkling Super Licences, having all avoided sanction in the past 12 months – Alonso and Schumacher helped by the fact that they weren't racing in F1 for the majority of those!