Feature
OPINION: George Russell is destined for the top - just ask Alonso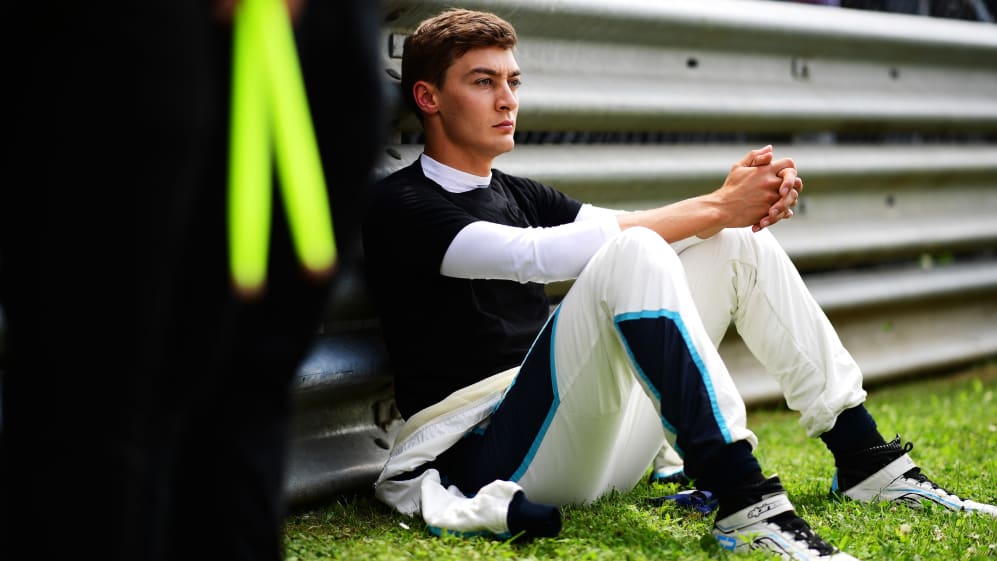 F1 Hall of Fame journalist David Tremayne looks at George Russell's meteoric rise and the significance of the respect he's earned from two-time champion Fernando Alonso.
One of the greatest aspects of racing for me has always been the camaraderie.
I remember back in 2007 watching Susie Moss starting to usher Stirling towards a waiting golf cart. But he stood a moment longer, in his grey flannels, white open-necked shirt and braces. "Just a moment, darling," he said. "I want to have a word with Lewis."
ALTERNATIVE HISTORIES: What if Stirling Moss had not felt snubbed by Ferrari?
I was reminded of that moment of respect from one legend to a young driver, in whom he recognised future greatness, when I watched Fernando Alonso offer words of consolation to George Russell after the Austrian Grand Prix on Sunday. Their bromance intrigues me.
While it's easy to see why somebody of Stirling's age and stature would have no problem acknowledging the talent of another, it can be a different matter when drivers are still not just racing but actually competing with one another. And as I recall, back in 2007 Fernando was having more than a bit of trouble with rookie Lewis as his team mate at McLaren.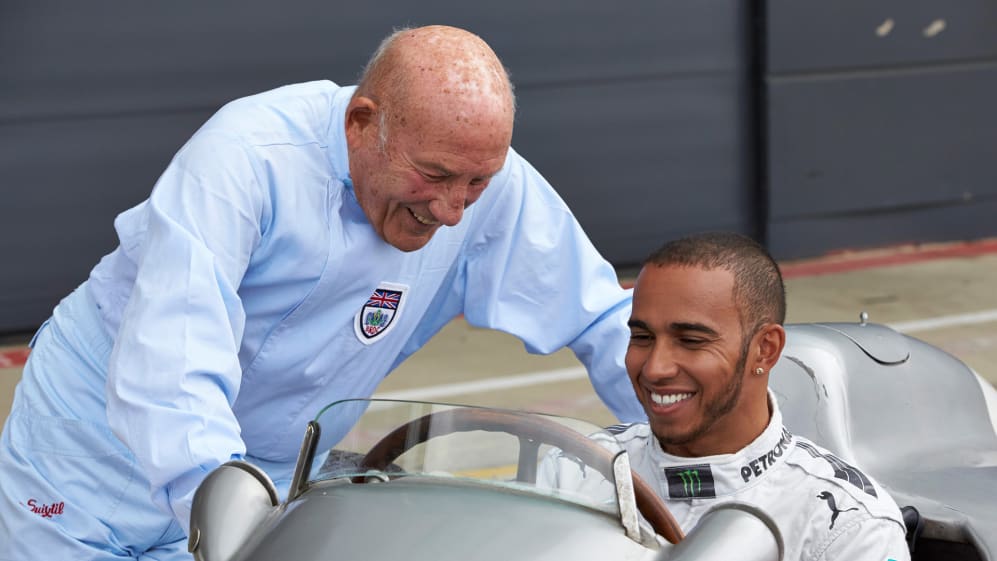 So how did the Alonso-Russell bromance begin? Well, the Spaniard has been open in his praise of the 23-year-old Briton for some time now, describing his handling of an uncompetitive Williams as "impressive" on more than one occasion in the past two seasons even when he wasn't racing in F1 himself.
"We know that it is not a competitive package," Fernando said the other day. "It is better this year but not in the last two, and I think he was putting in something special every weekend and that was nice to watch at home. That is something you always get impressed by."
READ MORE: 'I drove my heart out' says Russell after late Alonso pass costs him first points finish for Williams
Only recently, when they signed each other's helmets, Fernando inscribed the words, 'future world champ' on George's.
After disappointments in the French and Styrian GPs when he finally appeared to be on target to score his first batch of world championship points for Williams (as opposed to the three he scored for Mercedes in that excellent Sakhir GP performance in Lewis' absence last year), George was poised to go one better in the Austrian race.
Oops! Error retrieving Twitter post
He had already done a superb job to get through to Q3 (by 0.006s from Carlos Sainz in a Ferrari!), and then to qualify ninth, and this time he was leading rather than chasing Fernando, with just a handful of the 71 laps left to run.
But George was in a Williams, and Fernando was in an Alpine that, by rights, ought to have qualified fifth or sixth without Sebastian Vettel's intervention at the end of his best Q2 lap. And where George had pitted for his hard-compound tyres on lap 31, Fernando's were two laps younger. Lap after lap, George kept the doors closed in Turns 3 and 4, denying Fernando the advantage of DRS, but on the 67th the Spaniard finally got the job done on the run to the second of those right-handers.
I really liked that Fernando felt a pang doing that. "When I saw who it was that I was fighting with for 10th I was hoping it would be anyone but George!" he admitted. "But I was able to challenge him better because I had better tyres and acceleration. But I know he will have more chances in the future."
In parc ferme, he offered his apologies to his buddy. Seriously, is Fernando mellowing with age?
I remember when George had his first official F1 FP1 outing, for Force India at Interlagos back in 2017. He admitted that he didn't know what to expect, since he knew neither the car nor the circuit. Where team mate Esteban Ocon's best lap was 1m10.712s, on the same supersoft rubber George did 1m11.359s, just six-tenths off.
I was impressed with that, and even more so with his calmness. He described it all as a big step up, and said without affectation that he was "quite satisfied" with his performance.
TREMAYNE: After a shaky start, Portugal proved Alonso and Alpine are getting the hang of F1, 2021-style
There was no doubt in my mind that he was ready for a top line seat last year, and he duly proved that in the Mercedes in Bahrain. Had fate been kinder, he would have won there. But setbacks such as those he encountered there, and at Imola, France and Austria (twice) this season are all part of the things any driver has to go through not just to earn their spurs, but to learn better ways of doing things.
On the surface, it didn't seem like he could have done much more in Sakhir, but he readily admits that, being thrown in the deep end with no preparation laps in the car beforehand, he felt far from up to speed when it came to maximising the car's capabilities.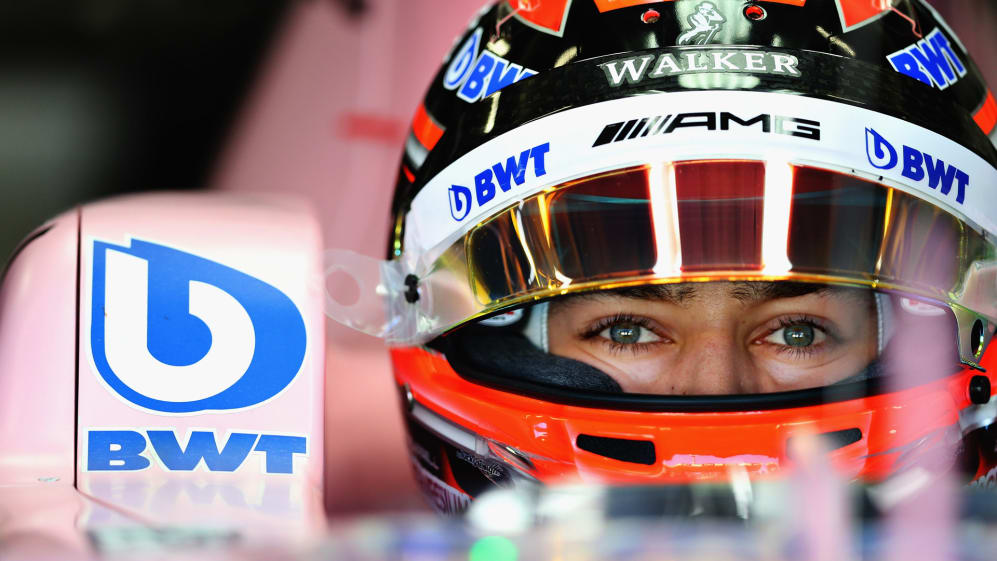 Did it seem that way to outsiders? Far from it. But like all good racers, he doesn't delude himself. He knew that he wasn't going to get to grips with everything on that first occasion. And it is precisely because he is so honest with himself that he knows he is more than ready now, and has complete belief in his ability to fight for victories and world championships.
There's that bit of cockiness in his walk that all the guys have who know they've got what it takes. Super-confidence that stays just the right side of arrogance. Innate self-knowledge. That little inner bounce that anyone who is really good at something in life knows is there. Remember Jackie Stewart's spring-heeled gait?
WATCH: Sir Jackie Stewart reflects on his extraordinary career in F1
And George's track records supports that inner belief, too, with outright victories for ART in the GP3 championship in 2017 and F2 in 2018. He knows how to win, though curiously he says that these days he needs to improve his starts and opening laps. How so? Because in the past he's run at the front in the junior formulae, where there is space to fight, whereas in the midfield downwards in F1 there are cars everywhere until things settle down, and much less room for manoeuvre. Interesting…
George is also that rare thing insofar as he is a pretty well-educated racing driver, and that isn't meant disparagingly to anyone else. It's just that most spend so much time karting in their early years that education takes a back seat.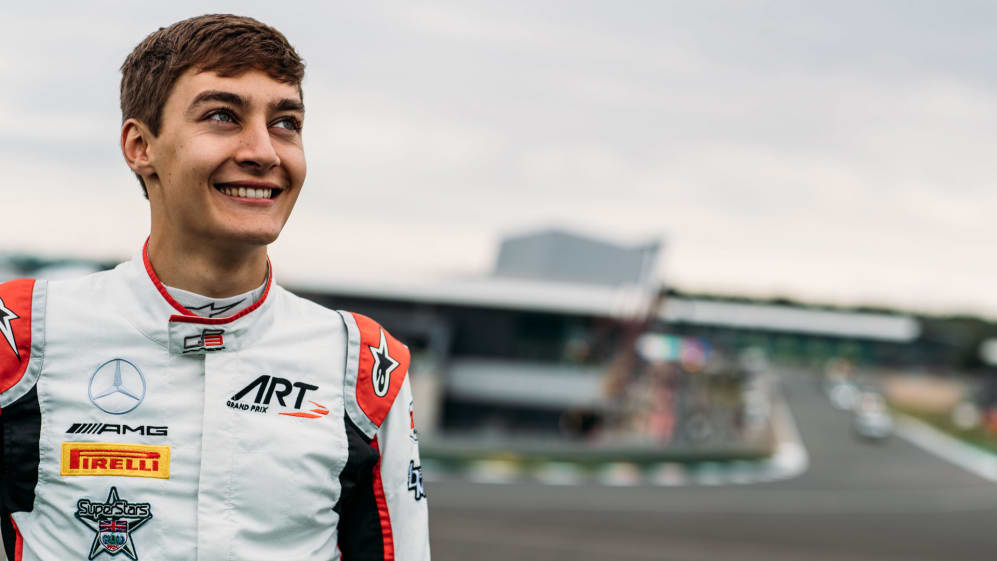 But George is very smart. When he went to Williams in 2019, with Mercedes' assistance, he knew that Toto Wolff wasn't forever putting him through tests that he had to pass, as other mentors might, but was just giving him situations in which he was able to learn and to prove himself. George took the view that as a rookie, he had nothing to lose.
Were the opportunity to race alongside Lewis to arise, say in 2022, he smartly turns that around, taking the view that again he has nothing to lose going up against arguably the best driver of all time.
READ MORE: Bottas or Russell? Wolff says Mercedes will decide on Hamilton's 2022 team mate over the summer
"Everyone wants to go against the best driver because everyone believes in themselves," he says. "I'd love that challenge because the pressure would be off and I'd find myself in a win-win scenario and I'd go in with that mentality." There's that quiet inner confidence thing again…
I remain convinced that George will indeed partner Lewis at Mercedes next year. But even if he doesn't, he will be in one of their cars eventually, there is no doubt. And when he scores his first Grand Prix victory, a legend such as Fernando Alonso won't be the least bit surprised. And neither will I.