Feature
Mercedes with ground to make up and McLaren hunting a podium – What to Watch For in the Italian GP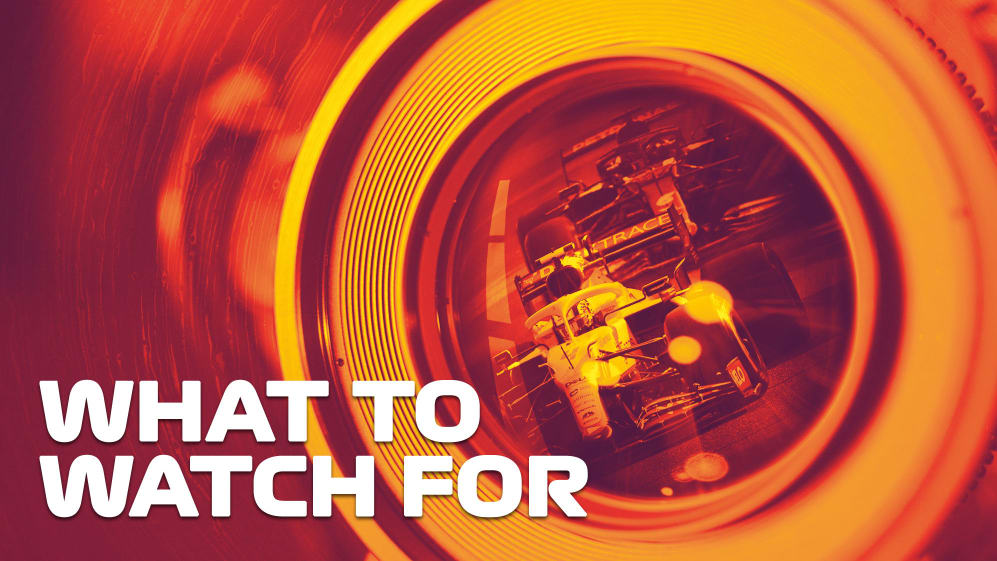 From Lewis Hamilton needing to do some overtaking to McLaren chasing a double podium, and from Valtteri Bottas at the back of the field to Ferrari not quite at full strength, we pick out some of the key areas to keep an eye on at Monza...
Hamilton's overtaking opportunities
On Friday evening, things were looking very good for Mercedes. Valtteri Bottas and Lewis Hamilton had locked out the front row for the Sprint, and although Bottas was going to take a grid penalty, there was a gap of nearly half a second back to Red Bull.
Now, it's a very different picture. Max Verstappen will start from pole for the Italian Grand Prix, and Hamilton is lining up fourth after a poor start and more notably a very tough time trying to pass the McLarens.
READ MORE: Hamilton predicts 'easy win' for Verstappen in Italian GP after falling down order in Monza Sprint start
Hamilton's chances on Sunday appear to hinge on his ability to make overtakes stick against the two cars directly ahead of him, because if he struggles as much as he did in the Sprint then he could see Verstappen run away with victory. But if he can avoid a repeat of his bad getaway, then we'll be able to see if it was a case of not risking too much on Saturday and saving something for the race.
Bottas out of position
As the qualifying session on Friday got under way, a message came through from the FIA that new power unit components had been taken by Mercedes for Valtteri Bottas, and that he'd be getting a penalty that meant he would start from the back of the grid. Less than an hour later, Bottas set the fastest time to line up first for the Sprint.
It was a strategic decision from Mercedes and one that paid off, with Bottas able to get the maximum three points under his belt during the Sprint before the grid penalty is applied for tomorrow's race. So in a quirk of this format, Bottas will make one start from the very front and one start from the very back this weekend.
READ MORE: Verstappen set for pole position for Italian Grand Prix as penalty-hit Bottas wins Monza Sprint
His performances so far have shown just how quick both the Finn and the Mercedes are, and that means it's an exciting prospect having him climbing through the field on Sunday. Bottas seems to have a weight off his shoulders with his future confirmed for next year, and while he's joining Alfa Romeo he can still help secure Mercedes some crucial points in this year's constructors' championship battle with Red Bull.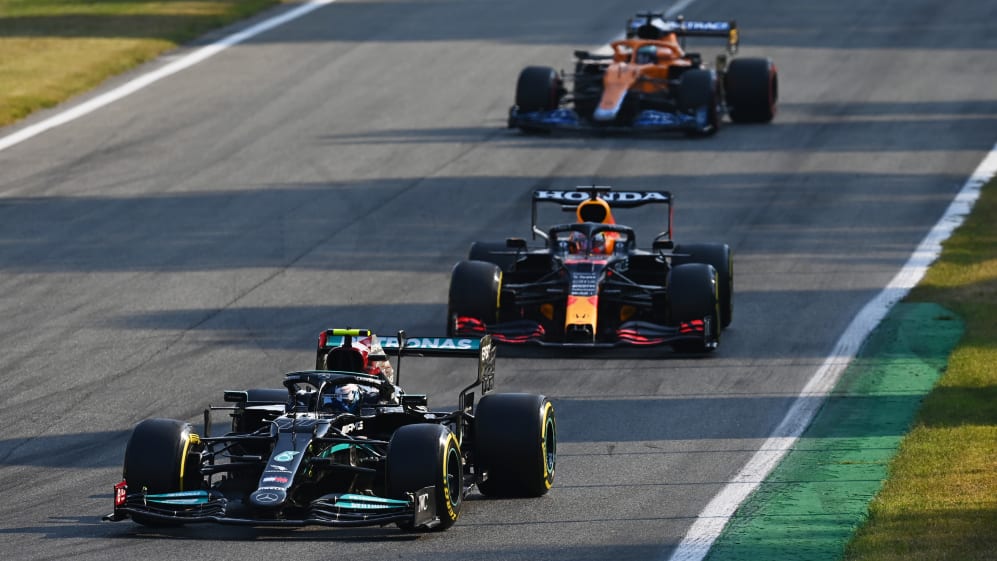 McLaren with both cars in the frame
Bottas' penalty is McLaren's gain, with both Lando Norris and Daniel Ricciardo performing well so far this weekend. Monza was always expected to suit the McLaren – particularly quick in a straight line – but one weakness they have had has been Ricciardo's struggles with the car so far this season. In Italy, those struggles seem to have disappeared.
Ricciardo was angry to only qualify fifth on Friday when he felt he could have been third ahead of Verstappen, but he overcame that with a good start to run third from the exit of Turn 1 until the end of the Sprint, meaning he will line-up on the front row after Bottas drops to the back.
READ MORE: Ricciardo promises 'full attack' in Italian Grand Prix as he clinches front-row start at Monza
With Bottas out of the picture – at least in the early stages – and McLaren able to run at such a strong pace so far this weekend, there's every chance of a podium for at least one of the two drivers (which we might have predicted leading up to this race…).
While Lando Norris showed he could hold off Lewis Hamilton, more importantly for McLaren will be the progress of the Ferrari pair after slightly troublesome weekends so far. There's a big opportunity on offer at this point.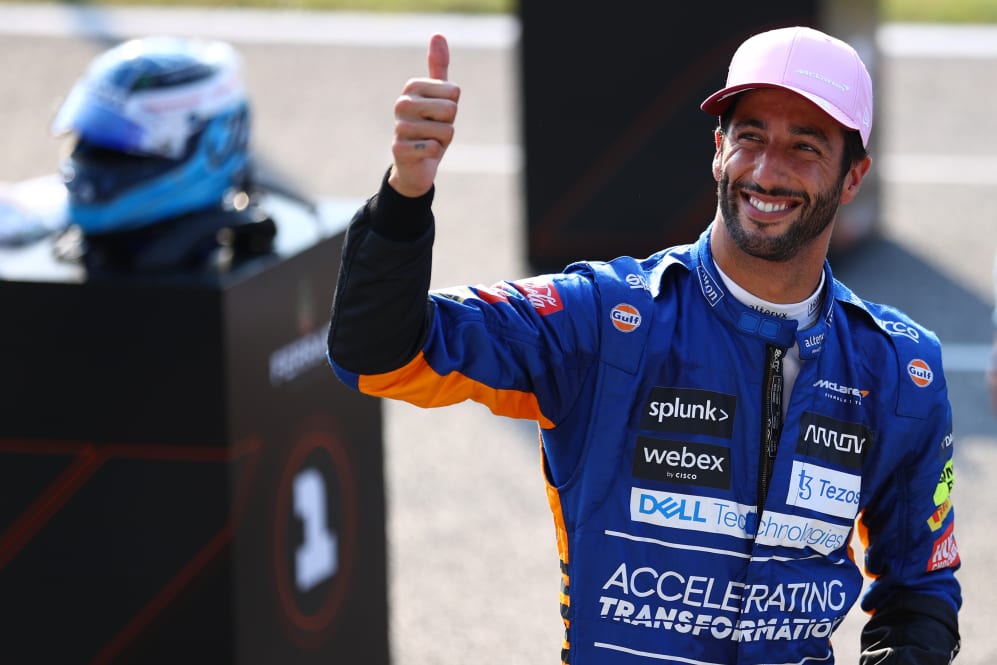 Gasly's fightback attempt after crash
One way the Sprint adds extra jeopardy comes in the form of errors or incidents while racing wheel-to-wheel, compared to when drivers are on their own trying to set a qualifying time. Unfortunately for Pierre Gasly, that played out to his detriment at Monza.
A good start saw the Frenchman fighting for fourth into Turn 1 and he emerged behind the McLarens but pulling away from Hamilton. In that fight, however, he had tapped the rear of Ricciardo's car, picking up front wing damage. It quickly became clear there was an issue as sparks started flying from Gasly's front wing, before the wing failed and he crashed at Curva Grande.
READ MORE: Gasly disappointed to see 'great shot' vanish as he crashes out of Sprint on Lap 1 after super start
Now the 2020 Italian Grand Prix race winner faces the prospect of having to try and climb through the field from the back, or perhaps even from the pit lane if any parts can't be replaced like-for-like.
Gasly has been in excellent form lately, finishing fourth in Zandvoort after back-to-back top-six results, but he will need something as dramatic as last year to have any hope of extending that run.
Ferrari at their home race
After four races behind closed doors in Italy, this is the first race in the country since the 2019 edition at Monza to feature a significant number of fans in the grandstands. And the majority of them are supporting one team.
But Ferrari have not had the smoothest weekend so far, with Saturday proving particularly challenging for both drivers. Carlos Sainz suffered a heavy crash at Ascari and missed a big chunk of the final practice session, while Charles Leclerc felt unwell after the session restarted and also stopped running early.
READ MORE: Sainz says P7 in Sprint helped rebuild confidence after 'weird' FP2 crash at Monza
Both were able to take part in the Sprint and delivered solid drives to secure places on the third row for the race, but they appeared to be a little bit off the pace compared to the three teams ahead.
That said, we've seen how difficult it can be to overtake and Ferrari will be encouraged by their performance after such a tricky Saturday, so the tifosi could still end up celebrating a home podium if things go more smoothly in the race.