Feature
9 thrilling title-deciding finales from F1 history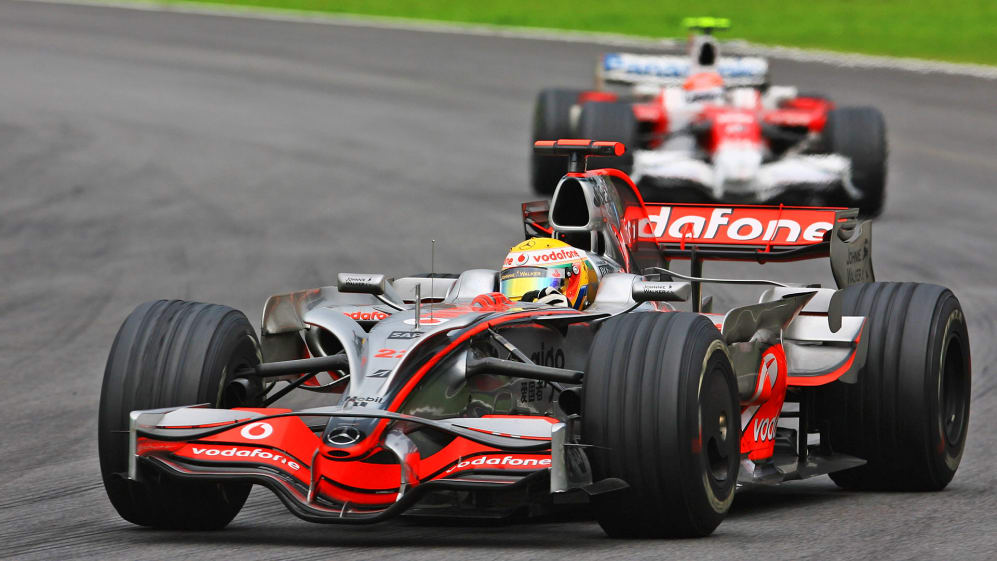 For the first time since 2016, the Formula 1 World Championship will be settled at the final race of the season, with either Lewis Hamilton set to leave Abu Dhabi as F1's first-ever eight-time champ – or Max Verstappen as the fourth-youngest title winner in history, and the Netherlands' first.
It's a mouth-watering prospect, not least given the pair's fractious, fiery season to date, which came to a head dramatically at an ill-tempered Saudi Arabian Grand Prix last Sunday, which Hamilton won to draw level on points with Verstappen heading to Yas Marina.
TREMAYNE: Why the Abu Dhabi GP should be a historic F1 moment – for all the right reasons
Over the years, though, F1 fans have been treated to some thrilling season climaxes that have decided the result of the championship. Here are nine of the most scintillating final round showdowns.
1. 1956
CHAMPION: Juan Manuel Fangio
VENUE: Monza
The 'Temple of Speed' played host to the final round of 1956, with three drivers, Ferrari's Juan Manuel Fangio and Peter Collins, and Maserati's Jean Behra, all in with a chance of taking the title.
Behra retired with a magneto failure, while Fangio's hopes of a fourth crown looked shot to pieces when he pulled into the pits with a broken steering arm. But then in extraordinary gesture of sportsmanship, Collins handed over his own healthy Ferrari D50 to the Argentinian (after team mate Luigi Musso had declined to do the same), allowing Fangio to get back out there, finish second to Stirling Moss and claim the crown.
"That was a fantastic gesture," Fangio would recall later of Collins' actions. "I threw my arms around him and kissed him. After that I finished second to Moss, and that was enough."
READ MORE: 10 times the title fight was separated by a point or less at the halfway stage of the season
2. 1964
CHAMPION: John Surtees
VENUE: Mexico City
The 1964 title fight boiled down to the final race in Mexico, with Ferrari driver John Surtees, BRM's Graham Hill and Lotus' Jim Clark all in the running – making it an all-British showdown.
Clark initially appeared set to run away with his second title after leading Dan Gurney for 63 of the 65 laps. But then the Scot's engine seized with one lap to go, and he was out.
That would have put Hill in the driving seat had Surtees' team mate Lorenzo Bandini not driven into the back of him on Lap 31, dropping Hill from his P3 out of the points. Hill could still have been champion had Bandini not intervened again in the final moments of the race, letting Surtees past to take P2 and ensure that he had enough points (only the drivers' six best scores of the year counted) to pip Hill by a point.
At least it made good copy, with Surtees becoming the only driver to win championships in Grand Prix motorcycle racing and F1 – while doing so in a famously blue Ferrari, fielded as it was in Mexico by the North American Racing Team.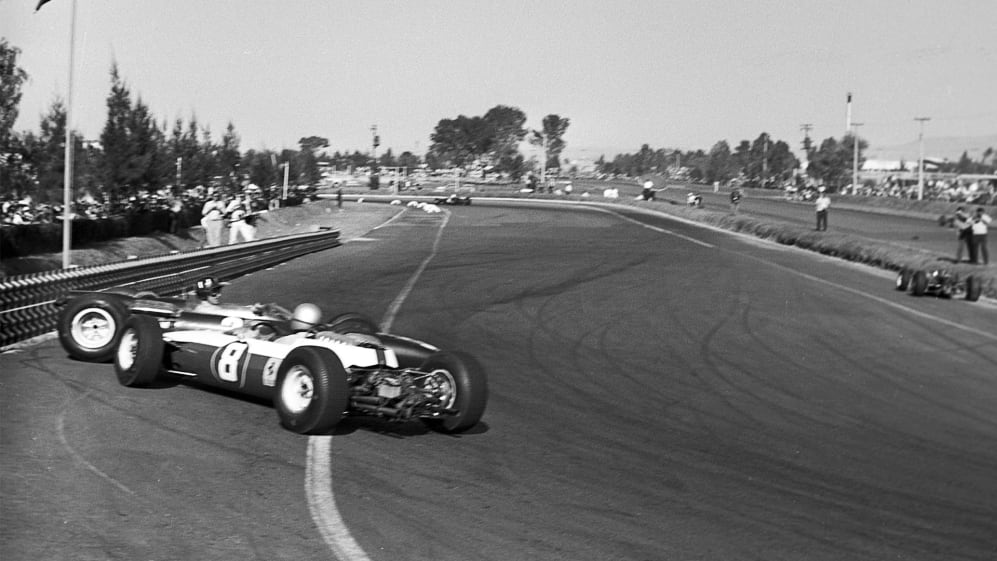 3. 1974
CHAMPION: Emerson Fittipaldi
VENUE: Watkins Glen
We had to mention 1974, given that it was the only other time in F1 history that the title rivals have been level on points heading to the final race of the season – those rivals being the side-burned Emerson Fittipaldi and the moustachioed Clay Regazzoni. Well, it was the 70s…
The battle itself turned out to be something of a damp squib, a damper issue ultimately the undoing for Ferrari racer Regazzoni, leaving him 11th at the flag, while Fittipaldi's P4 for McLaren was enough to ensure he took his second crown by three points.
PODCAST: Emerson Fittipaldi on flying the flag for Brazil and the loss of Ayrton Senna
The race was overshadowed by a tragic twist, however, as 12 months on from Francois Cevert's fatal accident at the same track, Austrian racer Helmuth Koinigg crashed at the Turn 7 hairpin, losing his life instantly.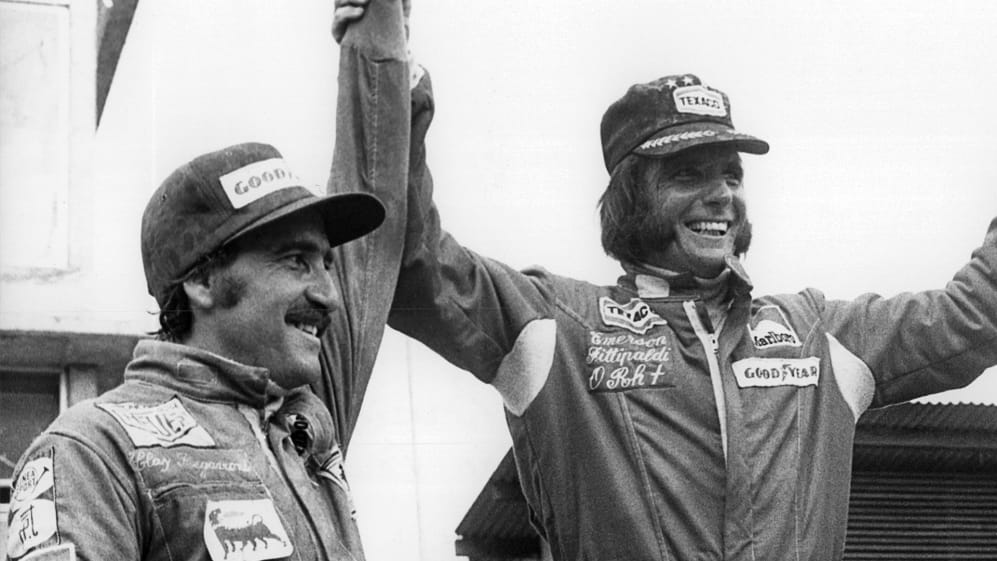 4. 1976
CHAMPION: James Hunt
VENUE: Fuji
In a season so extraordinary it even captured Hollywood's imagination – we've all seen Ron Howard's Rush by now, right? – the scarcely believable 1976 championship battle between Niki Lauda and James Hunt went right down to the wire at the 1976 Japanese Grand Prix, held at Fuji.
Lauda, nursing the two-month-old scars earned in his sickening German Grand Prix crash at the Nurburgring, took one look at the monsoon-like conditions facing the drivers as the race got under way and decided he wanted to further part in it, parking up his Ferrari on Lap 2.
READ MORE: 5 reasons James Hunt remains an F1 icon
Hunt still had to earn himself four points to be champion, though, and looked to have lost that chance when his tyre suffered a puncture. But after pitting for fresh rubber, an inspired recovery drive to P3 behind winner Mario Andretti was enough, with Hunt telling the media sportingly afterwards: "I wanted to win the championship and I felt I deserved it. But I also felt Niki deserved to win the championship, and I just wish we could have shared it."
5. 1994
CHAMPION: Michael Schumacher
VENUE: Adelaide
1994 was a season that left a bad taste in most people's mouths, with rancour both on and off-track, as well as, most tragically, the deaths of two drivers, three-time champion Ayrton Senna and Austrian racer Roland Ratzenberger, killed within a day of each other at Imola.
In a perverse way, it was fitting then that the title fight between Williams' Damon Hill and Benetton's Michael Schumacher should be settled in an unsavoury way too.
WATCH: Top 10 moments of Ayrton Senna brilliance
Hill had driven out of his skin to beat Schumacher in a torrential Suzuka two-parter, to put himself a point behind his German rival going into the final round in Adelaide. There, though, Schumacher was leading Hill comfortably when he slewed off track at the East Terrace corner on Lap 36 of 81, before slewing back onto it and pulling sharply across Hill's bows, as the Williams tried to dive up the inside into the next corner.
Schumacher was dramatically tipped onto two wheels and out of the race – but Hill's suspension was unsalvageable, the Englishman retiring to hand Schumacher his maiden title by a point.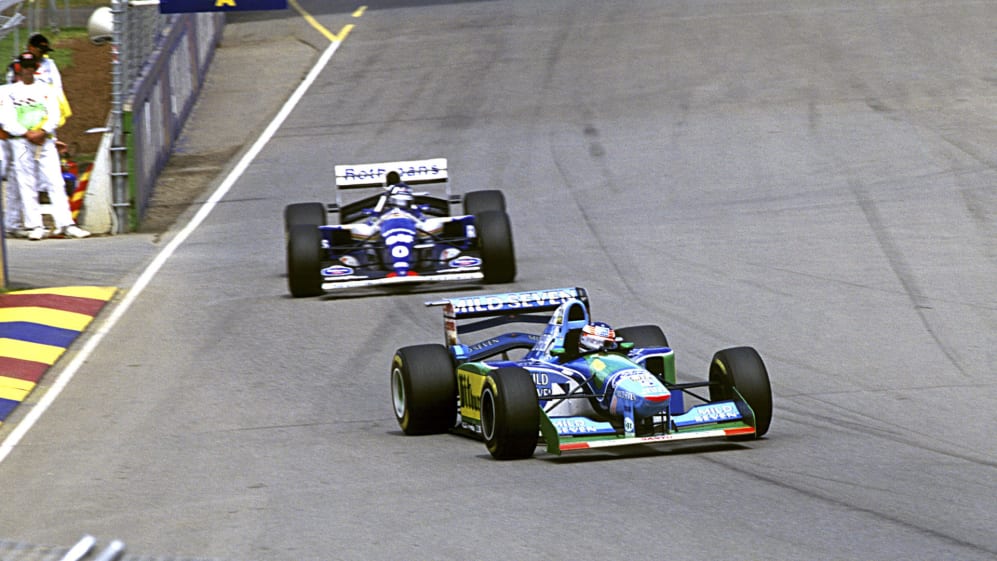 6. 1997
CHAMPION: Jacques Villeneuve
VENUE: Jerez
Three years after Adelaide, and Michael Schumacher again found himself embroiled in more title showdown controversy – this one with more serious consequences. Spain's Jerez circuit hosted the season finale in 1997, with Williams' Jacques Villeneuve trailing Schumacher by a point heading into the weekend – the German searching for his third title, and a first for Ferrari since Jody Scheckter's 1979 triumph.
Qualifying already signalled that this was going to be a weekend less ordinary, as three drivers – Schumacher, Villeneuve and Villeneuve's team mate Heinz-Harald Frentzen – posted the same lap time of 1m 21.072s, with Villeneuve taking pole by dint of setting his lap first.
SCHUMACHER: 8 of the biggest revelations from Netflix's new documentary on the seven-time F1 champion
But the crux moment came on Lap 48 of the race, as Villeneuve threw a move up the inside of Schumacher. The German appeared to open the door but then shut it again sharply, ricocheting off the Williams and into the gravel. There, he became lodged, as Villeneuve drove on to finish third, and claim the title that his father Gilles never managed to claim himself.
As recently retired F1 racer Martin Brundle called it wryly in commentary, "That didn't work, Michael, you hit the wrong part of him my friend" – while Schumacher would later be disqualified from that year's drivers' standings.
7. 2008
CHAMPION: Lewis Hamilton
VENUE: Interlagos
"Is that Glock?!" – an unlikely meme, but one that perfectly echoed the shocked reaction of F1 fans around the globe to the extraordinary final lap of the 2008 Brazilian Grand Prix.
A year on from his title loss to Kimi Raikkonen at the same track, Lewis Hamilton headed to Brazil with a healthy seven-point lead over Ferrari's Felipe Massa (remember, we're in the period of 10 points for a win, eight for a P2, here).
LISTEN: Felipe Massa on Brazil 2008, his life-threatening crash and more
Massa drove an exemplary race, leading 64 of the 71 laps and claiming his second-ever home win. But a late switch to inters appeared to have cost Hamilton, as he struggled in the final laps, dropping behind Toro Rosso's Sebastian Vettel to P6 with four laps to go – where his three points to Massa's 10 wouldn't be enough for the title.
But with literally a corner to go and the rain increasing, Toyota's dry tyre-shod Timo Glock slowed (hence Brundle's startled cry of "Is that Glock?!"), Hamilton gratefully zipping past to claim P5, four points and the first of his seven titles… so far.
8. 2012
CHAMPION: Sebastian Vettel
VENUE: Interlagos
Back to Interlagos, and another unlikely recovery drive that led to title glory. Two years on from beating Fernando Alonso (and Hamilton… and Mark Webber) to his first championship in Abu Dhabi, Sebastian Vettel and Alonso faced off for a second time at the 2012 Brazilian Grand Prix.
Vettel was 13 points clear ahead of the showdown (we're now in the 25 points per win era) – but everything went to pieces at the start, as Webber unhelpfully crowded his team mate, who was then spun around by Williams' Bruno Senna at Turn 4.
PODCAST: Listen to Sebastian Vettel reflect on his career and life outside F1 on Beyond The Grid
Alonso did what he could at the front, jumping from P6 on the grid to finish second to McLaren's Jenson Button. But after dropping to 22nd and suffering damage to his car in the Senna crash, Vettel drove a miraculous recovery drive in changeable conditions to finish sixth, earning himself his third title.
9. 2016
CHAMPION: Nico Rosberg
VENUE: Abu Dhabi
And so to the last time Hamilton faced a title rival at the season finale, back in 2016 and at the same Yas Marina circuit where he'll duel with Verstappen this weekend.
Back then, the rival in question was Mercedes team mate Nico Rosberg, who'd made hay by winning the first four races of the season, only for Hamilton to win six of the next eight – Verstappen partially interrupting that run with his maiden win in Spain, as Hamilton and Rosberg crashed into each other and out of the race.
LISTEN: Nico Rosberg on how to beat Hamilton, F1 retirement and more
Hamilton's engine dramatically letting in go in Malaysia was a decisive moment in that year's title fight, meaning that Rosberg led by 12 points heading to Abu Dhabi.
Agonisingly for Hamilton, having boldly passed Verstappen's Red Bull for P2, Rosberg was then content to sit just aft of his team mate's race-leading Mercedes W07 all the way to the end – Hamilton unsuccessfully attempting to back his team mate up into Sebastian Vettel's third-placed Ferrari, before eventually conceding defeat.
Rosberg claimed the title, matching the feat of his father Keke, before abruptly retiring from the sport five days later.