Opinion
TREMAYNE: Where does Lewis Hamilton's Sao Paulo win rank among his best victories?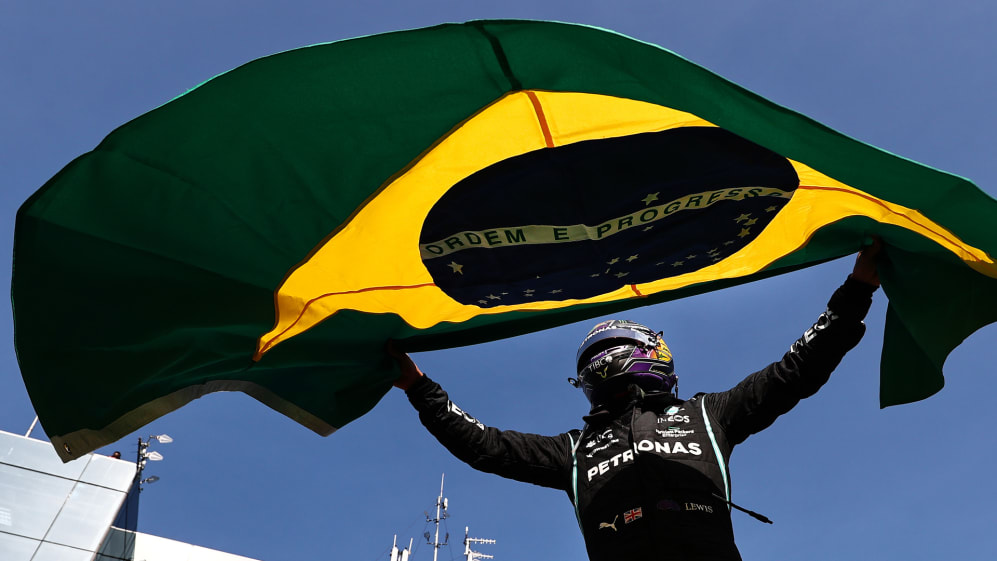 Hyperbole. It's a great word, isn't it? Exaggeration – it's so easy to indulge in it in the aftermath of a great race when the pulse is still racing, yet curiously there can be a flipside to witnessing such events as they unravel live.
I could highlight many great races which have stuck with me over the years: races from the time before I fell in love with F1, reports of which I read as both a child and then a younger man, penned by people who became my heroes and, in many cases, my good friends.
But when you are there yourself, actually watching such events unfolding, when history is being made, it can be difficult to appreciate its true historic significance. That's when hyperbole can steer your thoughts, when you can get so caught up in the passion and excitement of the moment – and haven't we had several of those in this wonderful season! – before you find that race's true rather than immediate perspective.
READ MORE: Was Hamilton's Sao Paulo stampede all down to that new Mercedes engine?
Lewis Hamilton's victory in Sunday's Sao Paulo GP was all of this. But with a couple of days of what Jackie Stewart calls 'distilling time' it becomes easier to calculate its true measure. And that's why I wouldn't hesitate to put it right up there with the best Lewis has ever produced.
Why?
Well, there were so many perspectives to clarify, so let's start at the beginning. This, he said beforehand, was a race he really needed to win if he was to stay in the World Championship fight with Max Verstappen and Red Bull. He was 19 points behind, and there were 29 up for grabs at Interlagos, with the Sprint qualifier on Saturday afternoon, the Grand Prix, and fastest lap therein.
Heaven knows, I'm the last person to care about age. One thing I've learned the hard way in my own little adventures is that age is like speed: just a number. 250 mph? 297 mph? Trust me, you can't tell the difference.
But here's Lewis, no longer the cub but a matured 36 years old, and Max is the one in his former role, just 24 years old and making zero secret of how much he wants Lewis's crown. In past great battles, Niki Lauda was near the end of his career against Alain Prost; then Alain was the elder statesman against Ayrton Senna. Sadly we never saw how an older Ayrton would have coped with the emergent Michael Schumacher.
SCHUMACHER: 8 of the biggest revelations from Netflix's new documentary on the seven-time F1 champion
Then there's the fact that the rule changes, which chopped off the big section of the floor which had helped so much to make Mercedes' low-rake concept work against the higher rake Red Bulls. Suddenly, Lewis and Mercedes have been on their backfoot with the inferior car for much of the season.
After the renaissance in Turkey and Russia, it had come as a major blow to Mercedes to get blown away in Texas and Mexico City, straight line speed advantage notwithstanding. So Lewis had to get the job done in Brazil, and then, of course, soon after he had smashed qualifying to take a much-needed P1, came all the drama of his rear wing's DRS aperture, when a discrepancy of 0.2 mm translated into a 20-grid place drop.
As we well know, he overtook 15 cars to finish fifth, then dropped to 10th on the Grand Prix grid because he was using his fifth ICE of the season, and then overtook 10 more times to score his 101st victory.
READ MORE: We've taken 'many punches in the face this weekend' says Wolff as he brands Verstappen's Lap 48 defence 'over the line'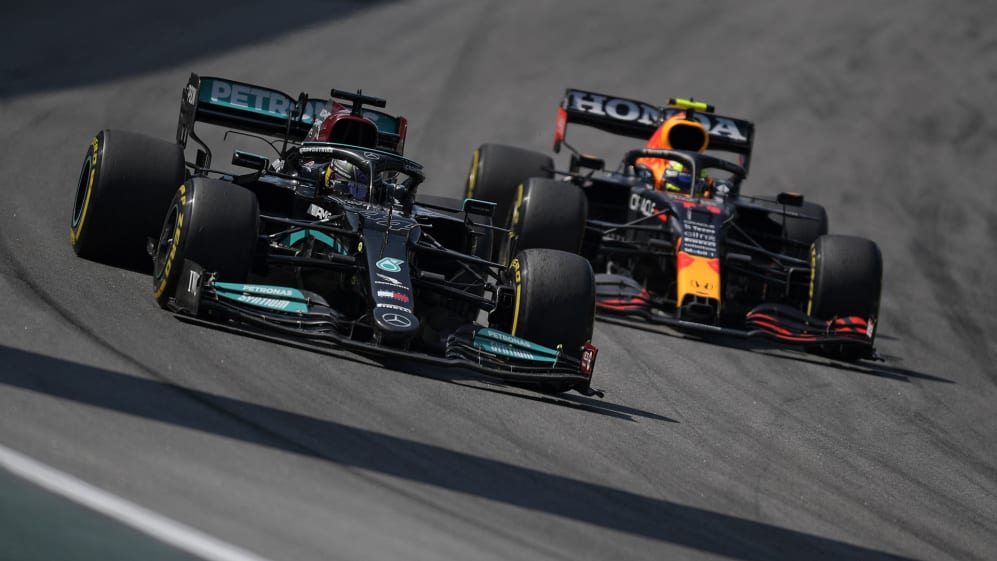 What he did at the wheel was simply outstanding, not the least because he made no mistakes and kept his cool after Max used the oldest trick in the book to fend him off – particularly at Turn 4 on Lap 48. He steered clear of that potential flashpoint, didn't let it unsettle him, and channelled any anger into what became a successful attack.
But for me it was what he did off the track that counted just as much. He didn't start whining. He just kept his head down while never letting it drop, focused on his work, and did everything to help his team comrades to maintain their own motivation and the belief that they could still win. That, for me, was every bit as majestic as the resultant success.
WATCH: All the angles of Hamilton and Verstappen's Lap 48 battle in Brazil – including Red Bull onboard
So where would I put that in his top five victories? Against, say, the 'different zone' success in Spain in 2020, or the 14th to first triumph in Germany in 2018, or Bahrain in 2014 when he and Nico Rosberg slogged it out?
I'd put it second, for all those reasons outlined above, because in what might be regarded (with zero offence intended) as the twilight of his career, he performed as stunningly as he had right from the start. It shocked me to realise that he's been racing at the front of F1 for 15 years…
But what about the rest of that top five? Here, in reverse order, is my take, factored on a mixture of modus operandi, outcome and pure emotional reaction.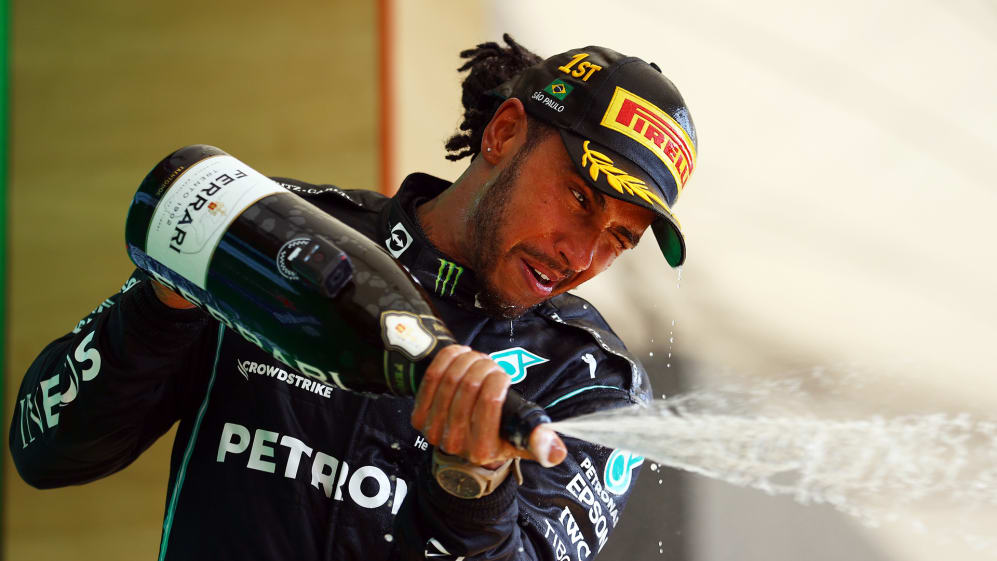 5. 2020 Turkish Grand Prix
The new surface had made old favourite Istanbul Park a treacherous skating rink, which saw Lance Stroll start the wet race from pole and Lewis only sixth.
Like many others, he went off the road early after a strong start had moved him to third, but when rivals pitted for fresh intermediates, Lewis stayed out. And stayed out. Where others could not he found grip, delicately managing his tyres as their tread wore down until he was literally running on slicks on the still greasy surface.
The Pirellis were down to the canvas by the time he scored his 94th win by 31.6s, but he was world champion for a record-equalling seventh time thanks to an unbeatable blend of brawn, brains, balance and bravery.
WATCH: Extended highlights of the 2020 Turkish Grand Prix – your pick as the best race of the year
4. 2007 Japanese Grand Prix
Could conditions have been worse in the misty shadow of Mount Fuji, which that weekend was beset by torrential rain.
The rookie held a two-point lead in his head-to-head fight with McLaren team-mate Fernando Alonso, rated almost universally at the time as the best driver in F1. Lewis beat him to pole by a tenth, and kept his nerve during an agonising 19-lap run behind the Safety Car.
Then both men collided with others, Lewis with Robert Kubica, Fernando with Sebastian Vettel. Both survived, but Lewis emerged a dominant winner on a day when the Spaniard crashed heavily while unable to keep up with him in an identical car.
READ MORE: From Interlagos to Silverstone – Ranking Hamilton's best wet-weather drives, from 10 to 1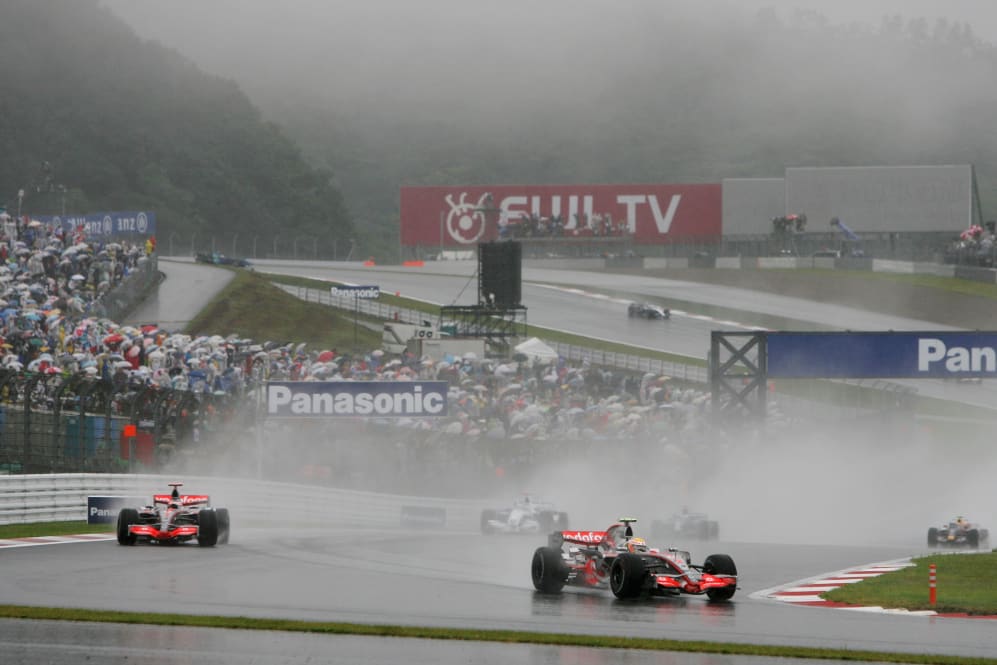 3. 2007 US Grand Prix
Another one from his first season, but with good reason. He'd already caused an upset in Monaco, speaking out afterwards to criticise McLaren's strategy which he believed cost him a win that, it was said, Fernando had demanded as proof of the team's commitment to him.
Then he had decimated the Spaniard to take his first victory in tricky conditions in Canada, where initially I surmised incorrectly that Fernando must have had brake issues as he finished a distant and discombobulated seventh. But in many ways, the US GP at Indianapolis was an even greater triumph, as they went wheel-to-wheel and the new boy did it all over again to win by 1.5s in a nail-biting mano a mano encounter.
READ MORE: Miami is coming – but where else has F1 raced in the USA?
2. 2021 Sao Paulo Grand Prix
As detailed above.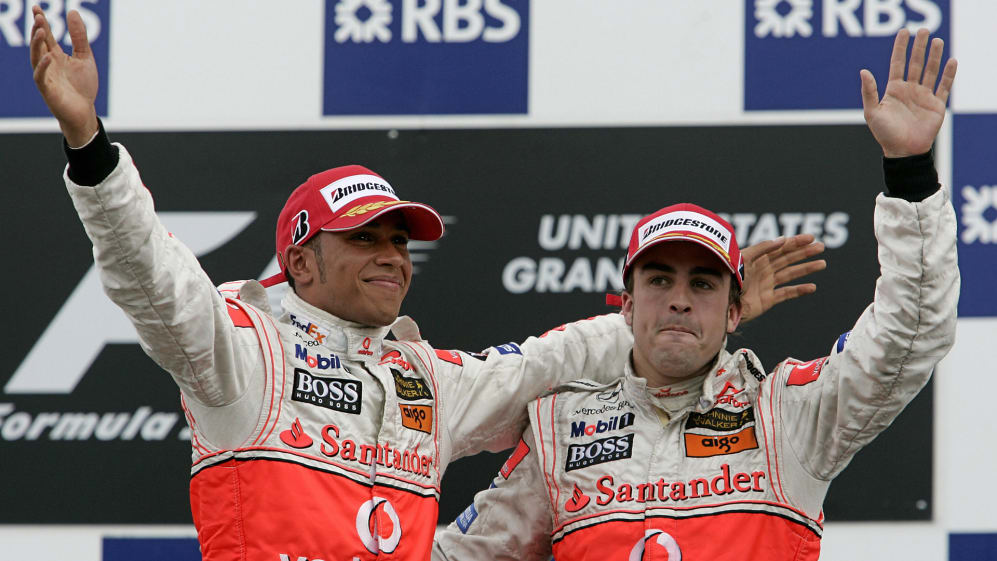 1. 2008 British Grand Prix
Of course this is always the one people remember most, but for good reason: Lewis rates it as his best ever. Beaten to pole by McLaren team-mate Heikki Kovalainen, he demolished the Finn from the fifth lap in a race held on a horribly wet track.
He needed to turn around a bad spell, and on a day when all of his title rivals erred – even Robert Kubica who had been the only one not to put a wheel wrong in preceding races – he had simply disappeared the way Jim Clark had at Spa in 1965.
Even driving at what he deemed to be a comfortable pace, he was at times eight seconds a lap faster than his opposition, in one the greatest performances in F1 history.
READ MORE: F1's Best Drives – Hamilton's wet-weather masterclass at Silverstone