Feature
10 times the title fight was separated by a point or less at the halfway stage of the season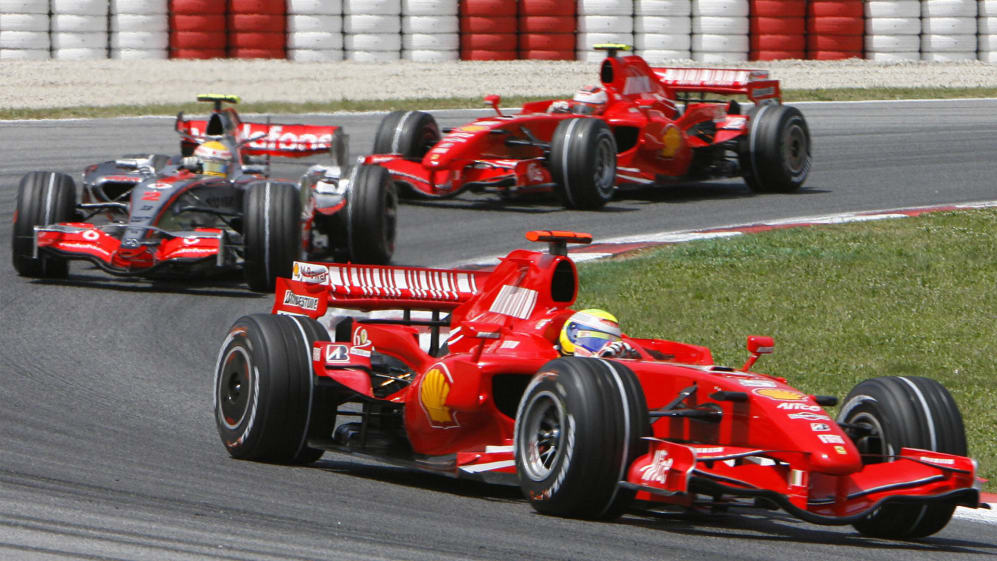 Lewis Hamilton and Max Verstappen headed into the 2021 summer break separated by just eight points in the drivers' standings. Close? No doubt. The closest in F1 history at the halfway stage? Not by a long shot. Read on to find out the 10 times the title battle has been separated by one point or less midway through the title fight.
ONE POINT
1951 – Juan Manuel Fangio (15), Nino Farina (14)
After race: 4 of 8
Eventual champion: Juan Manuel Fangio
Pre-war ace Giuseppe 'Nino' Farina had been crowned Formula 1's first ever champion in 1950 (more on which later). Halfway through his title defence season, and Farina was looking well-placed to make it two championships on the trot, as he trailed Argentina's Juan Manuel Fangio by a solitary point – Fangio having won the season opener at Bremgarten in Switzerland and shared victory with Luigi Fagioli at Reims, while Farina had won at Spa.
READ MORE: Who's got the mental edge – and who will come out on top? Our writers on the Hamilton vs Verstappen battle
By season end, however, Farina would have fallen to fourth, as Fangio swept to the first of his five titles, ahead of Alberto Ascari.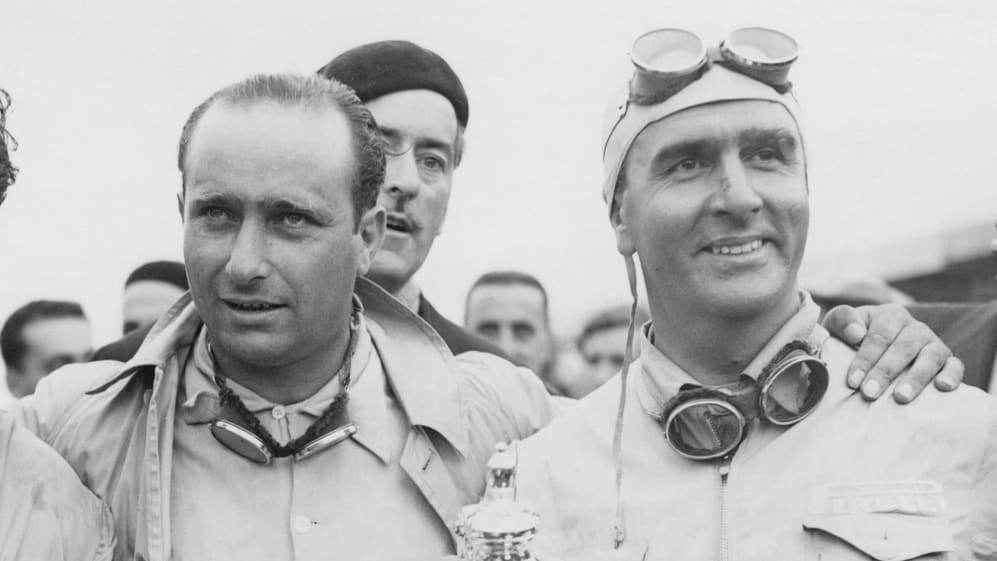 1961 – Phil Hill (19), Wolfgang von Trips (18)
After race: 4 of 8
Eventual champion: Phil Hill
Driving the divine 156 'sharknoses', Ferrari's drivers held a significant advantage throughout 1961. Following the French Grand Prix at Reims – won for Ferrari by Giancarlo Baghetti on his F1 debut, the only time a rookie's ever managed it in F1 history – it was the Scuderia's American driver Phil Hill who found himself narrowly ahead of team mate Wolfgang von Trips in the standings.
ALTERNATIVE HISTORIES: What if Stirling Moss had not felt snubbed by Ferrari?
Alas, there'd be a tragic twist to this title fight, with Hill crowned champion at Monza, in the same race that von Trips – still in contention for the crown heading into the race, as were Stirling Moss and Richie Ginther – and 15 spectators lost their lives, after the German's 156 went into the crowd. It remains F1's most fatal accident.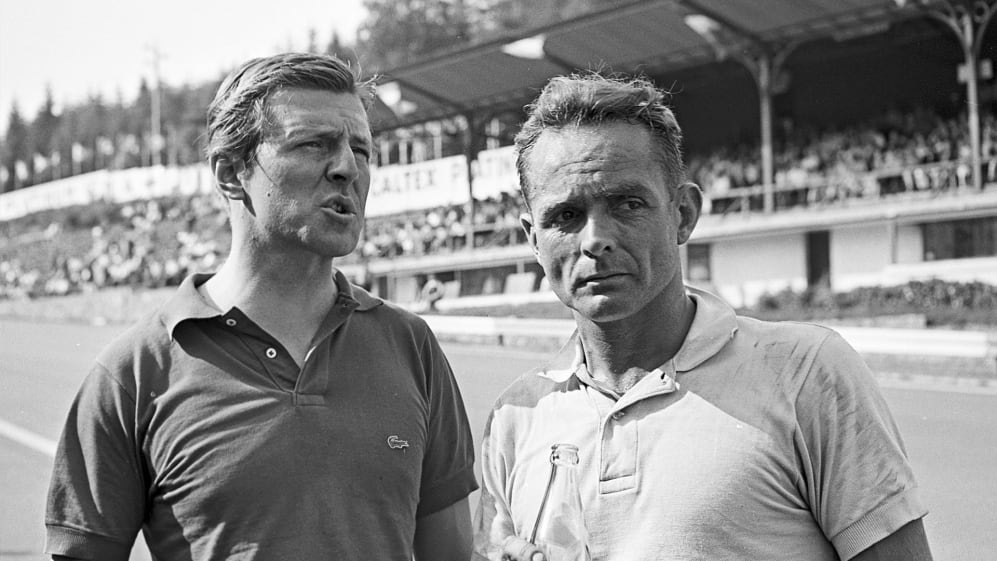 1977 – Jody Scheckter (32), Niki Lauda (31)
After race: 8 of 17
Eventual champion: Niki Lauda
A startling start to life with his newly-formed Wolf team had seen South African Jody Scheckter win on his debut for the squad at the 1977 Argentine Grand Prix. A further win at Monaco meant that at the halfway point of 1977, Scheckter led the drivers' championship by one point from Niki Lauda, the Austrian driving his first full season back following his horrific 1976 German Grand Prix crash.
A LETTER TO MY YOUNGER SELF: Jody Scheckter
Scheckter would win once more for Wolf at that year's Canadian Grand Prix. But by that point, Lauda had already wrapped up the title and, frustrated with Ferrari politics, decided to sit out the final two races of the year before joining Brabham for 1978.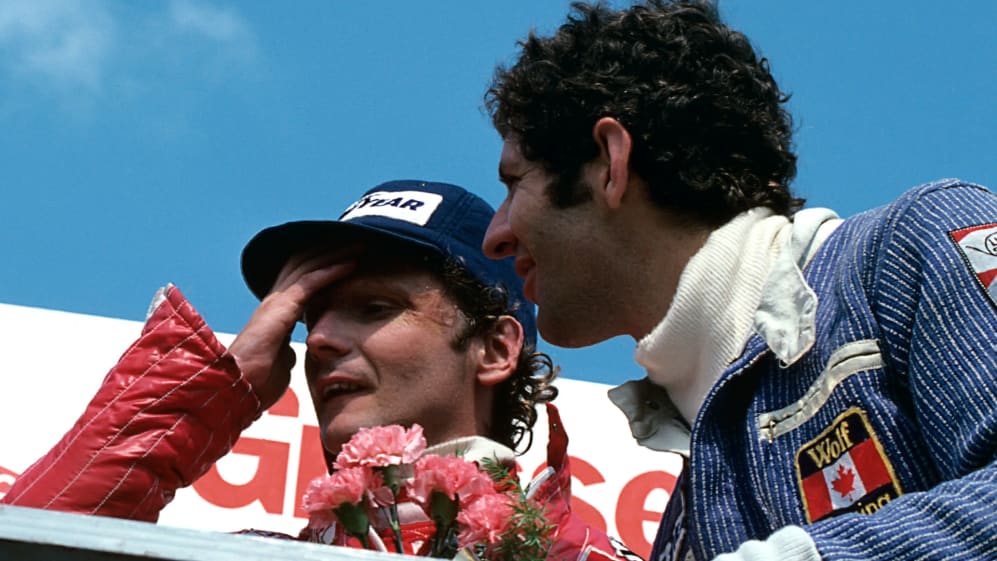 1983 – Alain Prost (28), Nelson Piquet (27)
After race: 7 of 15
Eventual champion: Nelson Piquet
Renault driver Alain Prost's first major title tilt came in 1983, as he took on Brabham's Nelson Piquet. Following his victory at that year's Belgian Grand Prix – held at the reconfigured Spa-Francorchamps circuit – Prost swept to the head of the title race, his lead just one point over Piquet after the following race in Detroit.
LISTEN: Prost on his amazing career, his unique relationship with Senna and his 80s rivals
Agonisingly, Prost would go on to hold that lead all the way until the final round at Kyalami, only for a turbo issue to rule him out of the South African Grand Prix, allowing third-placed Piquet to claim his second championship.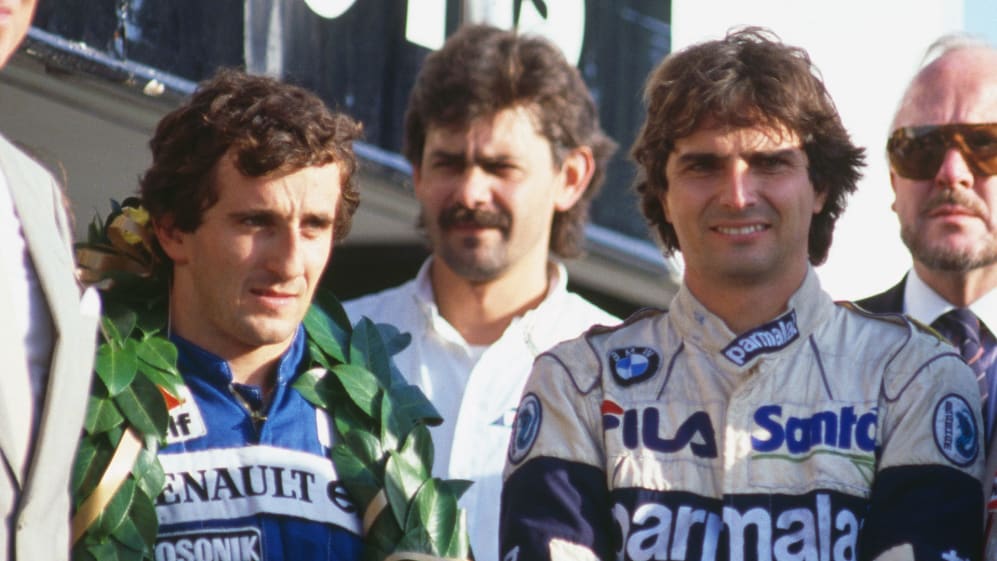 1986 – Alain Prost (39), Nigel Mansell (38)
After race: 8 of 16
Eventual champion: Alain Prost
Prost would eventually win his first title in 1985, and was in the thick of the battle again in 1986, this time with Williams' Nigel Mansell – Mansell with three wins to Prost's two at the mid point of the season, but one point behind in the standings following round eight of 16 in France.
This time, however, the agony would be for Mansell, who led the standings by six points going into the final round at Adelaide, but who would retire from the race after his tyre exploded, a moment brilliantly called by commentator Murray Walker with his iconic scream of, "And colossally, that's Mansell". Prost's win handed him his second championship on the bounce.
WATCH: 'And look at that!' - Murray Walker's greatest F1 commentary moments
2016 – Nico Rosberg (168), Lewis Hamilton (167)
After race: 10 of 21
Eventual champion: Nico Rosberg
Mercedes' Nico Rosberg hadn't taken kindly to being beaten to the title in two consecutive seasons by his erstwhile childhood buddy turned team mate Lewis Hamilton in 2014 and 2015. 2016 duly saw Rosberg lift his performances at the start of the year, winning the first four races on the bounce.
But Hamilton capitalised on Daniel Ricciardo's Monaco near-miss and a clumsy move by Rosberg in Austria, to sit just a point behind his Mercedes team mate at the halfway point.
Ultimately, however, a power unit failure for Hamilton in Malaysia allowed Rosberg to stretch his lead, meaning that, despite Hamilton winning the last four rounds of 2016, it wasn't enough to stop Rosberg taking the crown by five points, before shocking everyone by almost immediately announcing his retirement.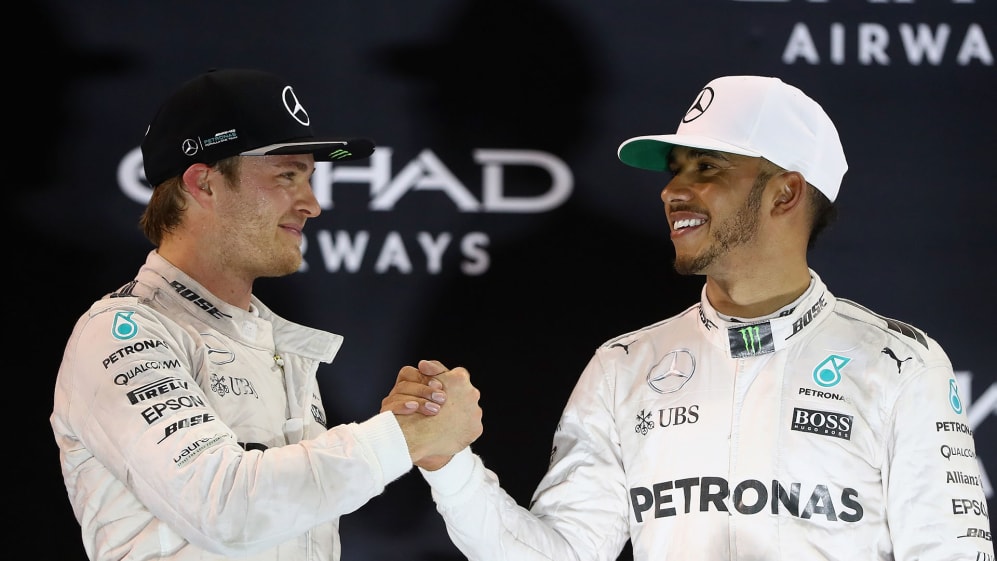 2017 – Sebastian Vettel (177), Lewis Hamilton (176)
After race: 10 of 21
Eventual champion: Lewis Hamilton
With Rosberg having conveniently absented himself from the sport after claiming the title in 2016, it was Sebastian Vettel, in his third season with Ferrari, who stepped into the breach as championship pretender against Lewis Hamilton in 2017. And all was going well for the four-time champion by mid-season, as Vettel led Hamilton by a point despite having scored three wins to Hamilton's four.
READ MORE: Vettel reveals what was said in emotional Turkey 2020 parc ferme moment with 'greatest driver of our era' Hamilton
From that point on, though, it was 'Hammer Time', Hamilton engaging another gear to take a further five wins to Vettel's two – with Vettel also enduring two non-scores in Singapore and Japan – meaning by the end of the season, Hamilton had taken his own fourth title, winning out by a full 46 points over Vettel.
ZERO POINTS
1950 – Nino Farina (9), Juan Manuel Fangio (9), Johnnie Parsons (9)
After race: 3 of 7
Eventual champion: Nino Farina
Three races down in F1's inaugural 1950 season, and three drivers topped the standings on nine points apiece. Our old friend Dr Farina had won the first ever World Championship Grand Prix at Silverstone on May 13, while the following round at Monaco witnessed the sport's first ever 'Grand Chelem', as Alfa Romeo's Fangio took pole, fastest lap, the victory and led every lap.
READ MORE: F1's Best Drives #5 – Fangio's race of a lifetime
Meanwhile, with the Indianapolis 500 making up part of the F1 calendar, Johnnie Parsons joined Farina and Fangio at the top of the table after victory in his Kurtis Kraft-Offenhauser.
Only four races remained in 1950, however – and despite Farina and Fangio sharing two wins apiece, it was Farina who was crowned F1's maiden champion, taking the crown by three points from Fangio.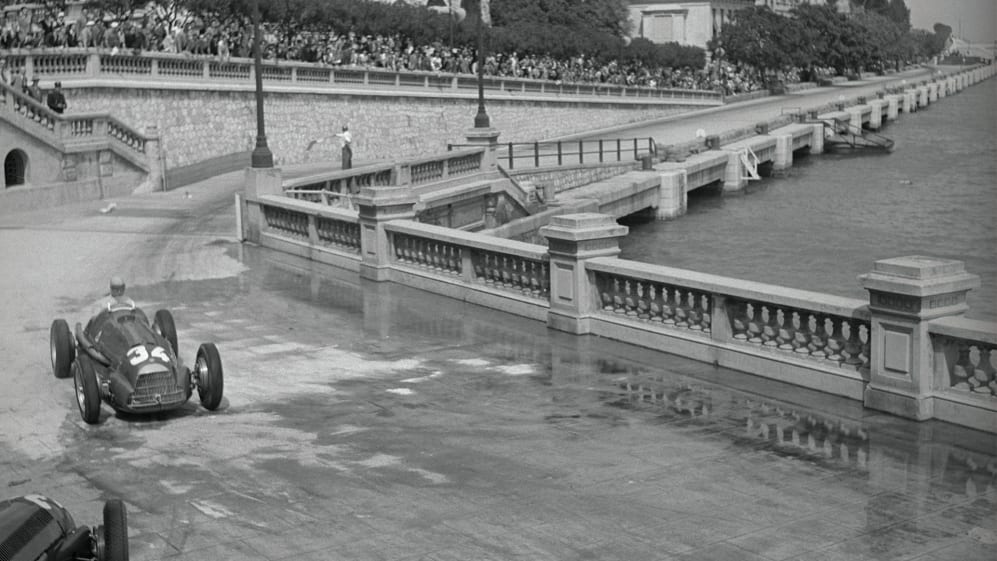 1956 – Stirling Moss (11), Peter Collins (11)
After race: 4 of 8
Eventual champion: Juan Manuel Fangio
This entry is unique in our 10, given that neither of the top two protagonists at the midway point of the year – Britain's Stirling Moss and Peter Collins – would be crowned champion at the end of it.
With the two Englishman drawn on 11 points apiece midway through 1956, by the final race at Monza, Moss was out of the fight, with only Fangio, Collins and Jean Behra in contention for the title. But then, in one of the most extraordinary gestures of sportsmanship ever witnessed, Collins handed his healthy Ferrari over to team mate Fangio mid-race, allowing the Argentine to finish on the podium behind Moss and claim his fourth title.
READ MORE: Rivals on track, friends off it – 7 of F1's greatest ever 'bromances'
"When Collins came in, he saw me stuck there and without being asked, he got out of his car and offered it to me to finish in," remembered an appreciative Fangio years later. "That was a fantastic gesture… I threw my arms around him and kissed him. After that I finished second to Moss, and that was enough."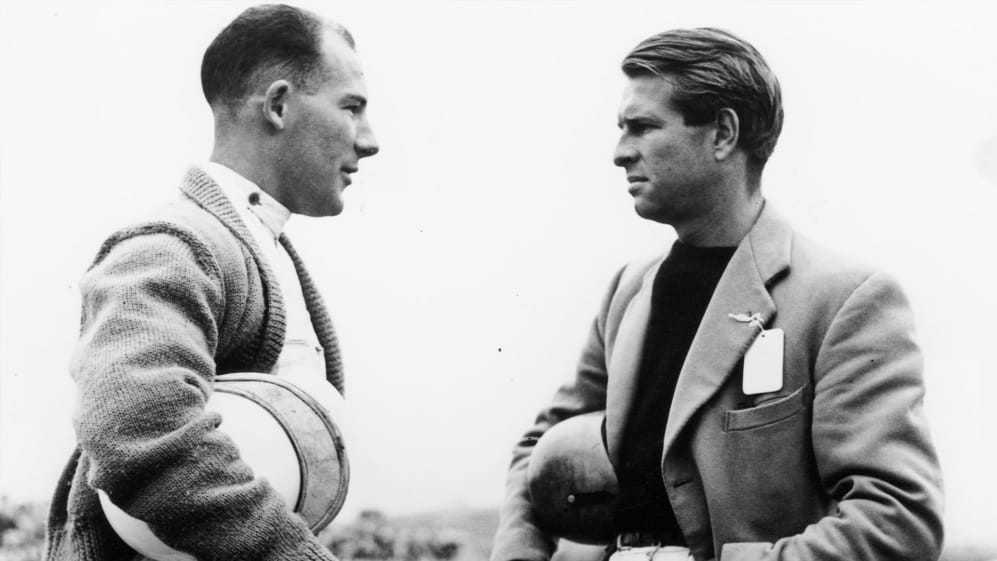 2008 – Kimi Raikkonen (48), Lewis Hamilton (48) and Felipe Massa (48)
After race: 9 of 18
Eventual champion: Lewis Hamilton
With half the season gone in 2008, remarkably, McLaren's Lewis Hamilton and the Ferrari pairing of Felipe Massa and reigning champion Kimi Raikkonen found themselves drawn on 48 points each – with BMW Sauber's Robert Kubica just two further back in P4.
READ MORE: The six occasions the title has been settled in Brazil
By that point, Hamilton had taken three wins – including his now-legendary Silverstone wet weather masterclass – as had Massa, while Raikkonen had two.
But as Raikkonen's challenge faded, ruined by a run of four point-less races, Hamilton and Massa battled down to the wire in Brazil, Massa winning the race only for Hamilton to slip past Toyota's Timo Glock in a jaw-dropping final lap, his fifth place enough to give him his first title by a solitary point.