Feature
6 key things our data tells us from pre-season testing – including why it wasn't all bad news for Mercedes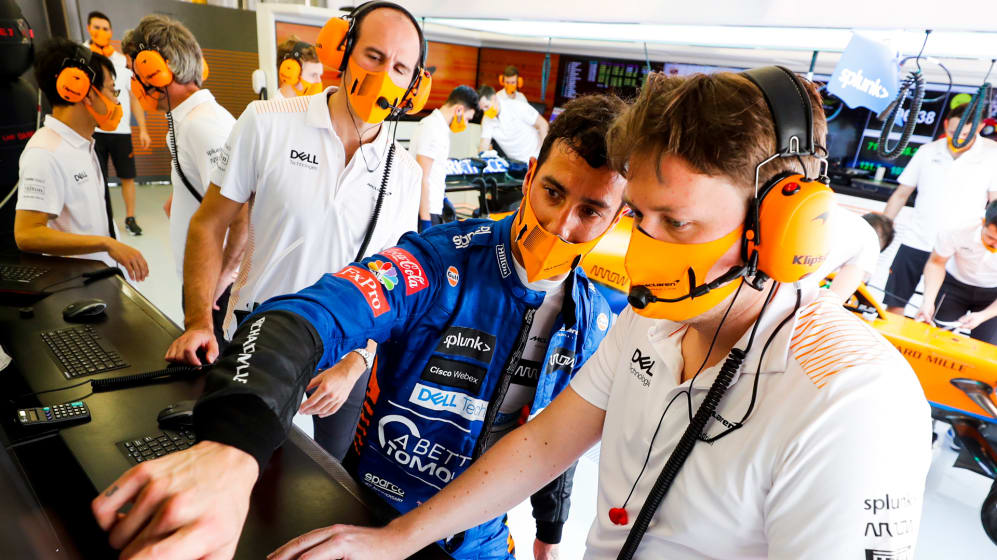 Reading into headline times at testing is a fool's game, with teams running a variety of programmes, with different fuel loads, on varying tyre compounds. So a data dive is required to try and get a read on who's hot and who's not. We've done just that with the numbers from pre-season testing in Bahrain and uncovered some exciting findings ahead of the 2021 season opener…
1. Mercedes are on the back foot – but it's not all bad
Mercedes have set the bar so high over the last seven years that leaving pre-season testing as the second-best on paper, based on the performance they showed over those three days, is seen as a disappointment.
It's clear the Silver Arrows have plenty of work to do, with Lewis Hamilton in the unusual position of looking the more unsettled of the team's two drivers.
READ MORE: Have the 2021 rule changes swung the advantage from Mercedes to Red Bull?
Our data team compared the seven-time world champion's performance at FP2 in Bahrain 2020 with day two of testing and it showed his throttle application was not as smooth in testing as it was in FP2, the Briton really having to fight the car throughout the test.
Mercedes' short run pace is of the biggest concern. They were second in the pecking order, 0.56s adrift of Red Bull, based on our data, with the team unsure why they couldn't find extra performance as they ramped up to low-fuel runs using softer compounds.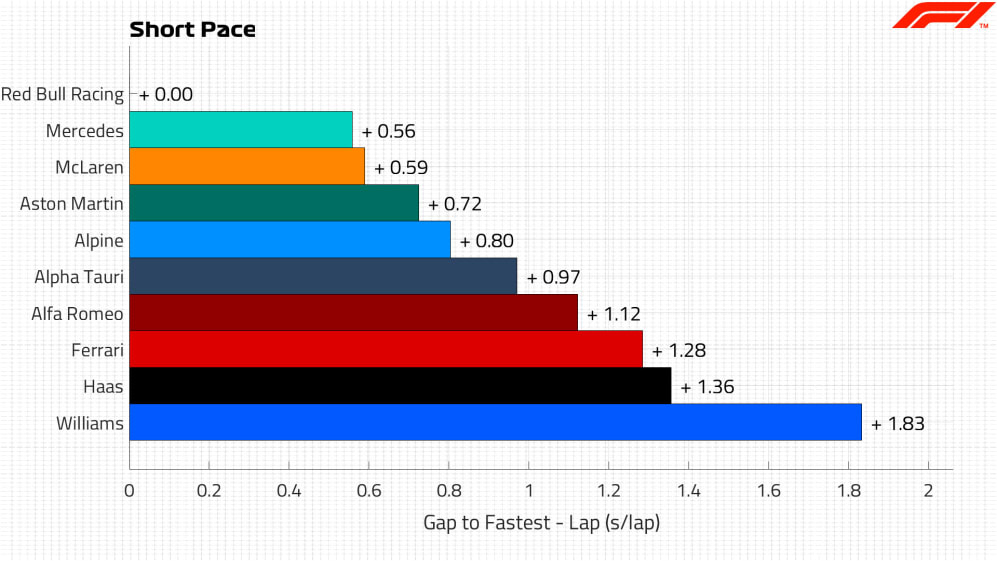 However, what was less clear to see was their long run pace (below). And it's here that things look rosier. On day three, the numbers suggests the Silver Arrows were top of the pile in this metric, holding a 0.39s per lap advantage over the Red Bull.
They now have 12 days to understand where they are struggling on low fuel and rebound. History, though, suggests they have the capabilities to do it.
READ MORE: 6 Winners and 6 Losers from 2021 F1 pre-season testing
2. Aston Martin have yet to show their hand on pure pace
Aston Martin were perhaps the most difficult team to read regarding their performance at pre-season testing, the green cars failing to trouble the top of the timesheets at any point over the weekend.
As the graph above shows, Lance Stroll and Sebastian Vettel were significantly slower than expected on day three, in terms of pure performance, with the latter failing to get any low-fuel running on softer compounds at any point during the test.
However, they have reason to be cheerful about their race pace, based on the programme they could complete, as they ended up third in the long run pace rankings (below), just 0.73s per lap slower than the Silver Arrows, with whom they have a very tight technical relationship.
READ MORE: Vettel positive about 'really productive' test despite Aston Martin reliability issues
3. Fernando Alonso has no fitness quibbles
There were question marks over Fernando Alonso's ability to replicate the kind of performance that marked him out as one of the all-time greats on his return to F1 and his preparations were disrupted when he fractured his jaw in a cycling accident last month.
But the Spaniard showed no sign of rustiness or fatigue as he clocked up 206 laps – the fifth highest tally and the equivalent of around four Grands Prix distances – behind the wheel at Alpine.
The drivers who completed the most laps at testing
| Driver | Lap total |
| --- | --- |
| Pierre Gasly | 237 |
| Kimi Raikkonen | 229 |
| Nikita Mazepin | 213 |
| Charles Leclerc | 212 |
| Fernando Alonso | 206 |
| Max Verstappen | 203 |
| Lance Stroll | 197 |
| Antonio Giovinazzi | 193 |
| Carlos Sainz | 192 |
| Esteban Ocon | 190 |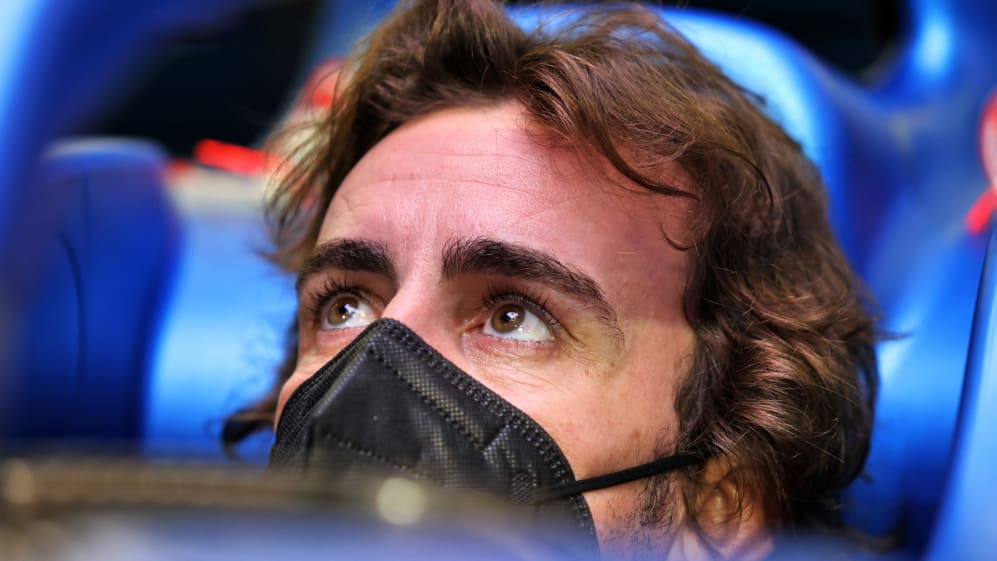 4. Ferrari appear to be in decent shape
Ferrari's SF1000 was the worst of both worlds – it lacked power and was, as Vettel said, draggy. So plenty of work went on over the winter at Maranello to not only improve the power unit, which involved revising the whole thing, but also cutting the drag.
The result, say the speed traps, is that they have made progress in this area, with Team Principal Mattia Binotto saying straight-line speed is no longer a disadvantage for them.
READ MORE: Atmosphere at Ferrari already better after 'strange' 2020, says Leclerc
How much have they gained? It's difficult to say. The Scuderia had a slow start to the test, based on our performance data, and looked slower than pre-event simulations predicted on day one. But they made significant gains on day two, particularly on their long runs.
And then on day three, as the 'Driver Best Laps & Track Evolution' graph shows, Leclerc did a lap very early in the morning that was better than expected for the time of day. They certainly won't be title contenders or a genuine threat for a race win, but it seems like they will be a stronger force in the midfield at the very least.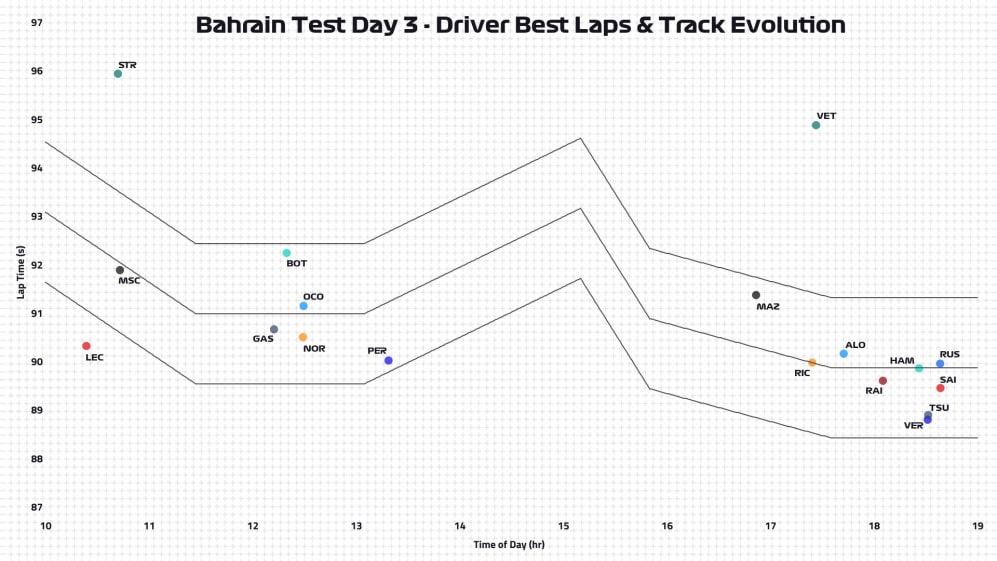 The graph above shows when the drivers set their best lap times on Day 3. The lines are like contour lines on a map (which show places of equal height) - these show equivalent lap time for the time of day. For example, while Perez's lap was slower than Verstappen's, if you account for track conditions it was virtually identical.
5. McLaren suggest P3 wasn't a fluke
It was unclear whether McLaren would be able to hold on to P3 in the constructors' championship for the second consecutive season, given they were changing engine supplier and bolting the Mercedes into an existing chassis design, but the early signs are very positive.
Our data team shows new recruit Daniel Ricciardo set the best lap of the opening day, when track evolution is taken into account as the conditions were much less favourable when he ran in the morning session.
READ MORE: McLaren explain thinking behind their unique diffuser design that had everyone talking at testing
Overall, their short run pace was ultra-impressive, our data putting them third overall, 0.59s off the pace and just 0.03s adrift of Mercedes in second. They retained a strong footing in race performance, too. While they dropped to fourth, usurped by Aston Martin, it's took close to call with just 0.03s separating the two midfield foes.
They are favourites for P3, based on our reading of testing.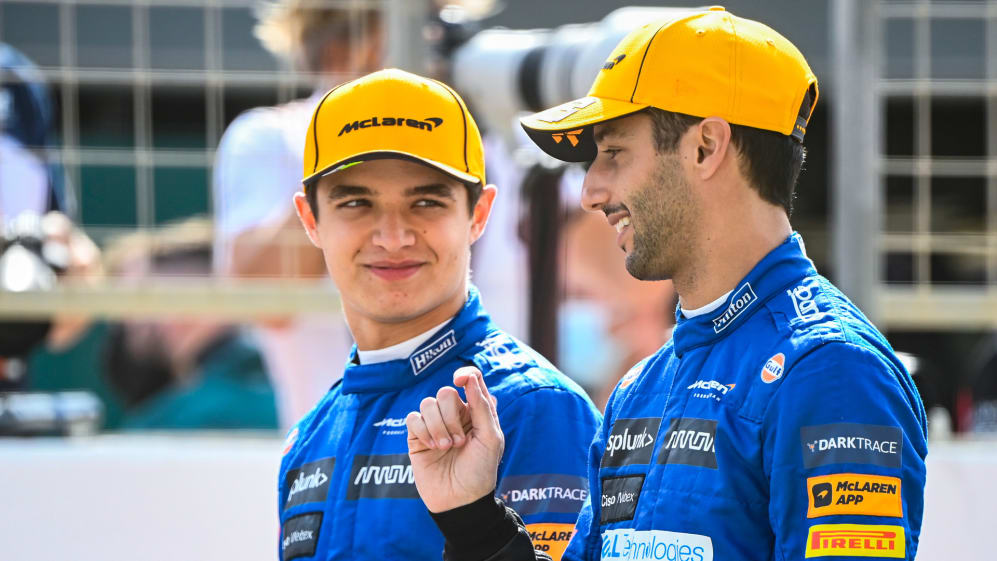 6. Perez taking the fight to Verstappen
Red Bull left pre-season testing with the biggest smile of all, the Milton Keynes-based squad looking strong in all conditions and in both short and long run performance metrics.
They were on it from the off, Max Verstappen looking mighty on day one, with our data showing Red Bull gained most of their advantage in S2, implying they were able to extract more pace from medium and high speed corners.
READ MORE: Verstappen hails best ever pre-season test for Red Bull after posting fastest lap in Bahrain
But perhaps the most intriguing data point of all, was how new recruit Sergio Perez stacked up against Max Verstappen – and the numbers deliver some surprising results.
Verstappen and Perez's long runs too place when the track conditions were very different, but when running similar power levels. On paper, Verstappen was the quicker, doing his runs when the track was in better shape.
So when you make allowances for the track conditions – Perez did his run at a time when the track was around 2.86s slower than it was when Verstappen did his – the Mexican was in fact 0.6s quicker than his team mate.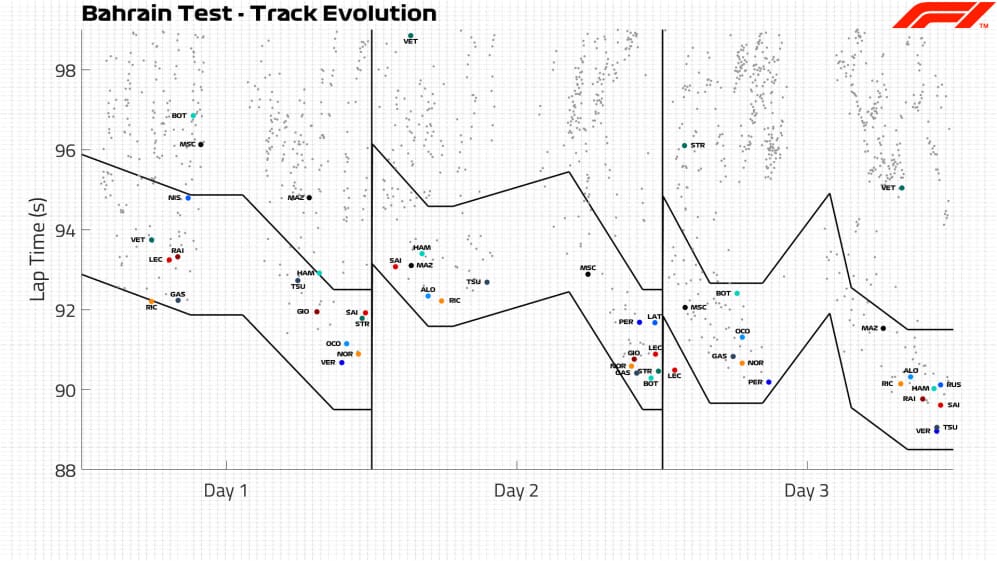 Did this trend carry into the short run metric, with the data showing both were running similar power levels?
Well first some caveats. Perez appeared to be running with less drag according to top speed traces, but also less downforce – says lower minimum apex speeds data. This is particularly prevalent in Turns 5,6,7 where Perez cannot carry the same speed through this complex that Verstappen could. Verstappen also tended to have better corner exit speed and quicker 100% throttle application.
WATCH: What's the order heading into 2021? Jolyon Palmer's verdict on all 10 teams after testing
But the track was in much better shape when Verstappen was in the car, with grip levels 1.4s per lap better when the Dutchman was doing his low-fuel run compared to Perez. So while he finished higher than the Mexican overall, if you correct the times based on track evolution, Perez was the quicker driver, by 0.167s.
If Perez can get his feet under the table quickly at Red Bull, we might have quite the inter-team fight on our hands – and at the sharp end no less, based on the team's testing form.
Bring on the first race.