Feature
A tight Mercedes battle & an intriguing podium fight: What To Watch For in the Italian GP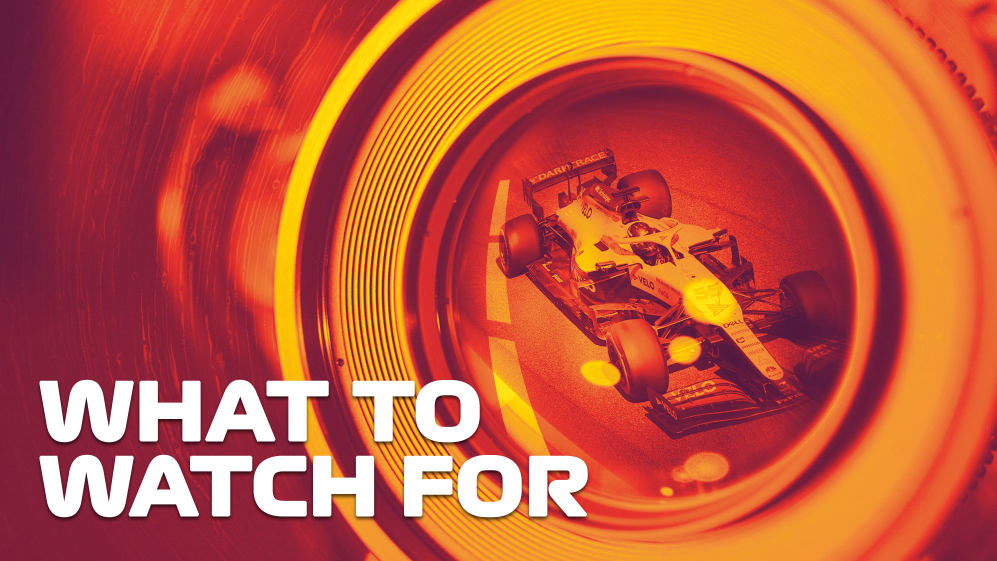 From another fight between Mercedes drivers to the unknown race impact of a new technical directive, and from a mouthwatering fight for third place to Ferrari looking to avoid an unwanted record, we highlight five key things to look out for at Monza…
Mercedes in a league of their own
Lewis Hamilton and Valtteri Bottas look set for a close battle
We've become accustomed to Mercedes leading the way so far this season, and Monza proved no different on Saturday with Lewis Hamilton and Valtteri Bottas locking out the front row. But between them the battle was extremely close, with only 0.069s separating the two as Hamilton took his 94th pole position.
READ MORE: Fastest ever F1 lap felt 'awesome' says Hamilton as he claims 7th Monza pole
Given the pace advantage Mercedes appear to have at this point, it's tough to see another car getting in the mix for victory unless the new power unit technical directive has a greater impact in the race – more on that later – but Monza is a track where there is the potential for an exciting slipstream battle between closely-matched cars.
Bottas knows he needs to take points off Hamilton if he wants to get back into the title race, and Hamilton goes in search of the 90th victory of his career, so there's plenty riding on the run to the first corner – but that isn't the only chance to make gains.
If he doesn't take the lead at the start, staying within DRS range will be crucial for Bottas, who can then save a bit more fuel sitting behind Hamilton and use the tow to keep him close to his team mate while he waits for the opportunity to strike and try to pass.
READ MORE: Supreme Hamilton edges out Bottas as Ferrari struggle at Monza
Sainz vs Perez vs Verstappen
Carlos Sainz won the initial fight for best of the rest
It might look like a single team race for the win, but the battle for the podium is wide open, with three drivers in particular looking in good shape. McLaren came out on top in qualifying with Carlos Sainz securing third on the grid, but he was only just ahead of Sergio Perez in fourth and Max Verstappen in fifth.
READ MORE: Sainz 'shaking' after thrilling final lap gives McLaren best Monza grid slot since 2012
A top three of Hamilton, Bottas and Verstappen – in some order – has become the norm recently but there's every chance that run will come to an end as Verstappen has more than one threat to fight off.
The Red Bull driver has dealt with such a situation before, finishing second in Hungary from seventh on the grid (and with a pre-race crash to boot) but Monza's characteristics make it a unique challenge, and it might not be so easy for him to make progress. As a future Ferrari driver, a Sainz podium would probably go down pretty well with the tifosi, too…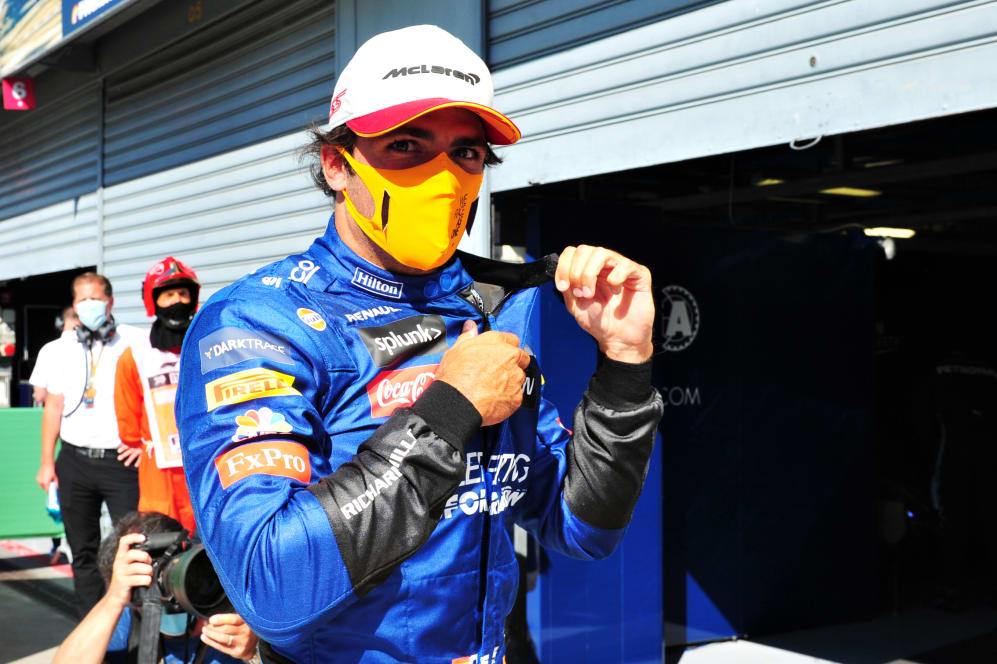 Renault still a threat for the podium
Only Daniel Ricciardo made it through to Q3 and starts seventh
Renault can't be ruled out of the top three battle either, even though Daniel Ricciardo was a little disappointed with his qualifying effort. The Australian had earmarked Monza as a big podium chance, so a spot on the fourth row was not his aim. But the gap to Sainz was just 0.169s, so it's not like Renault were far off…
READ MORE: P7 on the grid at Monza 'damage limitation' for Renault says Ricciardo
Ricciardo's future team mate Lando Norris will also be a threat from sixth on the grid, but Ricciardo is encouraged by the race pace Renault have shown, with Friday putting them in the frame to at least race with McLaren and Racing Point.
And it's a former team mate in the shape of Verstappen that Ricciardo specifically has an eye on, as he believes his starting position behind Sainz and Perez opens up the opportunity for other teams to target the podium.
Plus, Mick Schumacher won from seventh on the grid in Formula 2 on Saturday night, getting up to second place by Turn 1 with an excellent start – something that was referenced by Ricciardo himself as a potential omen.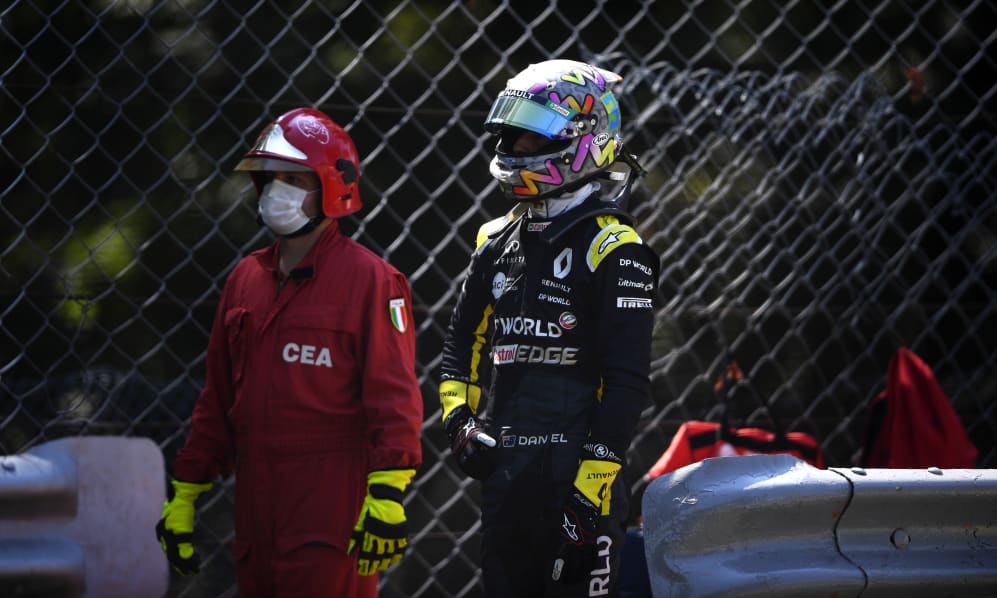 Ferrari seeking to avoid an unwanted record
Neither Scuderia driver starts in the top 10 at Monza for the first time in 36 years
September 9, 1984 was the last time Ferrari did not have at least one of their cars starting in the top 10 at Monza. The tifosi might not be here this weekend, but it's still a painful result as Sebastian Vettel dropped out in Q1 and Charles Leclerc could only manage 13th on the grid.
READ MORE: Q2 exit at home 'hurts' says Leclerc as Ferraris start outside top 10 at Monza for first time since 1984
Ferrari now have to try and avoid breaking an even longer-running record in the race, with the team having never failed to score a top 10 result whenever they've had at least one car finish the race here.
Given how they performed at Spa – and the fact that qualifying here this weekend was even worse – it looks like a tall order for the Scuderia to even score a point. As if an empty Monza didn't feel strange enough already…
Power unit modes
A new technical directive had little impact in qualifying
Plenty of talk in the paddock ahead of this weekend's track action was focused on a new power unit technical directive that meant teams would have to use the same engine mode form the start of qualifying through to the end of the race.
How would it shake things up? Well, if you look at the top two and the gap to the rest, it didn't. Hamilton beat Bottas by less than 0.1s, and enjoyed an advantage of 0.8s to the car in third.
READ MORE: Bottas fires 'party mode' potshot at Red Bull after Mercedes secure first quali 1-2 at Monza since 2016
But the car in third was not a Red Bull, it was a McLaren, as Sainz excelled. From third to seventh – a group also including Sergio Perez, Max Verstappen, Lando Norris and Daniel Ricciardo – the gap was just 0.169s. And that group also includes three of the four power unit manufacturers in Renault, Mercedes and Honda.
It will be interesting to see if the directive has a bigger effect on Sunday, as Mercedes were warning they were likely to benefit from being able to run the power unit in a stronger mode over a race distance. If that's true, Perez will be sitting pretty. If it's not, maybe the front two won't disappear into the distance after all...