Feature
FORM GUIDE: Who are the favourites for Abu Dhabi as Hamilton and Verstappen's title fight draws to a close?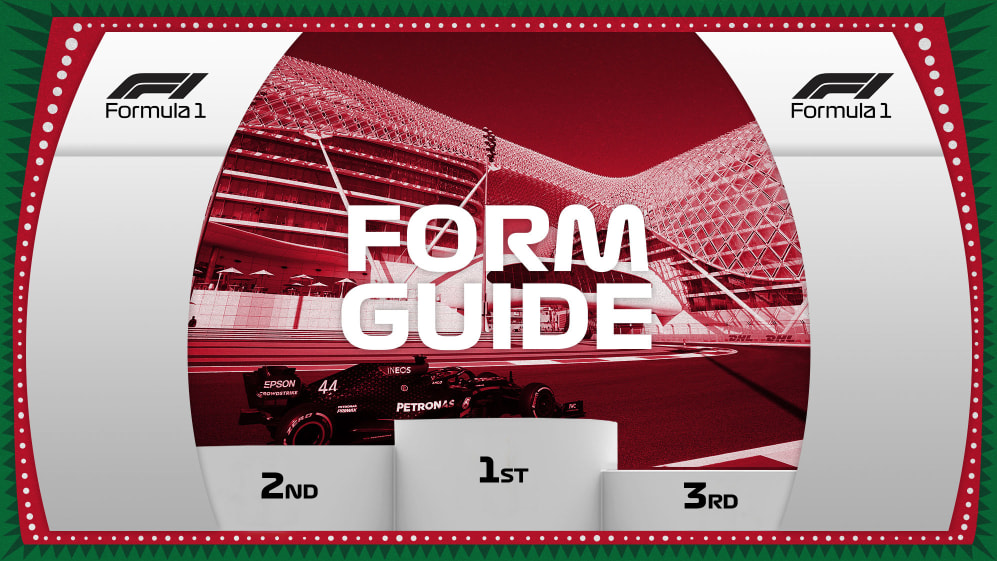 So, it all comes down to this: one last roll of the dice to see if Max Verstappen or Lewis Hamilton is crowned 2021 drivers' champion, if Mercedes can hold off Red Bull for their eighth constructors' crown… even if Williams can secure their best constructors' finish since 2017.
Ahead of the Abu Dhabi Grand Prix finale, let's see the favourites for pole, podiums, points and victory for one last time – and check out the voting on our awesome F1 Play predictor game.
Vying for pole
Verstappen and Hamilton go to Abu Dhabi level on points, the first time that's happened for two title protagonists since 1974. Now traditionally, you'd say the dice were loaded in Mercedes' favour, with the team having taken every pole and win at Yas Marina between 2014 and 2019.
But then, out of nowhere in 2020, Verstappen claimed a shock pole position – his first of the season – ahead of Valtteri Bottas and Hamilton. The Dutch driver will be hoping that augurs well for this weekend, given that he's now failed to go fastest in qualifying since Austin – albeit that he was on course for a dominant pole in Saudi before stuffing it into the Turn 27 exit wall.
EXCLUSIVE: Verstappen and Hamilton's decisive Saudi Arabian GP qualifying laps side-by-side
Outside of Verstappen, Hamilton has the rather eye-catching record of five Abu Dhabi poles to his name since the track's first inclusion in 2009, while Bottas claimed one in 2017 too.
You'd say they were the three drivers most likely to claim P1 on Saturday, with Sergio Perez still without that elusive first career pole this season. Bear in mind that there are changes to the track too. Whether those will play into Red Bull's or Mercedes' hands remains to be seen.
Pole positions in the last five years:
2020 – Max Verstappen (Red Bull)
2019 – Lewis Hamilton (Mercedes)
2018 – Lewis Hamilton (Mercedes)
2017 – Valtteri Bottas (Mercedes)
2016 – Lewis Hamilton (Mercedes)
FAN VIEW: Lewis Hamilton and Max Verstappen are tied on 369.5 points each heading to Abu Dhabi for the decider, and the voting for the fastest man over a single lap on Sunday is almost as close. Hamilton holds a very slight edge as F1 Play gamers make their early selections – but the advantage for the British star is wafer-thin.
In the mix for victory
Not only did Verstappen claim pole to disrupt Mercedes' fearsome Abu Dhabi record last year – he converted it into a dominant victory of 15s over Bottas too, as Hamilton, on his first race back after catching Covid, took third.
The stakes are different this year, though. In 2020, Hamilton and Mercedes had both wrapped up their seventh titles by Abu Dhabi. This year, everything hangs in the balance, while five-time Abu Dhabi winner Hamilton has brilliantly brought himself back into title contention with three consecutive, commanding victories over Verstappen.
READ MORE: 'It's all or nothing in Abu Dhabi' says Wolff, as he trusts Hamilton-Verstappen fight isn't settled by 'messy situation'
That's a high-pressure situation. And assuming both drivers qualify where they're supposed to, it's hard to imagine that they won't do their usual trick of gapping the field and going mano a mano with one another (as they did in Austin, Interlagos, Qatar and Jeddah). In which case, it will then be a case of 'may the best man win' – in this case, both the race and the title.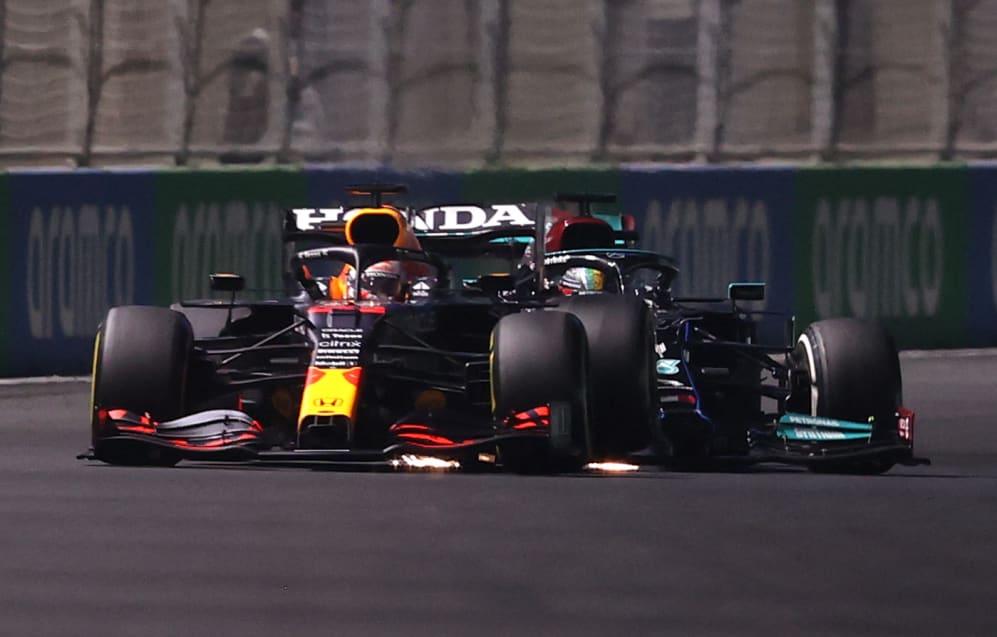 If both drivers fail to finish, Verstappen will be champion by dint of more victories, while a Bottas, a Perez, or anyone else winning at this juncture would be a shock, such has been Verstappen and Hamilton's race day operating level recently – and with team orders a potentially crucial factor in the outcome of this year's championship.
TECH TUESDAY: Red Bull or Mercedes – which car will suit Abu Dhabi better, as the title battle goes down to the wire?
It's worth noting, too, that since 2015, the polesitter has gone on to win every race at Yas Marina. Sunday's title fight – the first time a championship has been decided at the last round since 2016, when Hamilton lost out to Nico Rosberg at this track – is a properly mouth-watering prospect.
Wins in the last five years:
2020 – Max Verstappen (Red Bull)
2019 – Lewis Hamilton (Mercedes)
2018 – Lewis Hamilton (Mercedes)
2017 – Valtteri Bottas (Mercedes)
2016 – Lewis Hamilton (Mercedes)
FAN VIEW: Hamilton has all of the momentum as the roadshow rocks up to Yas Marina, following those wins in Brazil, Qatar and Saudi Arabia. He has a more defined edge with F1 Play gamers in this category, with the majority believing he'll win Sunday's race in Abu Dhabi to become world champion for an eighth time.
Podium outsiders
It's true that there are other scores to settle outside of who takes the title, with the fight for P5 in the drivers' standings – effectively the best of the rest behind the Mercedes and Red Bull drivers – still red-hot.
Charles Leclerc leads that on 158 points, with Lando Norris on 154 and Carlos Sainz on 149.5. Norris is currently on a four-race run of finishing either P9 or P10, which won't help his chances if that continues, while Leclerc has now outscored the Briton at every race since Turkey – which bodes well for the Monegasque. Sainz, meanwhile, extended his race points-scoring streak to 14 races last time out in Jeddah, the best record of any driver on the grid.
READ MORE: 9 thrilling title-deciding finales from F1 history
It would be remiss of us to talk about outsiders for a podium at a race in the Middle East without mentioning Alpine's Fernando Alonso and Esteban Ocon. Alonso claimed his first rostrum since 2014 in Qatar, while Ocon came within literal metres of taking his second podium of the year (after his Hungary win) in Saudi Arabia.
Alonso reckoned the team have found a "sweet spot" with the A521. Can they end the year on a high?
Podiums in the last five years:
Mercedes – 8
Ferrari – 4
Red Bull – 3
FAN VIEW: The F1 Play voting for the podium spots is dominated by exactly who you would expect – Hamilton, Verstappen and Bottas. Perez obviously comes in for support too, but when it comes to 'outsiders' the only two registering at all are Ferrari's Charles Leclerc and McLaren's Lando Norris.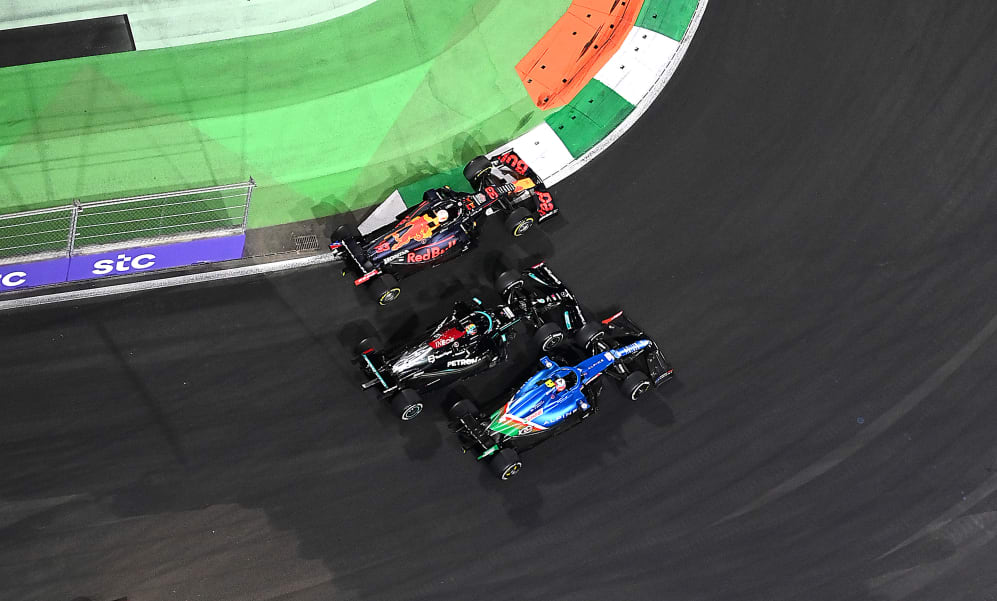 Points potential
Alas for Haas, the team look set to become the only squad in 2021 to fail to score this season, with Mick Schumacher's P12 from a chaotic Hungarian Grand Prix still their best finish to date. And the light drizzle that aided that result is, unsurprisingly, not forecast for this weekend…
Aston Martin could probably have come away from Saudi Arabia with a decent handful of points had their cards fallen differently. But Sebastian Vettel seemed to spend his evening getting crashed into, while Lance Stroll could only manage P11. They'll be hoping for a final points flurry, after a season that's been below par given their lofty expectations.
READ MORE: Horner admits Red Bull 'need a miracle' to win constructors' championship in Abu Dhabi
Academically, all the fights in the constructors' – including Mercedes and Red Bull's – are pretty much settled, with relatively sizeable gaps existing between each team. That's good news for Williams, who look set to claim P8, for their best constructors' finish since 2017, as George Russell prepares to depart the team for Mercedes.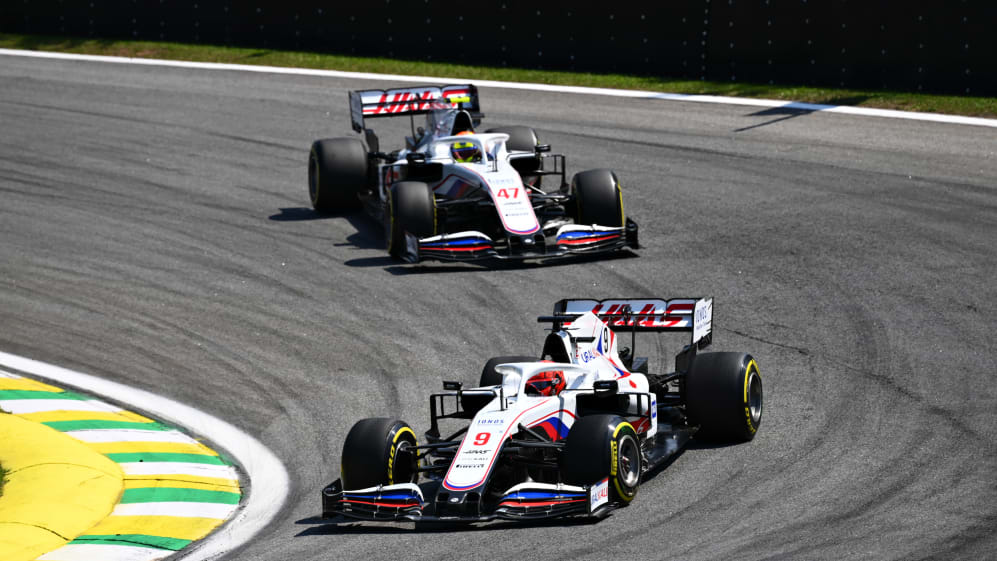 It's less good news for Alfa Romeo, seemingly set for P9, with Antonio Giovinazzi and 2007 champion Kimi Raikkonen preparing for their final races in the sport (barring any comebacks of course).
Let's hope the team remember to leave Kimi alone on race day. After all, he knows what he's doing.
BEYOND THE GRID: 'I wouldn't change a single thing' – Kimi Raikkonen on his career and retirement from F1
Points in the last five years:
Mercedes – 192
Red Bull – 122
Ferrari – 93
Racing Point/Force India – 31
McLaren – 26
Renault/Lotus – 25
Alfa Romeo/Sauber – 6
AlphaTauri/Toro Rosso – 6
Williams – 3
Haas – 3
FAN VIEW: Esteban Ocon of Alpine is a really confident pick for F1 Play gamers after his fine fourth place in Saudi Arabia, while team mate Fernando Alonso is also a popular selection. Carlos Sainz (Ferrari) and Daniel Ricciardo (McLaren) are expected to make the top 10 too, along with Pierre Gasly of AlphaTauri.