Opinion
Our writers choose their moments of 2018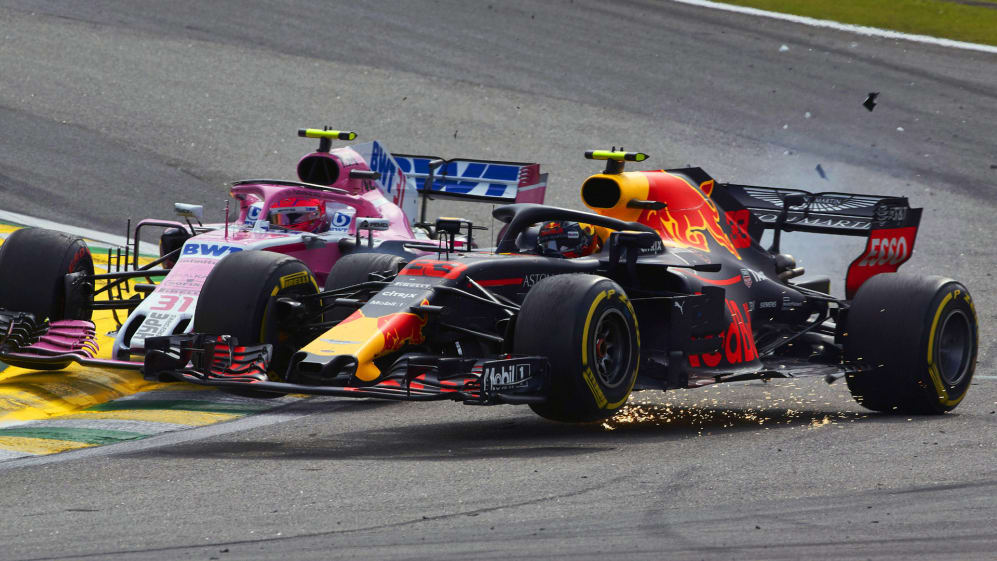 From the sublime to the painful to the hilarious – and there was plenty of all three this year – F1 journalists David Tremayne, Mark Hughes and Will Buxton, F1 Editor-in-Chief Jonny Reynolds and F1 Senior Writer Lawrence Barretto look back on the 2018 Formula 1 season.
What was your favourite moment of the season?
Will Buxton: At the Azerbaijan Grand Prix in 2017 I saw Charles Leclerc put in one of the most impressive weekends I'd ever witnessed in any championship, absolutely obliterating the F2 field just days after his father's death. He arrived in Azerbaijan in 2018 knowing he needed a good result after a string of costly mistakes. For the first time deciding to adapt himself to the car rather than trying to mould the car to him, P11 in Q1 gave a glimpse of what was to come later in the season. A P13 start was followed by a masterful drive to sixth at the flag. From there, he established himself as arguably the most impressive driver of the season.
David Tremayne: Lewis Hamilton, Sebastian Vettel and Fernando Alonso running together on the slowdown lap in Abu Dhabi, and then their impromptu three-car demonstration of donuts in front of the pits. It was a real crowd-pleaser that spoke of respect, camaraderie and entertainment – all good things that we want to see from our favourite sportsmen.
Lawrence Barretto: Honda endured a world of pain during three years with McLaren. So it was heart-warming to watch Pierre Gasly guide his Honda-powered Toro Rosso to fourth in Bahrain (the Japanese manufacturer's best result since returning in 2015, by the way) in only their second race as a partnership. The smiles were back, the tension had ebbed away and Honda's staff were enjoying F1 again. Their perseverance was paying off.
Jonathan Reynolds: That's got to be Kimi Raikkonen's victory in the USA – a genuine feel-good moment if ever there was one. It's rare in F1 that a victory is so universally celebrated, but I think there were very few in the paddock – or indeed in the grandstands – who weren't pleased to see the Iceman snap that long spell off the top step of the podium.
Mark Hughes: The anticipation of the resumption of racing in China after the Red Bulls had got onto new tyres and were clearly primed for victory – but could they pull it off and then how would Verstappen and Ricciardo deal with each other?
What was the biggest shock?
DT: There were several candidates for this: Ferrari's failure to exploit the car advantage it held for much of the season; Valtteri Bottas not winning a single race; how Max Verstappen blitzed Daniel Ricciardo in the latter half of the season. But all of those might have been expected to an extent. The real shock for me was how little progress McLaren made despite getting the Renault engine it coveted so much instead of the unloved Honda.
JR: I'm tempted to plump for that gobsmacking collision between Verstappen and Ocon in Brazil, but for pure shock value it's hard to see past Daniel Ricciardo's decision to say auf wiedersehen to Red Bull and bonjour to Renault. We were fortunate enough to have a scheduled interview with Christian Horner for our podcast Beyond The Grid on the day the news broke. He'd only found out Danny Ricc's decision the day before and was clearly still in a little bit of shock himself, especially as I think he and the rest of the team's top brass believed a deal to stay was done.
WB: The capitulation of Ferrari and Sebastian Vettel. They appeared to have it all in 2018: the car, the drivers, the strategic calm. It was as though the stars had finally aligned to give the Scuderia its best shot at the title in the hybrid era. So to watch it all fall apart, to witness the tension within the team rise, the cracks start to appear and the dam to finally burst was really quite a surprise. And a disappointment. As if we felt we'd seen it all before. The real shock came from the hope, nay belief, that Ferrari had moved beyond the same stumbling blocks over which they lost their balance again.
MH: Sebastian Vettel throwing it off at Hockenheim when leading the race. Yes, he'd had first-lap skirmishes already, but this was a monumental pressure error at a critical moment.
LB: I was laughed out of the office when I suggested Daniel Ricciardo and Renault teaming up for 2019 was a good possibility. If Ricciardo wasn't happy at Red Bull, taking a chance on Renault made sense. But it was still a gamble to jump from a race-winning team. So when he dropped the bombshell that he was upping sticks, it caught everyone – including Red Bull chiefs Christian Horner and Helmut Marko – off-guard. Not an easy thing to do in F1…
What was the best race?
JR: Tough call, as this year we were treated to numerous races that tick the 'future classic' box. For action, Danny Ricc's balls-to-the-wall charge in China was hard to beat, while the epic three-way battle for victory in the USA was utterly unforgettable and proof that overtaking isn't everything. But I'm going to go for Azerbaijan as my 2018 must-watch. Opening-lap tangles, Alonso flat-out on two wheels, Red Bulls clashing, Vettel blowing it, Bottas blowing it (literally) and Hamilton taking an unlikely win. This one had all the ingredients that make a Grand Prix live long in the memory.
LB: That's easy – it's got to be the blockbuster that was the United States Grand Prix. F1 craves competition and here, in the closing stages of a race, we had three drivers from three different teams in with a shout of winning. The tension was immense, like when you have that sick feeling in your stomach ahead of a big exam. This was F1 at its best. And to top it off, Kimi Raikkonen won it, ending his 112-race winless streak.
MH: Probably the Italian Grand Prix at Monza. A lot going on in the early stages, a very finely-poised Raikkonen/Hamilton contest, with the latter squeezing a victory out of nowhere.
DT: The wind-swept race in Baku was a crashfest which saw Sebastian Vettel leading under pressure from the Mercedes of Valtteri Bottas and Lewis Hamilton when the battling Red Bulls of Max Verstappen and Daniel Ricciardo crashed spectacularly on lap 40. As Vettel over-reached himself braking for Turn 1 nine laps later, Hamilton dodged by and then won when leader Bottas sustained a puncture. Further back, Sergio Perez opportunistically mugged Vettel for third for Force India. And Charles Leclerc showed that after three previous goes, he'd got the hang of F1 with a superb sixth for Sauber.
WB: Brazil had it all. The virtuoso performance of Max Verstappen in overcoming both Ferraris and both Mercedes was utterly scintillating. That it should all have come undone in such controversial circumstances simply added to the excitement of what was the best race of the year. Interlagos rarely fails to provide a thrilling contest, and 2018 was no exception. There's just something about the track, the weather, and perhaps the fact that the race comes at a point in the season where tempers are starting to fray and exhaustion beginning to set in that adds up to a potent mix and a recipe for a great race.
What was the best individual performance?
WB: I'd like to take a wider view and look at the season as a whole and for that I have two stand-out drivers. Romain Grosjean had one of the toughest starts to a season in his career and there were questions raised over his future in the sport. But his strength of character to look deep inside and turn things around was desperately impressive and required huge personal fortitude. To that end, I'd also like to pay tribute to Sergey Sirotkin. He was one of the drivers of the season. Handed potentially the worst hand of cards of any one of the 20 drivers, he kept his head held high from the start of the season to the end. He never complained, never talked the team down, always searched for the positive and worked tirelessly to make a woeful situation somewhat bearable.
MH: Raikkonen's drive at Austin was so beautifully judged, including even cautioning his own team's assumptions about what strategy Hamilton might have been on.
LB: The lap that secured pole position for Lewis Hamilton in Singapore was the stuff of legend. It was as close to perfect as most drivers could dream of achieving. His boss Toto Wolff described it as 'epic'. Hamilton himself said "it felt like magic". And all this on a track where Mercedes were third-best in terms of pure performance behind Red Bull and Ferrari. Awesome.
JR: Another really tricky question. I lost track of the number of jaw-dropping qualifying laps from Lewis Hamilton (hello Singapore), and I was also wowed by Verstappen's imperious tyre management in Austria, Ricciardo's on-the-fly problem management in Monaco, and Charles Leclerc (on multiple occasions). But my individual performance gong for 2018 goes to Pierre Gasly for his stunning fourth place in Bahrain, which came off the back of a brilliant sixth place in qualifying. Easy to forget that this was just his seventh F1 race.
DT: Lewis Hamilton's victory in Brazil might have looked lucky, and to an extent it was because of the Verstappen/Ocon clash. But Max must take some responsibility for what happened because he could have avoided it, and Lewis had to cope with significant problems while trying to resist the Dutchman's fearsome pressure. At one stage the telemetry said engine temperatures were so high the unit might not last another lap, while his medium tyres were in far worse shape than Max's supersofts. A stellar performance.
What made you laugh the hardest?
MH: Always Daniel Ricciardo. Even just getting the Tifosi wound up on the drivers' parade by getting his car to stop in front of the main grandstand and conducting them – knowing the Ferrari drivers were just behind – with that stupid big grin on his face.
WB: I'm lucky that I get to interact with pretty much every driver on every day of a Grand Prix weekend, and so over the course of the season there are countless funny moments that crop up. A very high percentage of those come as a result of a chat with Daniel Ricciardo. Talking about unicorns and cake post qualifying in Abu Dhabi was a highlight. But the hardest I think I laughed was on the Facebook Live interview that we did with Kimi Raikkonen in Brazil. He was so relaxed and on absolutely outstanding form. It's a side of Kimi that you don't get to see all that often, but that's the real him.
JR: That perfect moment when, having heard Romain Grosjean's engineer suggest Marcus Ericsson was to blame for the Frenchman's embarrassing collision with the barriers under the safety car in Azerbaijan, replays showed Grosjean losing his Haas on his own, with Marcus nowhere in sight! The memes that followed were truly joyous.
LB: Listening to Finnish commentary during the moment Kimi Raikkonen clinched pole position for the Italian Grand Prix, securing the fastest lap in F1 history in the process, no less. It wasn't what they said – as it was mainly shouting – but rather hearing the excitement and passion in their voices for their hero.
DT: It has to be Lewis's reaction, during his title-celebrating press conference in Mexico, to the journalist from Motorlat, who had a rather familiar name...
Lewis: "Your name is Fernando Alonso?"
Fernando Alonso: "Yeah. A little longer, but I shortened it."
Lewis: "I never thought Fernando would be asking me questions!"
Fernando Alonso: "A pleasure for myself!"
Lewis: "Can you drive?"
Fernando Alonso: "Not that fast, but yes, I think I can drive."
Who will want to forget this season the quickest?
LB: Williams – well, their performance at least. It was a 'crouched in the foetal position gently rocking in the corner' kind of year. This is an iconic team that has savoured plenty of success in F1. To see them tugging around at the back was painful. Peeling themselves off the bottom of the pile will be no easy feat, but in Robert Kubica and F2 champion George Russell they have a line-up that can inspire next year.
WB: Valtteri Bottas. I'd argue he should have been leading the championship after Baku. He'd started the season off better than Lewis Hamilton and seemed the more dependable and adaptable at that point. He was looking for all the world like a real contender. But the way the chips fell, 2018 ended up being a season that crushed his soul. He needs to take himself away and reset over the winter. With Esteban Ocon waiting in the wings, Valtteri has to forget this year, move past it and come back the strongest and most aggressive he's ever been in 2019.
DT: 2018 was probably the most bruising season imaginable for Paddy Lowe. At McLaren and Mercedes he established a decent reputation as a valuable member of the engineering set-ups, but appeared to fall flat on his face when he switched to Williams. For many he is perceived to have failed miserably, but much of the reason for the team's hopeless year had its roots in things that were set long before he arrived, not the least the resources at his disposal and an underlying philosophy that needs to be changed. 2019 can only be better.
JR: There are a few contenders here, but I'm going to go for Stoffel Vandoorne. None of Fernando Alonso's team mates have ever had an easy ride, but given the way he arrived in F1 – off the back of that GP2 campaign – you suspected the Belgian could hold his own. 2018, however, was nothing short of brutal, with Vandoorne scoring 38 fewer points than Alonso and ending the season having been out-qualified by the Spaniard for 26 straight races. That he lost his seat to McLaren's next up-and-comer Lando Norris only capped it off.
MH: Either Claire Williams or Zak Brown. Neither of their respective teams covered themselves in glory...
Now relive the story of the 2018 season...