Feature
Stroll's fight to stay in front and a crazy opening lap – What To Watch For in the Turkish GP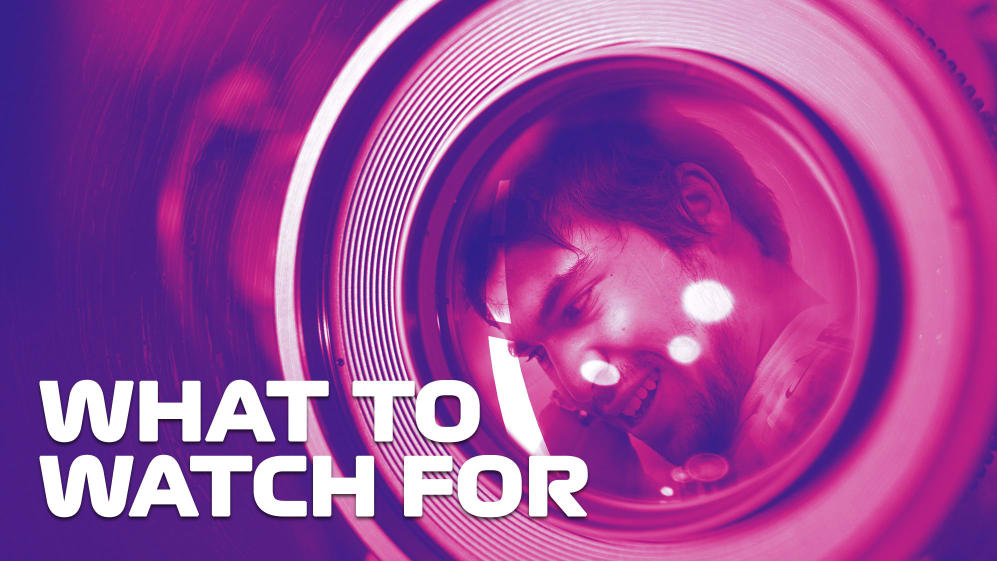 From a surprising name starting on pole position for the first time to Mercedes struggling to be competitive, and track conditions that are like driving on ice to a first lap where anything is possible, we highlight five key points to keep an eye on in Sunday's race at Istanbul Park…
Can Stroll convert from pole?
The Canadian secured his first pole position on Saturday
Having led FP1, FP2, FP3, Q1 and Q2, Red Bull's Max Verstappen was the clear favourite for pole position on Saturday. So Lance Stroll wasn't the only person who was shocked when he took pole ahead of the Red Bull…
READ MORE: 'It's the perfect way to bounce back', says emotional Stroll after busting out of slump with maiden pole position in Turkey
It was an excellent final lap that saw him pip Verstappen – although Stroll had a nervous wait due to a stewards' investigation – and the young Canadian once again excelled in a wet qualifying. His only previous front row start came at Monza in 2017, again when it rained.
Racing Point got their tyre strategy right and the car looked quick on the intermediates, but they also have had a strong car all season and now face the prospect of clear air at the front. Stroll says he needs to be realistic and doesn't expect to be able to stay ahead of the likes of Red Bull and Mercedes, but there are some other aspects that might make a Racing Point victory not seem quite as far-fetched as it sounds…
Verstappen worried about P2
The even side of the grid will lack even more grip
Verstappen was the class of the field on full wet tyres, following up on topping all three practice sessions with a dominant performance in qualifying… until Q3. His final lap was still a good one but a mistake in the middle sector cost him 0.7s that he couldn't quite claw back, as he ended up 0.3s shy of Stroll.
READ MORE: 'First time I sit here upset this season' says Verstappen as he questions Q3 tyre switch
That could prove more crucial than you might think, because starting from second place could prove a big disadvantage for Verstappen. Instead of lining up a move into Turn 1 to try and lead, the Dutchman is wary of losing a number of positions due to the lack of grip on the grid, while Sergio Perez in third is confident he's in a better spot.
The Istanbul Park track has been low on grip all weekend anyway (more on that later) and the odd-numbered grid slots are all on the racing line so are at least clean, whereas those on the inside of the track – the even numbers – are all dirty. With no support races, these haven't been used at all, so there could well be a big difference between the start performance of cars on each side.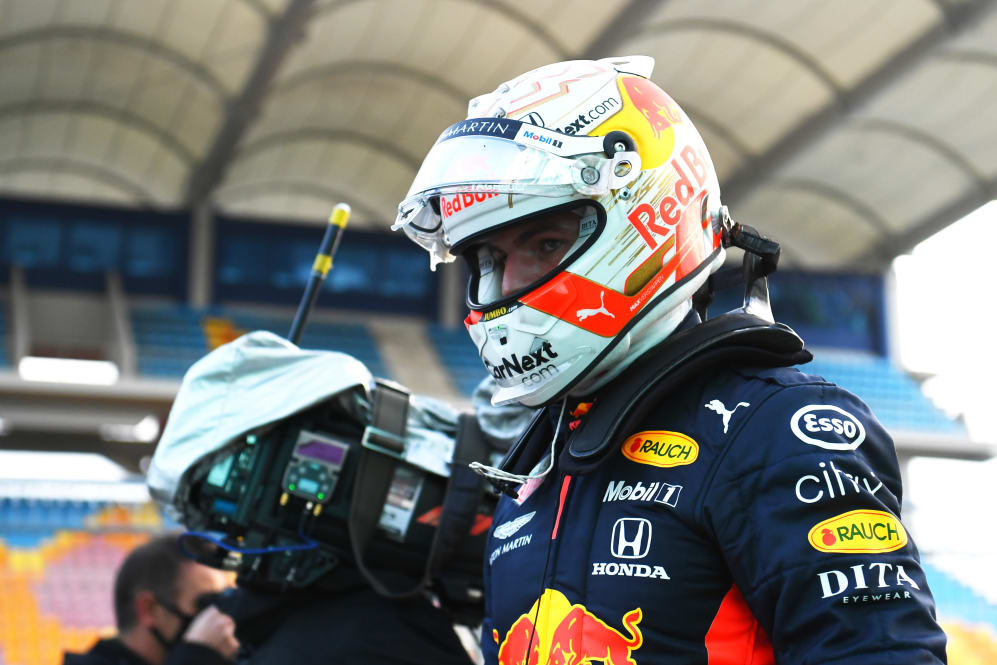 Mercedes struggling for pace
In tough conditions, the constructors' champions have been uncompetitive
The above point about Verstappen is also bad news for Mercedes, because Lewis Hamilton qualified sixth and Valtteri Bottas ninth, meaning Hamilton will start on the inside of the grid. But that's the least of their worries, after a disappointing showing on Saturday.
READ MORE: 'I did everything I could with what I had' – Hamilton says P6 was best Mercedes could do
Those grid positions are a true reflection of Mercedes' pace in the wet, with the drivers struggling to turn the wet tyres on and lacking grip compared to many other teams. Hamilton was nearly five seconds slower than Stroll in Q3, such was the difference in tyre performance, and he was also outqualified by Red Bull's Alex Albon and Renault's Daniel Ricciardo.
Even when it was dry, Mercedes were struggling to get their tyres working and didn't have the pace to match Verstappen, at least over one lap. Hamilton's title chances might have been boosted by the way the weekend is going – Bottas needing to outscore him by at least eight points to deny him a seventh championship – but he'll have to work hard for any result.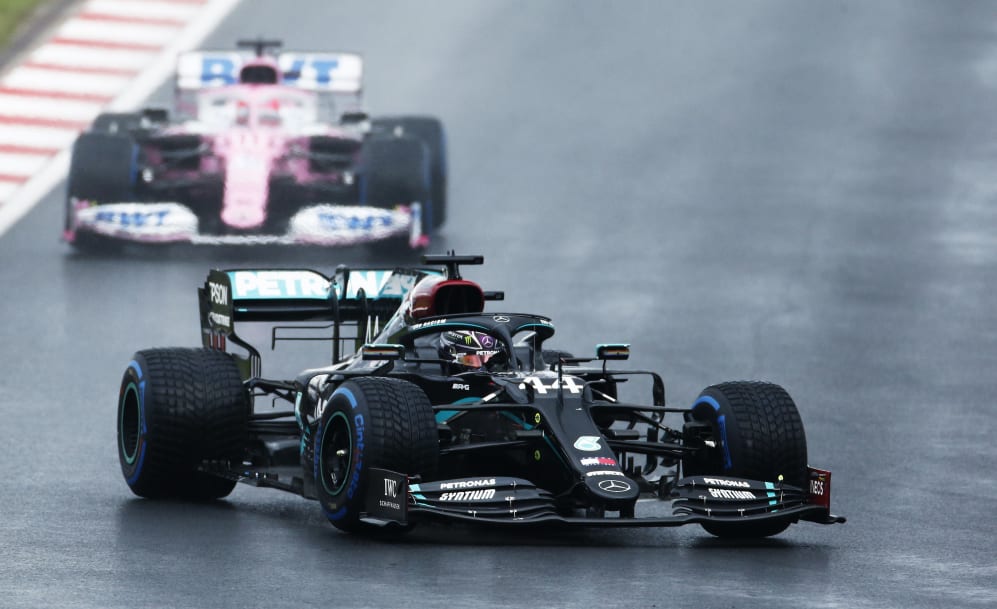 Low grip regardless of the weather
More rain is forecast – but not necessarily needed
A new track surface has given the drivers an unexpected challenge in Turkey this weekend, with grip levels lower than they have experienced on any circuit before. During Friday practice, all of the running took place on slick tyres but it looked like the cars were driving in the wet, with the early FP1 lap times similar to those we saw in qualifying despite the difference in conditions.
WATCH: Turkish Grand Prix Qualifying red-flagged in treacherous conditions
Many drivers are describing it as like driving on ice, and getting the power down is particularly difficult, with the huge torque delivered by the incredible V6 turbo power units, forcing them to be careful applying the throttle.
Sunday's forecast carries a chance of rain like we saw on Saturday, so there's the potential for similar conditions in the race to those we had in qualifying – and therefore a similar pecking order – but even if it's dry, there's no rubber on the track for grip and all the drivers will be struggling.
A crazy opening lap
Collisions are almost certain on Sunday
While every session has so far seen drivers struggling for grip and fighting spectacularly with their cars, those moments have all happened while they haven't been racing each other. In FP3 there was light contact when Charles Leclerc tapped Esteban Ocon into a spin at Turn 12, as he failed to slow his Ferrari down sufficiently – and that provides an insight into how tough the first lap could be.
As drivers look to outbrake each other or get on the power earlier than their rivals, the likelihood of an error being made increases. With such little grip, they've constantly been battling with snaps of oversteer, and if you get one of those when there are other cars in close proximity – as there will be on the opening lap – it's a recipe for collisions.
READ MORE: Norris handed five-place Turkish GP grid penalty for failing to respect yellow flags
"I think it will be just quite a risky, difficult Turn 1, probably quite a high possibility of a crash or something because we struggle just as much in the dry almost as we do in the wet to get the tyres in and at a good temperature, especially when you're not on a soft tyre," Lando Norris predicted.
"So having the warm-up lap which is going to be the opposite of a warm-up lap – you're going to be cooling the tyres down, so it kind of defeats the object of it – is going to cause more chaos than I think everyone is expecting going into Turn 1.
"It should be exciting. We just have to try and stay out of the carnage."