Feature
6 Winners and 5 Losers from an extraordinary Bahrain Grand Prix – who made the list?
There was a huge sense of relief when Romain Grosjean limped away from a huge crash on the opening lap relatively unscathed, the Frenchman now recovering in hospital, as Lewis Hamilton went on to clinch his 11th victory of the season. We pick out six winners and five losers from the Bahrain Grand Prix.
Winner: Romain Grosjean
Romain Grosjean was the first to admit he wasn't such of a fan of the halo protection device when it was first introduced but now feels it was "the greatest thing" introduced into Formula 1 after it saved his life.
It was staggering that the Frenchman was able to escape the car unaided, jumping through flames that had engulfed his car. He suffered burns to the back of both his hands, but x-rays revealed he had avoided fractures.
READ MORE: Marion Grosjean praises 'superhero' husband, thanks rescuers and pays tribute to Bianchi family
Understandably, he's taking this weekend's Sakhir Grand Prix off to continue his recovery, with reserve driver Pietro Fittipaldi stepping in to cover alongside Kevin Magnussen. We wish him well.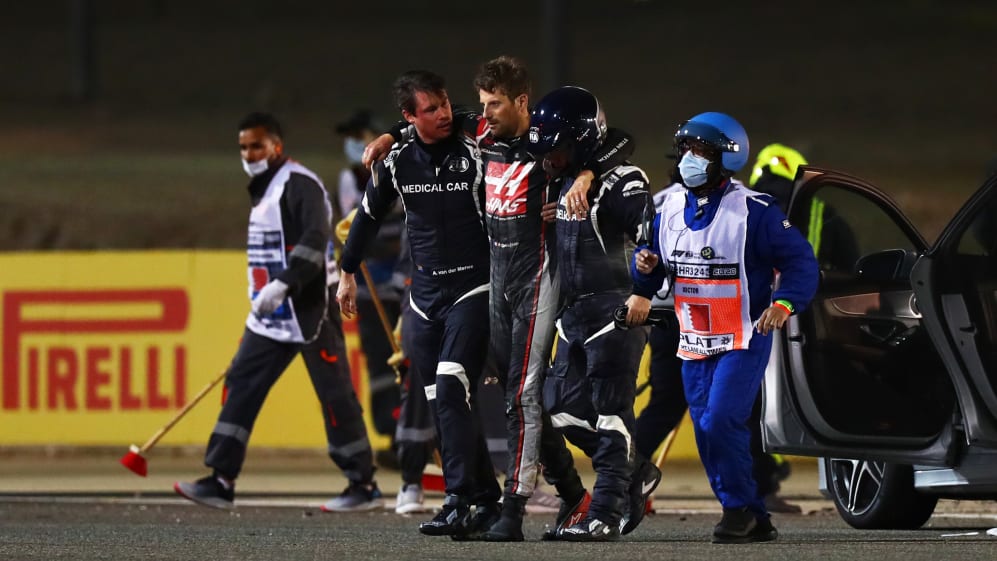 Winner: The halo
The halo head protection device certainly had its detractors when it was introduced ahead of the 2018 season, but after its role in protecting Grosjean on Sunday, there can be no argument again.
The halo has and will continue to save lives. It's testament to the FIA and the late Charlie Whiting for pushing it through, despite pushback.
READ MORE: Grosjean describes halo as 'greatest thing' from hospital bed, saying he 'wouldn't be here without it'
Loser: Lance Stroll
Lance Stroll hasn't had much luck since his podium at Monza and that streak didn't change in Bahrain. The Canadian collided with AlphaTauri's Daniil Kvyat, flipping his car upside down and forcing him out of the race.
He has now scored just once in seven races – and that was a ninth-place finish in Turkey, having led a large portion of the race. In the same period, his team mate Sergio Perez has scored 58 points – more than two race victories' worth.
Winners: The rescue team
The response to Grosjean's crash was incredible, from the volunteer marshals who didn't think twice about rushing towards a fire to help with extinguishers, to the FIA Medical Car team of Dr Ian Roberts and driver Alan van der Merwe who were among the first on the scene.
Collectively they helped Grosjean to safety and ensured he could receive care immediately before he was transferred to hospital. A stunning job by everyone involved in the rescue operation - especially as it was a scenario most will never have experienced.
READ MORE: 'Crazy… I've not seen fire like that before' – Medical Car team describe scene that awaited them after Grosjean crash
Loser: Daniil Kvyat
That Daniil Kvyat was involved in two incidents, first with Grosjean and then with Stroll – and was subsequently handed a 10-second time penalty for the latter – and then still finished 11th shows how much speed the Russian had in Bahrain.
Unfortunately, he just missed out on the reward of a point, in what was the sixth occasion he has finished 11th or 12th this year. No wonder he made his feelings clear on how much he hated P11 over team radio after crossing the line...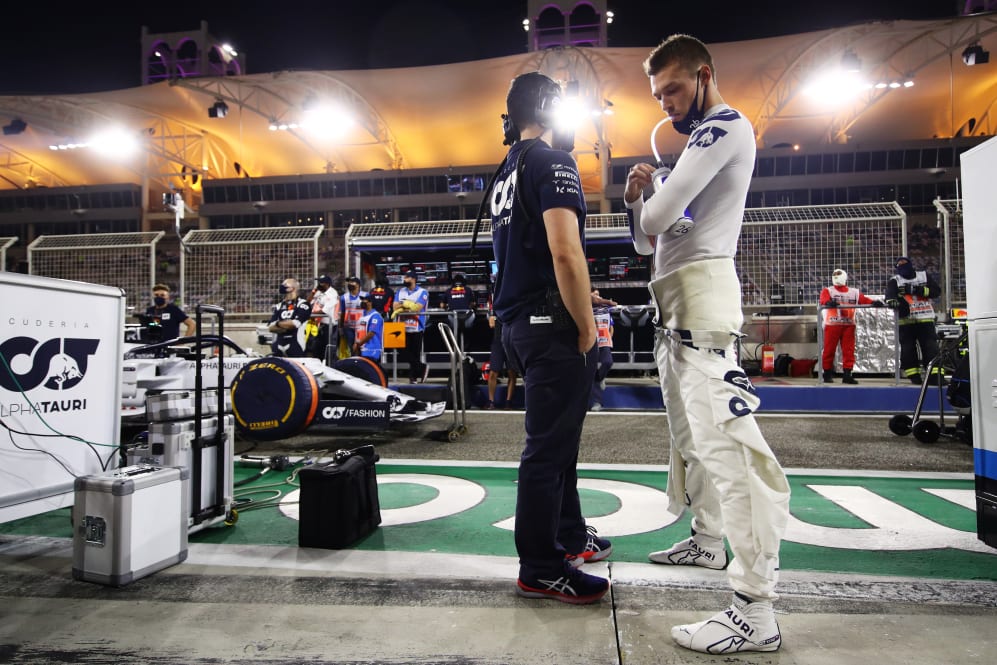 Winner: Lewis Hamilton
This was another masterclass from Lewis Hamilton, the Briton admitting he didn't make a single mistake on his way to his 11th Grand Prix win of the season.
He led all but one lap in Bahrain and heads into the Sakhir Grand Prix just 12 short of Michael Schumacher's laps led record. Victory keeps him on course to equal the single-season record of 13 wins, in a season of only 17 races.
And it was his fifth win in a row, which ties the longest winning streak of his F1 career. The statistics just keep getting better.
READ MORE: Race winner Hamilton admits it was tough to stay 'in the zone' after Grosjean crash and lengthy break
Loser: Valtteri Bottas
This wasn't Valtteri Bottas' finest race, the Finn having a poor launch and dropping back into the pack from the front row.
A stop early on after picking up a puncture dropped him to the back of the field and all but ended his hopes of a strong result. A recovery drive to eighth will be of little reward to the Finn, especially as he has been on the podium in Bahrain for the last three years.
WATCH: Bottas says 'pace was there' when needed – but no use at the back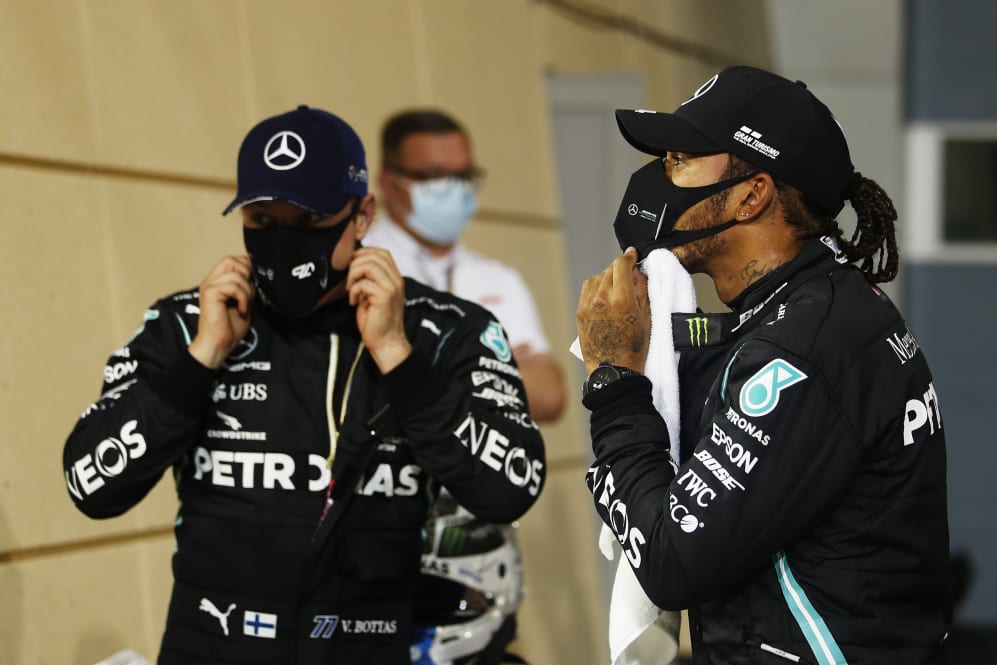 Winners: McLaren
McLaren have been the masters of overperforming in 2020, with their result in Bahrain – a home race of sorts – a fine example.
They were aided by Perez's retirement, of course, but they still had to be there to take advantage – and that they did. Lando Norris's fourth, one place ahead of Carlos Sainz, who recovered from 15th on the grid, gave them 22 points.
That hauled them into P3 in the constructors' championship, giving them a 17-point cushion over Racing Point with two races to go.
READ MORE: Norris and Sainz delighted with P4 and P5 in Bahrain GP, as McLaren jump to third in constructors' battle
Loser: Sebastian Vettel
Sebastian Vettel described his Ferrari as "undriveable" in the early phase of the Bahrain Grand Prix, and while it did improve once he swapped tyres, the German simply didn't have the pace to contend for points.
He ended up 13th, one lap down, three places behind his team mate Charles Leclerc and one adrift of Williams' George Russell.
READ MORE: Vettel says his Bahrain race was compromised by having to avoid 'ruthless' Leclerc at start