Feature
Who will win the fascinating race for P4 in the drivers' championship this season?
Such has been Mercedes, Ferrari and Red Bull's advantage over the rest of the field in recent years that the best a driver outside of those teams could aspire to was seventh in the drivers' championship – with an outside possibility of sixth.
But this year is different. Ferrari's woeful form, combined with Alex Albon's struggles at Red Bull, means that P4 is genuinely up for grabs. And it's a tight and open race that is set to go down to the wire, with just 27 points separating Daniel Ricciardo in fourth and Carlos Sainz in 11th with six races still to go.
So who's going to be the driver to take it? Let's take a look at the contenders...
READ MORE: POWER RANKINGS – Who was voted King of the 'ring after the Eifel GP?
The favourite: Daniel Ricciardo
Momentum is the dream in sport and Daniel Ricciardo well and truly has it. The Australian has collected 58 points in the last five races, a tally bettered only by the two Mercedes drivers, which has helped lift him into fourth in the drivers' standings.
That run was capped by his first podium since a stunning victory in the 2018 Monaco Grand Prix, and was Renault's first since 2011. It's taken Ricciardo 18 months to get comfortable with the Renault, particularly in terms of braking, but something has finally clicked and he's consistently getting the most out of the R.S.20 every weekend.
READ MORE: Renault would not be where we are today without Ricciardo says Abiteboul, as he prepares to honour tattoo bet
2020
Drivers' Standings
POSITION
POINTS

4

Daniel

Ricciardo

Renault

78

5

Sergio

Perez

Racing Point

68

6

Lando

Norris

McLaren

65

7

Alexander

Albon

Red Bull Racing

64
Fortunately for him, Renault appear to have addressed their weakness on high-downforce circuits. Having struggled at venues like Silverstone, their performance across the weekend at the Nurburgring was evidence the R.S.20 is now an all-rounder.
And the fact that Renault boss Cyril Abiteboul shot back his team had been the second-best team in F1 in recent races when I suggested they were third best on Friday in Germany shows there is also a new-found confidence at the Enstone-based outfit.
READ MORE: Renault 'have all the ingredients for a good 2021' says Alonso after testing R.S.20 at Barcelona
Ricciardo has a 10-point advantage with six races to go, and is certainly in the box seat to retain P4 come the end of Abu Dhabi, but one DNF will change everything, and as has been proved on the other side of the garage with Esteban Ocon, the R.S.20 is far from bulletproof.
The chief challenger: Sergio Perez
Sergio Perez has scored points in every single race he's contested this year and despite missing the two rounds at Silverstone after testing positive for Covid-19, he is still fifth-best in the standings, 11 points clear of team mate Lance Stroll.
F1 Tracks: Listen to Sergio Perez's playlist takeover
The Racing Point car, of course, is significantly better than last year's, but Perez has proved he is capable of getting every millisecond out of the machine in a way few others drivers can.
It's nip and tuck between Racing Point and Renault right now, with the pink cars likely to have the advantage at Turkey and the two Bahrain tracks. Might that be enough to overhaul Ricciardo?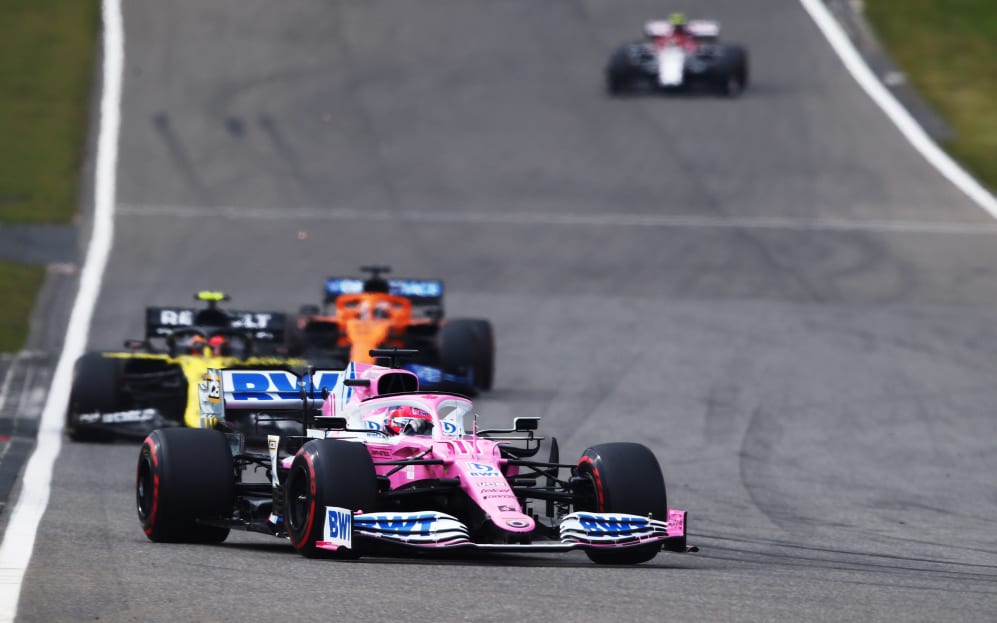 The outsider: Lando Norris
Lando Norris conceded several races ago, when we chatted in the TV pen, that retaining fourth in the drivers' standings would be a tough ask, as McLaren were executing their races better than rivals but ultimately didn't quite have the pure pace to match them.
LONG READ: How Lando Norris is breaking the F1 driver mould
In recent races, McLaren have dropped back – and so has Norris, two places to sixth, not helped by two successive non scores. The pattern of his results is almost identical but in reverse to Ricciardo's run, which is obviously not the right direction.
With the car struggling in windy conditions and on high-downforce tracks, life is going to be tricky for Norris, but the difference is only 13 points to Ricciardo and having seen a 25-point swing to the Australian in the last two races, it shows that anything can still happen.
The wildcard: Alex Albon
Max Verstappen scored 37 points in the last two races, around 30% more than Ricciardo. So if his Red Bull team mate Alex Albon was able to even just get close to him in terms of results, the Thai driver should have no trouble overhauling the three in front of him to steal fourth.
READ MORE: 'It was quite tragic' – Alex Albon reveals how he celebrated his maiden podium on F1 Nation
However, Ricciardo has scored more points in the last two races than Albon has managed in the last five collectively, so Albon will need a rapid turnaround in form. His podium in Tuscany proved he is capable, but he needs to find some consistency.
The performance of the Red Bull in Germany in the hands of Verstappen shows that the RB16 is easily the second-best car on the grid, and on a high-downforce track in cold conditions, not too far off the Mercedes. With temperatures set to be low at the next three European races, that trend could continue. Albon must take advantage.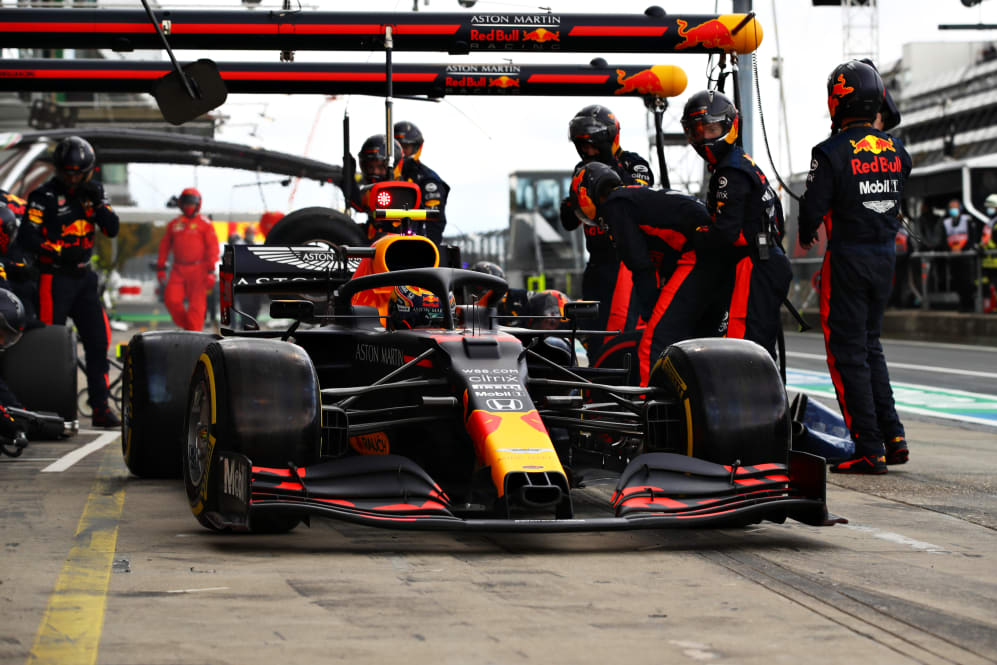 The chasing pack: Charles Leclerc, Lance Stroll, Pierre Gasly and Carlos Sainz
Charles Leclerc has, in my eyes, driven better this year than he did last year – even if this campaign does not have the highs of two wins and seven pole positions. The Monegasque has delivered two podiums in a car that is nowhere near good enough to achieve such a result. And his performances in the last three races – eighth, sixth and seventh – show that he's in tremendous form. It'll be tough, but he is in contention for P4.
READ MORE: Already a hero – How Charles Leclerc won the hearts of the tifosi in a single season
Stroll should be ahead of Perez in the championship, snapping at the heels of Ricciardo or indeed ahead of him in P4. Reliability, misfortune and illness have struck, leading to pointless events in the last three – but he certainly has the car to overturn the 21-point deficit in the last six races.
Pierre Gasly doesn't have the same machine, but as he showed at Monza, he's more than capable of putting himself in the right place at the right time to seize an opportunity when it presents itself. He's outdriving that AlphaTauri and if results go his way, he's very capable of climbing several places from P10.
READ MORE: DRIVER MARKET – Who will drive for AlphaTauri in 2021? All the key contenders' chances rated
Carlos Sainz has had a frustrating year, hurt largely by reliability and then by a personal mistake in Russia. But there have been highs, including that podium in Monza and a strong drive to fifth in Germany despite having a heavily updated car that they didn't have time to set-up properly because of a lack of practice.
If reliability is on his side, he's shown time and time again he can grind out results. A 27-point deficit will likely be too hard to overcome, as he himself admitted at the weekend, but he'll be giving it his all in the final races of the season.