Feature
Cyril Abiteboul on Renault's 'aggressive' 2020 plan, cost caps and Ferrari engine clarity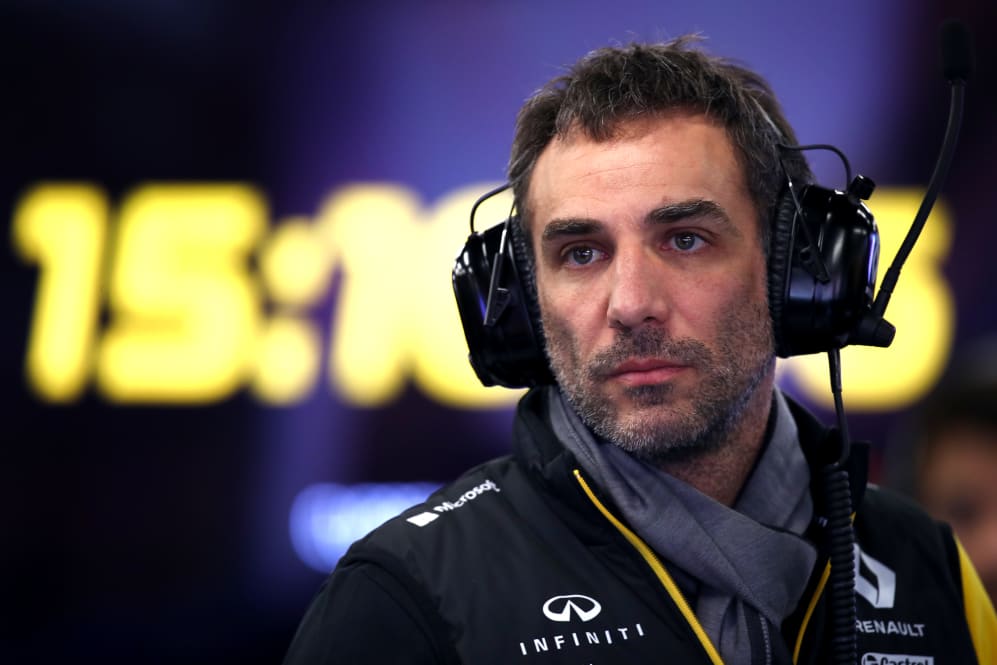 Cyril Abiteboul has a big job on his hands. The Frenchman spearheads Renault's charge in Formula 1 and has been tasked with returning the French marque to their former glories. Now in his fifth year at the helm, the squad is fighting at the sharp end of the midfield, but there remains a frustratingly large gap to the top three competitors.
Pre-season testing provided shoots of hope for Renault, our analysis suggesting they had made a big step from last year despite flying under the radar on the timesheets, but we've yet to see if those signs will hold true after the coronavirus stopped the 2020 season in its tracks.
ANALYSIS: Why Renault have emerged as 2020's dark horse
Amid on-going video conference talks with the FIA, Formula 1 and the other nine teams, we catch up with Abiteboul on the phone from his home office in the French countryside as his working day draws to a close. In a wide-ranging interview, we discuss Renault's current situation, the challenges of restarting the season, the cost cap and the speed of the R.S.20 plus his thoughts on Racing Point's so-called 'pink Mercedes' and Ferrari's engine settlement.
Season restart could be financially 'challenging' for some teams
Five teams have made use of the British government's furlough scheme – 80% of wages up to a maximum of £2,500 are paid for staff who are not working but kept on rather than made redundant.
Renault are one of those, putting the majority of the workforce at Enstone on a paid leave of absence and doing the same with their staff at their engine base in Viry, France, as the French government has a similar scheme.
Abiteboul says it was "an obvious decision" to make as it is "great for continuity of the business" and helps shore up the team's prospects in the short term. However, he did raise fears about the challenge teams may face when they need to exit the current factory shutdown ahead of a season restart.
"When there comes a time to move away from shutdown and restart activity, costs will creep up," he says. "We will have to un-furlough people and it may be at a time when revenues do not creep up in the same way, so that might be a more challenging time than the time we have had so far actually.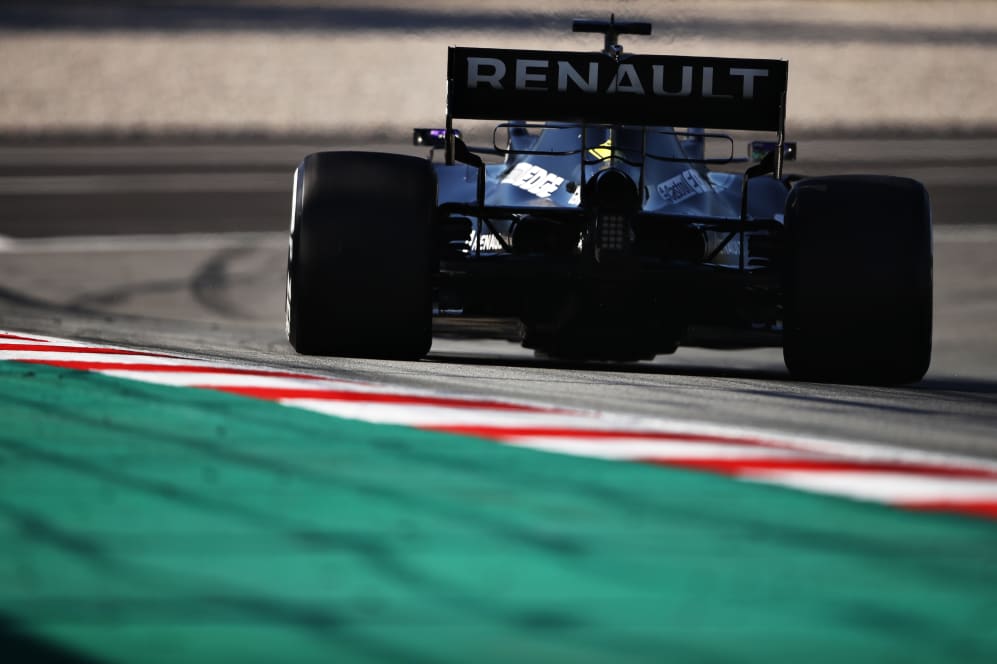 "There will be a number of costs and burdens associated to moving out of shutdown and producing all the parts. It may be more difficult for some teams than other teams, the smaller teams, independent teams may struggle more with cashflow. So that's why it's so important that when we decide to come back and resume activity, we don't do it for one race, we do it for what we can salvage for a season."
As it stands, F1 is hoping to start the season on July 3-5 in Austria, with the possibility a second race at the Red Bull Ring the following weekend. Plans for a continuation thereafter are currently being worked on. Whatever the start date, Abiteboul estimates the team will need around a month's notice to make the necessary preparations.
READ MORE: Renault's Ricciardo admits he wouldn't rule out Red Bull return as he looks at 2021 options
"The amount of notice needed depends on if we have to do a number of back-to-backs. If we're not in a position to ship some parts that easily, if we are not in position to produce parts simply because we have to respect social distancing in the UK and so on, it may take a bit longer," he says.
"We have to review our plans, which is why it is so important to have a bit of notice, so we can adjust our plan to our capacity and also to our ambitions. If we race, we have certain ambitions from a sporting perspective, but I would say that generally with four weeks of notice, we can be ready to cope with any situation."
Aggressive development plan being 'reassessed'
Renault were beaten by power unit customer McLaren in the constructors' championship last year, a result that would have no doubt made subsequent board meetings tricky for senior management. A repeat this year will not be acceptable, but Renault – at least after testing – were hopeful of a stronger campaign based on the numbers they had seen.
"I need to manage expectations but it is true, at the test we generally had a good feeling," says Abiteboul. "We ticked all our boxes, but those boxes are also very dependent on what other people are doing.
"One question left unanswered was the relative competitiveness of our car and we were only expecting to find out in Melbourne on Saturday afternoon. Obviously that didn't happen. We're very curious to find out."
Before the season was disrupted, Renault had planned to bring sizeable new upgrade packages to race three – Vietnam – and race five – the Netherlands. Those plans have obviously been ripped up following the cancellations and postponement of races with a new strategy to be worked up. However, it can't be finalised until they know how many races will be on the revised 2020 calendar.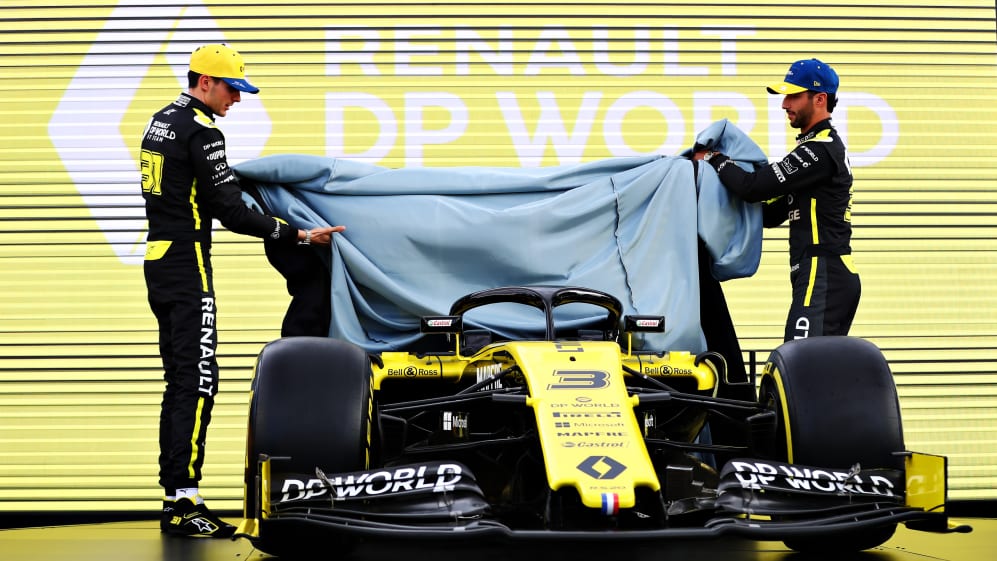 "We were up for a very aggressive development plan," he says. "We're very keen to get the factory up and running again so we can resume that activity. The figures looked very good in the wind tunnel and production was very busy producing race three and race five package.
"All of that is completely up in the air, so that is the situation we have. But again, lots of people have bigger frustrations than those ones, so we need to accept we need to be a bit patient."
Renault not keen on delaying new rules again
Last month, Racing Point boss Otmar Szafnauer told F1.com he would be in favour further delaying the new regulations, which have already been deferred by a season to 2022. This week F1 motorsports boss Ross Brawn said the plan is to avoid another delay, something which Abiteboul is supportive of.
"I guess Otmar is saying that as he knows he has a very competitive car right now and if there is a change of regulations he will not be able to do what he has been doing, that's very clear," says Abiteboul. "It has been their tactic since day one to extend this cycle of regulation.
READ MORE: Otmar Szafnauer on Racing Point's 'pink Mercedes' philosophy and Aston Martin's bold targets
"I don't agree not only because this is coming from what is probably our most direct competitor this year. I don't agree simply because F1 needs to be progressive and when everyone moves on from this crisis, both from a health perspective but also from an economic perspective there will be a strong competition between the sports in order to regain momentum, in order to attract the fans, in order to attract people to come to races and to advertise themselves.
"We should never lose sight of the fact we need to offer a competitive sport and an attractive platform for the fans, the sponsors and for the media. And that is precisely around that purpose, that the new regulations have been developed, that the first time we are developing a set of regulations with one objective, usually it's more the consequence of the regulation and I really want to see that happening."
Defining what it means to be a constructor
Talking of Racing Point, they raised eyebrows this year when they unveiled a car that looked remarkably like last year's world championship winning Mercedes. Szafnauer has insisted moving to a similar philosophy to Mercedes had long been the plan given they already use the Silver Arrows' engine and gearbox.
Abiteboul said the legality of the Racing Point hadn't been raised at the regular meeting of F1's key stakeholders, but there was discussion about what defines a constructor, particularly as so many teams have partnerships like that of Racing Point and Mercedes.
READ MORE: We 'absolutely' designed it ourselves – Racing Point defend RP20 after Mercedes comparisons
"The meetings have been focused on short term survival and medium and long term sustainability of the sport, which is exactly what needs to happen," he says. "It's important we side-line the most contentious topics we had over the winter. I'm sure these topics will come back as they are directly connected to the business model of F1.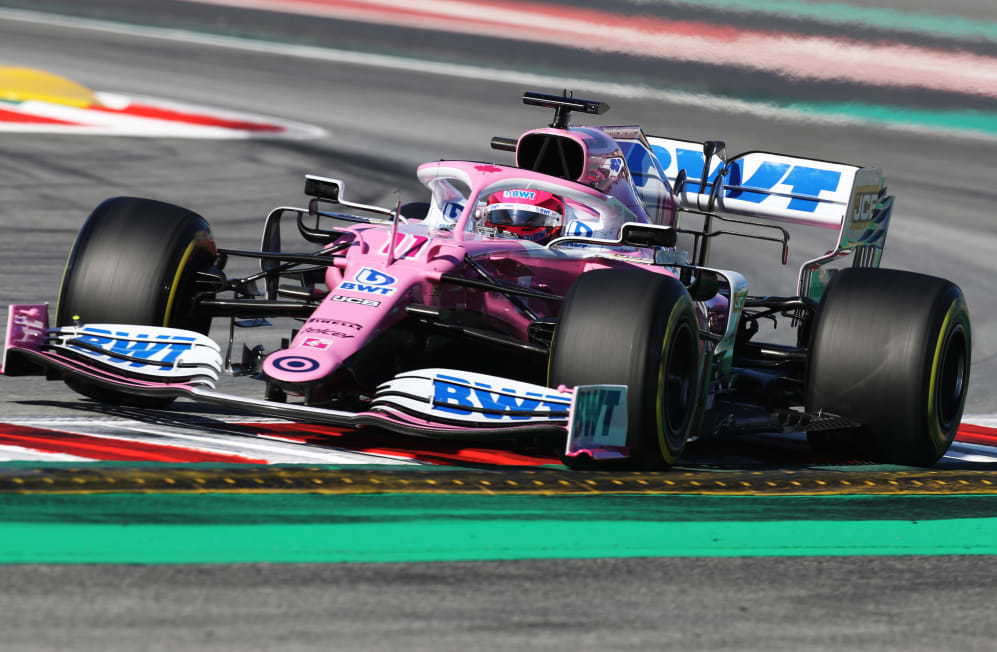 "It's all good and nice to agree on the budget cap level but if you can pool your resources, pool your research and development between the teams, it means the levels of budget cap we are talking about are not exactly the ones we are talking about so to a certain degree we're talking about that.
"We're not talking directly about the Racing Point case, we're talking about what it means to be a constructor and what is a business case of being a constructor, that we are talking about and that is an interesting point.
"We will be thinking and talking about Racing Point legality later. By saying that, I'm not putting any threat, I'm just saying that we need to think about a bit more strategically in the current circumstance."
Team 'will find a compromise' on costs
On Monday, Brawn revealed the new budget cap would be reduced from an initial $175m to $145m, in light of the challenging economic conditions created by the pandemic, with the finer details to be sent to the teams in the following days. With a handful of teams operating significantly higher budgets than that, it will be a challenge for them to downsize, particularly in terms of personnel.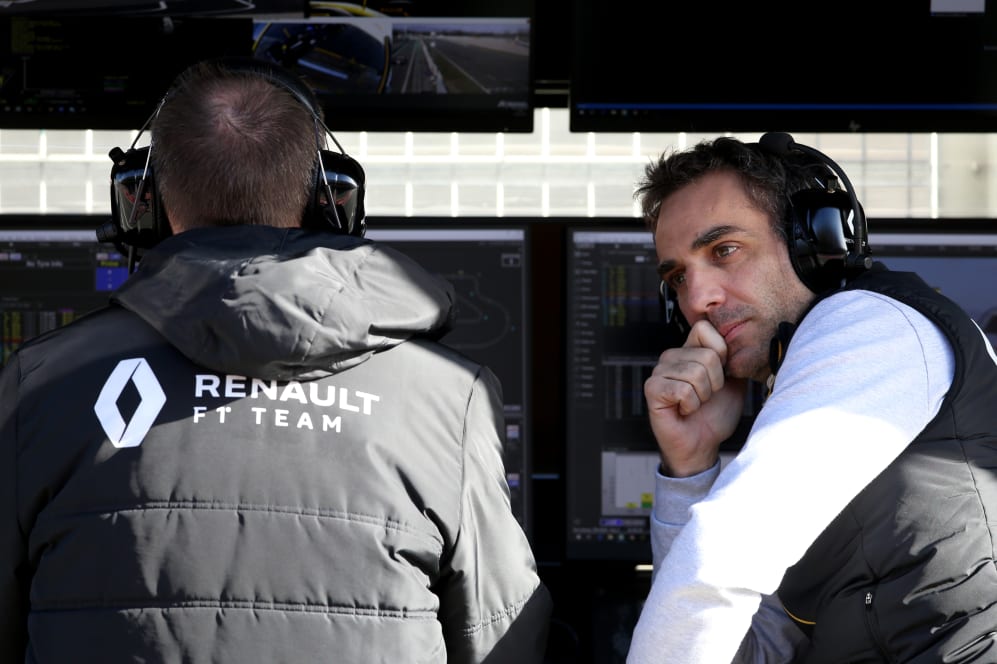 Speaking before those comments, Abiteboul spoke of the need to be "conservative" in their preparations for the future financially so F1 can be better placed for a worst case scenario in the future.
"We don't know yet what will be the medium to long term consequence of the crisis on sponsors, on promoters, on broadcasters," he says.
"It's like playing at the table of poker, without knowing how many chips you have. We need to be conservative, we need to be prepared to brace ourselves for the worst, expect the worst to a certain degree, plan for the worst and in that respect, be a bit conservative on budget cap figures.
"Having said that, I sympathise for the top teams, and the effort they need to put in restructuring their activity. I'm confident middle ground will be found, there is a good momentum, there is a strong leadership from FIA and F1 to get to a compromise and I'm confident we are a few days, maximum a couple of weeks away from finding that compromise."
Renault keen for Ferrari engine settlement clarity
The FIA dropped a bombshell as pre-season testing closed, when they revealed they had agreed a "settlement", which would remain confidential, with Ferrari regarding their power unit and whether or not it conformed to the regulations. The seven non-Ferrari-powered teams reacted furiously, saying they were "surprised and shocked" by the decision and demanded transparency.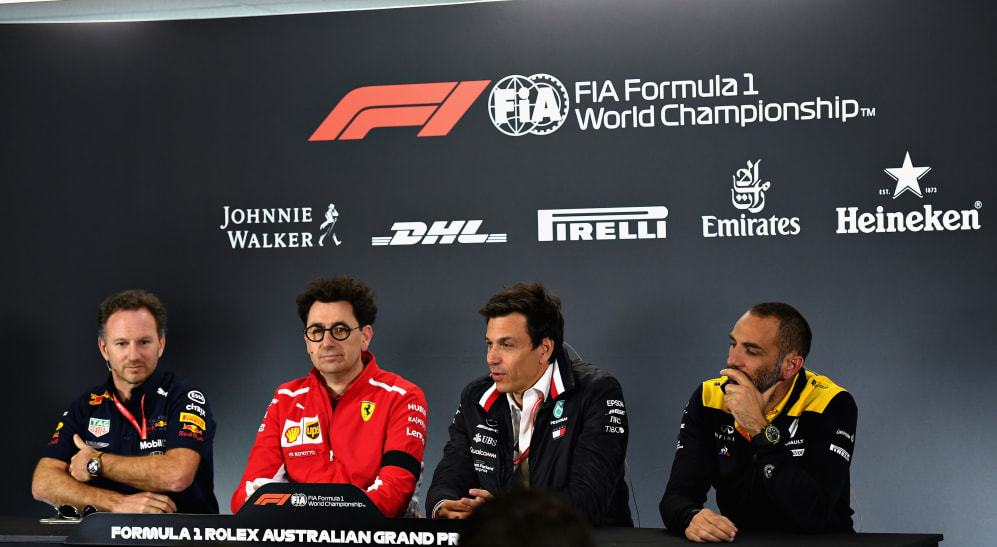 But the governing body was bullish in their response, detailing the reasoning behind the decision. Meanwhile, Ferrari had remained silent throughout, instead allowing the FIA to take the lead.
Last month, McLaren Racing CEO Zak Brown called on Ferrari Team Principal Mattia Binotto to share the details of the agreement after the FIA volunteered they would be willing to do so. Abiteboul says he has "exactly the same view" as Brown on the matter.
"It's something of the previous world, but it's still something which at some point should be addressed," he adds.
VOTE NOW: Who is the most influential person in F1 history?
"We live in a world which is totally open. We are not challenging the process, we only want to find out what happened. We want to find out what the legality concern was and also to make sure we are staying away from similar legality question marks.
"Very simply, I'm an engine manufacturer myself, I want to make sure my engine doesn't pose the same legality question mark. I don't think so. But I think it only makes sense if the regulations are clear and the decisions are clear for all participants – that's what we're asking. We have no intent to change what has been done. We would like to know in order to move on."