Feature
FORM GUIDE: Can anyone dislodge Verstappen in the Austrian GP as battle resumes at the Red Bull Ring?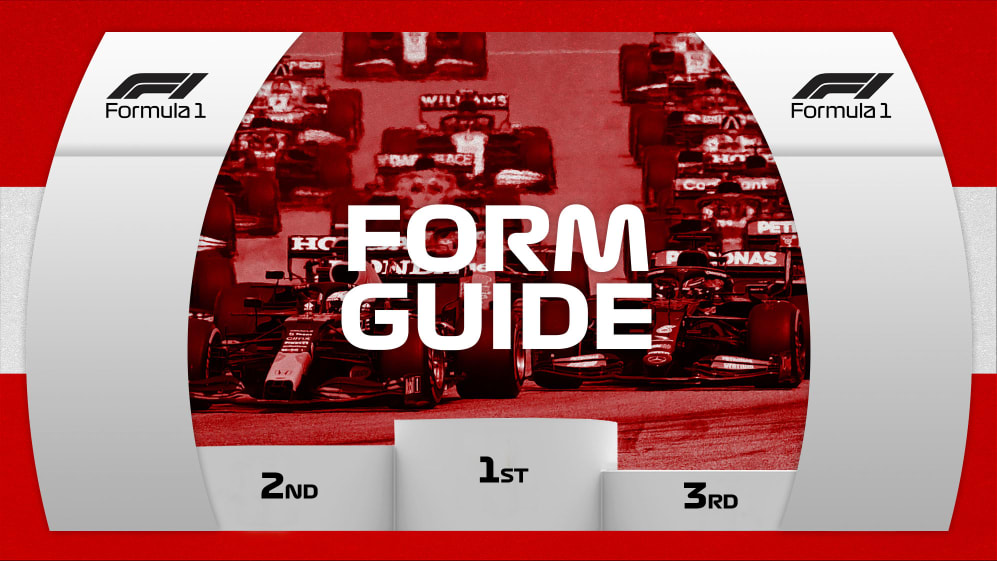 Red Bull enjoyed their "strongest and most complete performance" of the season at the Styrian Grand Prix, in team boss Christian Horner's words. Can they be stopped at this weekend's Austrian Grand Prix, taking place at the same Red Bull Ring track? We look at the favourites for pole, podiums, points and victory – and see how you've been voting on F1 Play.
Vying for pole
Max Verstappen managed to turn his 0.538s qualifying deficit to Valtteri Bottas at the 2020 Austrian Grand Prix into a 0.194s advantage over the Finn at the 2021 Styrian Grand Prix – quite the turnaround in form. True, Verstappen's pole last Saturday was hardly an absolute thrashing that Mercedes would feel they couldn't come back from this weekend – but it was a pretty handy margin around a mere 2.68-mile circuit.
READ MORE: Horner calls on Red Bull to 'keep turning the screw' on Mercedes after four wins in a row for his team
It was also Verstappen's first consecutive pole of his career, while such was his confidence in Q2 that he was happy to set just one competitive lap, saving himself a set of medium tyres in the process.
It won't surprise you, then, that Verstappen is the favourite, with little to choose between Mercedes' Bottas or Lewis Hamilton (it was 0.032s between them last Saturday, while both have three poles to their name here) should the Silver Arrows somehow get their car hooked up better than Red Bull this weekend.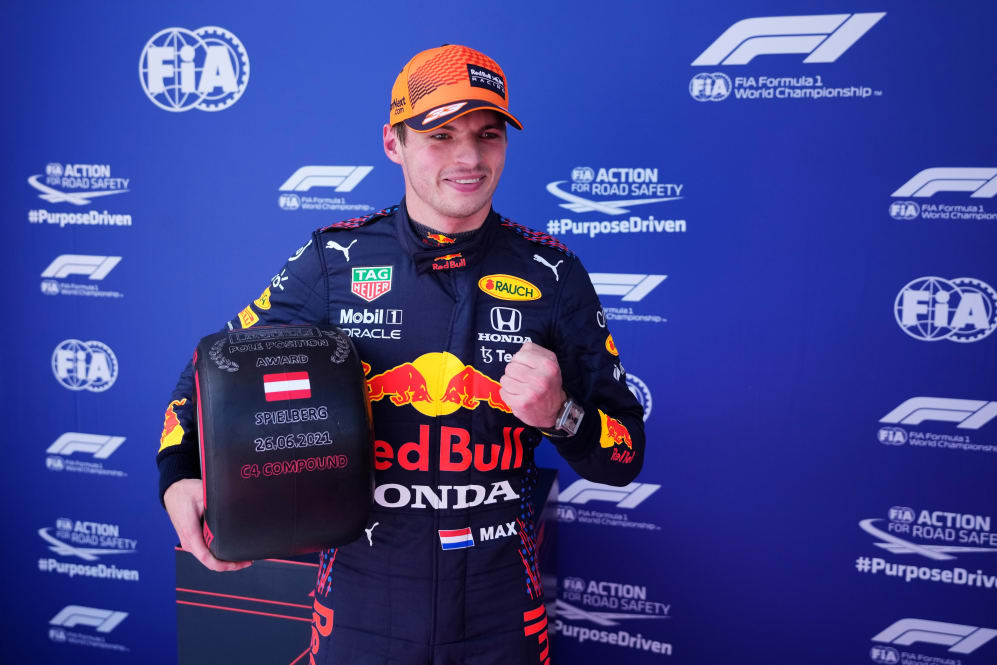 No one else last weekend really looked like seriously upsetting Verstappen's pole ambitions, with Sergio Perez 0.327s adrift of his team mate, and even behind the McLaren of Lando Norris after a superb performance for this noted Red Bull Ring fancier.
Pole positions in the last five Red Bull Ring races:
2021 (Styria) – Max Verstappen (Red Bull)
2020 (Styria) – Lewis Hamilton (Mercedes)
2020 (Austria) – Valtteri Bottas (Mercedes)
2019 – Charles Leclerc (Ferrari)
2018 – Valtteri Bottas (Mercedes)
FAN VIEW: It's not just a blip any more – it's now very much for real. Max Verstappen is THE choice for F1 Play gamers as we head back to the Red Bull Ring this weekend. He is comfortably edging reigning world champion Lewis Hamilton right now to be the fastest man over a single lap in the Austrian countryside.
In the mix for victory
Pirelli have thrown a mini hand grenade into the mix this weekend with a decision to go a step softer on the tyres, meaning the "capricious" (to quote Mercedes' Chief Technical Officer James Allison) C5 tyre will be called into use – with Allison adding, speaking on our F1 Nation podcast, that the change in compounds would "strongly favour" a two-stop strategy, where last week most drivers made do with one.
That will provide a glint of hope for Mercedes, after a thumping defeat by Verstappen in the Styrian Grand Prix, that an extra strategical dimension could open up opportunities to derail Red Bull – as could the looming threat of rain for race day, with thunderstorms forecast in the area.
READ MORE: Allison confirms Mercedes ARE planning W12 upgrades this season as title battle with Red Bull hots up
Barring a tyre blowout in Baku, though, Verstappen would have taken victory in the last four consecutive Grands Prix – and with the form the Dutchman's in currently, and off the back of a commanding win at the same track on Sunday where he could control the gap to Hamilton seemingly at will, he's of course very much the favourite to continue the run.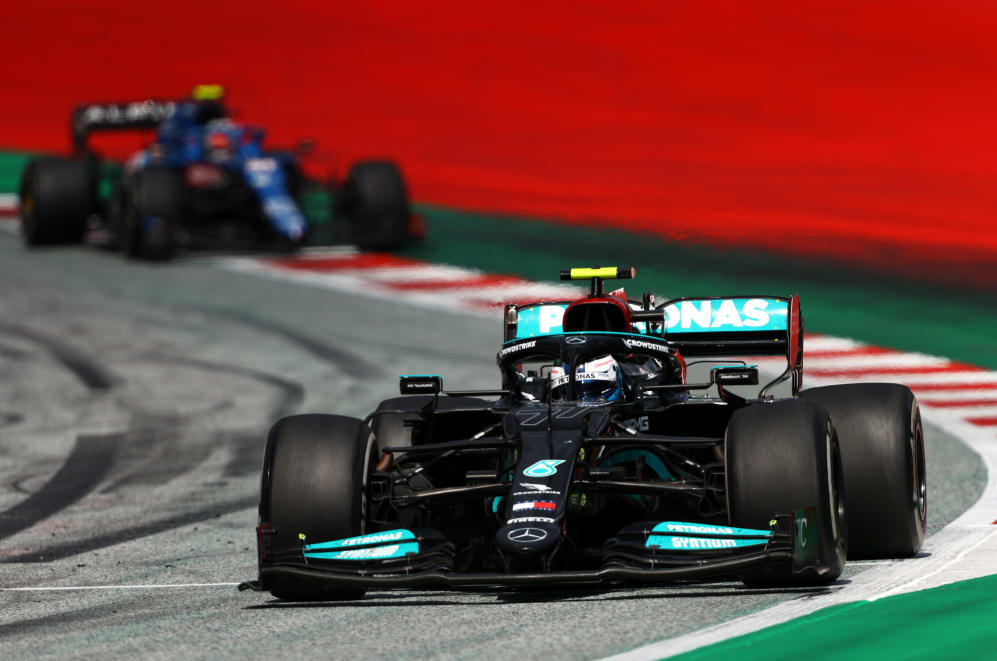 In the Mercedes camp, this has traditionally been a stronger track for Bottas than Hamilton in the time they've been paired together, Bottas having taken two wins to Hamilton's one since 2017.
READ MORE: Bottas admits he had to 'rally drive' to hold off Perez for final podium spot on aging tyres
So if the Finn can start in position this weekend (he got a penalty for spinning in the pit lane in FP2 last Friday) it will be interesting to see what he could do on Sunday – while with the Red Bulls and Mercedes having finished some way clear of the rest of the field, a midfield victory would be a shock.
Wins in the last five Red Bull Ring races:
2021 (Styria) – Max Verstappen (Red Bull)
2020 (Styria) – Lewis Hamilton (Mercedes)
2020 (Austria) – Valtteri Bottas (Mercedes)
2019 – Max Verstappen (Red Bull)
2018 – Max Verstappen (Red Bull)
FAN VIEW: The trend on F1 Play is even more pronounced in this category after those back-to-back wins for Verstappen in the past two weeks. He has more than five times as many votes as Hamilton to clinch a hat-trick of victories and take another major step towards clinching the first world title of his career.
Podium outsiders
Lando Norris. We don't know if it's the mountain air or the local mineral water, but something about the Red Bull Ring gives this already in-form driver an extra push, with Norris brilliantly out-qualifying Perez for the Styrian GP, before racing to a fine fifth.
Norris also scored his first F1 podium here at the 2020 Austrian GP, so if anyone at the front falters, look out for the McLaren driver.
READ MORE: Norris frustrated not to challenge Red Bull and Mercedes in Styrian GP after starting P3
Look out too for the Ferrari pairing of Carlos Sainz and Charles Leclerc, who managed to finish P6 and P7 here last weekend, having been 11th and 18th after Lap 2, with the SF21 – unlike in France – showing exceptional race pace. If Leclerc and Sainz can qualify higher than their P7 and P12 from Styria, and don't have their race pace gains upset by the move to softer compounds this weekend, they could be hot stuff come Sunday.
Podiums in the last five Red Bull Ring races:
Mercedes – 7

Ferrari – 5

Red Bull – 5

McLaren – 1
FAN VIEW: Once you get outside of the big two, Sergio Perez is significantly ahead of Valtteri Bottas in the battle for a podium spot. But we can't really call either of those drivers outsiders, so our man here is McLaren's Lando Norris. Just crashing the Red Bull/Mercedes party is an achievement, and he leads the F1 Play voting.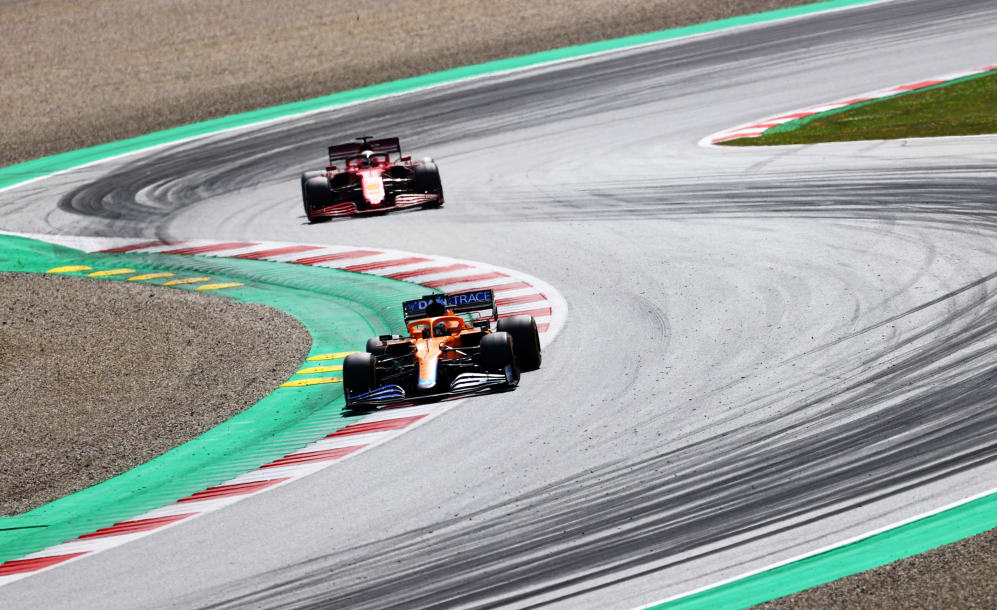 Points potential
Poor George Russell was running comfortably in P8 in the Styrian Grand Prix and holding the Alpine of Fernando Alonso at bay when he suffered a "very rare" power unit issue that forced him into retirement. It ended a brilliant weekend for Russell, who vowed to put it right at the Austrian GP and take his first ever points for Williams – and the team's first points since the 2019 German Grand Prix.
Daniel Ricciardo will also be keen to get points for McLaren, having suffered his own technical issues that saw his scintillating start last weekend – where he climbed from P13 to P8 on the first lap – undone by a "heartbreaking" power unit glitch that meant he came home in the P13 that he started in.
READ MORE: 'One of those days when I really did not love this sport' says Ricciardo after Styrian GP struggles
Meanwhile, former karting nemeses Esteban Ocon and Pierre Gasly, as well as Aston Martin's Sebastian Vettel, will also be hoping for better weekends at the Austrian Grand Prix than they got last time out, having all watched their team mates score points in the Styrian race.
READ MORE: Ross Brawn on Red Bull's momentum, frustration for Russell, and where Mercedes go from here
Ocon failed to make it out of Q1, which made his life harder, as he finished P14; Gasly was hit by Leclerc on Lap 1, which ended his race after qualifying P6; and Vettel lacked the pace of team mate Lance Stroll on both Saturday and Sunday to finish a frustrated P12. Redemption for all three is what they'll be seeking this time around.
Points in the last five Red Bull Ring races:
Mercedes – 176
Red Bull – 149
Ferrari – 111
McLaren – 73
Haas – 28
Aston Martin/Racing Point/Force India – 25
AlphaTauri/Toro Rosso – 12
Alpine/Renault – 10
Alfa Romeo/Sauber – 8
Williams – 2
FAN VIEW: No massive surprises here. Charles Leclerc, Pierre Gasly and Daniel Ricciardo are all attracting support from F1 Play gamers. Add to that list the Alpine pair of Esteban Ocon and Fernando Alonso and Aston Martin duo Sebastian Vettel and Lance Stroll.