Feature
FORM GUIDE: Is rain the only thing that can scupper Mercedes' plans at Spa-Francorchamps?
Formula 1 arrives at a Spa-Francorchamps circuit that's almost universally adored by the F1 field. But which drivers can expect to be in the hunt for pole, victory, podiums and points at the Belgian Grand Prix this weekend? Let's look at the form guide...
Vying for pole
Six Grands Prix down, six pole positions to Mercedes, and we now arrive at a track that rewards an efficient car and a powerful engine above all else. Yep, in normal circumstances, this would undoubtedly be a near-cert for Mercedes, and Lewis Hamilton in particular, a five-time Spa polesitter who's never been outqualified by Valtteri Bottas here.
TRENDING TOPICS: Williams' future, and 7 more talking points ahead of the Belgian GP
There is one caveat we'd chuck into the mix here, though, and that's the weather. Rain is forecast as a possibility across all three days of running at Spa-Francorchamps – and around 7.004km of one of the most challenging racetracks in the world, that could make qualifying a lottery, as we witnessed in Q3 for the 2018 race, which saw the Racing Points lock out the second row of the grid (that was a shock back then). It's worth noting who came out of that session with pole position though: Lewis Hamilton…
Pole positions in the last five years:
2019 – Charles Leclerc (Ferrari)
2018 – Lewis Hamilton (Mercedes)
2017 – Lewis Hamilton (Mercedes)
2016 – Nico Rosberg (Mercedes)
2015 – Lewis Hamilton (Mercedes)
FAN VIEW: Lewis Hamilton leads the way convincingly at the moment in the F1 Play voting, with Mercedes again expected to be quickest over a single lap. Support for Max Verstappen is gradually growing through the season, but not nearly enough to challenge the Silver Arrows.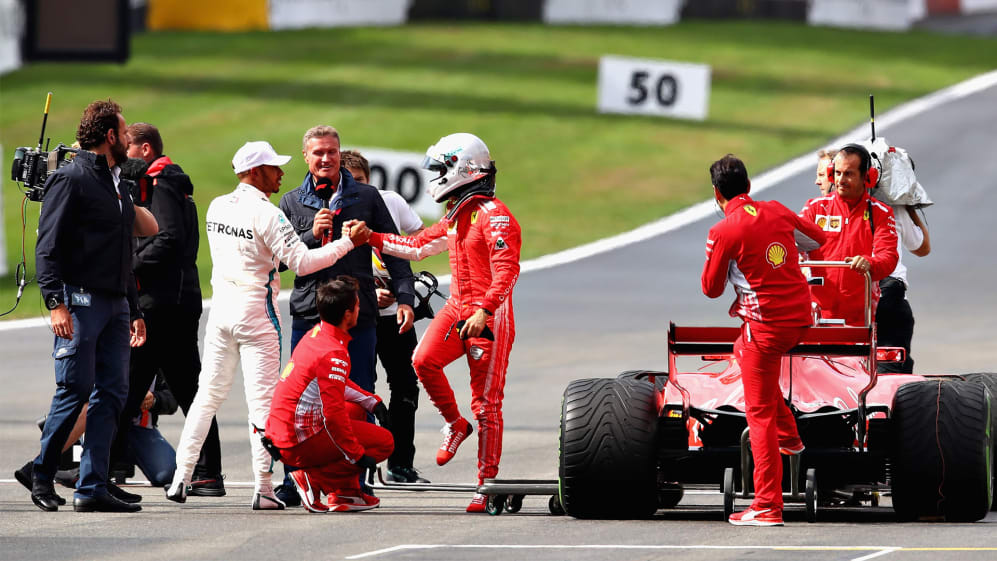 In the mix for victory
Red Bull, Ferrari and Mercedes have all won at Spa-Francorchamps in the turbo-hybrid era, with Ferrari taking the last two victories. But those wins for the Scuderia were largely thanks to their power unit advantage – and as last year's victor Charles Leclerc was honest enough to admit in the lead up to the 2020 race, "we do not have the same level of competitiveness as we did in 2019". Quite so.
So it appears then, as so often in 2020, it will be Mercedes in the box seat for victory – again three-time winner Hamilton favoured over Bottas, who's never out-raced Hamilton here – with Red Bull's Max Verstappen likely to be the driver most likely to put a stop to their dominance if he can.
TECH TUESDAY: The one critical choice the teams will have to make for Spa
Much will depend on qualifying though, with Esteban Ocon having come within a whisker of leading the 2018 race after starting from third on the grid, nearly slipstreaming his way to the head of the field down the Kemmel Straight (see the video below) – while Sebastian Vettel did take the lead from Hamilton from P2 on the grid, before holding on to secure victory.
Wins in the last five years:
2019 – Charles Leclerc (Ferrari)
2018 – Sebastian Vettel (Ferrari)
2017 – Lewis Hamilton (Mercedes)
2016 – Nico Rosberg (Mercedes)
2015 – Lewis Hamilton (Mercedes)
FAN VIEW: Unsurprisingly, Hamilton dominates this category after that peerless display in Spain. But interestingly twice as many F1 Play gamers believe Verstappen is more likely to take the win than Bottas. Clearly a holdover from the Dutchman getting the absolute max out of his car to finish P2 in Barcelona.
Podium outsiders
Jordan/Force India/Racing Point have traditionally gone well at Spa, their design philosophy having always tended to suit the Belgian track. And even though that design philosophy has, ahem, changed somewhat, the new one should be pretty handy too, with the pink team surely feeling that they're overdue a podium in 2020 – and that Spa would be a good chance to get one.
Someone else overdue a podium is Alex Albon. He made his Red Bull debut at the track 12 months ago and drove beautifully – and he'll hope that arriving at a track where he's raced before for Red Bull (the first time that's happened for Albon, if you exclude double races in Austria and Britain this year) will help propel him onto that rostrum.
READ MORE: Albon will be 'knocking on door of podium' with qualifying improvement, says Horner
Meanwhile, the Ferraris would love to sneak a podium here, with 2019 Belgium winner Leclerc looking to bounce back from an ECU issue that ruled him out in Spain, while Sebastian Vettel is a three-time winner here.
Others? Well, no one outside of the top three teams has had a podium at Spa since Romain Grosjean's P3 for Lotus in 2015. But again, with rain a possibility, things could get mad crazy, with many of the field having never raced at Spa in the wet – it not having rained during a Belgian Grand Prix since way back in 2010.
Podiums in the last five years:
Mercedes – 8
Red Bull – 3
Ferrari – 3
Lotus/Renault – 1
FAN VIEW: While Hamilton, Verstappen and Bottas again lead the way for podium voting on F1 Play, it's Charles Leclerc and Sergio Perez who are the outsiders to ruin that Mercedes/Red Bull party. Leclerc won here last year while Perez produced a cracking performance to finish fifth in Spain after recovering from COVID-19.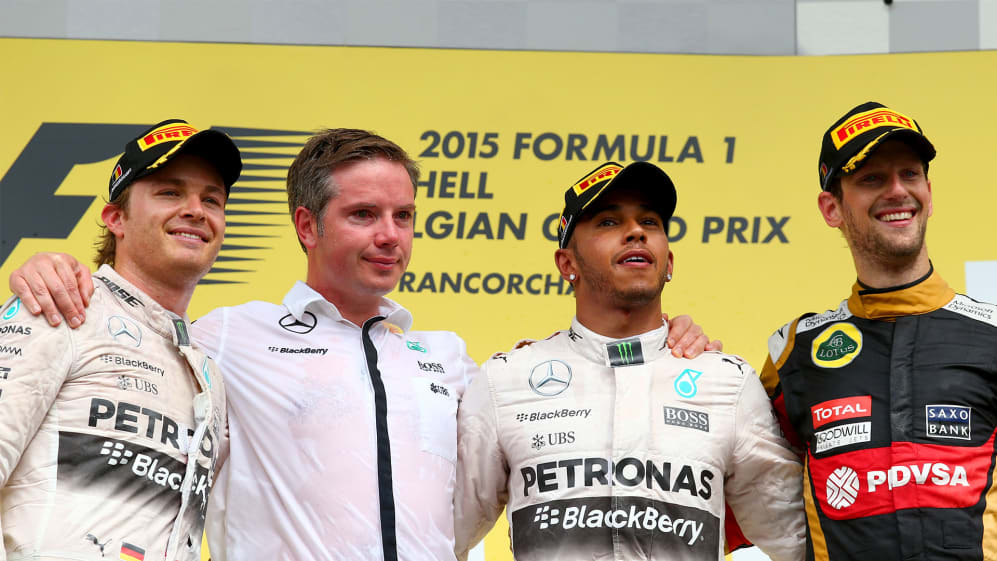 Points potential
Pierre Gasly's been in good nick in 2020 so far – and with the AlphaTauri driver having finished ninth both times he's raced at Spa, we wouldn't be surprised to see him in the points again this year. Of course, he'll likely be in amongst it with the usual suspects at Renault, McLaren, Racing Point and Ferrari.
BUXTON: Gasly's stellar 2020 is reminding everyone why Red Bull chose him in the first place
Alfa Romeo enjoyed a stronger race last time out in Spain than they've been used to recently, but Spa could be tough going for the Ferrari-engined teams (i.e. Alfa, Haas and Ferrari themselves) given their recent power struggles, on what will be the 1,000th Grand Prix for Ferrari-powered cars (not Ferrari chassis though – that's coming at Mugello). That's a shame for Haas' Romain Grosjean, who's tended to go well on this track (2012 aside) while four-time Spa winner Kimi Raikkonen pulled off one of the great F1 victories at the track over Michael Schumacher in 2004.
And what about Williams' chances of scoring their first points of 2020? It could be tricky, reckons George Russell, who said ahead of the Belgian Grand Prix that "Spa may be a slightly harder circuit for us, due to the high efficiency of the track with the long straights and fast corners." Oh well.
Points in the last five years:
Mercedes – 181
Ferrari – 109
Red Bull – 70
Racing Point/Force India – 61
Renault/Lotus – 27
Williams – 19
Haas – 16
AlphaTauri/Toro Rosso – 15
McLaren – 6
Alfa Romeo/Sauber – 2
FAN VIEW: While Racing Point are now looking towards the podium rather than just points, McLaren and AlphaTauri are both fancied by F1 Play gamers to have another strong weekend. Pierre Gasly is a particularly confident selection while Carlos Sainz, Lando Norris and Daniil Kvyat are also popular.