Feature
A race to lose for Mercedes and Hulk's incredible return: What To Watch For in the British GP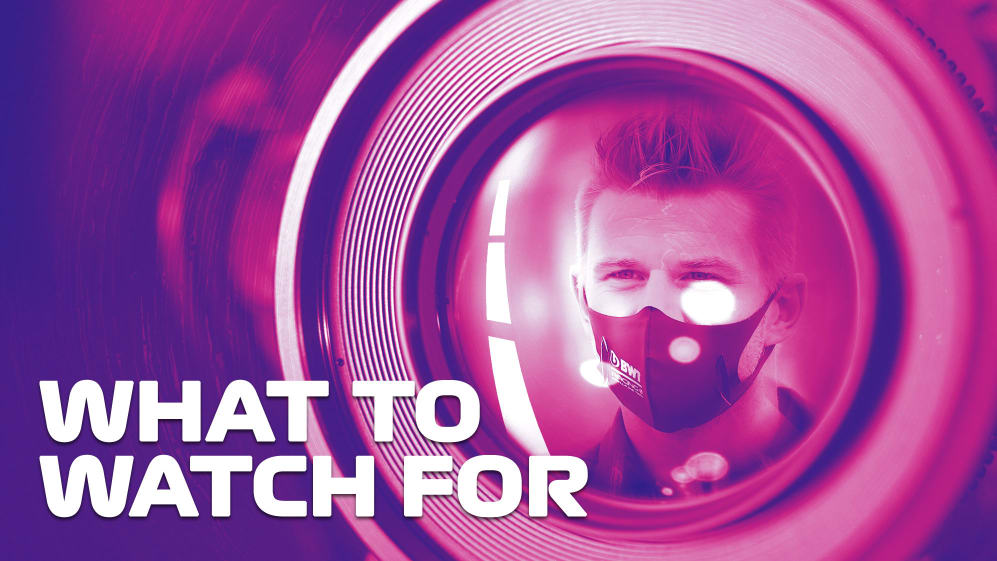 From another dominant-looking Mercedes performance to Ferrari surprising, and Nico Hulkenberg's return to drivers being punished for mistakes, we highlight five key topics to keep an eye out for as the next triple header of races gets underway at Silverstone…
Bottas vs Hamilton for the win… unless they trip up
It looks like another private Mercedes battle for victory
Mercedes have been extremely impressive in 2020 but it hasn't always made for a competitive fight when it comes to the race victory. Right now, Lewis Hamilton and Valtteri Bottas are the clear favourites for the first race at Silverstone, with Hamilton a second clear of Max Verstappen in qualifying.
READ MORE: Hamilton explains how mental 'reset' after Q2 spin enabled him to take record-breaking pole
But there are still areas where Mercedes could trip up. Starts have not always been their strong point this season, with Bottas in particular having to fight back after a poor getaway in Hungary. Plus Turn 3 at Silverstone is a dangerous one…
With the field going flat out through the first two corners, we've seen plenty of incidents in the first braking zone, including when Hamilton was hit by Kimi Raikkonen two years ago.
The reliability of Mercedes power units also remains something of a question mark, with Hamilton taking a new MGU-K this weekend as an update for reliability purposes, but the rest of the Mercedes-powered cars yet to do the same.
Leclerc giving Ferrari optimism
Ferrari have a car on the second row
Ferrari were not optimistic about their chances heading to Silverstone and it might be premature to start talking them up based on qualifying, but the fact remains that Charles Leclerc secured their best starting position of the season with fourth place.
The team took a radical approach to its set-up on Friday that showed good performance potential over one lap but made the car extremely difficult to drive over a race distance, and changes were needed on Saturday. That didn't stop Leclerc pulling out an excellent performance, advancing on the medium compound tyre into Q3, meaning he will start on that compound.
READ MORE: Vettel says the car 'didn't fit me today' after disappointing qualifying
To only be beaten by Verstappen in the battle of best of the rest behind Mercedes, and by only 0.1s in a season where Ferrari have really been struggling, is an encouraging showing, and the strategy situation gives Leclerc the best chance of capitalising in the race.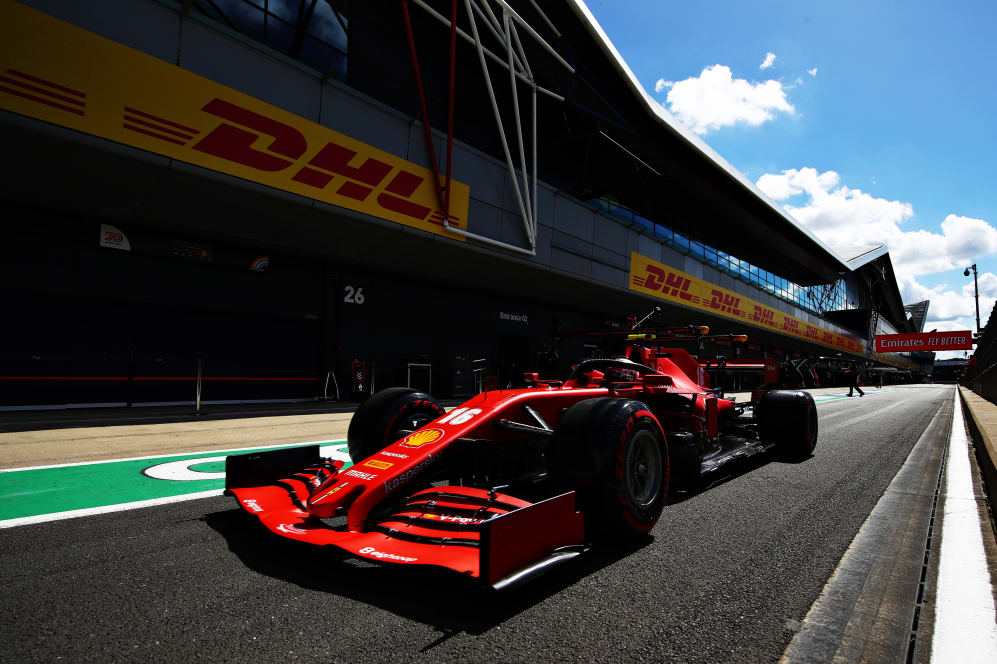 Hulkenberg's first F1 start in nine months
The Racing Point super sub will line up 13th
Friday was a whirlwind day for Nico Hulkenberg as he got into the paddock less than 10 minutes before FP1 started and immediately jumped into the Racing Point in place of Sergio Perez. But Saturday saw his first competitive running – and it didn't quite go to plan in qualifying.
Hulkenberg admitted he would need to find out how to get more out of the soft tyre ahead of qualifying but when it came to Q2 he struggled with the transition from medium to softs on low fuel and couldn't quite find the time needed to secure a spot in Q3.
READ MORE: Hulkenberg describes qualifying return as 'a shock to the system' as he just misses out on Q3
Even so, the German has produced a very solid display so far this weekend and knows he has a competitive car underneath him heading into the race. He's a long way from that elusive podium position but the RP20's race pace should allow him to move forward. How much progress he makes towards the points will depend on his own confidence in a race situation, having last driven an F1 car in that manner in December of last year.
Norris chasing big points at home
2020's surprise package excelled again in qualifying
While Hulkenberg was not a name we expected to see on the timing screens this weekend, Lando Norris is one we're becoming increasingly accustomed to finding in the top six. The McLaren driver has qualified on the first three rows in three of the four races this season, although one of those was then subject to a grid penalty.
Norris delivered again with fifth place on Saturday, and he'll go in search of more points in the race as he looks to defend his fourth position in the drivers' championship. Norris is seven points behind Verstappen but four ahead of Alex Albon – who starts 12th – and Perez, who is not racing.
READ MORE: Norris delighted to bag P5 on grid for home race after 'scrappy' Silverstone qualifying
The 20-year-old will start his home race on the soft compound compared to mediums for the rest of the top six, but will be hoping McLaren still has an advantage over Ferrari based on the race pace displayed on Friday. And who knows, it only takes an issue for either Mercedes or Verstappen, and a second podium of the season could be on the cards.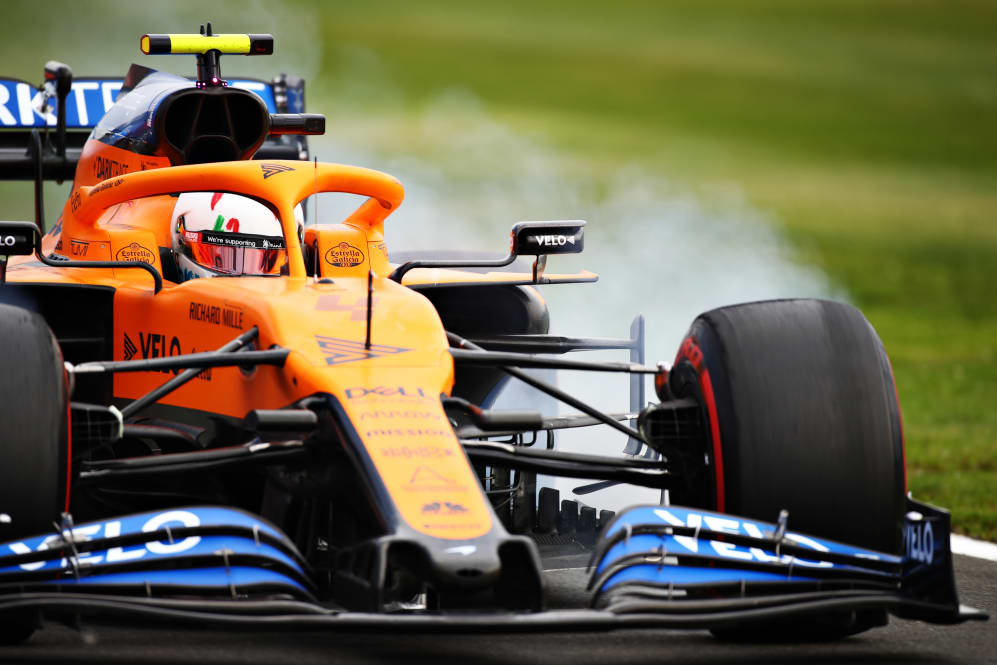 As a track on a former airfield, Silverstone is exposed and often sees gusting winds that make the cars tricky to drive. In qualifying, a tailwind caught out rookies and champions alike, with Nicholas Latifi and Lewis Hamilton both spinning as they accelerated out of Luffield.
That also made Copse an even more challenging corner, with multiple drivers running wide when racing each other in junior categories, and the FIA has been deleting lap times in previous sessions when cars leave the track there.
Sunday's forecast is similar to Saturday, so drivers will at least be spared the 35C heat from earlier in the weekend. But that doesn't mean they'll have it easy behind the wheel.
Oh, and this is the British summer. So there is always a chance of rain, even when the sky appears completely clear…