Opinion
Our writers share their best moments, biggest shocks and top stories of 2020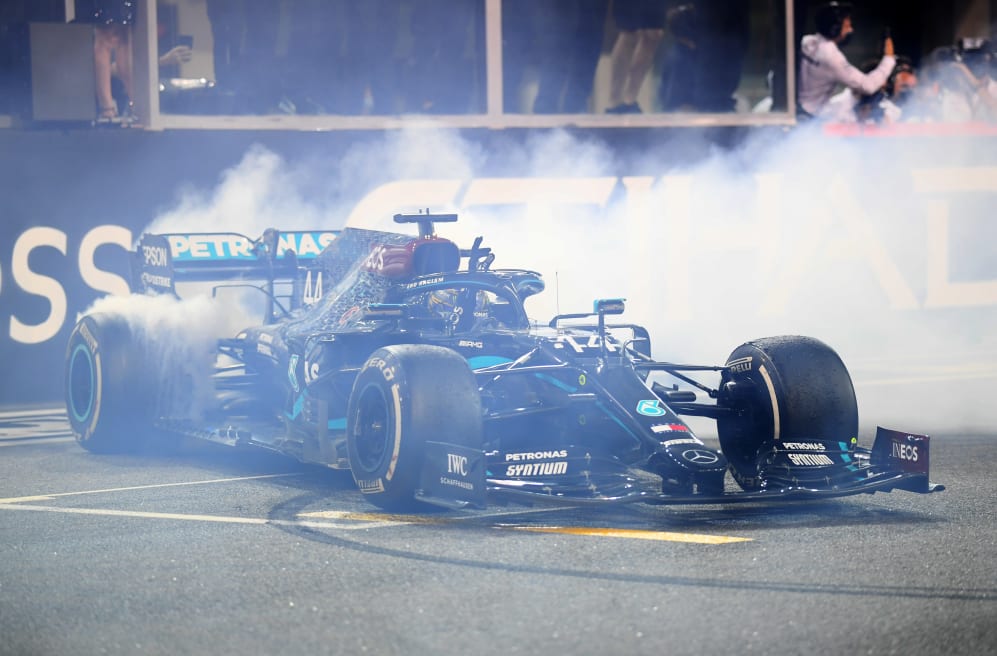 Well, that was quite the season, wasn't it? 17 more races and one unforgettable season have been added to the history books, but what were the high points and low points? Who impressed the most - and who has work to do? Our writers share their views on 2020, from Austria to Abu Dhabi and beyond.
What was the best moment of the year?
Will Buxton (Digital Presenter): Watching Romain Grosjean walk away from an accident of unimaginable ferocity, and witnessing the gallantry of the marshals and medical car crew, was something that will last with me a long time. It was a visceral reminder of the work F1 and the FIA have done to improve safety but that this sport we love will and can never be without risk.
READ MORE: Grosjean's ordeal ensures he'll leave the paddock feeling the love – and that's what he deserves
David Tremayne (Hall of Fame journalist): The sight of Pierre Gasly sitting alone on the podium at Monza, after the victory celebrations. Here was a young man, on his way back up the F1 ranks in his best season despite being dropped by Red Bull, savouring the biggest moment of his life and remembering his friend Anthoine Hubert. A revealing portrait of the human side of the sport.
Mark Hughes (Special Contributor): Just seeing the cars head out of the pitlane for FP1 in that first event of the year at the Red Bull Ring - for very obvious reasons. It had looked for a time like there wasn't going to be a season at all. Yet here it was happening and in such beautiful surroundings.
Chris Medland (Special Contributor): Pierre Gasly winning at Monza. Coming a week after he was marking the anniversary of his friend Anthoine Hubert's death, and after the difficulties he had with Red Bull in 2019, it was a real redemption story, and also brilliant for AlphaTauri at one of their home races. Sergio Perez nearly nicked it at Sakhir, but the jeopardy of the final laps at Monza took it.
Lawrence Barretto (F1.com Senior Writer): Sergio Perez winning his first Grand Prix. Checo has been one of the most impressively consistent drivers Formula 1 has ever seen. With his F1 future in doubt, it would have been a travesty for him to leave without having stepped foot on the top step.
Greg Stuart (F1.com Staff Writer): Seeing Romain Grosjean clamber over the Armco and away from his burning Haas in Bahrain. For all of the 2020 season's fantastic sporting moments – and there were plenty – seeing a driver escape that situation and go home to his wife and children was definitely the best.
Samarth Kanal (F1.com Staff Writer): The elation of Sergio Perez's victory was cathartic to witness, after numerous near misses for him in 2020. Having ended his 190-race wait for a victory, you could see how much it meant to Perez, with tears on the post-race radio and on the podium too.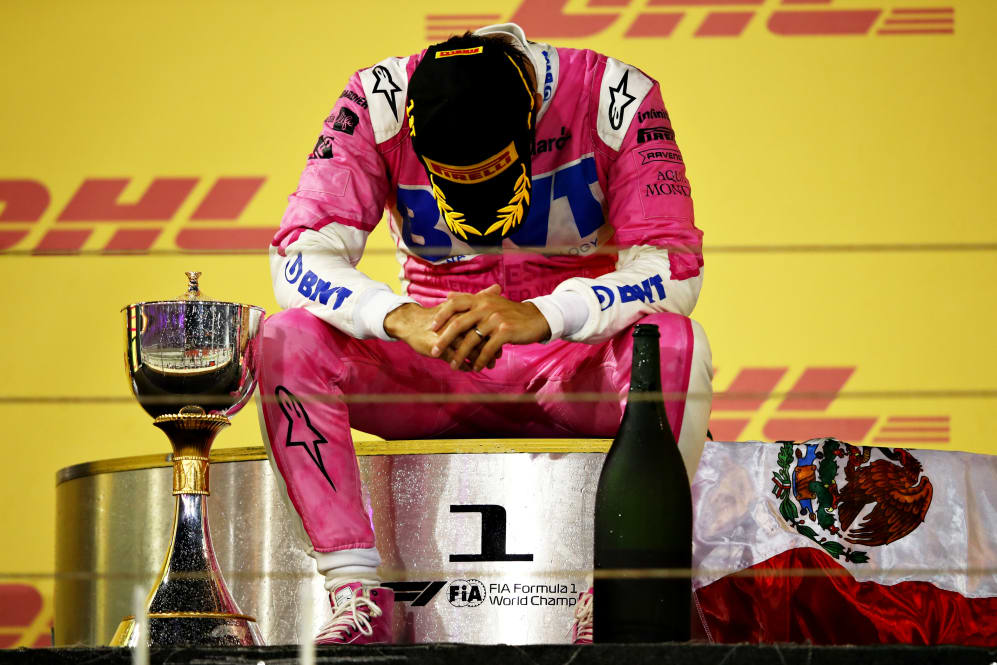 What was your favourite story of 2020?
DT: Self-effacing Dr Ian Roberts' outstanding heroism in Bahrain, where he ran into the inferno in support of Romain Grosjean and with little thought for his own safety despite the insufficient protection of an open-faced helmet, remains one of my enduring images of the season. Doctors exist to save lives, but are rarely called upon to endanger themselves while doing so.
MH: It's got to be Sergio Perez's fairytale victory in his penultimate race for Racing Point, at the Sakhir Grand Prix. He'd spent most of the year knowing he was being dropped next year, not for any performance reasons, but just to make way for the bigger name of Sebastian Vettel. Yet he didn't let that affect his relationship with his crew and the race team itself - and he continued giving his all. The win was the reward.
SK: The lifesaving efforts of the F1 teams were a beacon of hope in what has been a truly testing year for all. It wasn't just the UK-based teams in Project Pitlane, but the likes of Ferrari who diverted their resources and expertise in unity against the global pandemic.
LB: George Russell getting a shot to impress at Mercedes. He may have missed out on a victory he thoroughly deserved, but he did enough that weekend to put Valtteri Bottas in the shade and prove he has what it takes to get the most out of a front-running car.
GS: Nico Hulkenberg standing in for Lance Stroll at the Nurburgring. I just like the image of the Hulk being mid-coffee in Cologne and then hauling ass to the Nurburgring in his Porsche and jumping in the car – and then doing such a good job considering all of that. Very Last Action Hero.
CM: Project Pitlane. There were loads of great sporting storylines like the wins for Gasly and Perez or Lewis Hamilton's stunning performances (both on and off track), but to see the sport having a positive impact in the fight against COVID-19 during such a worrying time for the world - using the unique skillsets of the teams and suppliers – made me really proud of everyone involved.
WB: When it became clear Ferrari were going to struggle in 2020, the battle for third in the constructors' became a fascinating narrative which kept us enthralled from Austria to Abu Dhabi. It could have been any of McLaren, Racing Point or Renault, but on balance I think McLaren deserved it the most. And seeing AlphaTauri's consistent threat and Ferrari popping in a fair few podiums kept the jeopardy alive.
What was your favourite race?
LB: Monza. The tension of watching Carlos Sainz heap pressure on Pierre Gasly as they fought to win their respective first Grands Prix was followed by an explosion of joy in the AlphaTauri garage and up and down the paddock. An incredible, mindboggling, feelgood sporting occasion.
MH: I think it was probably Portimao. Such a great track and one which but for the pandemic would never have seen any Grand Prix action and that would have been a shame. It was also a great race, albeit a quite unusual one, a portent of the more extreme version of what was to come in Istanbul, with cold track and smooth surface combining in a very interesting way. The cars could race wheel-to-wheel and different tyres were fast at different times.
SK: F1's return to Istanbul Park wasn't just unexpected, but thoroughly welcome, and not only did we get a shock pole-sitter in Lance Stroll, but one of the best wet races and wet-weather performances ever, the latter thanks to Lewis Hamilton.
GS: Tough, but I'm plumping for the Italian Grand Prix. Seeing the totally mixed up order, and how young drivers coped with suddenly finding themselves challenging for victory and podium places was great. And after the ride that Pierre Gasly has had in F1, I don't mind admitting that it's one of the few race reports I've written while getting a little… verklempt.
WB: Thankfully there were many to choose from. In terms of venue, I was so happy to return to Istanbul and I fell in love with the countryside around Mugello. But the race that topped them all was the Sakhir GP, and not just for the result. The unique layout gave us and the drivers something different and I hope gets imaginations fired for how we can get some different challenges into circuits going forward.
DT: Lewis Hamilton's performance in the Turkish GP placed him in a class of his own as he staged a tour de force in dire conditions to clinch his seventh World Championship and thus equal Michael Schumacher's tally, having already exceeded the German's record of victories. The art of true Grand Prix driving was rarely demonstrated better.
CM: Austria. There were loads of great races and this one took a little while to ignite but then had a thrilling ending. But more than that it was so important to be back racing, and those couple of hours on Sunday afternoon felt the most normal in a long time, with the sounds of engines and watching drivers scrap it out once again providing the perfect distraction from the difficulties of 2020.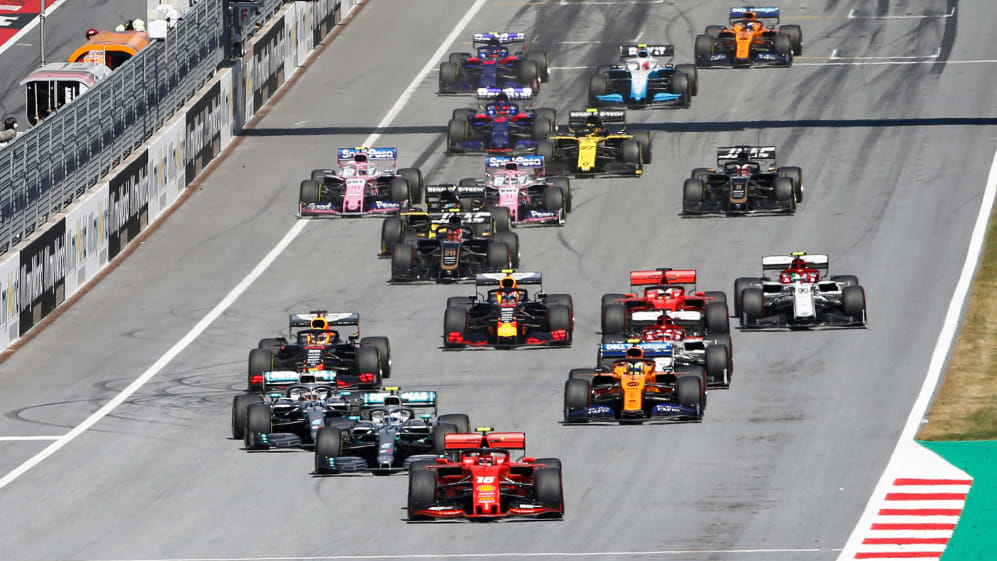 What shocked you most in 2020?
MH: It can only have been Romain Grosjean's fireball accident in Bahrain. It was one of those moments when your brain was having trouble processing what your eyes were telling it, quickly followed by the awful realisation of what had just happened and the near-certainty that he was either unconscious inside there or trapped. The relief as he rose out of the flames after all that time...
WB: First that we even got a season and all thanks must go to Chase and the amazing team at F1 who together with the FIA put on a global sporting championship few thought would happen. But what shocked me most is the huge upheaval in driver lineups that will take place into 2021. Such a seismic shakeup of the grid is a very rare occurrence, even more so due to the nature of the season that the contracts were mostly done early on.
DT: Inevitably the sight of Romain Grosjean's Haas bursting into flames was the most shocking incident. Seeing a car spearing off track in the background soon after the start, then the orange fireball, was an horrific reminder of the bad days of the sport when several drivers perished each season, shaking our belief that fire was no longer the drivers' ultimate nightmare.
LB: Romain Grosjean's huge crash. The 28 seconds it took for him to emerge from the flames felt like an eternity. That he walked away showed how safe F1 has become.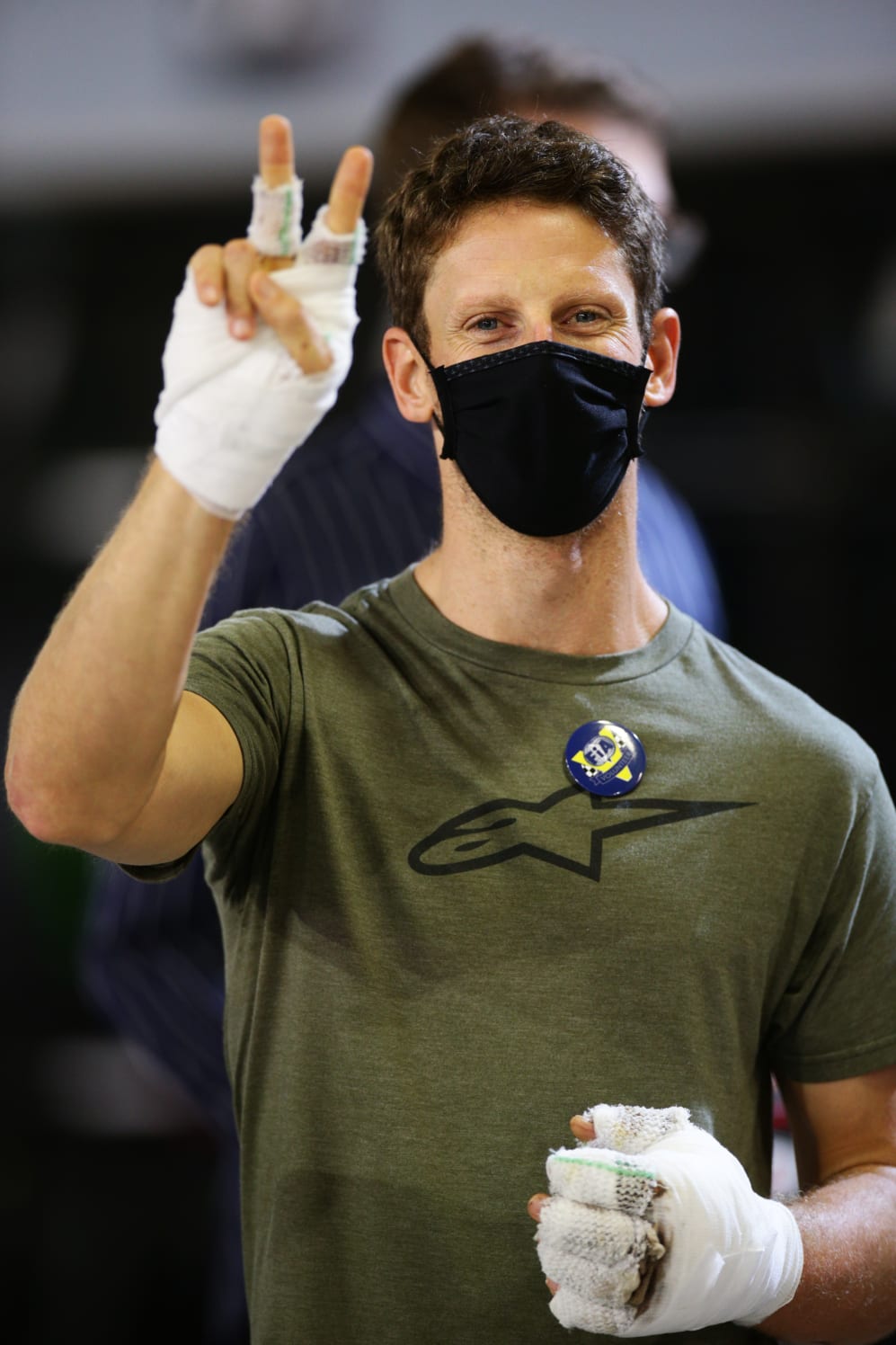 GS: Ferrari's struggles. At pre-season testing, Charles Leclerc laughed off the idea that the team were facing "disaster" in 2020, but that word pretty well sums it up. Allied to that, I was surprised by the volte-face on Sebastian Vettel remaining with the team for 2021, which doubtless contributed to his underwhelming year.
CM: The Romain Grosjean crash. I'm probably not alone here, but it has been so long since we've seen a car burst into flames like that in Formula 1 and it really was a horrific moment. But then it was more of a positive shock to see him jumping clear of the wreckage – I still struggle to believe he got out relatively unharmed.
SK: Romain Grosjean's horrible crash left us all speechless and expecting the worst. An indelible memory for the wrong reasons – until he climbed out.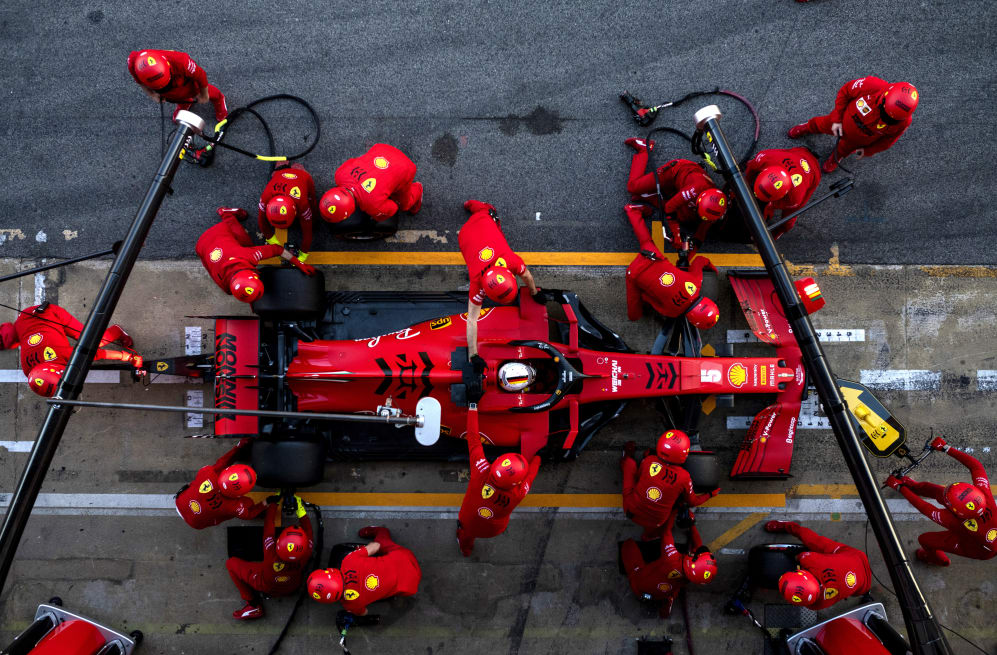 What made you laugh?
CM: The relationship between the drivers. The feeling from lockdown - when Lando Norris, George Russell, Alex Albon and Charles Leclerc to name a few were messing around together - seemed to continue into the season. Hamilton doing a shoey, jokes in the paddock, it was a really good atmosphere between most drivers. (Also Lawrence Barretto's shoes, if I'm allowed to say that).
DT: Not very much, if I'm honest. Of all my seasons of F1, it had the least to laugh about as the world struggled against Covid-19. If I have to choose, I'd go with Sky TV's track battle between Lewis, Valtteri and Toto Wolff in Mercedes roads cars at Silverstone.
LB: The expression on Daniel Ricciardo's face when he realised he had forgotten to do a shoey on finally returning to the podium in the Eifel Grand Prix.
MH: The comedy double act of Sainz and Norris. They are fantastic with Carlos playing the straight man to Lando's clown. The best example was when Norris was asked if he expected to get a birthday present and his fizzing enthusiasm for that idea set Carlos up beautifully to deliver a totally deadpan non-response.
READ MORE: 'Bromance' with Sainz key to McLaren winning fight for P3 in constructors' standings, says Norris
GS: It's not really fair to laugh, but I have to admit to chuckling a few times over the Turkish Grand Prix weekend as the drivers floundered in the face of the lack of grip. They earned their money in Istanbul, no doubt.
WB: Pre season testing commentary with Alex Jacques and Ted Kravitz, the discovery of DAS and trying to explain it using skiing terminology made famous in a South Park episode while Ted tried to make the shape of a tyre with his upper body and ended up looking like he had T Rex arms had me in tears. Absolute hysterics.
SK: The Virtual Grand Prix Series that kept us going through lockdown earlier this year. The utter carnage that took place as the likes of Charles Leclerc and George Russell took on pop stars, PGA golfers and famous footballers, was brilliant
Which driver impressed you most?
SK: Lewis Hamilton impressed me most, on and off the track. Not only did he clinch a commanding championship, he championed human rights' movements by vocally supporting Black Lives Matter and setting up the Hamilton Commission, with his actions backed up by Mercedes 'Accelerate 25' programme.
DT: Pierre Gasly and Sergio Perez deserve honourable mentions for their overall performances and maiden wins, but for me the stand-out was a stand-in: George Russell. The manner in which he progressed through practice and qualifying at such short notice in Sakhir, then dominated the race, was massively impressive, best car or not. His dignified demeanour afterwards, even more so.
READ MORE: Russell's Mercedes debut had shades of several other breakout performances - and showed he's the real deal
LB: Lando Norris. He rewarded McLaren's long-term faith in him by scoring his maiden podium, clocking up nearly double the number of points he managed in his rookie season and finishing just eight shy of more experienced team mate Sainz.
WB: It's hard not to say Lewis, obviously. But the two standout stars of 2020 for me were the two first time winners. Pierre Gasly had a season of incredible consistency and ever present pace. Sergio Perez meanwhile fought Covid, missed races, got dropped and still had his best ever season and emerged the most complete I've ever seen him. They were both phoenomenal.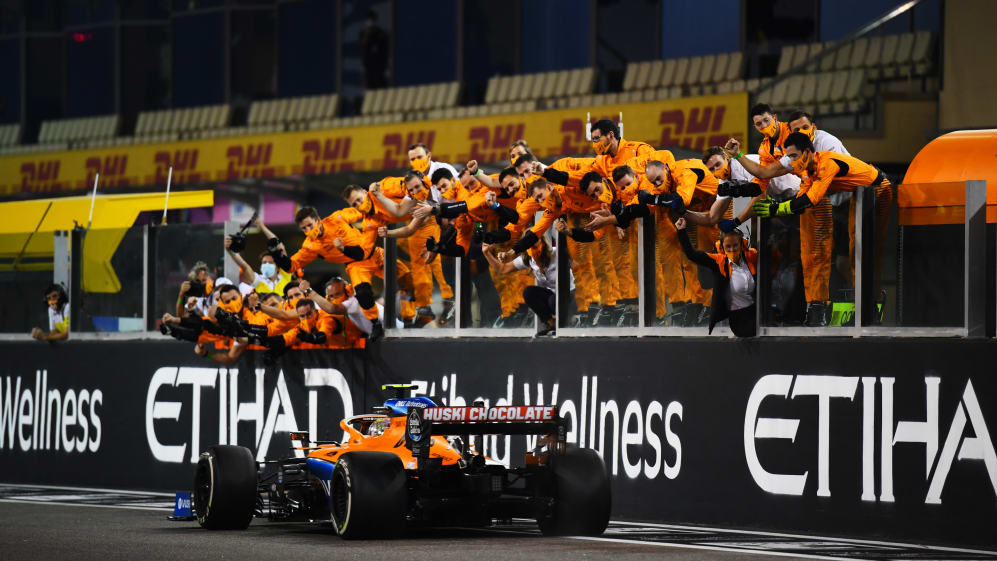 CM: Tough one this, but I'm going to go with Lando Norris. His first podium was impressive in Austria, and the confidence it gave him seemed to ignite a more aggressive driver when the time calls for it. The others who really impressed also made the odd clear mistake, whereas Norris didn't seem to and matching Carlos Sainz was crucial in McLaren securing P3 in the constructors' championship.
GS: Hamilton and Verstappen stood out as the class of the field. But considering some of the things Leclerc was able to do in that Ferrari SF1000 – not least taking two podiums – I think I have to give it to him, despite some high profile errors. Some of his qualifying laps have been absolutely stunning, and he's made a four-time champion look not great many times this year.
MH: There were so many. Hamilton somehow finding yet another level and that staggering wet qualifying lap in Styria. Leclerc for any number of transcending of the Ferrari on Saturday afternoon. Verstappen for his thrashing the living daylights out of any opportunity. Ricciardo for his amazing combination of pace and tyre usage. Russell in Sakhir – amazing. Let's go Russell.
Who must do better in 2021?
GS: I don't want to trivialise how hard it is to go up against Lewis Hamilton, but I think it's a poor showing for Valtteri Bottas to end the season 124 points down on him and with the same number of wins as Max Verstappen, having wielded a car that was clearly a step or two more accomplished than the Red Bull RB16.
WB: Ferrari. Valtteri. And Lance. Italy expects and despite huge management sea changes both in the recent past and just these past few days, the ship needs to show it is pointing in the right direction in 2021. Valtteri may need a version 4.0 for 2021 after failing to mount the consistent challenge that it will take to depose Hamilton. He now also has no doubt that George Russell can and will take his seat if he doesn't prove himself. And Lance Stroll has to do better. He had a good start to the year but let it all dissolve at the end.
DT: Sebastian Vettel's 2020 reminded me of Jody Scheckter's feeble 1980. But instead of Gilles Villeneuve embarrassing the South African so much, it was Monegasque Charles Leclerc who mastered a traction-limited Ferrari SF1000 that the German was so rarely comfortable with. If Seb encounters similar problems with Aston Martin, a great career will be over and done, a reputation irreparably damaged.
MH: Sebastian Vettel has to rediscover his mojo for his Aston Martin project to work. Ferrari have to become a factor again. It's not acceptable for F1 for them to be down where they are. After a season in which he came out second-best to Daniel Ricciardo, the pressure is upon Esteban Ocon to show well against the returning Fernando Alonso.
CM: Easy. Sebastian Vettel. There are a number of factors that clearly played a part in his struggles this year, and Seb says he doesn't care what anyone else thinks but his reputation has taken a big hit. He deserves more respect as a four-time world champion, but I fear he won't get it if he doesn't bounce back at Aston Martin next season.
LB: Ferrari. It is unacceptable for a team of their stature to go through a F1 campaign without leading a single lap. Sixth in the championship is their worst for 40 years.
SK: Valtteri Bottas needs to step up in 2021. He didn't put up much of a fight this season and, when George Russell made his cameo at Sakhir, Bottas was no match for the Williams youngster. The pressure is on the Finn above everyone else next year.