Feature
F1 2021: Our writers' predictions and hot takes ahead of the new season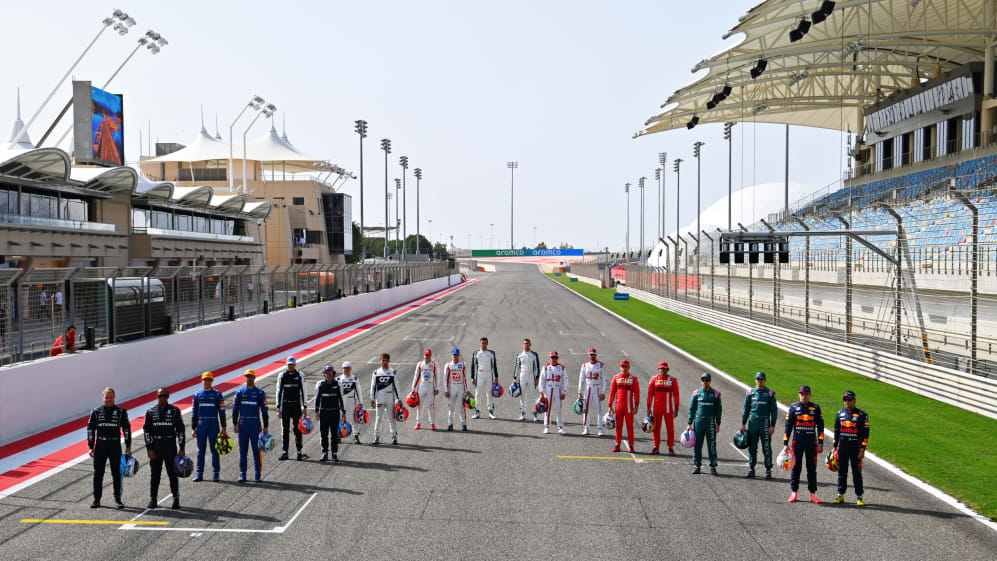 This weekend the lights go out for the first Grand Prix of the 2021 season, but before a wheel hits the track in anger we asked our writers to make some bold predictions for the mammoth 23-race season ahead. Who has the most outrageous hot takes? Read on to make up your mind...
I'm most looking forward to…
Mark Hughes (Special contributor): A Red Bull and a Mercedes pretty much equal so we can finally get the full-on Hamilton vs Verstappen duel we've been waiting for for years.
David Tremayne (Hall of Fame F1 journalist): Seeing whether Red Bull can carry over their form from the end of 2020, when Max dominated in Abu Dhabi, and whether Mercedes can hone the W12's testing problems. If both answers are affirmative, we could be in for a fantastic season. And the improvement Jost Capito is going to make at Williams.
Will Buxton (F1 digital presenter): Red Bull versus Mercedes and a gloves-off fight for the title in the final year of the current regulations. That, and the world slowly getting back to something that looks like normal and which doesn't rely on someone sticking a large plastic stick in my face every three days.
READ MORE: Red Bull would be 'stupid' to write off Mercedes threat in 2021, says Verstappen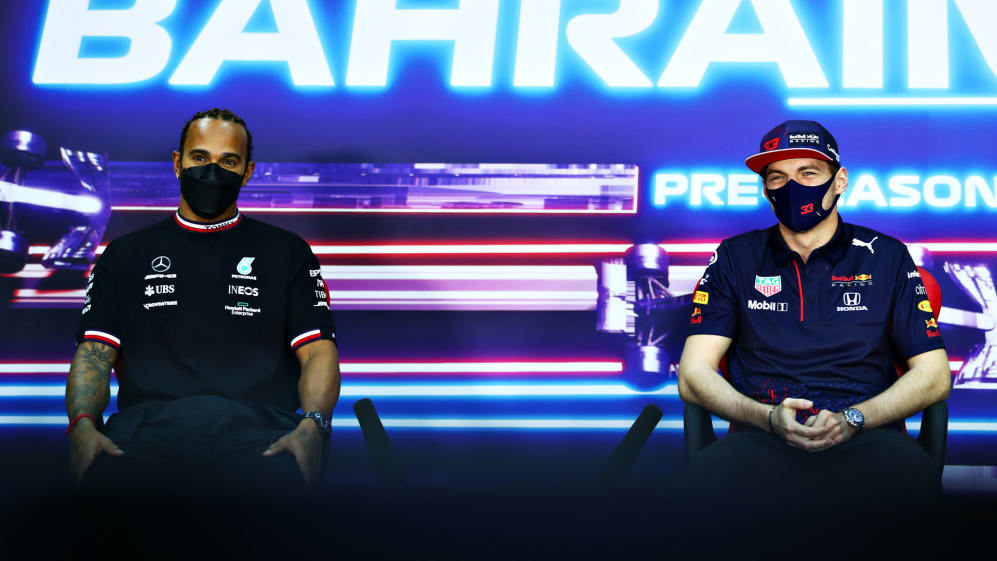 Chris Medland (F1 journalist): The midfield battle. Genuinely, I can't wait to see Daniel Ricciardo in a McLaren scrapping with Fernando Alonso and Sebastian Vettel in cars named after historic brands (to varying degrees), as well as the fresh pairing at Ferrari. If last year is anything to go by, it should be for a podium on a fairly regular basis, too.
Lawrence Barretto (F1.com senior staff writer): Watching how Max Verstappen deals with the threat posed by new team mate Sergio Perez. The Mexican will be a formidable rival, which in turn could and should push the Dutchman to another level.
Greg Stuart (F1.com staff writer): Seeing if Sebastian Vettel can get his mojo working again at Aston Martin.
Samarth Kanal (F1.com staff writer): Seeing fans, and all the fanfare and colour they bring, at Grands Prix in 2021. Hopefully I haven't jinxed the possibility.
READ MORE: Alonso's return, Ferrari's form and Mercedes' struggles – 12 key questions ahead of the 2021 season
Who will cause the biggest surprise?
SK: Alfa Romeo will show their might in 2021 and score consistently, with a resurgent Ferrari power unit.
MH: Yuki Tsunoda - but only because he's not widely known yet. He's going to cause a stir, just as he did in testing.
DT: I think McLaren. They've made big progress on the chassis front in the last two seasons, and that is now strengthened further with the return to Mercedes power.
READ MORE: 6 key things our data tells us from pre-season testing – including why it wasn't all bad news for Mercedes
WB: AlphaTauri. If testing is any indicator of genuine form I could see them placing in the top part of the midfield. If Ferrari back off and focus on 2022, I can see AT in a top four or top five fight.
CM: AlphaTauri. Honda fast-tracked their 2022 power unit for this season and it ran reliably in testing, plus there were some standout moments during last season. The team look more competitive overall and while they still might not have the consistency of some others – especially with a rookie driver – I'm backing them for some big performances along the way.
LB: AlphaTauri. The Italian team may be one of F1's smaller operations, but they are ruthlessly efficient and appear to have a package that can ruffle some feathers this season. This will be the year Franz Tost gets his dream of a top-five finish.
GS: Williams. I think they'll score points plural in 2021, and won't finish last in the constructors'.
READ MORE: 'There are no miracles, no silver bullets' – How Jost Capito plans to take Williams back to the front
Which team and driver are most likely to be champions?
GS: Max Verstappen and Red B… no, it's going to be Lewis Hamilton and Mercedes.
SK: Lewis Hamilton and Mercedes. One of the greatest combinations in F1 history, so of course they're favourites.
MH: Hamilton and Mercedes logically, but Verstappen and Red Bull have their best chance in years.
READ MORE: 'Red Bull are ahead' – Mercedes concede rivals were 'class act' of testing and admit they 'don't have answers' for W12 handling issues
DT: Of course the odds favour Lewis Hamilton and Mercedes to make it eight titles for the former and an unprecedented turbo-hybrid clean-sweep for the latter, but crowning the first Dutch World Champion would be pretty cool for the sport, would it not?
WB: Despite their testing woes I expect most to write Mercedes but I think it's Red Bull's year. Every great empire has its final days and I've got a feeling that, after a titanic battle, Red Bull's driver lineup will swing them the constructors' title. As for drivers… too close to call. Max or Checo.
CM: Lewis Hamilton and Mercedes. You can't say anyone else in the hybrid era! I do think Max Verstappen and Red Bull will run them closer than anyone ever has, but I still back the defending champions to have the edge over the 23 races.
LB: Red Bull and Max Verstappen will push them much harder this year and make a proper fight of it, but ultimately Mercedes and Lewis Hamilton will take the spoils.
READ MORE: Have the 2021 rule changes swung the advantage from Mercedes to Red Bull?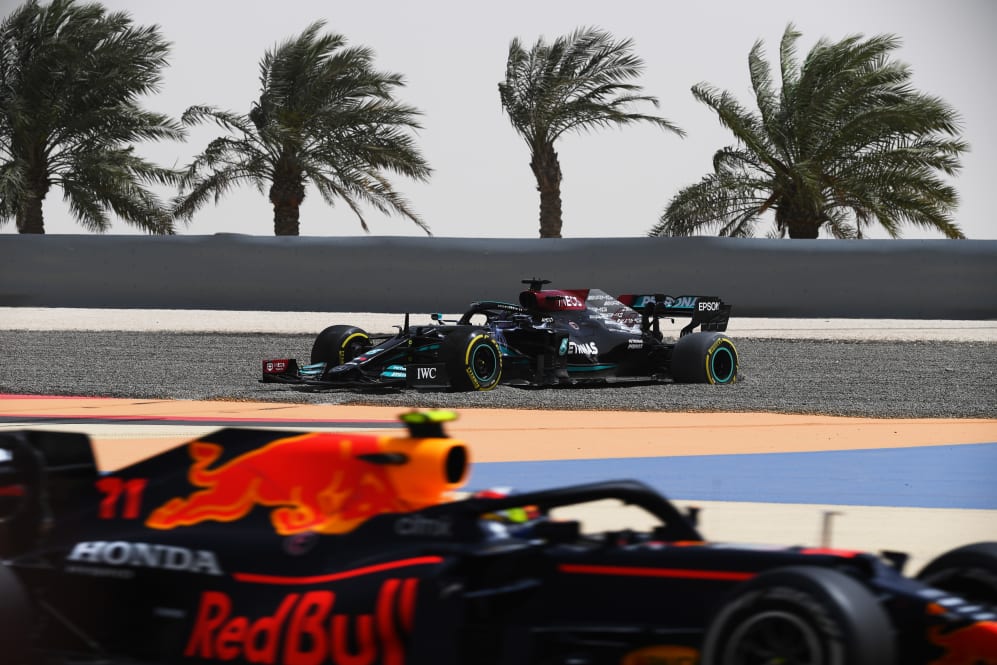 How many teams will win races this year?
LB: Four. Mercedes and Red Bull are the obvious candidates, but I think two from Aston Martin, McLaren and Ferrari will make the top step, too.
GS: Five. Which teams you say? Mercedes, Red Bull, McLaren, Aston Martin and Alpine.
SK: Four. Mercedes, Red Bull, McLaren, and Aston Martin will win races this year.
MH: Four. Mercedes, Red Bull, McLaren and Ferrari.
WATCH: Relive the action-packed 2020 Bahrain Grand Prix ahead of this weekend's season opener
DT: My crystal ball says three teams will win races. That's because I think Mercedes will have learned from the mistakes that cost them a couple last year when the underdogs scored. Mercedes and Red Bull are easy predictions, for the third, see below.
WB: On merit, three – Red Bull, Mercedes and McLaren, with a random winner thrown in somewhere along the way after a bonkers Monza-style race.
CM: Five – half of the grid. Why not? The midfield is looking insanely close, there are clearly four top cars but they should also be fighting each other even harder for wins this season, so I think it will open up just as many opportunities for a surprise winner as last season, if not more.
READ MORE: Stefano's State of the Nation - F1's President and CEO on his long to-do list and the season ahead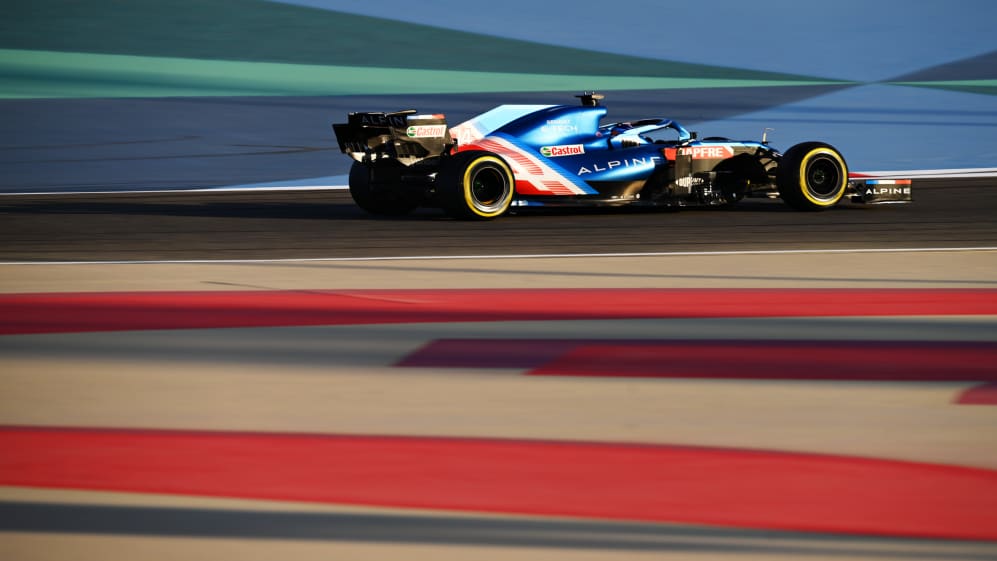 Which team will win the midfield battle?
CM: I'm going with McLaren. I've been so impressed by their progress over the past few years and think they've only got stronger with a Mercedes power unit and the addition of Daniel Ricciardo. More importantly though, it's a team who feel like they take every chance available to them, and that could make the difference again.
LB: Aston Martin will win the midfield battle and finish third, pipping Ferrari, courtesy of Lance Stroll improving his consistency and Sebastian Vettel getting his mojo back.
GS: McLaren – I think they've got the best line-up versus package ratio in the 'midfield', and the MCL35M ran like clockwork in pre-season. P3 with a bullet.
READ MORE: Stroll raring to go for new season as Aston Martin say they learned 'huge amount' in testing
SK: McLaren, with the experience of Daniel Ricciardo, Lando Norris and Mercedes High Performance Powertrains.
MH: I think Aston will be the quickest of the group but McLaren will be ahead in the constructors'.
DT: I think this is going to be fantastically close between McLaren, Aston Martin, Alpine, Ferrari and AlphaTauri.
WB: I don't know if McLaren are midfield or not... if they are then McLaren. If they're not then AlphaTauri, Ferrari and Aston will have a big fight for fourth.
READ MORE: 'It's not a midfield anymore' – Alpine's Budkowski wary of strong testing performance from rivals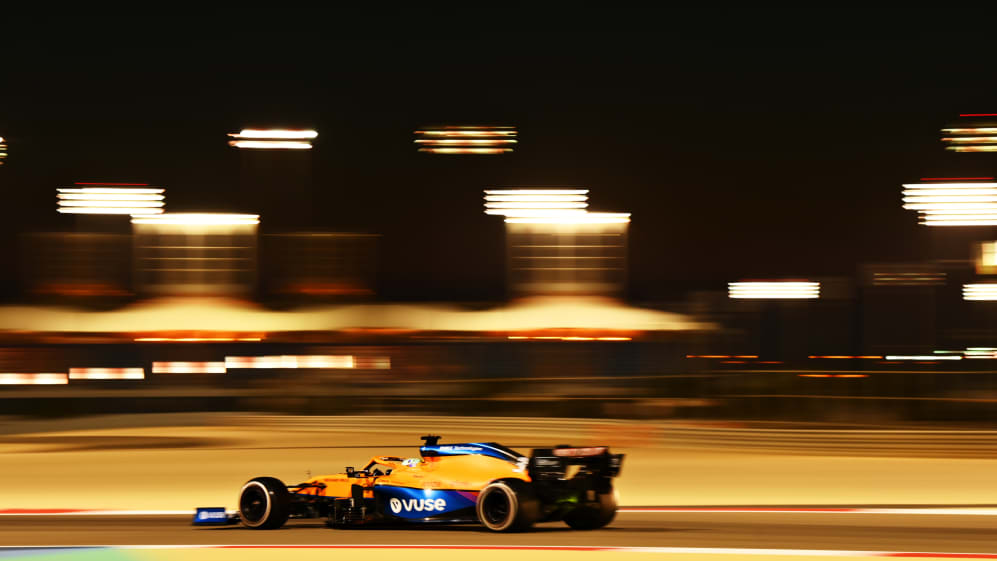 Who will create the most headlines?
WB: Lewis Hamilton and Mercedes. The 'will he won't he' saga over Hamilton's future aligned to Russell waiting in the wings and an Esteban Ocon who may find himself edged out at Alpine all add up to a delicious soap opera at Brackley.
CM: Nikita Mazepin. Even if I just focus solely on racing matters, he picked up a lot of penalty points in Formula 2 last year with his aggressive driving. At times he got it right and was impressively robust, but other times he just pushed it a bit too far. In what is likely to be a frustrating year for the Haas drivers – but with them fighting each other to make their mark – I think we'll see more of the same in F1.
LB: Fernando Alonso. The double world champion is a headliner, no matter where he competes or who he races for. Expect him to be one of 2021's main protagonists, even if he won't have a car to challenge for wins.
READ MORE: The hopes and fears for every Alpine fan in 2021
GS: Fernando Alonso. Obviously.
SK: Red Bull with their competitive pace in the early part of the season; Lewis Hamilton's ongoing contract/future discussions in the second half of the season.
MH: Fernando Alonso.
DT: Obviously Lewis and Max will get their share, as will the returning Fernando Alonso, but I expect the Haas duo – Mick Schumacher and Nikita Mazepin – to attract a lot of publicity. Mick, for obvious reasons, Nikita because he's a fighter and a feisty racer who is going to try and poke his VF-21's nose in where others might not want it.
READ MORE: Points for Haas in 2021 would be 'fantastic result' says Steiner, as he predicts tough year ahead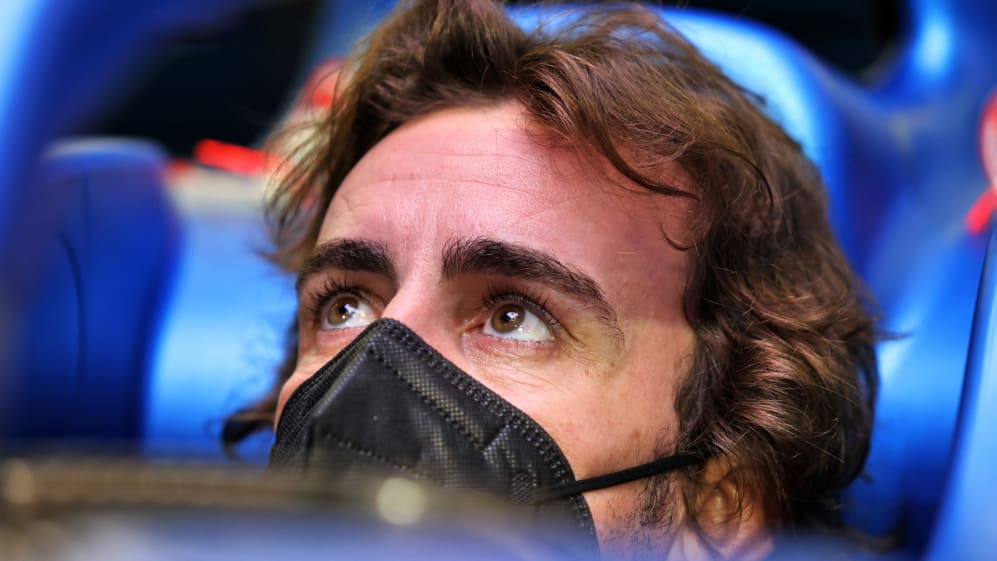 2021's most impressive rookie will be…
DT: I expect Mazepin to make a big impression, but for overall rookie honours my money is on Yuki Tsunoda. I don't want to curse him by saying like we always seem to that he could "be the best-yet from Japan," but he looked extraordinarily confident and comfortable in Bahrain testing and the Alpha Tauri is driver friendly.
WB: Tsunoda. Goodness me he's an impressive kid.
CM: Yuki Tsunoda. It's a bit easy, because he's going to be in a far better car than the Haas pair have available to them, but I also think he'll deliver some really eye-catching performances. He'll also make mistakes that appear more costly given how competitive the AlphaTauri is, but that's part of the learning curve and he learned quickly in F2 last year for Carlin.
READ MORE: AlphaTauri 'have reason to be excited' ahead of 2021 season, says testing star Gasly
LB: Yuki Tsunoda. The vibe inside AlphaTauri, Red Bull and Honda after testing is that the Japanese ace is as quick as hoped – and his feedback is impressive, too. He'll be giving Pierre Gasly a harder time in the second half of the campaign.
GS: Yuki Tsunoda.
SK: Yuki Tsunoda in what looks like a solid AlphaTauri package.
MH: Fernando Alonso! Or Yuki Tsunoda.
Make one bold prediction for this season…
MH: Daniel Ricciardo will win for McLaren.
DT: Daniel Ricciardo and McLaren will win a race. They won't do it from the front, but I could see the Aussie pulling it off somewhere if the planets align.
WB: I don't think I'll top last year (Editor's note: Will was irritatingly accurate with his predictions last year - for his colleagues at least!). I'll say Ferrari to switch focus to 2022 early and AlphaTauri to finish fourth, with a few earthquakes at Alpine and another team name change in 2022.
READ MORE: The hopes and fears for every Ferrari fan in 2021
CM: This will be Lewis Hamilton's last season. At least, he won't race next year. He wins title number eight after an intense battle and walks away as the most successful driver in history to focus on other projects, but retains some links to F1. Because pretty much any team would sign him after a year out if he said he wanted to come back, and if he ever does want to, he'll then know what the competitive picture looks like under new regulations.
LB: He may not have had the best pre-season but I'm still backing Sebastian Vettel to finish best of the rest in fifth in the drivers' standings, behind the Red Bull and Mercedes drivers.
GS: Fernando Alonso and Sebastian Vettel will each win a Grand Prix.
SK: Sergio Perez will win more races than Max Verstappen.
READ MORE: 'I've got absolutely nothing to lose' - Perez on why he's not fazed by the challenge of facing Verstappen at Red Bull