Feature
POWER RANKINGS: Which driver ranked highest in Abu Dhabi? And who topped the season-long leaderboard?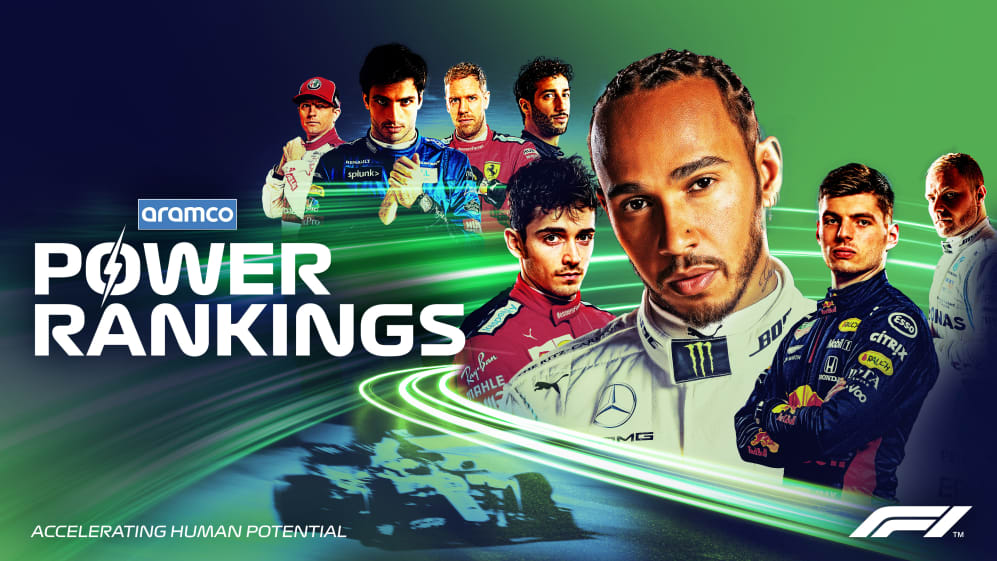 The chequered flag has flown for the final time in 2020, with Max Verstappen shocking Mercedes by claiming the last win of the year – and by some margin too. So, with the season now at an end, we round up the star performers from the Abu Dhabi Grand Prix – and scroll down to see which drivers were ranked the highest across the season as a whole.
HOW IT WORKS
Our five-judge panel assesses each driver after every Grand Prix and scores them out of 10 according to their performance across the weekend – taking machinery out of the equation

Our experts' scores are then averaged out to produce a race score – with those scores then tallied up across the season on our overall Power Rankings Leaderboard (at the bottom of the page)




One of the star performers of 2020 – just look at his place on the leaderboard – Pierre Gasly made his race at Yas Marina thanks to a string of strong of overtakes. He cleared Esteban Ocon on Lap 2 – having been passed by his compatriot at the race start – got past team mate Daniil Kvyat on Lap 9, while his pass on Sebastian Vettel's Ferrari on Lap 32 ensured that he could escape the clutches of the chasing pack bottled up behind the German and claim P8.

Carlos Sainz didn't quite seem to find the magic groove at Yas Marina that team mate Norris did – although full credit goes to the Spaniard for making it through Q2 on the medium tyre. But Sainz then ably backed up Norris in the race, carving his way through his rivals to help give McLaren the points they needed to claim P3. Ferrari are certainly getting themselves one of F1's star current performers for 2021.

Kimi Raikkonen's not had the best of seasons, but his final race of 2020 was, quietly, a bit of cracker. Yes, he was outqualified by his Q2-making team mate Antonio Giovinazzi on Saturday. But Raikkonen's pace in the race was then such that he was able to finish P12 by the flag, and ahead of not one but two works Ferraris, and just 2.729s off the AlphaTauri of Kvyat.
WATCH: We were 'surprisingly close to the points' at Abu Dhabi GP, says Raikkonen

Coming into the Abu Dhabi Grand Prix off the back of a P14 and a pair of P8s, Valtteri Bottas needed a good race here to stop him going into the winter with a face like someone who, to quote P.G. Wodehouse, has searched for the leak in life's gas pipe with a lighted candle. True, this wasn't quite the barnstorming, 'to whom it may concern'-type Bottas performance, as the Finn started and finished the race P2, outgunned comfortably by Verstappen. But still, that was good enough to beat Lewis Hamilton, which in turn will hopefully have been good enough to lift Bottas' spirits in time for Christmas.
READ MORE: Red Bull's 'surprisingly quick' Abu Dhabi pace will provide motivation for Mercedes over winter, says Bottas

This was more the kind of weekend Red Bull needed from Alex Albon in 2020 – albeit that there were still a few areas to tidy up. Getting outqualified by a McLaren on Saturday wasn't a great look for the Thai driver, nor was being forced to go through Q2 on the soft tyre after having his medium-shod lap deleted. But in the race, he saw off Norris by Lap 6, and then showed sufficient pace to neuter Mercedes' strategic options – while a late pace surge saw him finish less than 2s adrift of Hamilton. A good enough performance to keep his Red Bull seat for 2021? We'll find out soon…
READ MORE: Red Bull to decide Albon's future 'in the coming days' says Horner

Having done Thursday's media sessions at Yas Marina bedecked in Mercedes gear, George Russell admitted it had been a "strange feeling" when Lewis Hamilton announced he was fit enough to take back his W11. But Russell dealt with any disappointment he may have felt admirably, out-qualifying Williams team mate Nicholas Latifi by four-tenths, while in the race, he did what he could in an uncompetitive FW43 to come home 15th.

That this was not a supremo 2020-spec display from Lewis Hamilton was understandable, given that the seven-time champion was visibly still suffering the after effects of his bout of Covid-19. Despite that, the Mercedes driver still had enough of the Hamilton spirit in him to come within 0.086s of taking pole – the top three covered by less than a tenth for the second Grand Prix in a row – and still make the podium ahead of Albon, for what was just the second P3 of his sensational 2020 campaign (compared to one P2 and 11 P1s).
READ MORE: Hamilton says 2020 'one of the hardest years' of his Formula 1 career
MISSING OUT
A bevy of four drivers were tied on P11 this week: Kevin Magnussen, Esteban Ocon, Daniil Kvyat and Sebastian Vettel. Magnussen found himself on the bubble in what looks set to be his final race in Formula 1, the Dane doing his maximum in a Haas that simply couldn't challenge in Ahu Dhabi. After his maiden podium last week, Ocon shone in practice at Yas Marina but faded in qualifying and the race.
READ MORE: Magnussen left with mixed emotions as 'childhood dream' of racing in F1 ends on a low note
Kvyat had a difficult final race with AlphaTauri – a shame given his impressive qualifying effort to go P7 on the grid. And finally, Vettel – in his final race for Ferrari – rolled the dice with a strategy that saw him stay out under the Safety Car. But apart from frustrating the races of the likes of Ocon, Kvyat and Lance Stroll, there was little he could do, as he eventually finished P14, after a season to forget.
THE OVERALL STANDINGS
So, in the words of Europe, it is the Final Countdown for the Power Rankings leaderboard, with Max Verstappen crowned king for 2020. It's been a sterling season from the Dutchman – but given that he won by just 4.1 points from Lewis Hamilton, who had to be scored a zero after missing the Sakhir Grand Prix, it seems likely that he'd have found himself pipped by the seven-time champion had Hamilton competed in all 17 races.
READ MORE: Hamilton hoping to begin Mercedes contract talks 'this week' with aim of getting deal 'tied up by Christmas'
Meanwhile, a late surge sees Lando Norris demote Charles Leclerc to seventh, while the rest of the top 10 remains the same – Sergio Perez notable for finishing ninth, and ahead of Valtteri Bottas, despite missing two races. Congratulations, too, to Pierre Gasly, who takes a 'podium spot' after a brilliant year with AlphaTauri.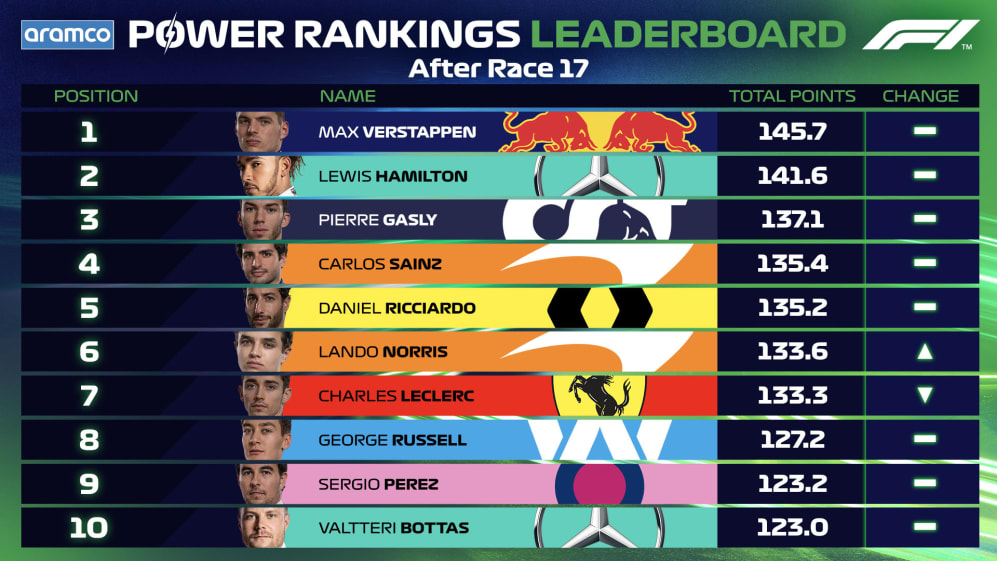 AVERAGE SCORE PER RACE START
Usually, the Power Rankings Leaderboard tells us more or less the full story of the season's best performers. And while few would argue with our Power Rankings top 10, with a number of race absences in this unique 2020 season, it seemed worthwhile to show the drivers' average race scores (along with their World Drivers' championship finishing positions) – with Hamilton winning out in this metric, while Perez moves from P9 to P3.