Feature
We're streaming the 2019 Brazilian Grand Prix – here's why you should watch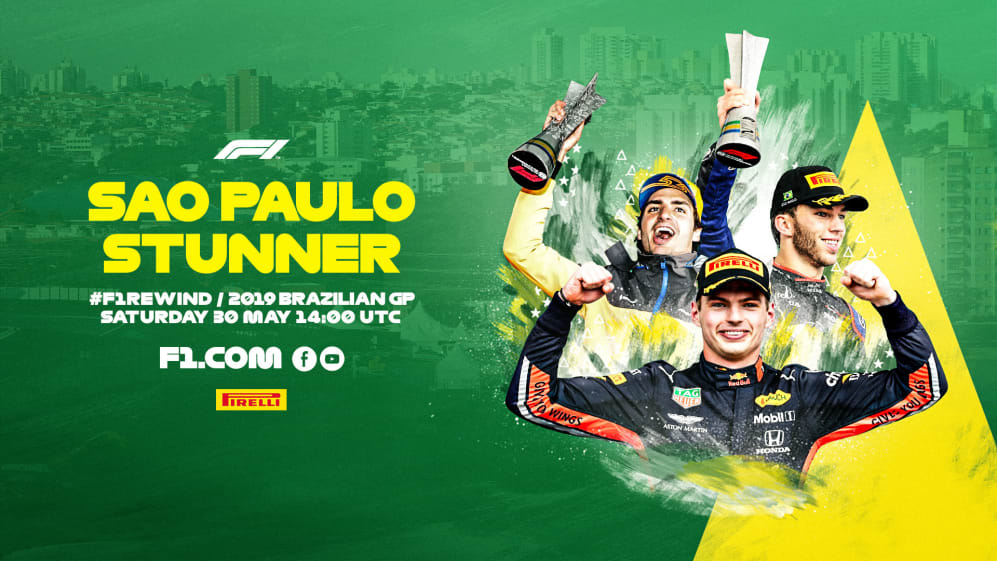 A sublime Max Verstappen display, the most mixed up podium in years and drama by the truckload – the 2019 Brazilian Grand Prix was a true modern classic. We'll be streaming the race in full on Saturday, May 30 at 1400 UTC (1500 BST) on F1.com, Facebook and YouTube – here's why you should tune in.
Mercedes had already wrapped up the drivers' and constructors' titles by the time the F1 circus rolled into Interlagos for the penultimate race of the 2019 F1 season.
The Brazilian Grand Prix, then, would be something of a fun-run, the drivers let off the leash for a straight fight to victory, with no need to throw any caution to the wind.
It would be a race that many of them wouldn't forget in a hurry…
READ MORE: Find out where Brazil 2019 came in our fan-voted 'race of the decade'
How they stood before the race
Mercedes had clinched their sixth straight constructors' title at the Valtteri Bottas-won Japanese Grand Prix, while the drivers' fight limped on until Austin, where Bottas won again, but too late to stop Lewis Hamilton claiming his sixth title, and third in succession.
The battle was on to finish third in the standings, however, with the Ferrari pair of Charles Leclerc and Sebastian Vettel, and Red Bull's Max Verstappen, all in the running.
Standings ahead of the 2019 Brazilian Grand Prix
| Position | Driver | Team | Points |
| --- | --- | --- | --- |
| 1 | Lewis Hamilton | Mercedes | 381 |
| 2 | Valtteri Bottas | Mercedes | 314 |
| 3 | Charles Leclerc | Ferrari | 249 |
| 4 | Max Verstappen | Red Bull | 235 |
| 5 | Sebastian Vettel | Ferrari | 230 |
| 6 | Alex Albon | Red Bull | 84 |
The background
Despite never having started in the top three at Interlagos previously, Verstappen was on fire in qualifying, topping all three segments en route to his second career pole position (even if in the post-qualifying press conference, he insisted that he actually had three poles, having been stripped of his 2019 Mexican Grand Prix one after a yellow flag infringement).
Behind Verstappen came Ferrari's Sebastian Vettel and the Mercedes of Lewis Hamilton, with Bottas P4 (once Leclerc had been demoted to P14 following a power unit change), the second Red Bull of Alex Albon P5, with Pierre Gasly – the man Albon had replaced at Red Bull mid-season – just behind in P6 for Toro Rosso.
With no time set in qualifying, meanwhile, Carlos Sainz would start at the back of the grid, the Spaniard's McLaren having suffered an ignition wiring problem in Q1, with his team taking the opportunity to kit him out with a full change of power unit elements.
READ MORE: 'McLaren bosses congratulated me on Ferrari move', says Sainz
Four key moments
1. The start – Verstappen made a perfect getaway to lead through the 'Senna S' while behind, Hamilton brilliantly swept around the outside of Vettel in Turn 1 to claim P2. Attempting to move swiftly through the field, Leclerc tried to put some manners on the McLaren of Lando Norris going into Juncao, only for the McLaren to brilliantly fight back, before ceding the position and engaging instead in a tight battle with Renault's Daniel Ricciardo.
Seven laps later, Ricciardo would receive a five-second time penalty for spinning around the Haas of Kevin Magnussen at Turn 4.
2. Verstappen recovers from pit lane problems – With Hamilton pitting from second on Lap 21 of 71, Verstappen followed suit a lap later, only for the Williams of Robert Kubica to be released into his path.
Verstappen getting off the throttle and trundling out behind the Pole's Williams handed the net lead of the race to Hamilton... but only briefly, with an inspired Verstappen breezing back past the champion a lap later to retake the net lead.
3. The Ferraris collide – A rare mechanical retirement for Valtteri Bottas brought a Safety Car out on Lap 54, with Verstappen diving into the pits before taking up position behind leader Hamilton. Once the Safety Car came in, Verstappen then immediately passed Hamilton around the outside of Turn 1 – his team mate Albon doing exactly the same to Vettel behind to claim P3.
One lap later and Vettel, having been brilliantly overtaken by Leclerc into Turn 1, tried to reclaim the place on the run down to Turn 4. Once past, he drifted over into Leclerc's path, causing contact that would take both Ferraris out of the race.
4. The race explodes in the final laps – Vettel's retirement after his collision forced yet another Safety Car, with Hamilton this time pitting and re-joining in P4, behind Verstappen, Albon and Gasly.
Hamilton made short work of Gasly at the Lap 70 restart, but trying to pass Albon for second at Bico do Pato, the Mercedes clumsily clattered into the Red Bull, with Albon spun around before being forced to wait as his rivals streamed past, his hopes of a first podium wiped out in an instant.
Gasly had taken the opportunity to nip past the incident, though, and as Verstappen claimed his eighth career win, behind the Frenchman grimly held on from Hamilton up the hill to take an incredible second place for Toro Rosso.
Sainz finished an impressive fourth – but once Hamilton had been penalised for his divebomb on Albon, the Spaniard was promoted to third, celebrating with an impromptu McLaren-only podium ceremony a few hours after the race.
READ MORE: Check out the full results for the 2019 Brazilian Grand Prix here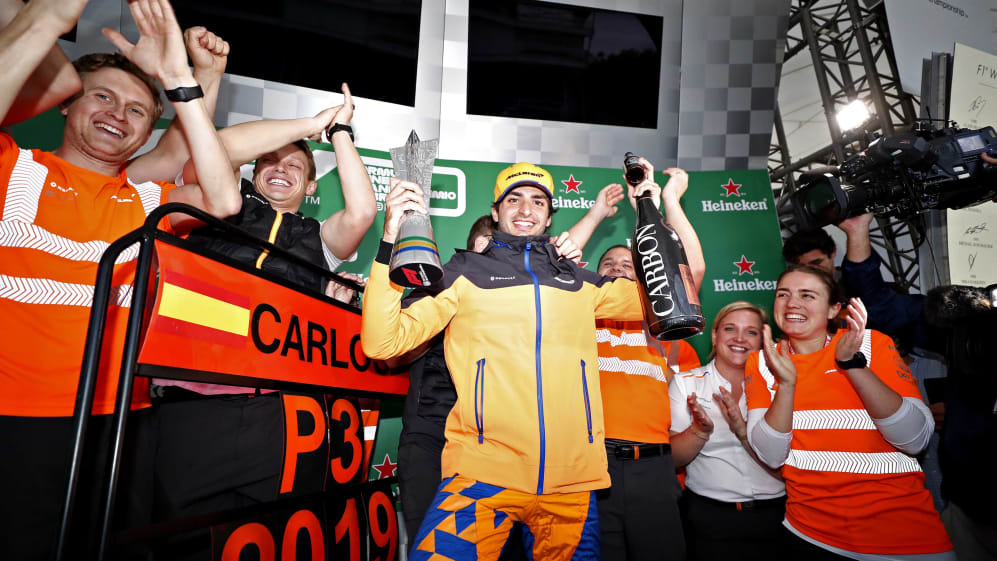 The headlines
Verstappen redeemed – Twelve months on from losing out on a comfortable victory in Brazil after clashing with backmarker Esteban Ocon, the sweetness of Verstappen's victory was all the more palpable for him and his team. "It's redemption for Max," said Red Bull Team Principal Christian Horner. "It was a fantastic race. Max was not going to give up that win today."
Battle lines drawn at Ferrari – It had been coming. The qualifying fiasco at Monza, Vettel snatching victory in Singapore and then rejecting team orders in Russia. And then, finally, the Ferraris actually came together in Brazil.
Team Principal Mattia Binotto, understandably, was not amused. "First and foremost, the two drivers should be sorry for the team," he said, before summoning those two drivers to appear in Maranello and explain themselves. "It is true it has been a very small crash with a big consequence, but still that sort of thing should not happen."
READ MORE: Why Vettel and Ferrari broke up – and what happens next
Gasly's 'best day' – Pierre Gasly went through more in 2019 than any 23-year-old should have to, losing his seat at Red Bull only to then lose his best friend, F2 racer Anthoine Hubert, in a crash at Spa. So there wasn't a dry eye in the house when the Frenchman took his shock podium, Toro Rosso's first since way back in 2008.
"It's the best day of my life," said Gasly afterwards. "As a kid, you dream of being in F1 and when it happens, it becomes the best day of your life. Then you dream of your first podium."
Hamilton holds his hands up – Did a bit of end-of-term fever kick in when Lewis Hamilton tried to pass Alex Albon for second on the penultimate lap? Perhaps. Either way, gentleman that he is, Hamilton hugged it out with Albon in parce ferme, before taking the blame in his media interviews.
"I massively apologise to Albon," he said. "I went for a move, the gap was there but obviously it closed at the end. Completely my fault… I took a lot of risks today." Albon was equanimous at the loss of his podium – but his radio message immediately after the race revealed the extent of his frustration.
READ MORE: The winners and the losers from the 2019 Brazilian Grand Prix
How to watch
Enjoy one of the most action-filled races in recent times when we stream the 2019 Brazilian Grand Prix on Saturday, May 30 at 1400 UTC (1500 BST) on F1.com, Facebook and YouTube.