Feature
VOTE NOW: Most Influential Person in F1 History – Round 2
Welcome to the next round of our search for the most influential person in F1 history. Round 1 is over and our field of 32 contenders has already been reduced by half, but now it's time to weed out eight more names as our quest continues.
Some huge figures have already been knocked out – you can see who got through and who didn't from Round 1 in the full bracket below – but now we need your votes to whittle down the field even further.
Over the next few days we'll slim down our list contenders one by one until we announce the winner on May 13 – the official 70th birthday of Formula 1.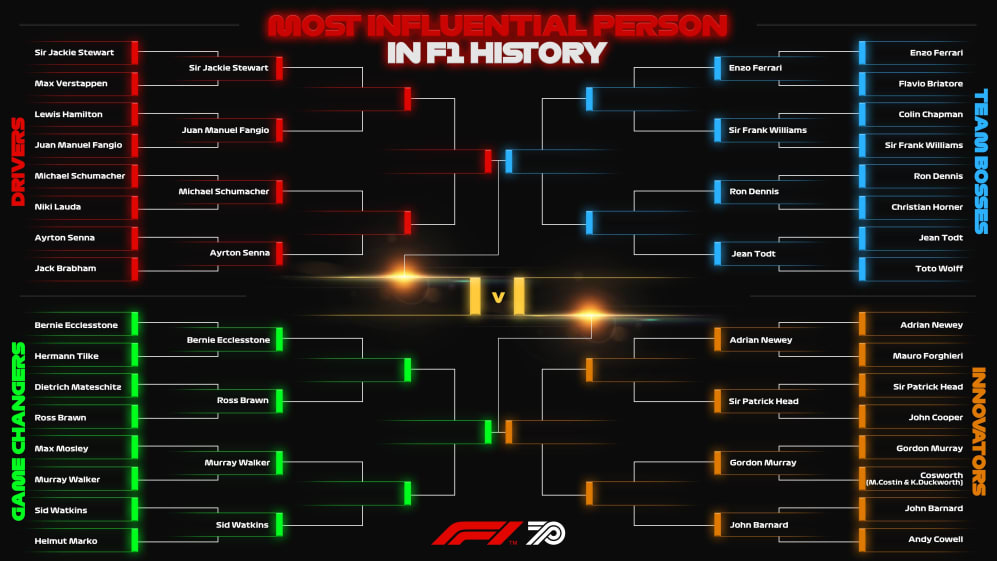 So, let's great straight down to business. Today we have eight match-ups for you, two from each of our categories of drivers, team bosses, technical innovators and game changers. Simply vote for who you think is the most deserving.
And remember: when you're casting your votes, we're talking about which of these people has had the biggest influence on F1, not necessarily who is your favourite, or who won the most trophies.
DRIVERS
MATCH 1 – Sir Jackie Stewart (1) Vs Juan Manuel Fangio (5)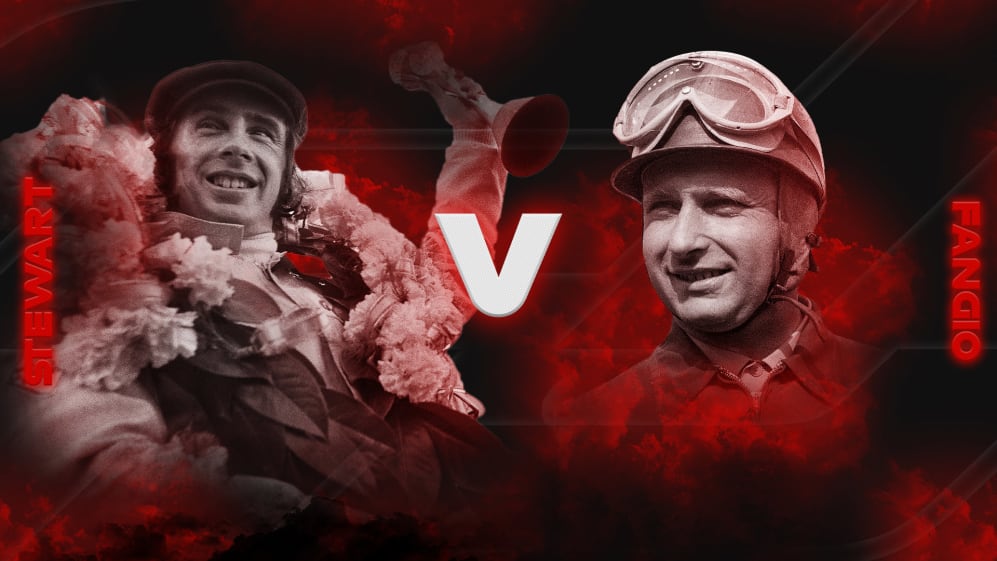 First up we have this clash of the titans from the drivers category. As you might expect Sir Jackie Stewart comfortably beat young Red Bull racer Max Verstappen in Round 1, garnering almost three quarters of the vote.
But the Scotsman will likely have a much tougher task in this round, going up as he does against the man many still believe was the greatest F1 driver to ever take to the grid, Juan Manuel Fangio.
Five-time champ Fangio just beat current shotshoe Lewis Hamilton by a slender margin in Round 1 to make it this far, but will he get the upper hand in this battle with Sir Jackie? Over to you...

MATCH 2 – Michael Schumacher (2) Vs Ayrton Senna (3)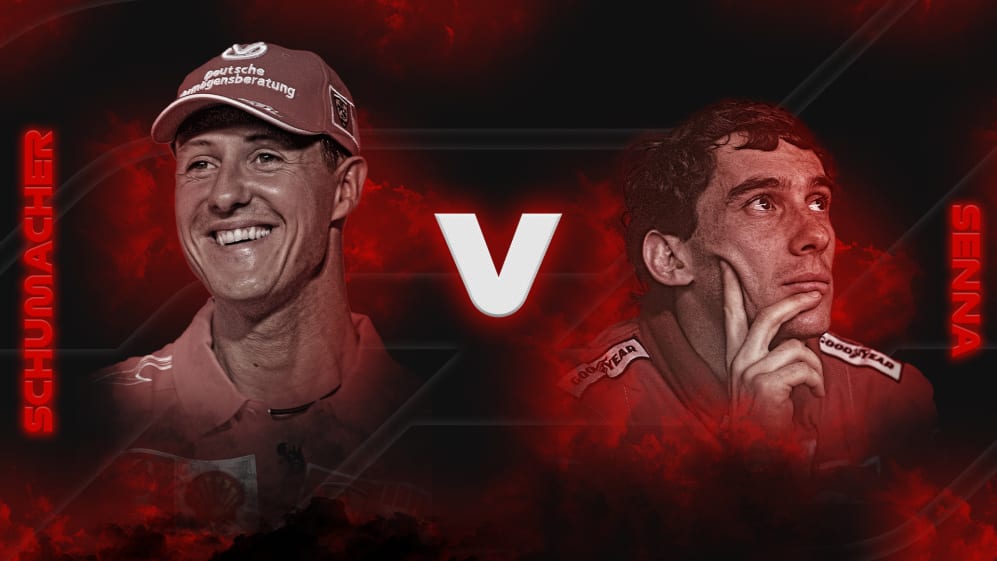 Now this really is getting serious. Michael Schuamcher – still statistically the most successful driver in F1 history – comes up against perhaps the sport's most revered driver of all, Ayrton Senna.
Schumacher edged out Niki Lauda in Round 1 in what was a fairly tight 56% to 44% vote, while Senna completed the rout of the first round with a crushing 90% to 10% win over three-time Australian champion Sir Jack Brabham.
But who will triumph in this clash of the titans? You decide...

TEAM BOSSES
MATCH 3 – Enzo Ferrari (1) Vs Sir Frank Williams (7)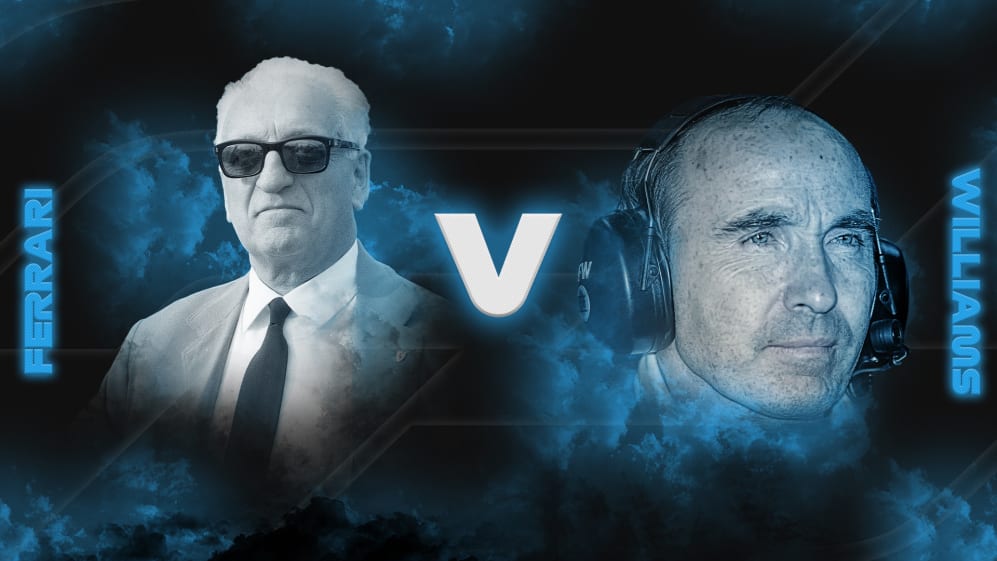 Enzo Ferrari's win in Round 1 over fellow Italian Flavio Briatore was as comprehensive as it was unsurprising, il Commendatore sealing his place in the next phase with almost 90% of the vote, which is surely only right given his place in the pantheon of F1 greats.
Sir Frank Williams was up against Colin Chapman in his first round match-up, and that was a far more evenly balanced affair. How to split the indefatigable Sir Frank from the engineering genius that was Chapman?
In the end the people went for the former, so here he is to face the old Maranello master. But who will come out on top in this head-to-head? Get voting now...

MATCH 4 – Ron Dennis (3) Vs Jean Todt (4)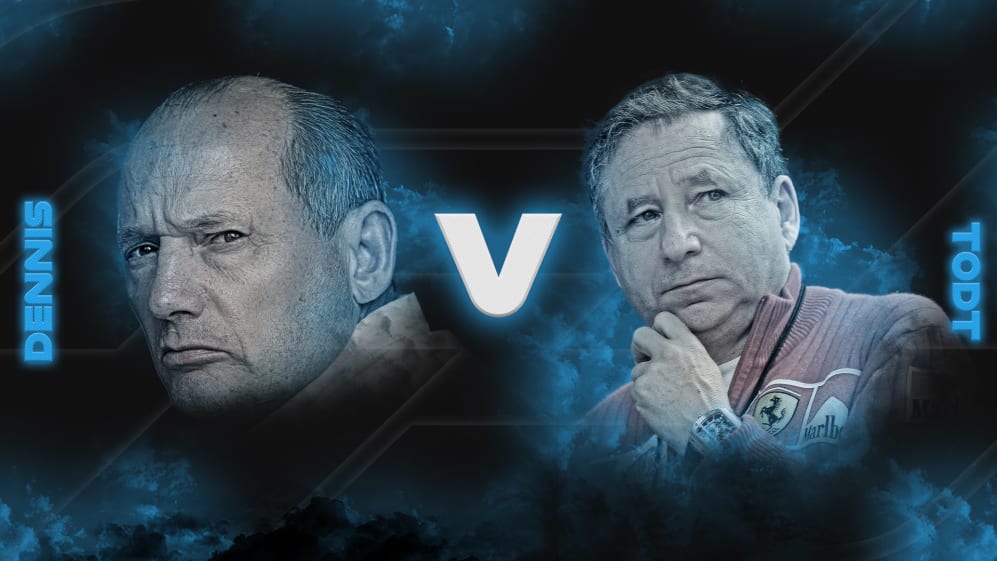 Given how long Ron Dennis and Jean Todt spent on rival pitwalls glowering at each other, as Ferrari and McLaren went at it hammer and tongs for championship glory in the 1990s and 2000s, it seems rather fitting that they should face each other in our tournament.
Dennis had a comfortable win over Red Bull chief Christian Horner in Round 1 to get this far, picking up two thirds of the vote, while Todt only narrowly beat current Mercedes boss Toto Wolff by 56% to 44% in his match-up.
Like the thrilling ding-dongs their old drivers Michael Schumacher and Mika Hakkinen used to have on track, this head-to-head will be fascinating. Get voting!

INNOVATORS
MATCH 5 – Adrian Newey (1) Vs Sir Patrick Head (4)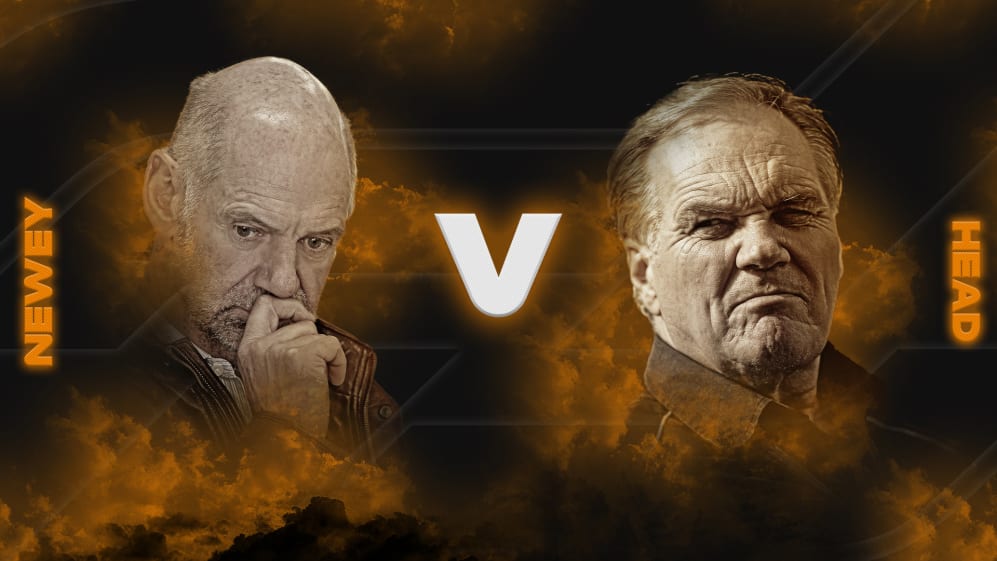 And so, the apprentice takes on the master. Sort of. Yes, Adrian Newey was recruited to work at Williams in the early 1990s by Sir Patrick Head, but to say the latter taught the former everything he knew would be re-writing history somewhat.
Still, they had an almost unbeatable double act going for a while at the Grove team before Newey left to win titles with McLaren and Red Bull.
Newey beat long-serving Ferrari tech boss Mauro Forghieri in Round 1, while Sir Patrick took a narrow victory over John Cooper in his first match-up, winning by 54% to 46%. But who should progress now? It's all up to you...

MATCH 6 – Gordon Murray (2) Vs John Barnard (3)
Two of F1's most creative thinkers face each other in this intriguing match-up. Whereas Adrian Newey's genius lies primarily in the marginal gains world of aerodynamics, both John Barnard and Gordon Murray are perhaps best known for big technical leaps forward with out-of-the-box thinking, like Murray's fan car, or Barnard's semi-automatic gearbox.
Murray beat Cosworth duo Mike Costin and Keith Duckworth by a slender 52% to 48% in Round 1, while Barnard took two thirds of the vote in his first match-up with Mercedes engine genius Andy Cowell.
But who do you think deserves to progress now? Place your votes now!

GAME CHANGERS
Match 7 – Bernie Ecclestone (1) Vs Ross Brawn (7)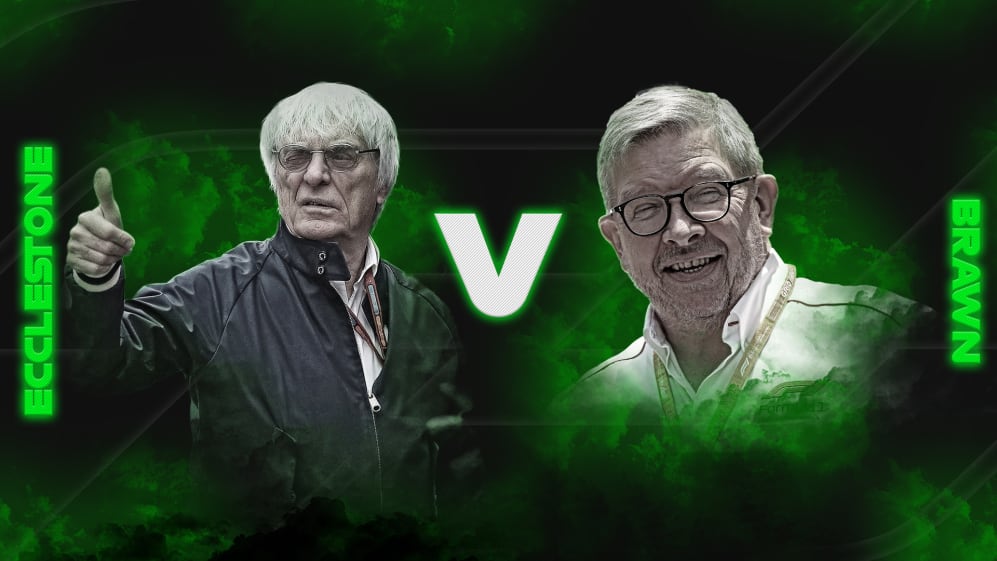 Ooo, this is interesting. The man who ruled over Formula 1 with an iron fist for so many years takes on the man who is now shaping the sport's future.
Both Bernie Ecclestone and Ross Brawn had a comfortable ride through Round 1, Ecclestone taking 89% of the vote against track designer Hermann Tilke, while Brawn went one better, winning out 90% to 10% against Red Bull impresario Dietrich Mateschitz.
So, with the feel of something approaching a grudge match, it's time for you to vote on who goes through to the next round.

Match 8 – Murray Walker (6) Vs Sid Watkins (4)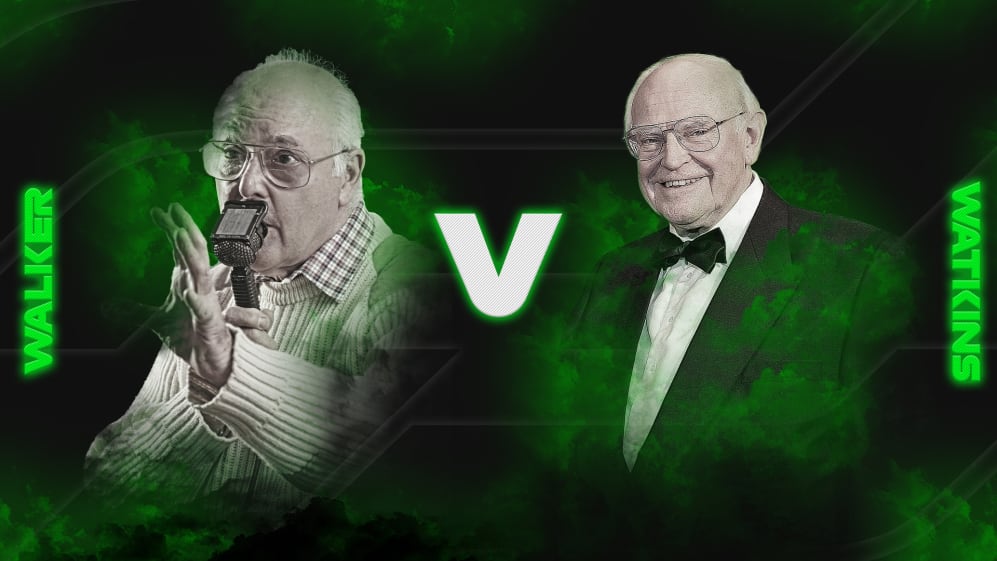 Tricky one to call this. On the one hand, a commentator so synonymous with the sport that he's known as the 'Voice of F1', and whose infectious enthusiasm helped turn millions of people into Formula 1 fans.
On the other hand, an eminent neurosurgeon who picked F1 up by the scruff of the neck and forced it to get serious about safety, saving the lives of scores of drivers in the process.
Neither had landslide victories in Round 1, with Murray Walker just squeaking through against Max Mosley, while Sid Watkins' victory was slightly more assured over Helmut Marko.
We'll leave it to you to decide who goes through to the quarter finals…