Feature
VOTE NOW: Round 1 – Who is the most influential 'game changer' in F1 history?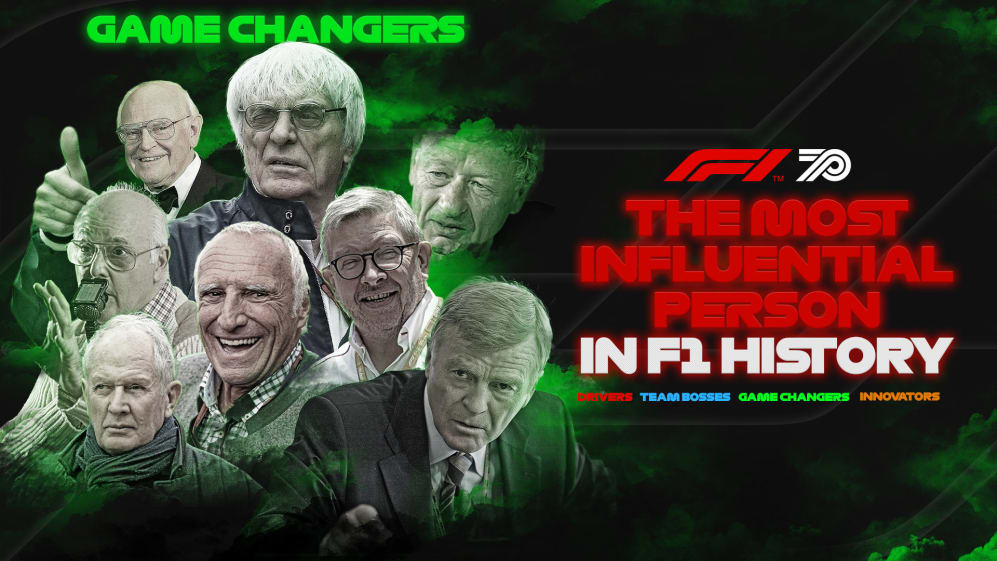 We're down to the final showdown in Round 1 of our search for the most influential figure in Formula 1 history. With the bracket already filled up for the next round of drivers, team bosses and innovators, it's time to for you to vote for the sport's most influential game changers.
For this section, our panel of experts have chosen eight towering figures who've played a fundamental part in changing Formula 1, be that in the realm of safety, organisation, sponsorship, car and circuit design, or even the way F1 is broadcast to fans.
Click here for more info on how we decided on the 32 person shortlist, and how the tournament will work
We've already held the first round of votes for our drivers, team bosses and innovators categories, and you can see who has already been knocked out in the full tournament bracket below.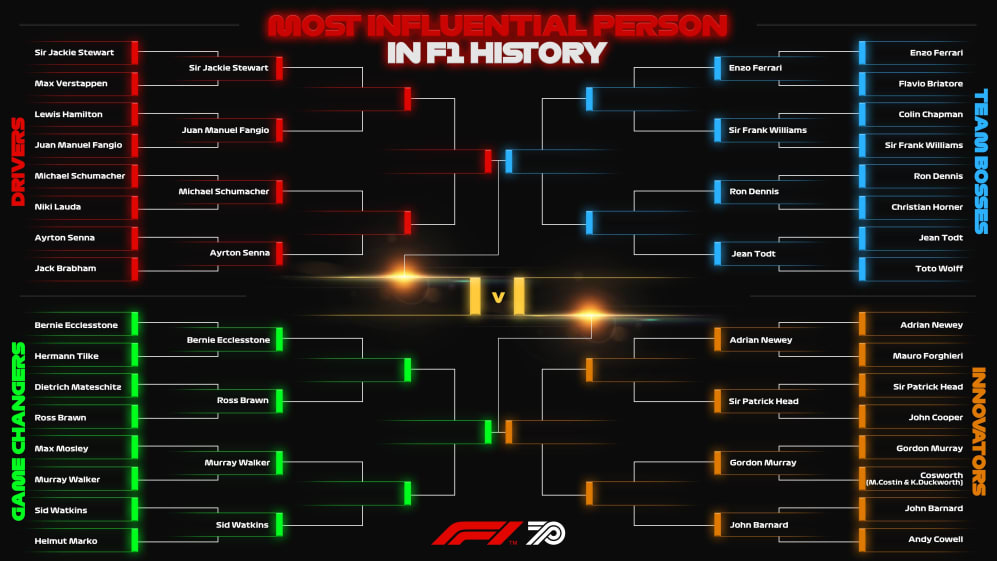 Scroll down to read our advocations for each figure and cast your vote – and remember, we're talking about the most influential game changing figures here, not necessarily the most successful or even the most popular!
MATCH 1 – Bernie Ecclestone (1) Vs Hermann Tilke (8)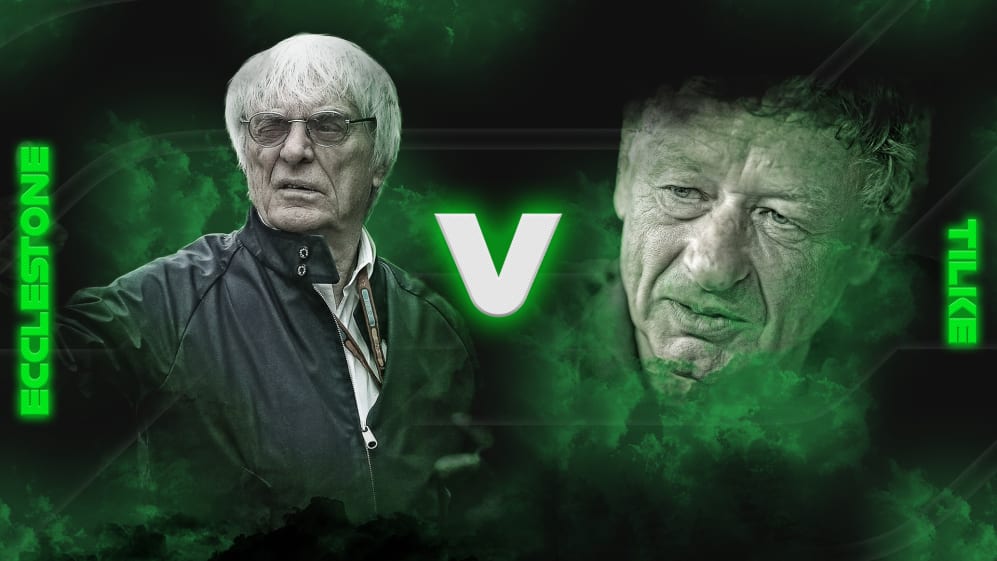 Formula 1's legendary ringmaster goes up against the sport's go-to track designer. Here's why each is deserving of your vote…
The case for Bernie Ecclestone
It might be hard to believe now, but Formula 1 was once an enthusiasts' pursuit, run out of the back of grimy Transit vans at crumbling circuits, and watched only by the spectators who actually turned up at the track.
The fact that it became a shiny, glittering, glamorous world awash with the biggest brands, star drivers and celebrity fans – and watched by millions all over the globe – is largely down to one man: Bernie Ecclestone.
Bernie – and his reach is so ubiquitous he need only go by his first name – spotted the potential of F1 before anyone else did, and over his 40 year-plus reign he transformed it from the ramshackle weekend diversion it was into the multi-billion dollar global sport it is today.
He ruled over his domain as deal-maker in chief: placing a driver at one team, bringing a new investor to another that was struggling, all the while doing the TV deals that became the sport's life blood, and taking F1 to new and exotic locations as he kept the whole circus on the road.
He may not be running the show anymore, but Bernie will always be 'Mr Formula 1'.
The case for Hermann Tilke
You probably don't know what Hermann Tilke looks like. You might not even have heard of him. But if you've watched a Grand Prix in the last 20 years you will certainly have seen his handiwork.
Whenever F1 secures a new race, or an old track returns to the calendar, it's usually Tilke who gets the call to design the new circuit, or upgrade an old one to cope with modern Grand Prix racing.
The circuits that have hosted the Malaysian, Bahrain, Chinese, Turkish, Singapore, Korean, Indian, United States, Russian, Abu Dhabi and Azerbaijan Grands Prix all started life on his drawing board, and he penned the design for the Hanoi Street Circuit that will host the first ever Vietnamese GP.
The German is also credited with helping improve safety thanks to his designs, and though some of his tracks have drawn criticism, the fabulous Circuit of The Americas in Austin, Texas is hugely popular, while Istanbul Park with its legendary Turn 8 has been described "a technical and aesthetic tour de force".
But who has had the greater influence on F1?

MATCH 2 – Dietrich Mateschitz (2) Vs Ross Brawn (7)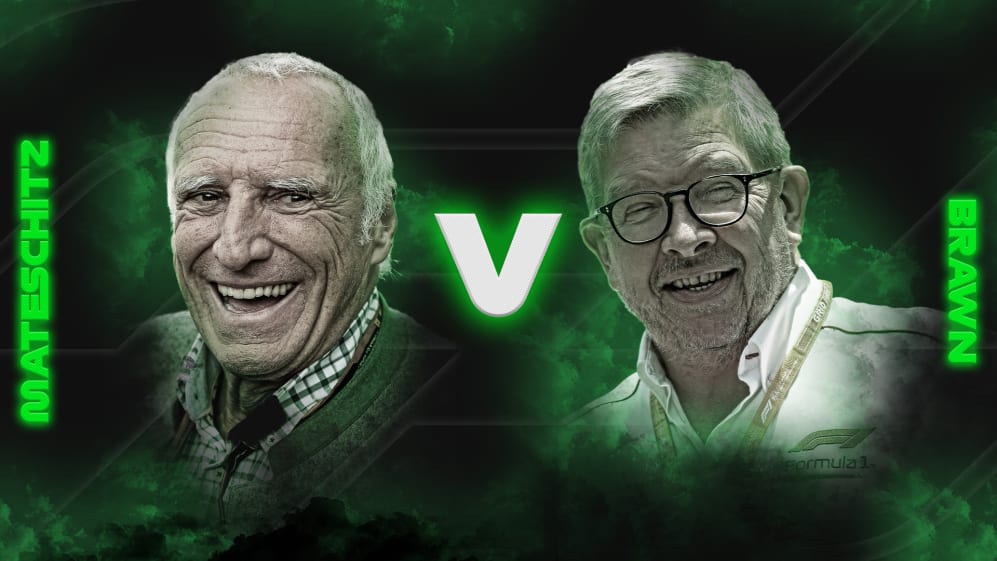 The big boss of Red Bull takes on the technical guru leading F1 into the future. Here's why both deserve your vote…
The case for Dietrich Mateschitz
Austria has a proud legacy in F1, with the likes of Jochen Rindt, Niki Lauda and Gerhard Berger all having flown the flag for the small country. You could argue, though, that Dietrich Mateschitz has had just as big an impact as any of them.
The Red Bull boss first became involved in F1 in the late 80s when his drinks firm sponsored Berger. He then poured sponsorship dollars into Sauber and Arrows before making the leap and purchasing Jaguar in 2004, rebranding them Red Bull Racing. With their modern, party-friendly style, Red Bull were a revelation off-track – and soon became one on-track too, with consecutive double championships from 2010-2013.
With the creation of junior team Scuderia Toro Rosso (now AlphaTauri) in 2006, Mateschitz helped re-write the rules on customer teams too, while simultaneously providing a stepping stone for starlets in his Red Bull-funded talent pool. And then there's the Red Bull Ring, which Mateschitz bought and refurbished to impeccable standards for the return of the Austrian GP.
The case for Ross Brawn
Ross Brawn was influential in F1 even before he took on his official role in the championship in 2017.
On the technical side, this is the man who was responsible for all seven of Michael Schumacher's drivers' titles as Technical Director at both Benetton and Ferrari, while he also claimed titles with his own Brawn team in 2009, before setting in place the infrastructure that would lead to Mercedes' post-2014 domination.
But crucially, as F1 celebrates its 70th birthday, it's Brawn, as Formula 1's Managing Director of Motorsports, who is masterminding the changes that will influence the direction of the sport for the next 70 years, with the radical regulations now set to be introduced into Formula 1 in 2022.
But who has had the greater influence on F1?

MATCH 3 – Max Mosley (3) Vs Murray Walker (6)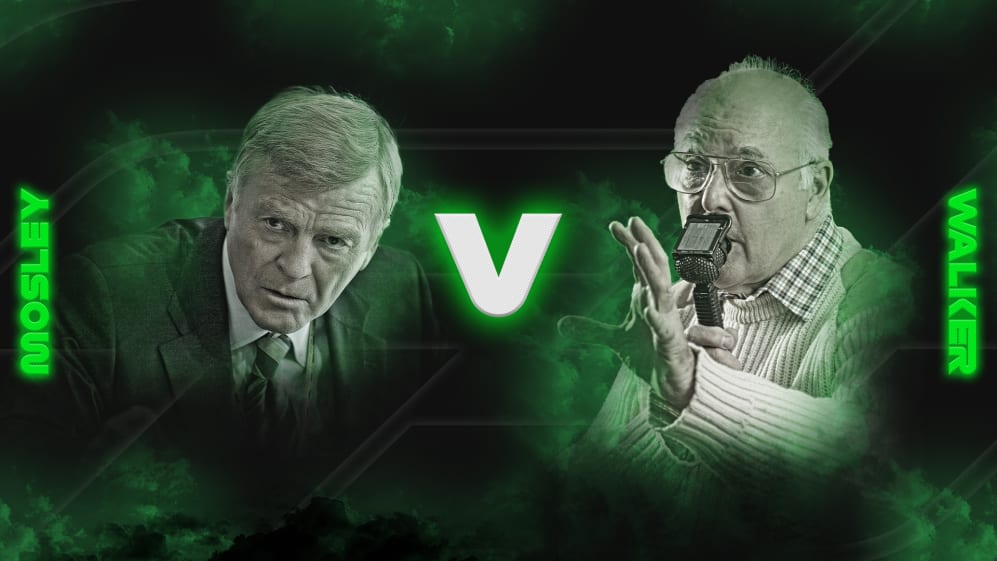 The long-standing former FIA president takes on the 'Voice of F1'. Here's why both are deserving of your vote…
The case for Max Mosley
There's no denying Max Mosley played a key part in making Formula 1 the sport it is today. Highly educated, it was he, in his role with the Formula One Constructors' Association, who helped shape the first ever Concorde Agreement in 1981, enshrining the terms under which teams competed in the sport.
Later, during a 16-year term as President of the FIA, Mosley was a central figure in tackling the safety of Formula 1 in the aftermath of Roland Ratzenberger and Ayrton Senna's deaths at Imola, setting up the Expert Advisory Safety Committee, appointing Professor Sid Watkins as chair, and introducing a raft of safety changes, including higher cockpit sides and the use of the Head and Neck Support (HANS) device. Mosley's barrister training would also be called into action when he was tasked with helping to unpick the infamous 'Spygate' scandal that rocked the sport in 2007…
If you're talking about influence, there's no getting around Max Moseley's importance in the F1 story.
The case for Murray Walker
While there have been many, many iconic moments in Formula 1 history, nearly all of them sound better with a Murray Walker soundtrack.
Walker commentated on Formula 1's very first race, the 1950 British Grand Prix, going on to establish himself as one of the true cult figures in the championship's history thanks to his trademark 'Murray-isms' played out in living rooms around the world.
"There's nothing wrong with his car except that it's on fire" and "the lead car is absolutely unique except for the one behind it which is identical" are all delightful. But there was a serious side too, with Walker's sensitive coverage of the Imola 1994 weekend heard by millions worldwide, and setting a gold standard for how to report on a sporting tragedy.
In a career that stretched over six decades, Walker's professionalism and passion for Formula 1 established a benchmark for his role that all who came after him must still measure themselves against – while it's Walker who is still universally acknowledged as the true 'Voice of F1'.
But who has had the greater influence on F1?

MATCH 4 – Sid Watkins (4) Vs Helmut Marko (5)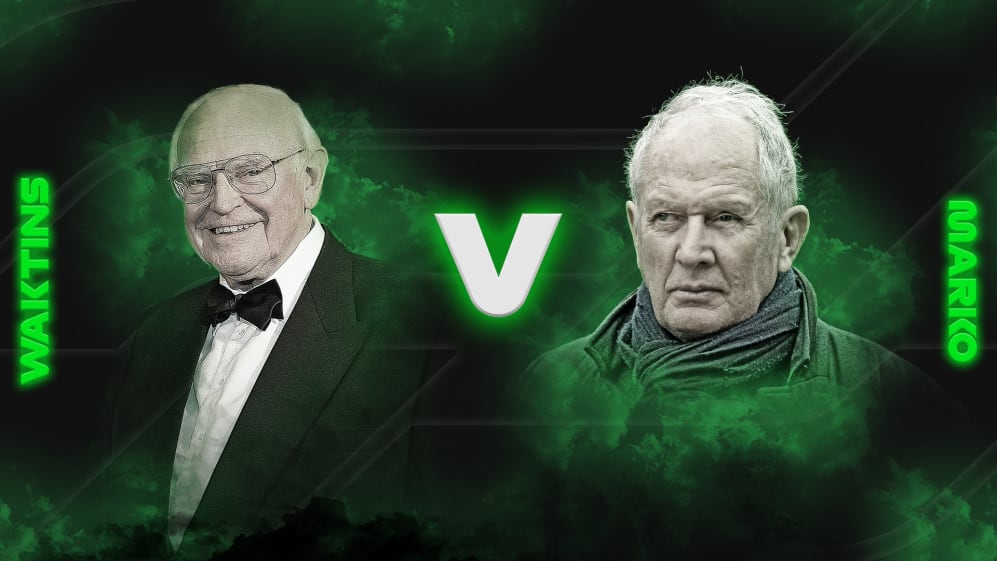 F1's safety champion goes up against the man responsible for overseeing F1's most demanding young driver programme. Here's why both deserve your vote…
The case for Sid Watkins
It's said that Professor Sid Watkins was the only man Bernie Ecclestone would take orders from – and in the F1 influence stakes, that's a pretty heady position to be in.
Already established as one of the world's top neurosurgeons when he was asked by Ecclestone to work in the sport in 1978, it's Watkins who today's F1 drivers have to thank for the unified standard of safety at every circuit they visit.
Access to helicopters, on-site hospital-grade medical centres, a fast-response medical car with a professional driver to drive it and trained anaesthetist on board, the HANS safety device, high energy-absorbing cockpit sides… all were down to the intervention of Watkins – while the continuation of a Watkinsian safety mind-set has led to the advent of new technology like the halo and drivers' biometric gloves.
"He was responsible for more life saving than anyone else," was how none other than Sir Jackie Stewart put it. That's some legacy to have.
The case for Helmut Marko
If it's the wallet of Dietrich Mateschitz that has made Red Bull Racing an F1 phenomenon, it's the talent-spotting ability of Dr Helmut Marko that has made them a success. A handy F1 driver himself until a stone cost him an eye at the 1972 French Grand Prix, Marko was entrusted by Mateschitz to run the Red Bull Junior Team programme established to hunt for new driving talent.
It was he who had decided Red Bull should sponsor a gawky 11-year-old karter called Sebastian Vettel, while the likes of Max Verstappen, Daniel Ricciardo, Carlos Sainz and Pierre Gasly all have Marko to thank for their current F1 careers.
A divisive figure thanks to his cut-throat, thumb-of-Caesar style approach to his drivers, the Red Bull logo on the side of the helmet remains nonetheless one of the 'golden ticket' aspirations for wannabe Formula 1 drivers – and it's Dr Helmut Marko that they have to impress before they get it.
But who has had the greater influence on F1?

Who missed the cut?
There were some big names who just failed to make it into our game changers section.
Max Mosley's predecessor as FIA President Jean-Marie Balestre certainly influenced the sport during his controversial tenure; Luca Di Montezemolo helped restore Ferrari glory not once but twice during his career; while the much-missed Charlie Whiting watched over F1 like a mother hen as FIA's Formula 1 Race Director and Safety Delegate.
However, with only eight game changers that we could pick, some names naturally had to give way.
All the votes are open for 24 hours, and we'll have the results for you right here on F1.com tomorrow, along with Round 2 of our match-ups in the Drivers category.