Feature
10 things we've learned from the first three races of the season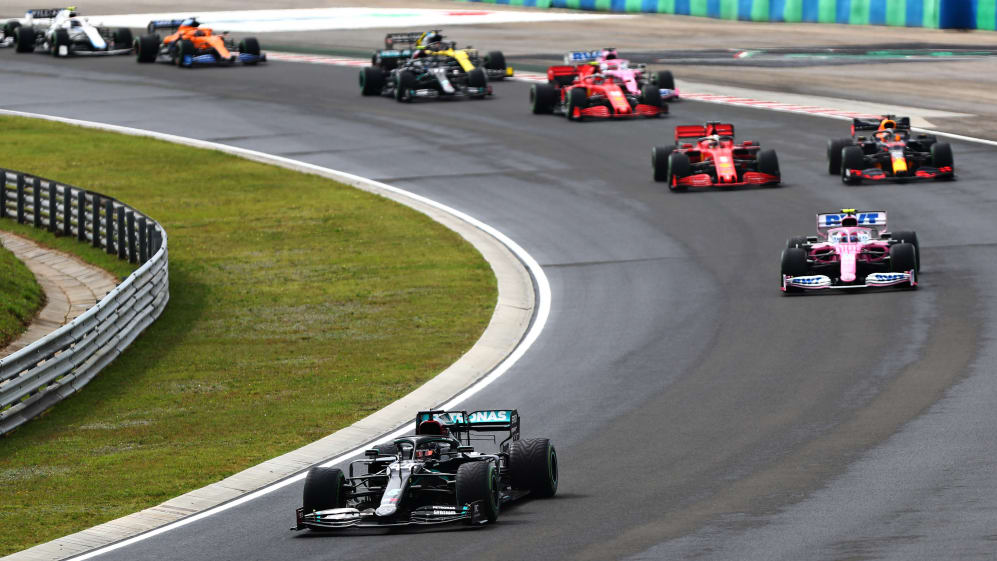 After all the waiting and all the build-up, three races have flashed past in a blur of brilliant on-track action. With the teams now enjoying a welcome weekend off to catch their breath, what better time to look back at the biggest talking points of the Austrian, Styrian and Hungarian Grands Prix and ask, what did we learn?
In an unprecedented season of uncertainties and unknowns, there are some things that are just undeniable. So here we go, here are 10 things we've gleaned from the first Grands Prix of the 2020 season...
READ MORE: POWER RANKINGS: Which driver gave Hamilton a surprising run for his money in Hungary?
1. Mercedes are further ahead than they thought they'd be
Three races, three pole positions, three victories, five podiums (which would have been six, but for Lewis Hamilton's tangle with Alex Albon in the Austrian Grand Prix). It's been yet another stunning start to the season for Mercedes as they chase a record seventh successive championship double.
That in itself is no surprise given how slick, inventive and relentlessly successful this incredible team has become in the hybrid era that they have dominated from the very start.
READ MORE: Why DAS is only the second most impressive innovation on the Mercedes W11
But what is surprising is just how far ahead the Silver Arrows are of the competition now. In Hungarian GP qualifying, Hamilton was almost a second clear of third-quickest Lance Stroll, while in the race, he lapped everyone up to fifth-placed man Alex Albon.
This year the Mercedes W11s aren't just quick, they're staggeringly quick – especially compared to the competition from Red Bull and Ferrari.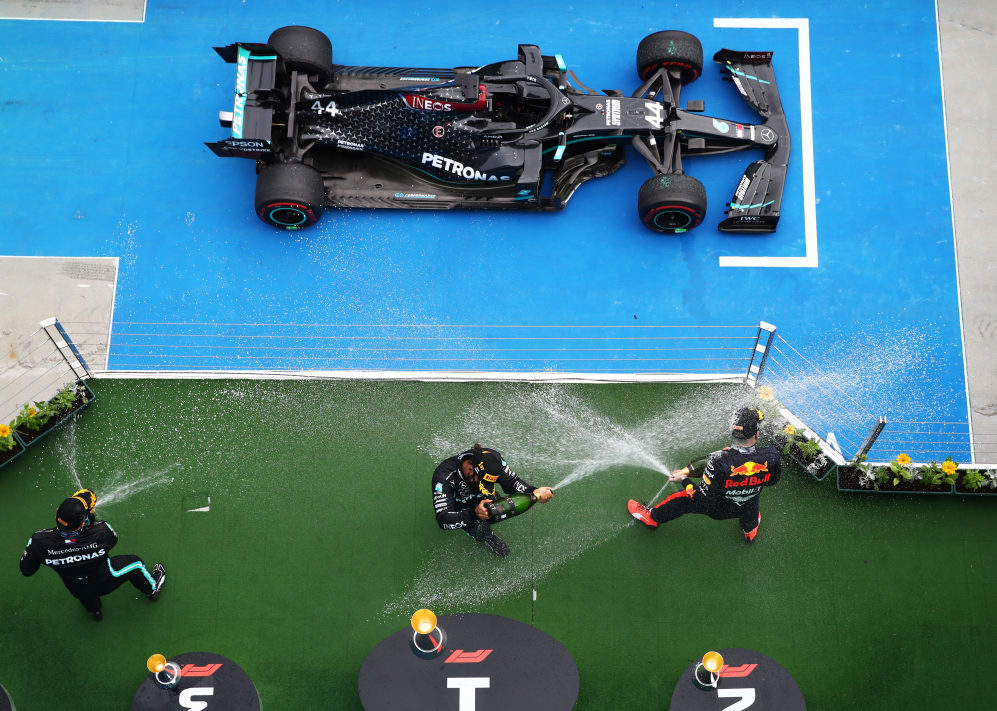 2. Ferrari are not as competitive as hoped – but are fighting hard
This wasn't how 2020 was supposed to be for Ferrari. The Prancing Horse should have been fighting Mercedes for the championship. Instead, they've been mired in the midfield and have even suffered the ignominy of struggling to make it into Q3.
Ultimately, Ferrari went into the wrong direction with their aerodynamic concept. Their correction, introduced in Austria, did not deliver the big step they had hoped, while it's clear their power unit is no longer the class leader.
READ MORE: ANALYSIS: Why Ferrari's technical reshuffle - and nod to the past - is so significant
Team Principal Mattia Binotto has kept the axe locked in its cupboard, and instead instigated a reshuffle, devolving more responsibility to his lieutenants – and giving a design legend (Rory Byrne) more resources to redirect the team.
With limited development scope this year and next, it's likely Ferrari are going to have a tough time of it. But that doesn't mean they, or their drivers Sebastian Vettel and Charles Leclerc, are going to stop fighting to improve.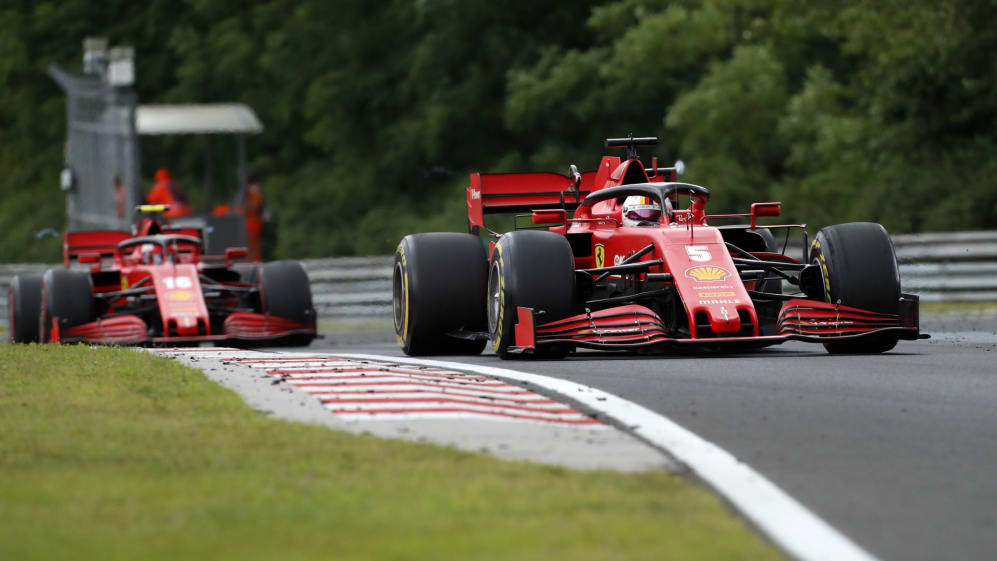 3. Red Bull are Mercedes' greatest threat, but have a long way to go
With Ferrari out of the picture for now and Racing Point still discovering what life's like at the sharp end of the grid, if anyone's going to stop Mercedes this year, it looks like it's going to be Red Bull.
And yet, it hasn't been the most convincing display so far from Christian Horner's squad.
READ MORE: A closer look at Red Bull's struggles for performance in Hungary
Like the infamous Adrian Newey-penned Williams FW16, there's clearly a very quick racing car lurking inside the Red Bull RB16, but its performance seems to be on a knife-edge currently, meaning that instead of the three Max Verstappen victories that some predicted at the start of the revised season, the team have just two podiums – and a 66-point deficit to Mercedes – to show for their efforts after the triple header.
4. Williams have hauled themselves back into the midfield
In terms of progress made from one season to the next, Williams are leading the way. Sure, there was a lot of low-hanging fruit to swipe, but they still had to grab it all – and they've done just that.
This year's car is stronger and slicker all over, with impressive gains made over one lap. The basis of the concept is more predictable, which has allowed the team to experiment with new set-up directions in practice rather than getting bogged down trying to understand the car or solve problems.
READ MORE: 'The excitement and adrenaline is back' – Claire Williams on how her team have turned the corner
They brought a big upgrade to Hungary, with George Russell testing out the new bits. Crucially, the correlation was good and they made the car quicker, so both cars will have it for Silverstone.
There remains a way to go until they are capable of scoring points regularly, but at least they are back in the conversation.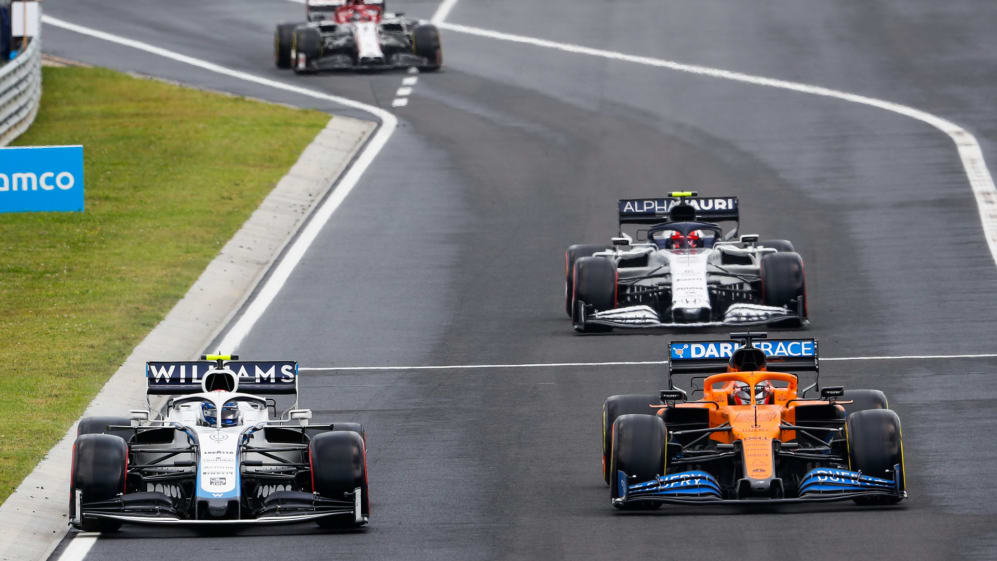 5. Racing Point are a podium threat at every race
At pre-season testing back in February, the Racing Point cars were the talk of the paddock as rival engineers noted their similarity to last year's Mercedes W10 with raised eyebrows.
There were even whispers that the 'Pink Mercedes' could be snapping at the heels of Ferrari when the season began.
We now know that's not the case; it's the other way round, with Lance Stroll and Sergio Perez locking out the second row of the grid in qualifying in Hungary, ahead of the two Ferraris, while the Silverstone team are one place ahead of the Scuderia in the constructors' standings with 13 more points after the opening three races.
They may not have converted that potential into any podium finishes just yet, but it's surely just a matter of time before we see those pink overalls up on the rostrum – a sight that will no doubt infuriate Renault even further, after their protests against the Racing Point cars in Austria and Hungary.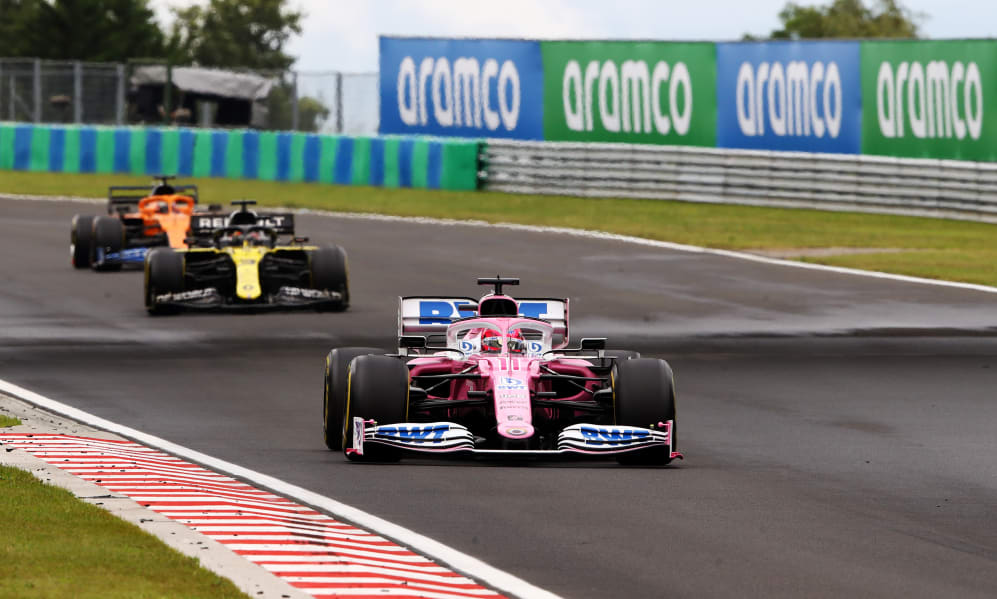 6. Norris has stepped up in season 2 at McLaren
Lando Norris played the junior role at McLaren to a tee last year. But with Carlos Sainz having understandably not passed up the opportunity to move to Ferrari next year to replace Sebastian Vettel, McLaren are now putting a lot of trust in the 20-year-old Norris to bridge the gap for the team into 2021. And boy is Norris repaying that trust.
His maiden podium at the first race of 2020 was phenomenal, while he followed that up a week later with a rousing final flurry up the order to P5. Hungary was tougher, as Norris made his first "proper mistake" of 2020 – but he made up for it by helping his mechanics to strip down his own race car after the Grand Prix. Lando Norris continues to disrupt the norms of being an F1 driver off-track – while he's delivering brilliantly on it.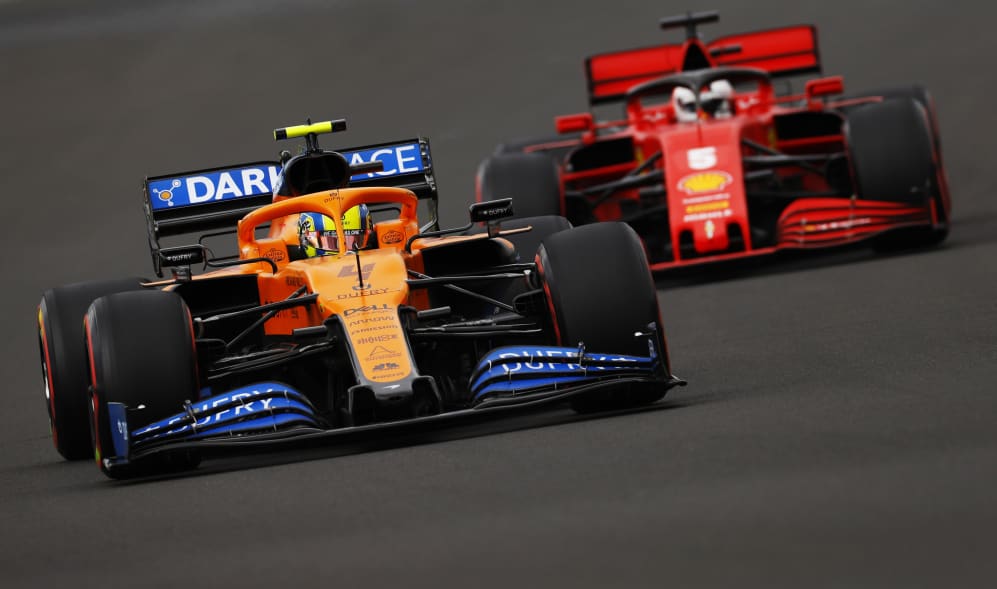 7. Vettel is still a valuable commodity for Ferrari
Even outside of learning he wasn't going to be retained by Ferrari for 2021, it's been a far-from-happy start to the season for Sebastian Vettel. The German struggled badly with his machinery in Austria as team mate Charles Leclerc took a surprise second place, and a week later the young Monegasque ensured Vettel would have no chance to make amends in the Styrian GP.
But in Hungary there were glimpses of why Vettel still has so much potential value to the Scuderia. Not only did he outqualify his team mate, he out-raced him too, thanks in part to an inspired strategy call where he overruled the teams suggestion of soft tyres. That helped him finish P6, while the less experienced Leclerc - having taken the softs and struggled mightily - was a distant P11.
If Ferrari are to get on top of their car in 2020, you sense they need to lean on all Vettel's experience.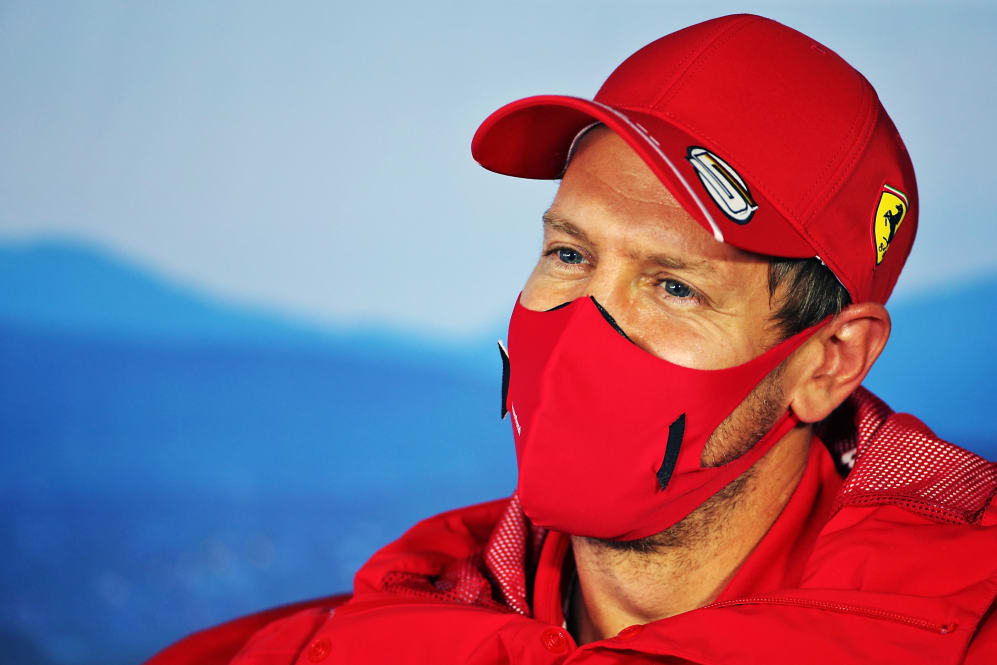 8. Russell is showing star quality
Williams may still be at the bottom of the standings but, as detailed above, they've shown glimpses of promise this season with a new and improved FW43 package. And it seems that George Russell is the driver to eke every ounce of potential from it, which is a sign that the 22-year-old Mercedes junior is destined for greater things.
READ MORE: Russell is 'in the same bracket' as Mansell, Hill and Rosberg, says Claire Williams
Race 1 in Austria wasn't Williams' finest, with a fuel pressure issue costing Russell - but he still set the 14th-fastest lap of the race.
He returned to the Red Bull Ring in a gripping (and grip-less) qualifying session to show the world what he could do – taking 12th as others floundered in the wet. Yes, he made a mistake to finish 16th, but accepted it with humility, and at the next race he only just missed out on Q3 in qualifying, showing that he already has the maturity to make it at another squad that could win races.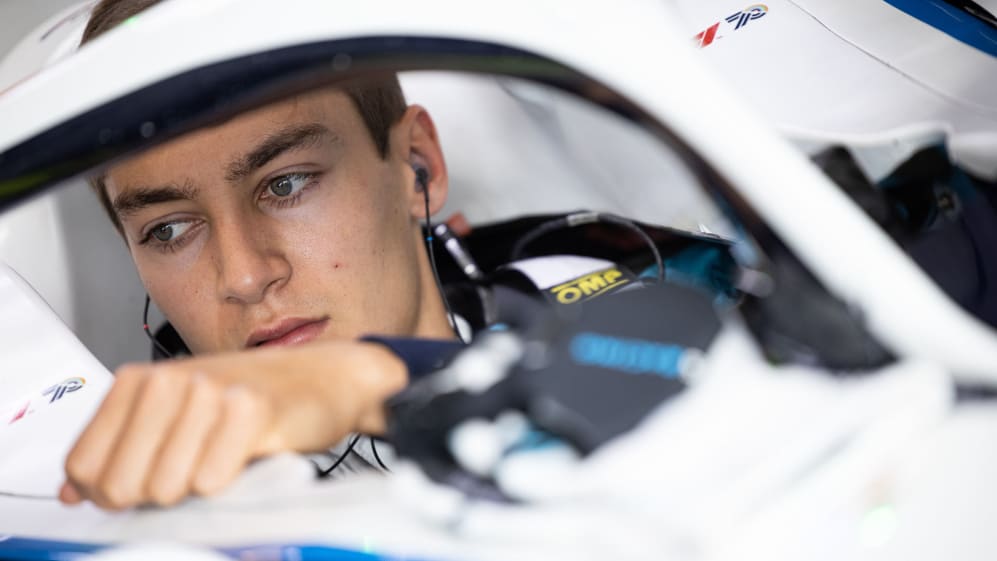 9. It could be a tough season for Ferrari customer teams
The FIA never revealed the specifics of their settlement with Ferrari, following a long-running analysis into the Italian team's 2019-spec power unit. But what seems clear is that Ferrari's engines are no longer the class leaders - and that's not only bad news for the Scuderia but also their customers, Alfa Romeo and Haas.
Take Hungary – where, in 2019, our data showed Ferrari were fastest on the straights, Alfa Romeo fourth-fastest and Haas joint-sixth-fastest with Racing Point. This year? Ferrari were 10th-fastest (slowest) on the straights, Alfa Romeo eight-fastest and Haas sixth fastest.
It's not the only factor, but it's one reason why Alfa Romeo and Haas have scored just three points between them across the three races so far. With the amount of engine tweaks available limited by the rules, it could be a tough year for both.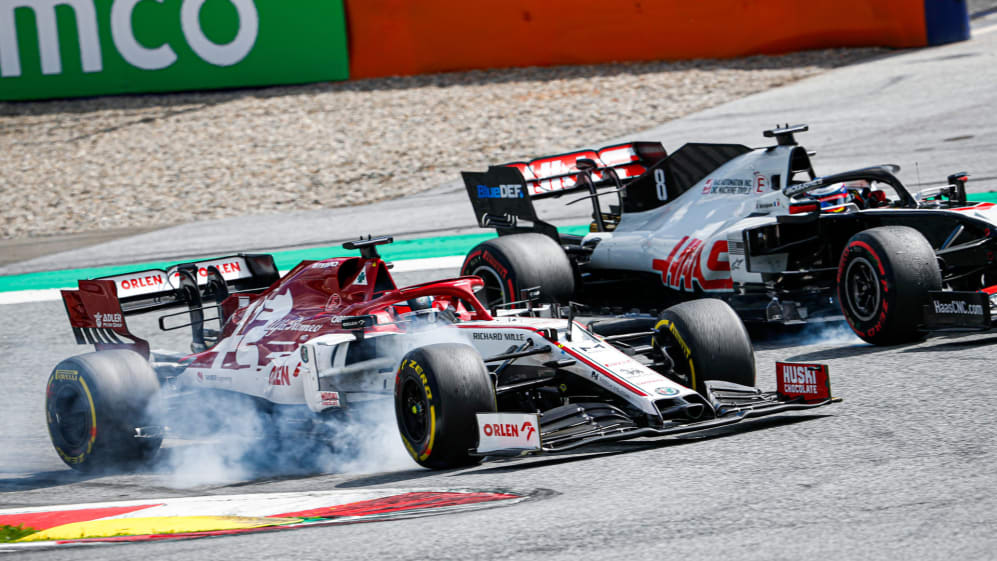 10. Lewis Hamilton is still the wet weather master
1.2s. One point two seconds. That's how much Lewis Hamilton took pole position by in Styria, in conditions that were getting wetter and wetter. Cynics will point to a car advantage, but those in the know knew how special that lap had been from the six-time champion, who once again underlined his mastery of wet weather.
Drivers in slower cars tend to love the equalising effect of rain – but this was a different story. "There's a F1 category and there's then a F1 PLUS category," tweeted nine-time GP winner Mark Webber. "Lewis is/was in a different league. And whoever references 'easy, he's in the best car' please don't comment."
With races in Europe stretching long into the Autumn, there's every chance we'll see more slippery conditions before the season is out – and that could be bad news for Hamilton's rivals.