Feature
Our writers review the best moments, shocks and stories of 2019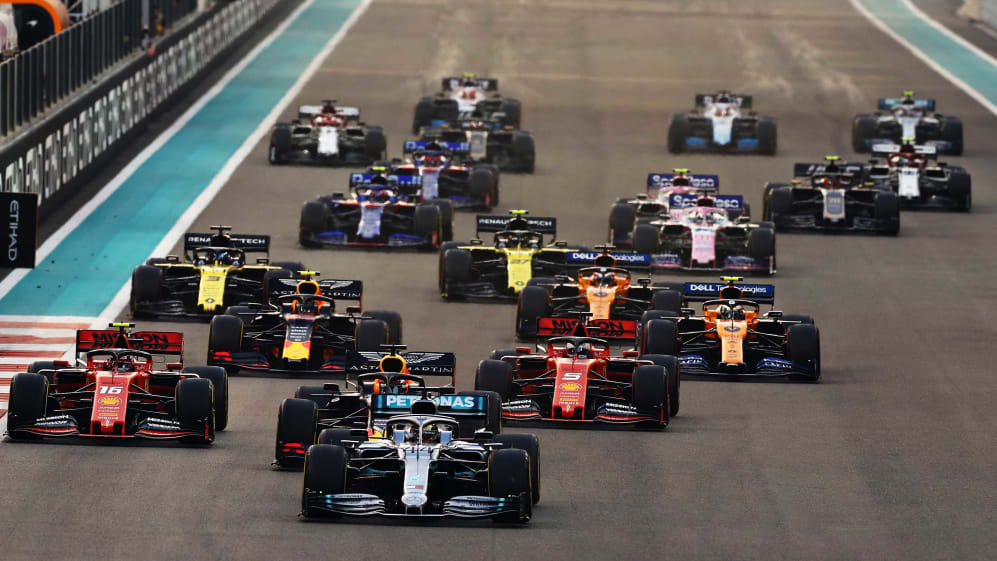 With 21 races done, our writers unpack the biggest laughs, shocks, moments and races of 2019. F1 journalists David Tremayne, Mark Hughes and Will Buxton, F1 Senior Writer Lawrence Barretto, F1 Staff Writer Greg Stuart, and F1 Editor-in-Chief Jonny Reynolds review the season.
What was the best moment of the year?
Mark Hughes: It was that period of the Belgian Grand Prix when Hamilton was pressuring Vettel for second place, trying to get past so he could chase Leclerc. So he was applying the pressure and Vettel was absorbing it. Lap after lap the red car and the silver one nose-to-tail through the valley floor at 200mph. Fantastic.
Lawrence Barretto: When Sebastian Vettel put the second position board in front of Lewis Hamilton's car in Parc Ferme at Montreal, and placed first where his Ferrari should have been (he parked at the other end of the pit lane having considered boycotting the podium). It was pointless in practice, some might even say childish, but it showed how bright the fire still burns in the German. Things might not be going his way these days, but he's still all in.
READ MORE: Hamilton and Verstappen weigh in on possible Alonso return
Will Buxton: For me, Pierre Gasly's podium in Brazil didn't just represent what is great about Formula 1, but what is truly special about sport. Enduring the most tumultuous year of his life and overcoming the dual gut-punches of losing both his dream job and his best friend, he dug deep and found something inside himself that turned his second half of the season around. And when the circumstances fell just right, he was there to capitalise. Keep in mind, this was no fluke either. He'd qualified sixth and only found himself out of the top 10 for four laps (due to pit rotation) of the entire race. The raw, animalistic screams of celebration were a reflection of just how special this moment was.
David Tremayne: I was very happy to see Lewis Hamilton win his sixth World Championship and to sign off with a win in Abu Dhabi, and hugely impressed with the dignity with which Charles Leclerc handled defeat in Bahrain, but nothing quite matched that fight between the Monegasque and never-say-die Max Verstappen at Silverstone. Racing in the old manner, no quarter asked or given, no interference from the stewards. And to hell with track limits!
Jonny Reynolds: I'm a sucker for an emotional Hollywood-style rollercoaster, so I'm going to plump for Pierre Gasly's redemptive podium in Brazil. After his uber promising rookie campaign, he looked on the verge of a breakout with Red Bull, only for it all to go wrong. Clearly he didn't become a bad driver overnight, and I loved the way he knuckled back down to business at Toro Rosso and got his just reward. And those post-race screams over team radio? Spine tingling stuff.
Greg Stuart: Watching Charles Leclerc resist the unrelenting attack from both Mercedes at Monza – admittedly with a couple of questionable on-track moves – to claim his second win on the bounce, and Ferrari's first at home since 2010. Listening to Lewis Hamilton's stressed, heavy breathing on the radio as he struggled to contain and overcome Leclerc's raw, thrilling talent was just fantastic. And then, there was that podium…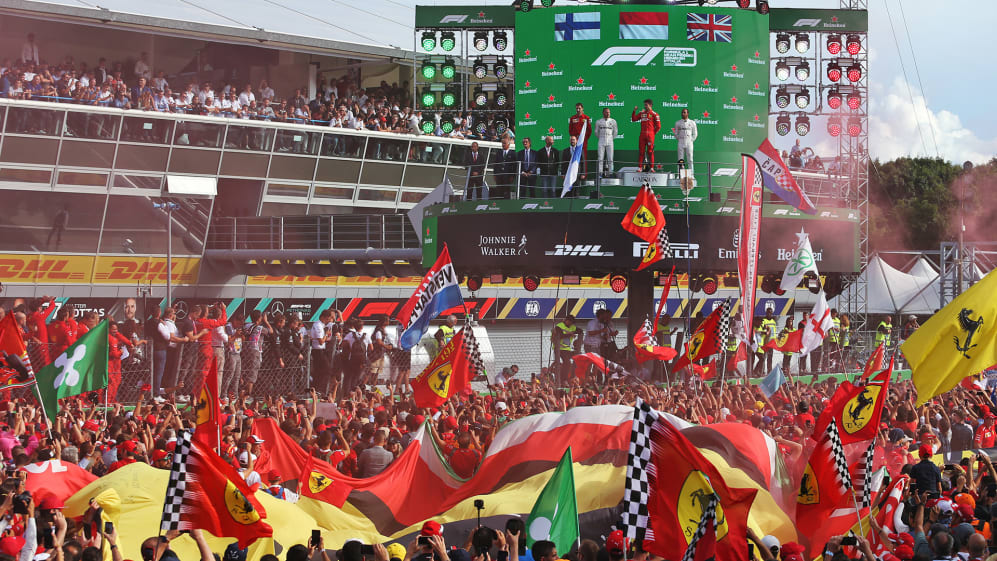 What was your favourite race?
WB: I really enjoyed the Japanese Grand Prix. The enforced cancellation of Saturday and the requirement of running both qualifying and the race in one day was pretty fraught but ended up being tremendously enjoyable, not least for the fact that it put everybody in the paddock out of their comfort zones – particularly the drivers. We often argue that it's the cancellation of sessions and the loss of data that helps create extra exciting races, and yet in this instance it seemed simply to be the disruption of routine. There were some abject performances and some sublime performances, and all on one of the world's great tracks.
LB: The Hungarian Grand Prix, when Lewis Hamilton utilised a two-stop strategy to hunt down Max Verstappen and snatch the lead and ultimately victory. It was classic 'head down and get the job done' Hamilton.
GS: As good as Brazil was, I don't think anything's quite trumped Germany. Mercedes faltering in the turbo-hybrid era always seems to create some fun as the other teams rush to fill the vacuum – and so it proved, as we got a redemptive podium for new father Daniil Kvyat, a stunning win for Max Verstappen, Nico Hulkenberg losing out on what could have been his maiden podium, and calamity for a number of top runners, including Leclerc and both the Mercedes.
MH: Has to be Brazil. The two late safety cars just electrified what had already been an absorbing contest. They made the strategic conundrum at Red Bull and Mercedes agonising. Hats off to Hannah Schmitz on the Red Bull pit wall for being brave enough to surrender Verstappen's lead with hardly any of the race left. It was absolutely the right call.
JR: When we did a similar exercise in the summer break, I chose Germany as my #1, and although there were several hugely enjoyable races in the second half of the season, I'm sticking with that crazy barnstormer in Hockenheim. F1 is never better than when it's at its most unpredictable, and this one had it all.
DT: Germany had it all. Mercedes en fete in fancy clothes and colour schemes honouring their past; rain that came and went; a major error from Valtteri Bottas and a rare one from an unwell Lewis Hamilton; a brilliant performance by Max Verstappen who scored another victory for Red Bull and the resurgent Honda; and a stand-out drive by stablemate Alex Albon who, believe it or not, had never driven an F1 car in the wet, yet nearly made the podium.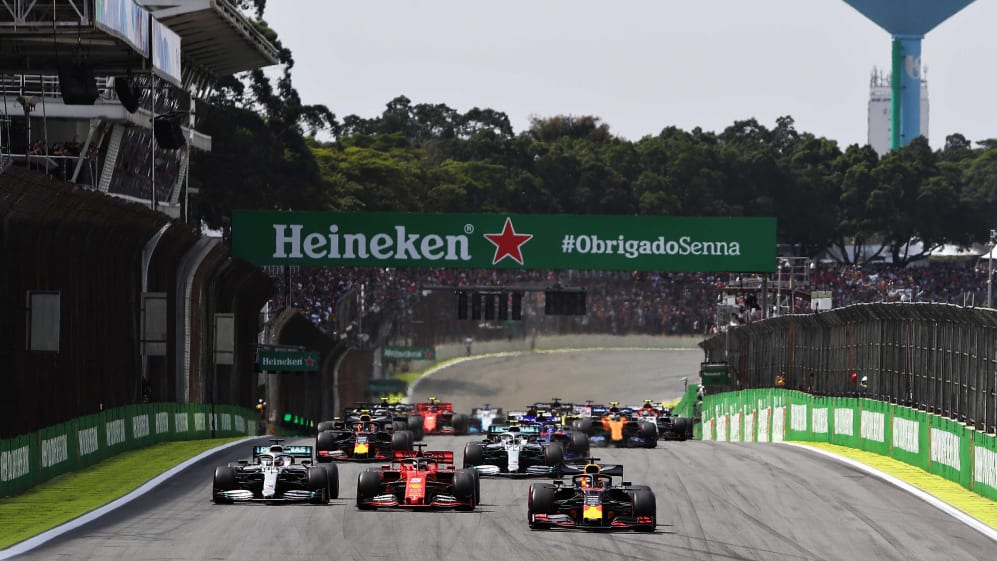 What was your favourite story of the season?
JR: I may be accused of not picking one story here, but the rookie narrative than ran throughout 2019 was hard to beat. Quite simply, Lando Norris, George Russell and Alex Albon breathed new life into F1 with their camaraderie, their approach to racing and, most importantly, their speed. The future is very bright.
WATCH: Albon, Norris and Russell make their case for Rookie of the Year
GS: Williams doing a seat fitting with a certain driver in Abu Dhabi in case George Russell was ill – in what would have been a sensational story – only for said driver not to fit the car properly… which then didn't matter anyway, as Russell was well enough to race. Juicy.
LB: That Lewis Hamilton and Ferrari could become a thing in 2021. It could be nothing more than speculation and a bargaining tool to help improve on his current contract terms with Mercedes, where he has long been happy. But what if it isn't? What if Hamilton is set to drive the famous Prancing Horse, arguably every racing driver's dream? What a story.
MH: There was a story, the veracity of which I can't vouch for, about the farmer who owned the adjacent field to Racing Point's factory. It's where Lawrence Stroll plans to have the new factory. Suddenly the farmer's kids, grand kids and probably future great-great-grandkids are all taken care of.
DT: What warmed my heart was the revelation that ground effect will become part of the newlook F1 for 2021. And renderings suggest that the cars will look much more elegant, without ugly bargeboards and other aero clutter. Good to hear too in Liberty's sustainability plan that the hyper-efficient engines will get the recognition they were due five years ago, boosting F1's credibility and confirming its vital role in spearheading advanced technology for a carbon neutral world. The future looks promising.
READ MORE: 2021 F1 Rules – The Key Changes Explained
WB: It has to be McLaren. The turnaround not just in competitiveness but attitude and atmosphere has been an absolute joy to witness, as has the bromance between Carlos Sainz and Lando Norris. In a season which was only really supposed to be about transition and rebuilding, there's a good argument to be had that McLaren was team of the year.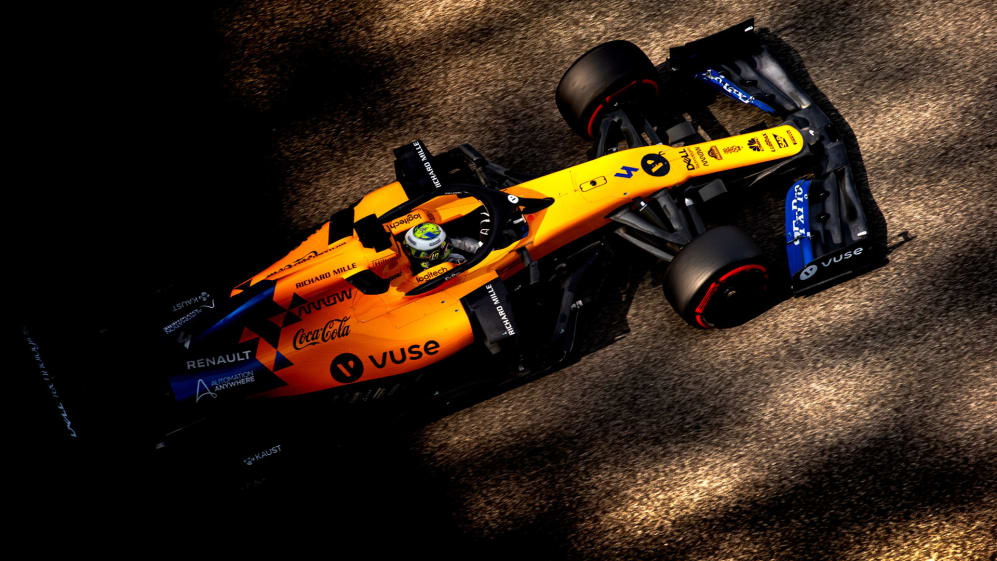 WB: Although still a young team, I was shocked at how long it took Haas to get a handle on its issues this year. Moreover, what surprised me the most was how early on the drivers, and particularly Romain Grosjean, had a handle on where the problem lay yet how reluctant it seemed the team was to trust the racer's feel over the numbers being churned out of simulation. By the time they listened it was too late and the season was in the trash.
WATCH: All Access - Guenther Steiner
JR: The tragic events that unfolded in Belgium, with the tragic death of F2 racer Anthoine Hubert and the terrible injuries suffered by Juan Manuel Correa. Everyone knows motor racing is dangerous, and that those who compete put it all on the line for our entertainment and personal glory, but it's never not completely shockingly heart breaking when incidents such as these, thankfully so very rare these days, happen.
LB: How terrible Haas were. The American outfit should have kicked on this year, but instead ended up second-last in the constructors' standings. The VF-19 was so bad, Romain Grosjean said it was "undriveable" and "won't go in a museum!"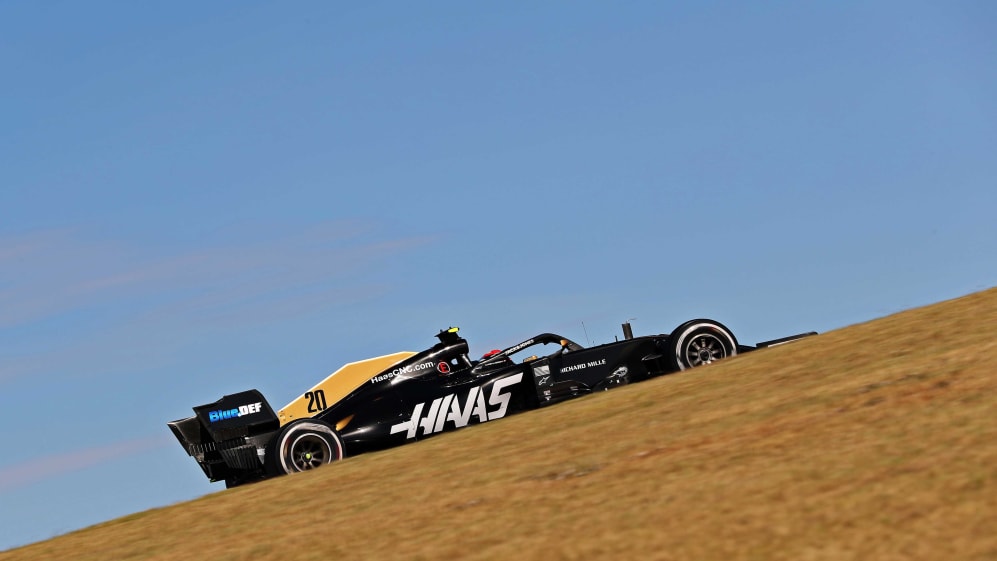 DT: Ferrari chairman Louis Camilleri's comment on why he thought it was important for the team to keep their right of veto. He suggested that other teams were also appreciative of it because it ensures there is a check against radical rules being forced through in the future, and that it was good to have an 'adult' in the room. That made me laugh. Then the notion that any sport would give one team a veto annoyed me instead.
WATCH: Top 10 best F1 battles of 2019
MH: I loved Sebastian Vettel's transposing of the 1st and 2nd place bollards in the Montreal collecting area in protest at his race-losing 5s penalty. I know it wasn't done in the spirit of humour, but of disgust. Yet it was just such a 'Seb in outrage' mode thing to do.
LB: Nico Hulkenberg's use of an elongated raspberry my little cousin would be proud off when he summarised his Monaco Grand Prix to me in the post-race TV pen.
Oops! Error retrieving Twitter post
Which driver impressed you most?
DT: London-based Thai Alex Albon couldn't have got off to a worse start in testing in Barcelona when he spun on his first lap, but thereafter everything flowed so well that he found himself in the Red Bull. That could have been a two-edged sword, but instead he grasped the nettle brilliantly with a string of impressive qualifying and race performances. But for being nerfed out of a deserved second place in Brazil, he'd have finished a clear sixth overall.
READ MORE: Alex Albon - Seizing his second chance
MH: It's a close call between how Charles Leclerc stepped up to the challenge of running in a quick Ferrari in only his second season of F1 against a four time world champion team mate – or how Carlos Sainz became the fully rounded, relentless world class performer he always looked capable of.
JR: That's a tough question. I'm hard pressed to separate Max Verstappen and Lewis Hamilton, because both raised their games to another level in 2019. For the former, his career to-date suggested there was plenty of headroom to become an even more electrifying prospect. For the latter, I find it quite remarkable how Lewis continues to evolve; continues to make the very difficult look routine. These guys barely made a mistake or had an off-day. I just hope they are soon involved in a genuine title fight with each other.
WB: Carlos Sainz. Many saw his move to McLaren as one of necessity. Surplus to requirements at Renault, not considered worthy for Red Bull to take up their option, he had few options other than the team with which his idol had achieved little other than disappointment. And yet Sainz turned it into the opportunity of a lifetime. He has reinvented himself as an inspirational team-leader and consistently showed outstanding racecraft to bring home results and a final championship position that even he believed impossible at the start of the year.
LB: Look no further than Carlos Sainz. The Spaniard has revelled in his role as the experienced driver at the team, demonstrating remarkable consistency and a ruthless "send it" approach to overtaking. His podium in Brazil was fortuitous, but a fine reward given his season-long performance, which included beating two drivers who contested around half a season each in a race-winning Red Bull.
MUST SEE: F1 Secret Santa 2019 – what did the drivers gift each other for Christmas?
GS: George Russell. Fellow rookies Lando Norris and Alex Albon also performed well, but they had the catnip of going for occasional big results. Having beaten both in F2, Russell only had the satisfaction of fighting his team mate and an occasional fellow backmarker. But he barely put a wheel wrong all year, in a car that can't have been very easy or rewarding to drive, while I also never heard one barbed word about Williams' performance. Very classy.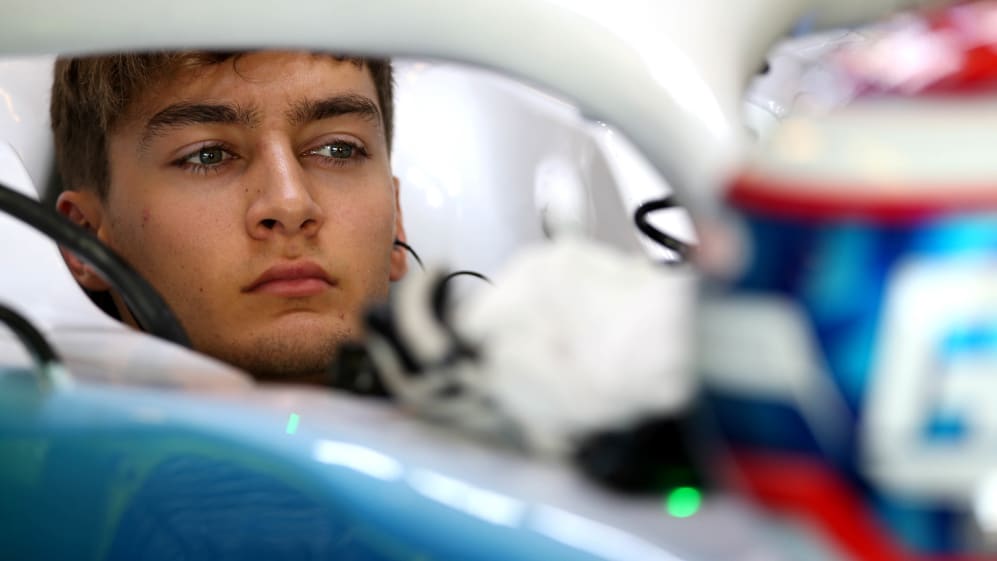 Who must do better in 2020?
LB: Williams. You know that. I know that. They know that. From lacking a car to start pre-season testing to trailing off the back of the pack for much of the campaign, 2019 has been an arduous task. A single point, a gift after the two Alfa Romeos were penalised in Germany, saved them the embarrassment of ending the year pointless – but that has done little not the numb the pain. Next year will be better. It has to be.
GS: I'm not going to say a driver, but a team: Renault. Put bluntly, Formula 1's third works squad (alongside Ferrari and Mercedes) should not be getting beaten in the constructors' championship by their own customer team, McLaren – and certainly not by 54 points. They've got the infrastructure, they've got the budget, and now, in Esteban Ocon and Daniel Ricciardo, they've got one of the most dynamic driver line-ups on the grid. It's time for the Regie to kick on.
READ MORE: No customers in 2021 means fewer distractions
DT: I'm tempted to say Ferrari, but that's so obvious that I'll go for Renault instead, as they were the other big disappointment of 2019. In a year when they were expected to climb to fourth in the constructors' stakes, and in the midst of a serious review of their F1 future, they suffered performance and reliability shortfalls that saw customer McLaren beat them comfortably. Embarrassing.
JR: Sebastian Vettel. His record speaks for itself, but you can't help but think he's arrived at a bit of a career crossroads. With his current contract soon coming to an end and the flood of exciting talent that's entered F1 in the last two seasons coming on strong, the four-time champ badly needs to re-find his mojo. We saw flashes of the driver who swept all before him from 2010 to 2013 this past season, but not the consistency that used to be a hallmark.
READ MORE: The Top 10 F1 drivers of 2019 - as chosen by the drivers
MH: I'm a big fan of Alex Albon and his rookie season had moments of magic, especially so his amazing drive in the Hockenheim rain and his equalling of Verstappen's qualifying time on his first visit to Suzuka. But in the big team he cannot consistently be three or four tenths away from Verstappen. It's not sustainable. No matter how unfair, the pressure is on.
WB: I genuinely thought and hoped this was going to be Ferrari's year, but, it just never came good. So woeful were things that when asked for a prediction in the summer break I said I didn't think they'd win a race all year. They did, of course. Three on the bounce straight off the bat, and all richly deserved. But they were ultimately sticking plasters. The mistakes must become the foundation of perfection. But there is another potentially far more ruinous issue at hand. The team has a very real problem that it has to confront. It has to choose a preferred driver. Two alpha-racers cannot coexist at a team that can become as immediately fractious and fractured as Ferrari.