Feature
13 things we learned from the 2020 F1 season
The 2020 Formula 1 season has now drawn to a close, after what will go down in history as one of the strangest years of racing the sport has ever seen. We knew before the final Grand Prix had been run that Lewis Hamilton and Mercedes had each sealed a seventh world championship title, but what else did we learn this year? Chris Medland takes a look...
1. Lewis is still getting better
It's a bit of a scary thought that Lewis Hamilton might not have peaked yet, but if this year is anything to go by there is capacity for even more from the seven-time world champion. Hamilton won 11 of the 16 races he started, was absolutely sublime in Turkey (among other races) and set new records. But he did it all while shining a light on equality and racial injustice, using his platform to say what he believes is right and to push for change.
READ MORE: 'Change isn't coming quickly enough' says Hamilton as ex-McLaren boss joins his new diversity commission
He says that provided him with an added motivation to perform – in order to retain that platform – and has shown him he's not yet at his full potential…
2. The driver market can always surprise you
Regardless of how well Sergio Perez did this season, how many of us really thought Red Bull would change tack and bring him in to replace one of their own? That was the beauty of the driver market in 2020 – it kept you on the edge of your seat till the very end. And though on paper it might not look as exciting next year, with several multi-year deals now in place, you really do never know what might happen. After all, Perez had a contract with Racing Point for 2021...
ANALYSIS: Why did Red Bull opt for Perez – and what now for Albon?
3. Making an early decision on which team to drive for the following year is risky
Who could have seen 2020 panning out the way it did back in February? At the time, even if you had predicted Covid-19 having the major impact it did, you'd still have been a brave person to call Ferrari replacing Sebastian Vettel with McLaren driver Carlos Sainz. You'd have been even braver to say Sainz was leaving a team on the up – third in the constructors' championship and with Mercedes power to come – for a Ferrari team that would end up limping to sixth overall.
Vettel was left confused by Ferrari's decision, but heading to Aston Martin now looks like something of a promotion for the four-time world champion based on 2020 form.
ANALYSIS: How and why Vettel committed his F1 future to Aston Martin
4. Leclerc can lead Ferrari post-Vettel
Still, things aren't all doom and gloom at Maranello. There were flashes of performance during this season, and more excitingly there were some stunning highlights from Charles Leclerc. He had stamped his authority on the team in his debut season at Ferrari, but Leclerc didn't let this year's struggles stop his own progression as a driver.
In a difficult car, he managed podiums in two of the first four races, three further top-four results and some outstanding qualifying laps. Mental strength, resilience, the capacity to deliver even in a car that was often well off the pace – the future is bright with Leclerc.
READ MORE: Leclerc 'very happy' with personal performance in 2020, despite Ferrari's struggles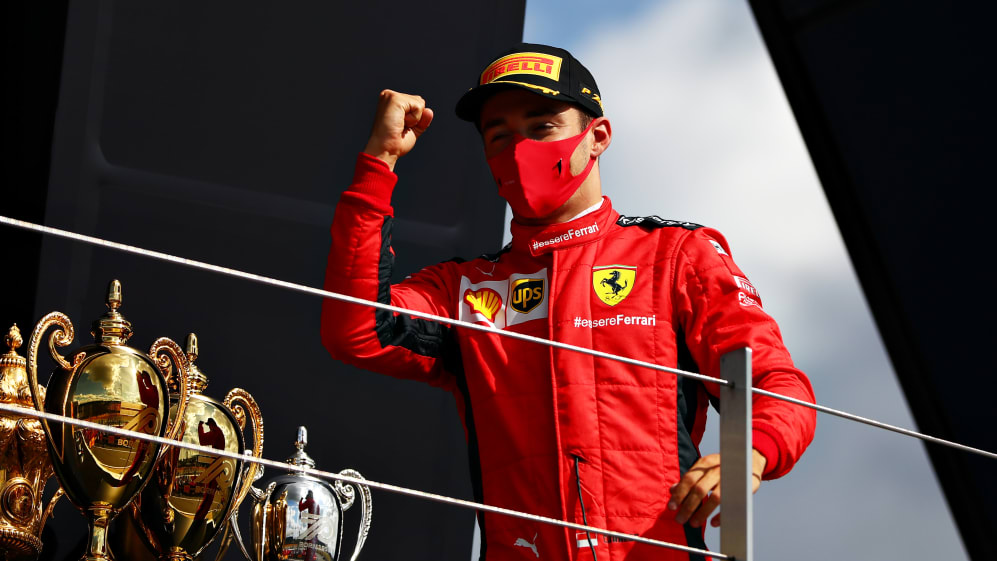 5. Being Max Verstappen's team mate isn't getting any easier
The future is also bright with Max Verstappen, but the level that the Dutchman can perform at continues to prove to be a problem for his team mates. Verstappen largely single-handedly took the fight to Mercedes this season, while Alex Albon looked set for a potential win in the opening race before his season unravelled.
Podiums in Mugello and Bahrain were encouraging, but all too often he just couldn't get near enough to Verstappen to satisfy the team fully, leading to Perez replacing him for 2021. Given how Pierre Gasly also struggled alongside Verstappen, the question is now whether any driver can stand shoulder to shoulder with Mighty Max...
READ MORE: 'It hurts, but I'm not giving up' – Albon resolute as he breaks silence on losing Red Bull race seat
6. Gasly has fully recovered from his Red Bull demotion
And speaking of Gasly, he provided one of the standout moments of a remarkable 2020 season with his emotional victory at the Italian Grand Prix. A little over a year since his demotion from Red Bull, the AlphaTauri driver was on the podium for the second time in 10 races and showed that his second place in Brazil in 2019 was no fluke.
READ MORE: Why Pierre Gasly is a risk-taker – and how that mentality helped rebuild him when the chips were down
The win boosted his form even more as he finished in the top six in back-to-back races in Germany and Portugal (and looked set to take another before retiring in Imola a week later), putting him firmly back in discussions when it came to an Albon replacement if needed. Red Bull opted to keep him where he is, but he has turned his career trajectory around with a very impressive season.
7. Lance Stroll thrives in unpredictable conditions
Monza was the scene of Gasly's win, but it also saw Lance Stroll pick up his first podium for Racing Point and the second of his career. That came at a venue where he started on the front row back in 2017, qualifying fourth in treacherous conditions and starting second in his rookie season.
But Stroll showed that wasn't a one-off for him when low grip levels provide a bit of a leveler, as he scored his maiden pole position this year in the chaotic Turkish Grand Prix qualifying session. His final lap was excellent and his opening stint similarly so as he led away before tyre issues and front wing damage led to an extra pit stop and late-race difficulty.
8. F1's midfield has never been tighter
With just four races to go this season – a dramatic one that had seen multiple podium finishers, surprise winners and plenty of shock results – there was one point separating Renault, McLaren and Racing Point. That was the order arriving in Turkey, and it would be reshuffled a number of times before the end of the year.
Racing Point had a pole, two podiums and a win to come, Renault also had a podium ahead but McLaren's consistency ensured they finished third in the constructors' championship by seven points.
The fight was enhanced (if you're not a Scuderia fan) by Ferrari dropping into the midfield, opening up podium opportunities. In the end, seven teams scored podiums and four of them wins, with McLaren, Racing Point, Renault, Ferrari and AlphaTauri each having weekends where they scored more than 25 points.
TREMAYNE: McLaren have found their way again – and more good times may be just around the corner
9. Drivers love old school circuits
What made some of the battles all the more exciting in 2020 was the uncertainty about which teams would perform well at which venues, as multiple tracks were announced late. Mugello, Nurburgring, Portimao, Imola and Turkey were all added to the calendar in response to the Covid-19 pandemic, while Bahrain's outer circuit also provided a new challenge.
And it became clear the drivers were thrilled to be let loose on classic European tracks – some of which looked like they wouldn't ever host a Grand Prix – with gravel traps, significant undulations and challenging layouts generally resulting in exciting races as a result.
EXCLUSIVE: The Top 10 F1 drivers of 2020 – as chosen by the drivers
10. McLaren are getting a driver at the top of his game
While Carlos Sainz gets to fulfil a dream of racing for Ferrari, the driver replacing him did not fall foul of agreeing a deal too early in the year when moving teams. Daniel Ricciardo had another extremely strong year with Renault, finally getting his first (and second) podium with the team and earning Cyril Abiteboul a tattoo, and now moves to the team that finished two positions higher in the constructors' standings.
READ MORE: Ricciardo 'proud' of final year with Renault as team claim fifth in constructors' in season finale
In an impressive season, Ricciardo scored 75 points in the seven races from Spa to Imola alone, and was only outqualified once in the dry by the highly-rated Esteban Ocon. The prospect of him in an ever-improving McLaren car that will have a Mercedes power unit next season is an enticing one.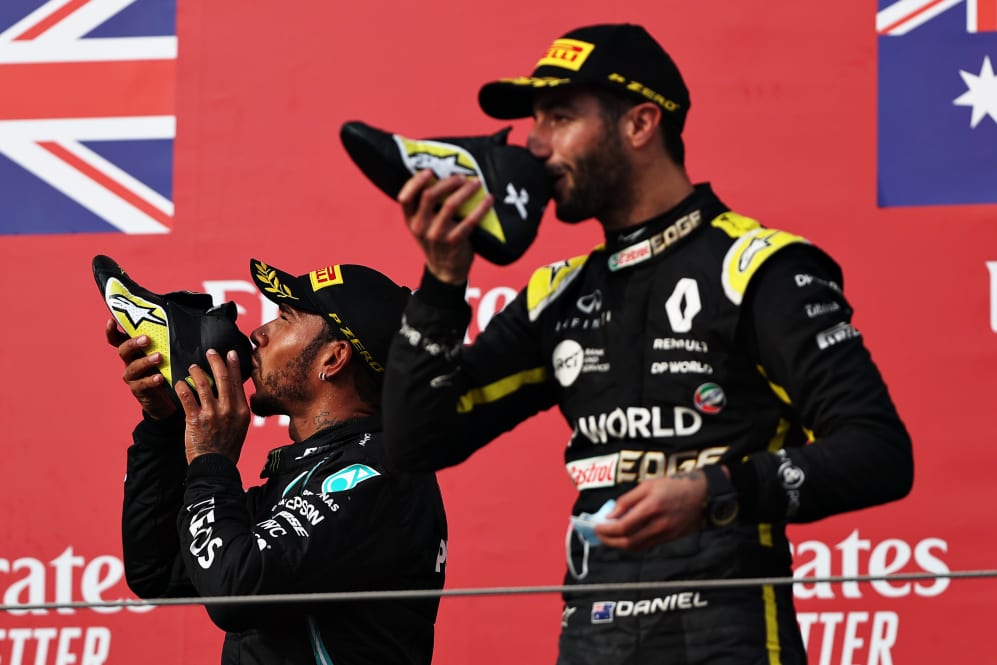 11. Vettel is in need of a change
While Ricciardo was in sparkling form in 2020, the same cannot be said of his old Red Bull team mate Sebastian Vettel, who endured the worst season of his career in terms of points. From 17 races, Vettel managed just 33 points and 15 of those came when he finished third in Turkey. Fourteen more came from solid finishes in Hungary and Spain, meaning the other 14 races yielded just four points – all scored with P10 finishes.
Vettel retired just twice, the rest of the time failing to finish in the top 10, and his Turkey podium was his only score of the final five rounds. Ferrari had let the four-time world champion know he was no longer needed before the season even began, and coupled with an uncompetitive car, it resulted in a painful year. A fresh start at Aston Martin is exactly what he needs.
READ MORE: 'I'm going to throw myself into the project' – Vettel already preparing for Aston Martin switch
12. Mick Schumacher will be one to watch in 2021
The Schumacher name is back in Formula 1 and it is there completely through the achievements of the driver carrying it. Mick Schumacher won a fiercely-contested Formula 2 championship this year to go with his 2018 European Formula 3 title, meaning he steps up as the reigning F2 champion just like George Russell and Charles Leclerc did before him.
Schumacher will race for Haas, and while the American outfit have not had the strongest 2020, they will hope to benefit from a significantly improved Ferrari power unit next year that will give the German a better chance of showing what he can do. It might be the perfect scenario for Schumacher though, who has tended to do a lot of learning in his first year in a new category and show clear improvements in his second season, while his racecraft has been particularly impressive.
READ MORE: Vettel happy to tell Mick Schumacher 'everything I know' ahead of young German's F1 debut
Even if the team's competitiveness doesn't improve, Haas were regularly fighting Alfa Romeo this year, setting up the prospect of a Schumacher vs Raikkonen on-track battle, some 14 years after Kimi was fighting against Mick's father Michael for championship glory.
13. Fernando Alonso will be box office, again
Schumacher will do well to make it another chapter of Schumacher vs Alonso battles next year though, as the double world champion who regularly fought with his legendary father returns to F1 with Renault, or Alpine as they will be known in 2021.
Renault might be getting a rebrand, but they remain the same team that Alonso won his two world titles with in 2005 and 2006, and they are getting a driver who is hungry for success after two years away from the sport. There were no guarantees Alonso would be back when he left McLaren at the end of 2018, but after racing elsewhere he felt he still had unfinished business in F1, and the prospect of new regulations enticed him to return.
READ MORE: 'It ignited the competitive spirit' says Alonso after posting fastest time in Abu Dhabi test
While he will have to wait until 2022 for those new cars, the extremely tight midfield gives Alonso the chance to race for significant points and podiums in a way he rarely got to in his latter McLaren years, and he just seems to somehow access another level when there's a hint of a strong result. We should be seeing plenty of that next year.