Feature
From the favourites to the wildcards, who are the contenders to replace Vettel at Ferrari?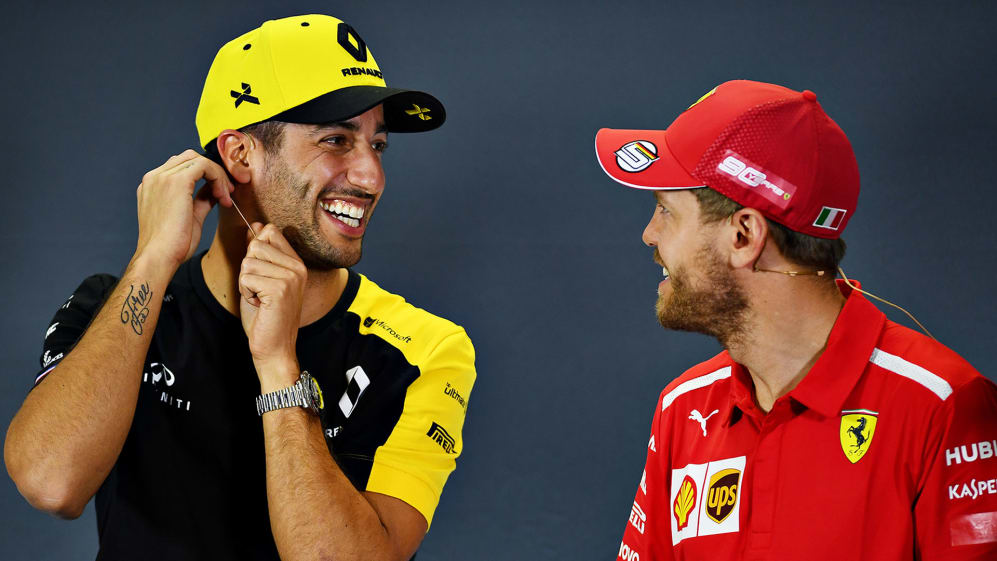 An inevitable question has followed the bombshell that Sebastian Vettel's stint at Ferrari would finish at the end of the 2020 season: who is the driver who'll replace him? We look at the leading candidates – and ask you to vote for who YOU think is the driver most likely to fill the seat...
READ MORE: Sebastian Vettel to leave Ferrari at the end of 2020 F1 season, team confirm
Whoever does get the nod for the second seat at Ferrari for 2021 could be in for a rocky ride, given that they'll be partnering a driver in Charles Leclerc who at just 22 has already stolen the momentum away from a four-time champion at F1's most iconic team – and whose prowess at such a young age surely played a part in Vettel deciding to move on.
Who would want to take on such a challenge? Here are the drivers we think are in the running, from the favourites to the wild card options...
READ MORE: Where to next for Vettel? We look at the options for 2021 for the departing Ferrari star
THE LEADING CONTENDERS
Carlos Sainz
If Ferrari were to look to a form driver to replace Vettel, it would be hard to ignore Carlos Sainz. The Spaniard nailed his inaugural 2019 season with McLaren, firmly moving out from the shadow that was arguably cast over him by being partnered with Max Verstappen at Toro Rosso in his first season in F1.
Sainz was the established team leader at McLaren last year, and slotted into the role with aplomb, even taking the team's first podium since 2014 for good measure.
In fact, that's probably the thing that counts against Sainz as a Ferrari contender. McLaren look to be on the up and up, and with harmony reigning, a new wind tunnel in the offing and Mercedes power units coming in 2021, would Sainz roll the dice for what may turn out to be a number two role at Ferrari?
READ MORE: Sainz on how he helped shape the 2020 McLaren
Interestingly, Sainz rubbished any talk of replacing Vettel in the same interview that saw another contender Daniel Ricciardo turn all crimson and giggly (see below): "I don't know and at the moment I don't really care if Sebastian's going to be the catalyst [to the 2021 driver market]," Sainz said at 2020 winter testing.
"I'm very happy in McLaren, I feel very much part of this project, part of this medium to long-term project and probably I cannot start thinking about anything else."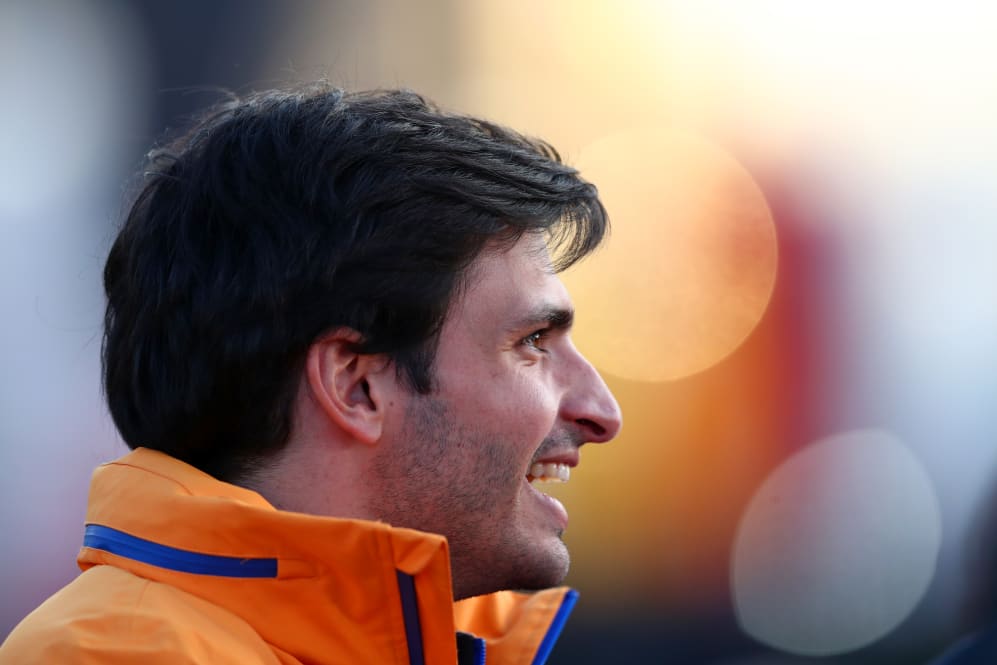 Daniel Ricciardo
Ricciardo and Ferrari have been dancing around each other for a number of years – and you can see why. The Australian is super-fast, super-consistent, has some convenient Italian heritage and, crucially for Ferrari, is nicely apolitical.
Asked about the possibility of a move to Ferrari at 2020 winter testing, Ricciardo also turned bright red and started mumbling a lot, which suggested that some form of initial contact had at least been broached...
READ MORE: Hamilton and Ricciardo take control of the 2021 F1 merry-go-round
At 30, Ricciardo is also at a bit of a career crossroads – and another few frustrating campaigns with Renault (despite their claims that they have more to offer the Australian) would see his dreams of becoming a world champion all but over.
A move to Ferrari to join his mate Leclerc will put the possibility of realising that dream back on track in his mind – even if, in Ferrari's mind, they might think more about the value the relaxed-but-rapid Ricciardo could bring as an extremely capable foil to support Leclerc.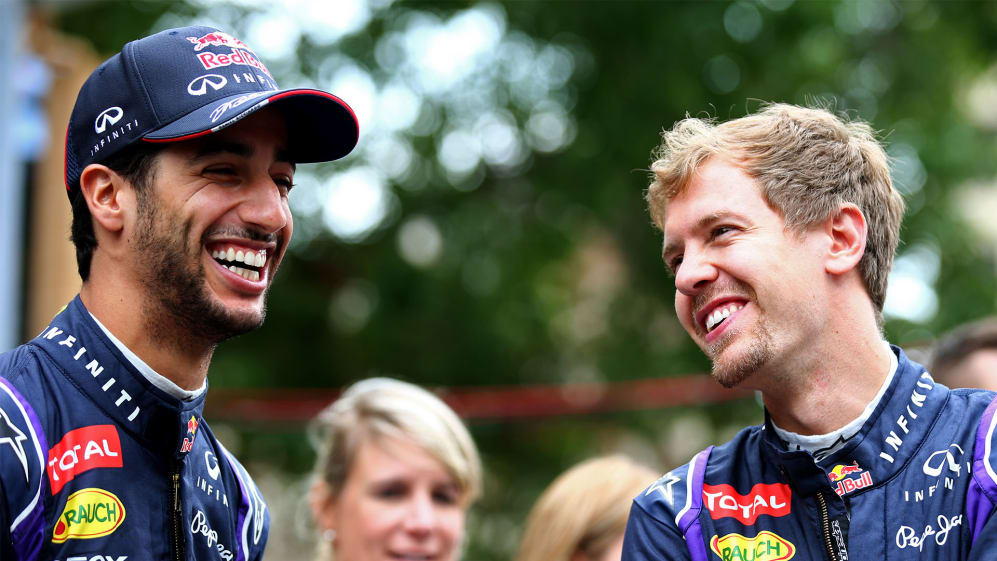 Valtteri Bottas
Might the Scuderia look to current Mercedes man Valtteri Bottas? The Finn's got some serious advantages for Ferrari, given that he's been demonstrably team-focused in his time at the Silver Arrows (think Germany and Russia 2018) – while Ferrari's recent experience with having two alphas jockeying for supremacy might have made them miss the days of having a low-maintenance Finn in the camp…
As with all the drivers on this list, Bottas is out of contract at the end of 2020, while his experience of recent contract negotiations with Mercedes – usually left late while the team assessed other options – have obviously left a slightly bitter taste in Bottas' mouth.
Would now be a good moment for the Finn to shuffle the deck – even if it might just be for more of the same at Ferrari?
READ MORE: Bottas wants 'smoother, earlier' 2021 contract talks with Mercedes
THE OUTSIDERS
Nico Hulkenberg
Nico Hulkenberg has been clear that his goal is still to make it back into the F1 paddock that he was spat out of slightly unceremoniously at the end of 2019. Could it be with the Ferrari team that the German was understood to have narrowly missed out on a drive for in 2014?
READ MORE: Return to F1 'still my goal' says Hulkenberg as he reveals biggest mistake of his career
Well, why not? The coronavirus will mean that Hulkenberg only misses out on six months of front-line racing action – and could be slotted into a development role in the meantime to keep his synapses sharp – while his gratitude at being handed a lifeline with the biggest name in the sport would likely mean that the German – who's consistently shown himself to be one of F1's most assured performers in the past decade – would accept whatever prescriptive terms he was given as a Ferrari number two driver.
In terms of the probabilities of drivers on this list, it might not be the most likely, as Hulkenberg himself admitted in a recent Instagram Live – but maybe it's not such a bad idea.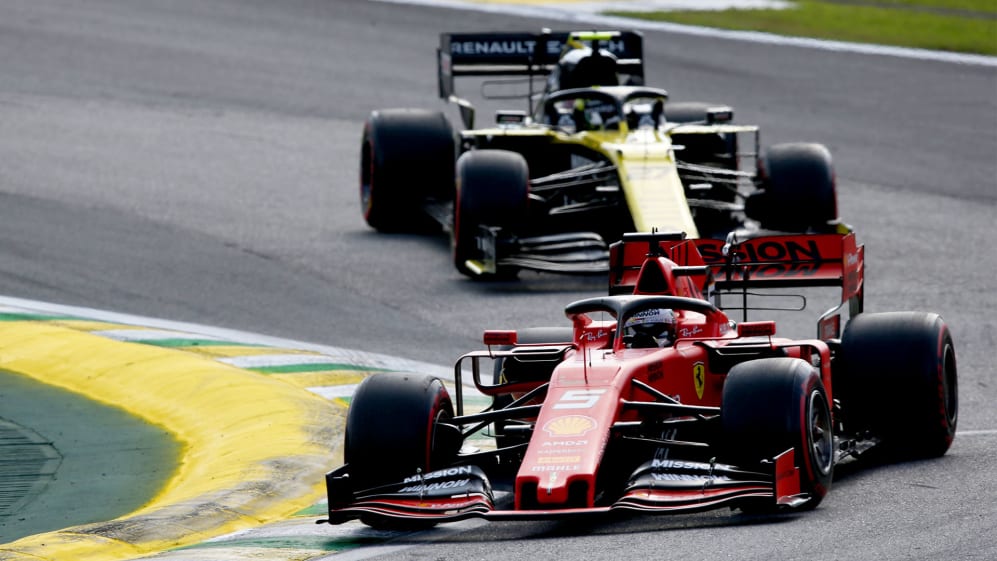 Lewis Hamilton
Ever since reports came out late last year that Lewis Hamilton had met with Ferrari chairman John Elkann, there's been buzz aplenty about the possibility of the six-time champion sensationally finishing his career off at Ferrari. But is it realistic?
Hamilton will no doubt appreciate the romance of driving for Ferrari – even if, as he likes to say, he's been with Mercedes in some form or another since 1997 – while there's no doubt that Ferrari could afford to put a very tasty offer on the table to put Hamilton alongside Leclerc, in what would arguably be one of the greatest F1 driver line-ups of all time.
Hamilton has been clear that the decision on his future is tied to current Mercedes Team Principal Toto Wolff's future plans. But even though Hamilton shot down Ferrari rumours as recently as last month, with Wolff having recently ploughed £37 million into the Aston Martin company that was just bought by Racing Point owner Lawrence Stroll, is a change in the air that could signal Hamilton's departure to the Scuderia? It seems unlikely at the moment but in Formula 1, you never know...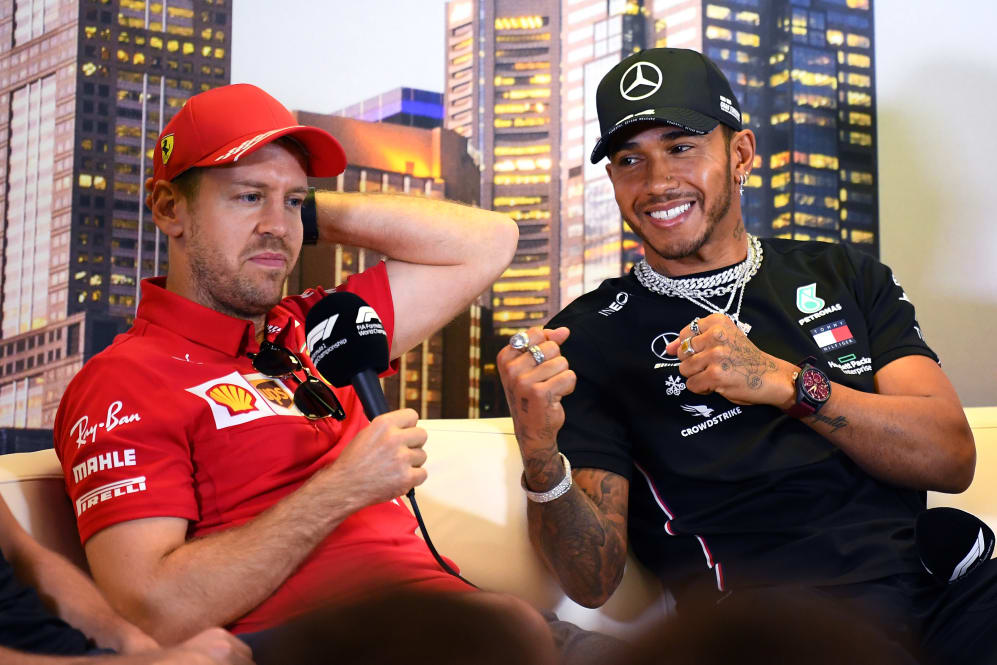 Sergio Perez
Has the Prancing Horse ship sailed for former Ferrari Driver Academy member Sergio Perez, who apparently chose McLaren in 2013 rather than pursuing a deal with the Scuderia – the Mexican's ultimate sliding doors moment!
Like Hulkenberg, it all depends on what Ferrari are looking for. If they want a dependable second set of hands to help them out in the constructors' championship and support Leclerc's bid for the drivers' championship, there's no doubt that Perez is possessed of the speed and racecraft to still be a good fit for that role.
But the memories of Perez's fractious time with Esteban Ocon at Force India/Racing Point in 2017 and 2018 are still fresh in people's minds.
The Mexican obviously doesn't take kindly to being shown up be a younger talent – so we reckon that makes him an outsider for a drive at the Scuderia.
READ MORE: Leclerc insists 'there was always respect' between him and departing team mate Vettel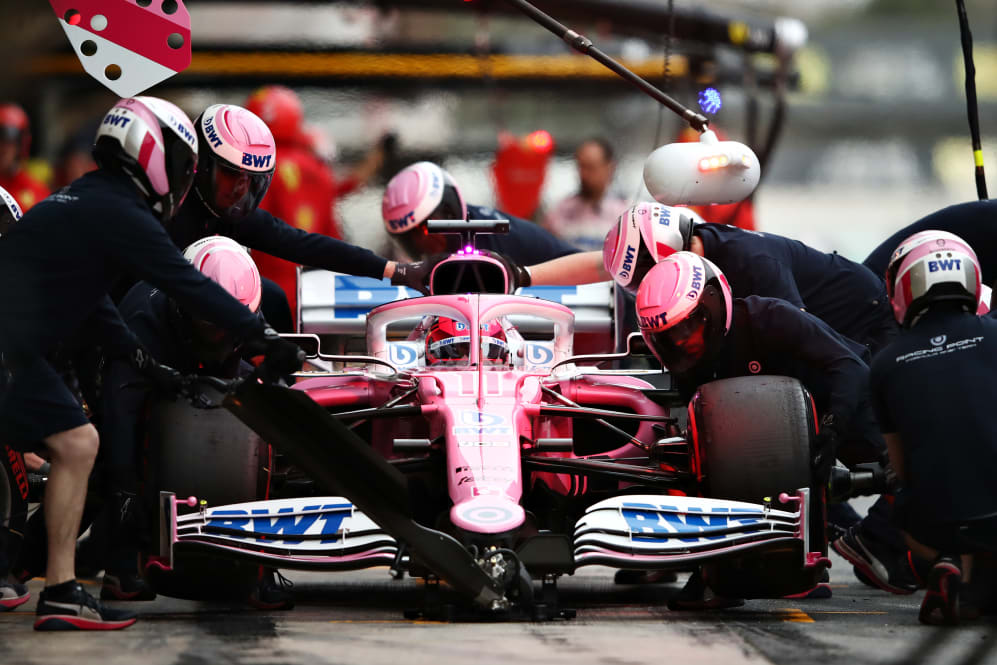 Antonio Giovinazzi
Charles Leclerc fulfilled an important role for Ferrari last year, in that he was the first driver to demonstrate the efficacy of the Ferrari Driver Academy system, from junior formula star to promising F1 rookie to Ferrari driver to Ferrari winner.
So, would the team be keen to see if Antonio Giovinazzi, effectively aping Leclerc's career one year further on, could do the same?
A key difference was that Giovinazzi's rookie season (even ignoring his calamitous 2017 outings) lacked the assuredness of Leclerc's in 2018, with the Italian making several costly mistakes that saw him fighting for his seat at Alfa Romeo, rather than being talked up as a potential Ferrari star of the future.
It seems likely that Ferrari would want to see a solid 2020 from Giovinazzi before even considering him for a move up the ranks.
READ MORE: 9 things you might not know about Antonio Giovinazzi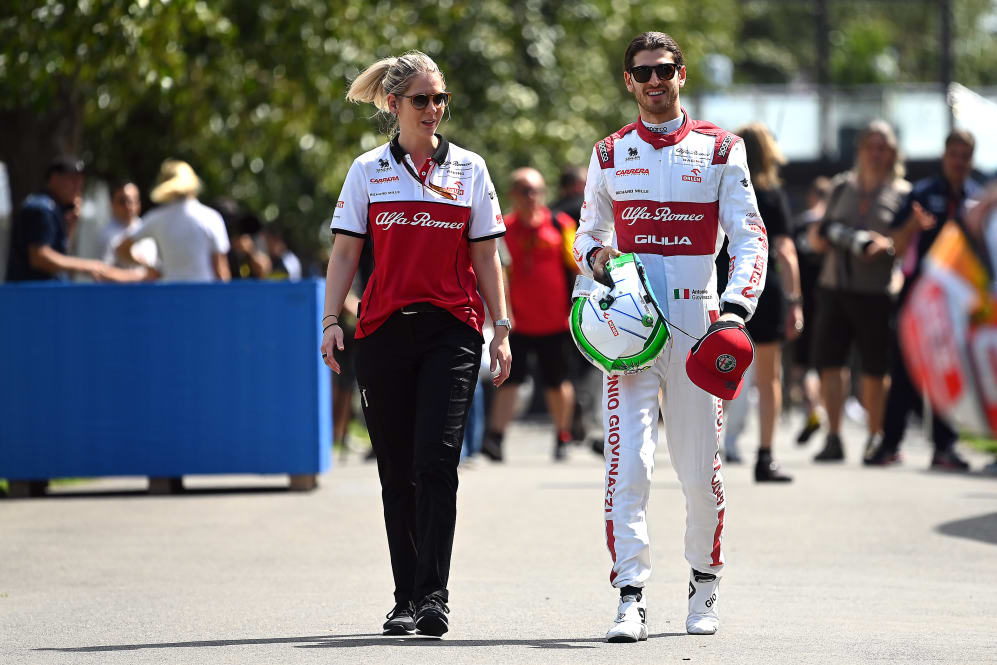 THE WILDCARDS
Fernando Alonso
"I know more or less what I'm doing for next year, and hopefully many of you will know soon," Fernando Alonso announced in an Instagram Live last week. Surely… surely a move back to Ferrari is not on the cards for the two-time champion?
The Spaniard has been clear that he finds the concept of the 2021 rules (now delayed until 2022) appealing, while, even though he'd be coming back to the sport at 39, he for one would have little doubt about his own ability to still mix it at the front.
But Team Principal Mattia Binotto was at Ferrari when Alonso left in a huff in 2014 – and the thought of inviting such a prickly operator back into the zen garden the Swiss is trying to create at the team might lack appeal.
READ MORE: 'Let's see what opportunity comes' – Alonso not ruling out 2021 F1 return
Mick Schumacher
We know, we know – you think we're stirring up sensationalism by putting Mick Schumacher's name on the list. Well, we are! Mick Schumacher signing for the team his father won five drivers' titles with would be huge! So, could it happen?
Well, F1 teams have been getting braver in recent years – think of 17-year-old Max Verstappen getting the nod to drive for Toro Rosso in 2014, or even Ferrari's (very successful) decision to promote Leclerc to one of the biggest seats in the biz after just one season, and aged just 21.
READ MORE: Mick Schumacher – 'What my dad was to Sebastian Vettel, Vettel is for me'
There's no doubt that putting Mick Schumacher, who enjoyed a successful test for the Scuderia last year, into the second seat at Ferrari would be commercial dynamite for Ferrari, and romantic too.
But after a slightly underwhelming debut season in F2 that saw him finish just 12th in the standings, we reckon Ferrari would at least want to see how Schumacher Junior fared in an Alfa Romeo or a Haas before stepping any further up the ladder.